Food, glorious food. Most of us love mealtimes and it's one of the top reasons we travel, to savour not only a new destination but its unique culinary offerings. Whistler has an incredibly varied dining scene, inspired by its international locals and visitors alike, from award-winning executive chefs to pie masters, bakers and mixologists – we like our food as adventurous as our mountains.
You're Not You When You're Hungry
While demand for our food establishments remains high there are some issues with staffing post-pandemic (this is happening globally). This means we need to be more proactive in our dining decisions to avoid the dreaded hangry syndrome (where you get irritated because you're hungry) and make reservations, which enable the restaurants to better prepare.
It also means we have to be patient and respect that the people serving us are doing their best to keep us fed and watered.
Here are some strategies to help you avoid any hunger pangs when you visit Whistler.
Strategy #1: Book Ahead
Popular spots and times are going to fill up quickly, so if there's a certain restaurant you want to dine at or a particular occasion you want to celebrate then book ahead where you can. Some of Whistler's restaurants take reservations online, however, you may need to email or call to make arrangements if you have a group.
If you're in-resort and looking to make a booking then calling or going in, in-person is your best bet.
Strategy #2: Walk-Up Plan
If you decide to take the fly-by-the-seat-of-your-pants approach then we'd suggest heading out for dinner before the hunger pangs begin. Wait times for walk-ups are usually around 45 – 60 minutes and many places can't accommodate a drink while you wait, so we'd suggest you take a pre-dinner stroll after putting your name on a list.
Take a look at some of Whistler's public art, explore the Cultural Connector, or simply amble along the Village Stroll, appreciating the way it was designed to flow like a river. Just don't stray too far (read: get lost) and keep an eye on the clock!
INSIDER TIP: Bring a sweater for alfresco dining as it can get chilly when the sun drops behind the mountains.
Strategy #3: Take-Out Picnics
Whistler has some beautiful parks, lakes, grassy nooks and hidden forests that make for great alfresco dining locations. Bring your picnic blanket, select the type of take-out food you're after (it could be from multiple places), and enjoy a feast in the mountains (just make sure you dispose of everything in the bins provided).
We realize this is more of a summer thing, but if you wrap up warm and take lots of blankets a winter picnic can be stunning and good fun!
The Resort Municipality's Park Eats program runs from 11 AM to 5 PM (weather dependent) at the parks during the summer, bringing local food trucks and pop-up foodie tents to you. Read more about it in, Know Before You Go: Whistler's Lakes and Parks.
There are picnic tables (some covered) and benches throughout Whistler Village and Whistler's parks, along with recycling, composting and garbage disposal units for the take-out packaging. If these happen to be full, please take any garbage back to your accommodation to dispose of as Whistler is bear territory, so pack out what you pack in to keep everyone safe, especially our furry friends.
Strategy #4: Creative Timing
I could tell you the time of day based on my stomach rumbles, but if you have a bit more flexibility in your schedule, consider shifting your mealtimes a bit earlier or later to avoid peak times.
This method has a double payoff as you usually get a quieter munch, and then as other people head for their eats, you get to enjoy a less busy trail, stroll, hike or bike.
Strategy #5: Order In
Your Whistler pad might have its own kitchen, a balcony with a stunning view, or a cozy living room with a crackling fireplace to take advantage of during a night in. You could gather some locally produced goodies from the grocery store, check out the in-room dining menu, bring back some take-out, or get something delivered.
You can order Chef-prepared meals and groceries through Whistler Cook's Fridge Full Delivery, choosing a delivery time and portion sizes that work for you. The Fairmont's Portobello is also doing a to-go chicken dinner that feeds four and would be a perfect eat-in or picnic option.
Don't even want to leave your hotel suite? Use Whistler Dine In to pick up and deliver your dinner from over 19 locations.
Strategy #6: Dining Tours
Another dining idea is to head out on a tour that includes food. Whistler Tasting Tours is a multi-stop, walking lunch or dinner experience where each course is served at a different location. Read more about what it's like going on one of these tours in Tasty Tours Dinner Edition: Whistler Tasting Tours.
You can also add a personalized charcuterie board from foodie gurus, Picnic Whistler, to a distillery tour tasting adventure in Whistler's Function Junction area (transportation included). Or, if you're after more action with dinner, then try the Salmon Bake ATV Tour (summer), or Fondue via Snowmobile (winter), which take you up to the Crystal Hut on Blackcomb Mountain. In the summer, Whistler Blackcomb's Mountain Top Summer Feast is a great option, where you get to dine at elevation with 360-degree mountain views while listening to live music.
Our Advice on Après
Our number one tip for this winter is to really explore Whistler's après scene and find somewhere a bit more off the beaten path to celebrate your day in the mountains. You'll find some suggestions in the post Hidden Gems of Whistler's Après Scene.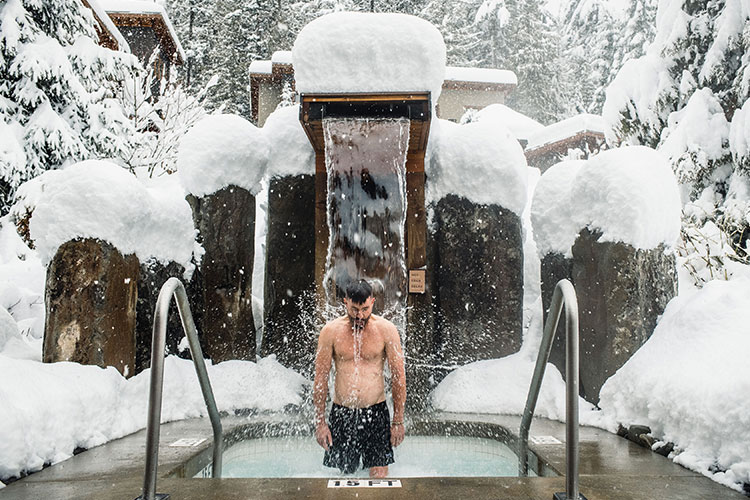 Timing is also something to consider. Après is at its height around 3 PM when the lifts stop turning, then there's a bit of a lull between 4:30 – 5:30 PM. If you're an early bird then consider an early après, in keeping with your potential crack of dawn alarm the next day. Or, you could make it a later après session and head back to your accommodation for a soak in the hot tub (make that the Scandinave Spa if you want to up the tub ante) before you go out.
Don't confine your après to the bars, make it an adventure après instead and go ziplining, snowshoeing or snowmobiling. Doing something like this with a later lunch could mean you grab a later dinner reservation and avoid the peak times.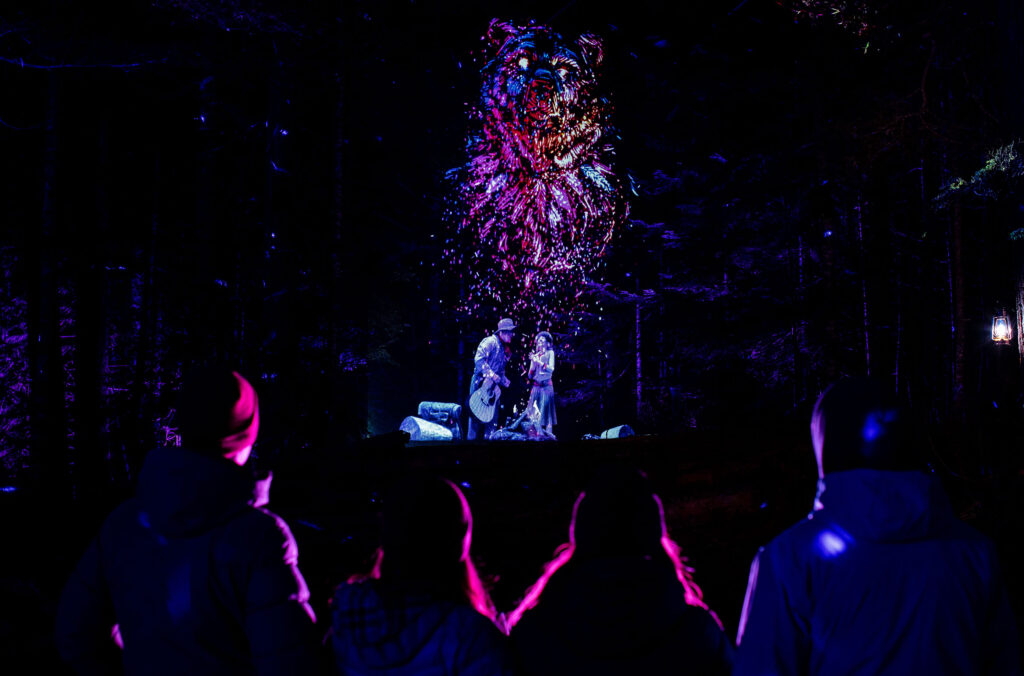 There are also activities that are good for in-between après and dinner, like attempting to get out of a pirate ship at Escape! Whistler, throwing axes with Forged, finding magic in the forest with Vallea Lumina, or opting for one of our cultural offerings like the Audain Art Museum and Squamish Lil'wat Cultural Centre.
Whistler Dining Etiquette 2.0
Stay home if you're sick.
Create a dining strategy to avoid being hangry.
Running late? Call the restaurant and let them know. Not only does it mean they might be able to hold it for you, but it gives them the heads up not to rush the previous diners.
Don't "no show" on a reservation – enough said.
Don't get frustrated with the hosts – they want to get you seated as much as you want to eat, but they can't magic a table out of nowhere, so if there's a long wait, consider going for a stroll or enjoying some retail therapy.
Never be afraid to call and cancel a reservation, the restaurant appreciates it and it could be you benefiting from someone doing just that the next time you're looking for a table.
Here's a peek at some of our food stories to give you more insight into Whistler's dining scene, from where to get the best ramen to vegan wraps and chicken wings:
Insider's Guide: Comfort Food in Whistler
9 Grab and Go Dining Favourites From Whistler's Main Street
Insider's Guide: International Food in Whistler
Insider's Guide: Eating With Young Kids in Whistler
Insider's Guide: Vegetarian and Vegan Eats in Whistler
When in resort, visit whistler.com/maps for up-to-date information on local businesses including hours of operation and periodic closures.
There's also the free, self-guided tours app, Go Whistler Tours, which features a craft beer and sweet treats tour.
Fall in Whistler means more, like great value on accommodation with rooms from $135 CAD per night, plus a free $100 CAD Dining Voucher when you book a stay of 3-plus nights. Book in confidence with Whistler.com for Flexible Cancellation and a Price Match Guarantee. If you're dreaming of a trip to Whistler, enter our Find Your Altitude contest for a chance to win a six-night vacation with flights, accommodation and activities (including a heli trip) all covered.