Updated November 27, 2020
There's nothing like a hearty meal after a day of adventuring in the mountains. All it takes is a cozy atmosphere, a tasty dish and a good drink to take your day from good to great. So, we went on the hunt for the best Whistler comfort food. As it turns out, the list is exhaustive, with options from all over the globe. Here are just a few of the many soul-satisfying menu items Whistler has to offer.
Ramen at Ohyama Ramen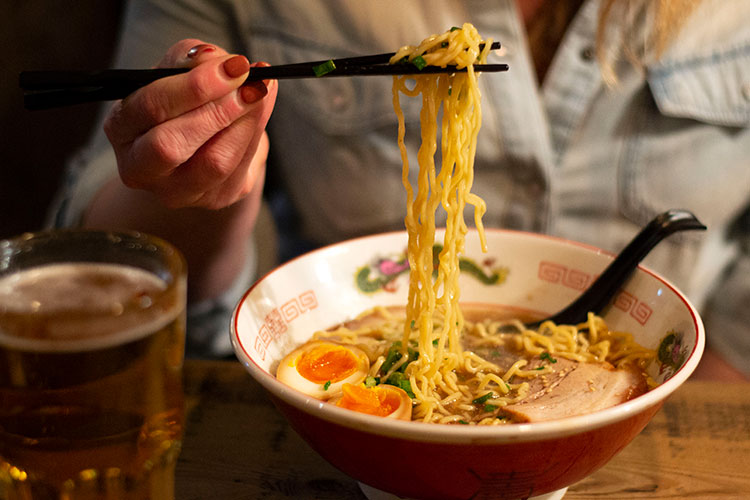 Location: Whistler Village Centre near the Whistler Conference Centre
Having visited Japan for a winter trip a few years ago, I discovered the joys of a tasty ramen — especially after the mountain. Whistler's own Ohyama Ramen offers the perfect blend of ambiance and rich, authentic flavours. The interior is designed just like a Tokyo side street; with lamps, signage, building facades and even laundry strung along a faux balcony. The menu fits right in, with a selection of udon, ramen and donburi, as well as tasty appetizers like gyoza and chicken karaage.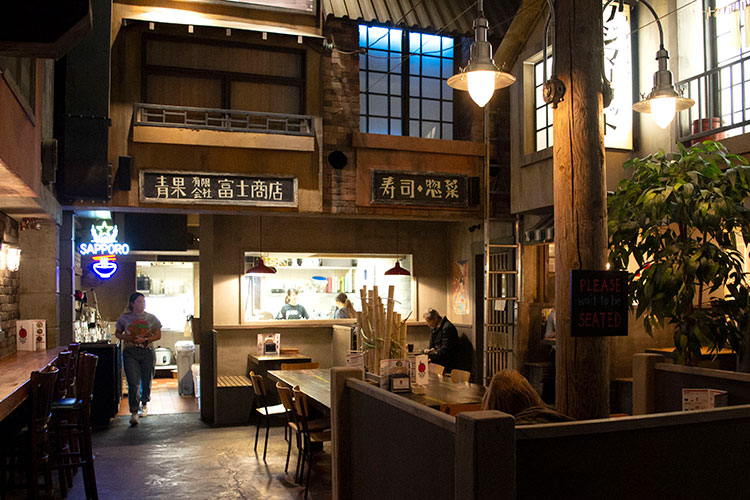 The ramen dishes have the classic multi-layered flavours that can only be developed with time and expertise. Each spoonful of the house-made broth is wholly satisfying, leaving you wanting more. The noodles are fresh and light. In Japan, it's customary to make a slurping sound when you eat your noodles, which shows respect to the chef. So, feel free to slurp away!
Tips: 
Add a boiled egg to enhance the flavours and add an element of creaminess

Choose your adventure with three different house-made ramen broths: miso, shoyu (soy base) and shio (salt base)

Try the vegan option with flavourful shiitake mushrooms and kale noodles 

If you're feeling extra hungry, order the Big Mountain bowl as it's packed with additional toppings
Poutine at Hunter Gather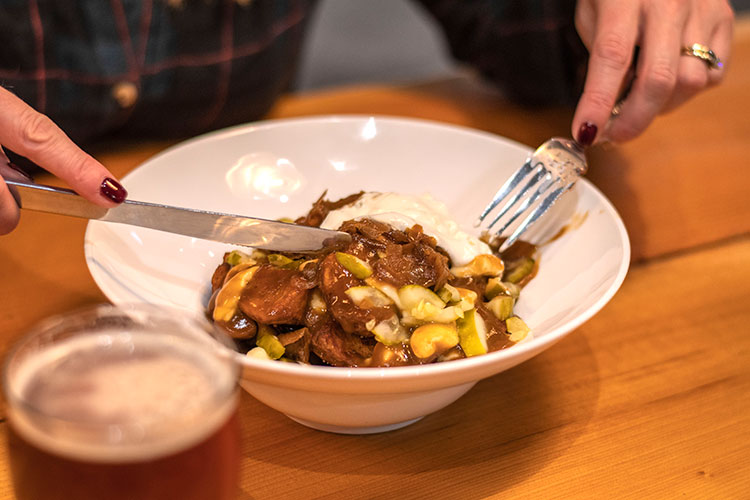 Location: Whistler Village North, on Main Street 
Poutine is synonymous with Canadian culture and is the perfect comfort food on a winter's day (some would argue any day of the year). For those who may not be familiar with this delicacy, poutine originated in Quebec and the dish's basic ingredients consist of fries, gravy and squeaky cheese curds. As with all iconic menu items, it has been reinterpreted and adapted many times over. 
With so many excellent poutine options in Whistler, it was difficult to feature just one. But, we love the poutine at Hunter Gather Eatery & Taphouse for their originality and creative spin on the classic dish. Their signature poutine features Pemberton smashed potatoes, caramelized onions, cheese curds, pickle gravy and a dollop of sour cream. You also have the option to add beef brisket or pulled pork (which I highly recommend). The garnish of pickles is unexpected, but delicious. 
Hunter Gather is the brainchild of long-time, local catering company, Whistler Cooks. The eatery focuses on seasonal, fresh, local ingredients. You place your order at the counter, similar to a butcher shop or deli. There's plenty of space for groups to dine and it's a casual, fun atmosphere to enjoy your poutine in. 
Tips: 
Complement your meal with a selection of craft beer or wine on tap

Order online for pick-up, eat in or opt for delivery if you're in a hurry 

If poutine really isn't your thing, there are plenty of mouth-watering menu items to choose from, including chicken shawarma, lentil burgers, or house-smoked and roasted meats. 
Steak and Guinness Pie at Dubh Linn Gate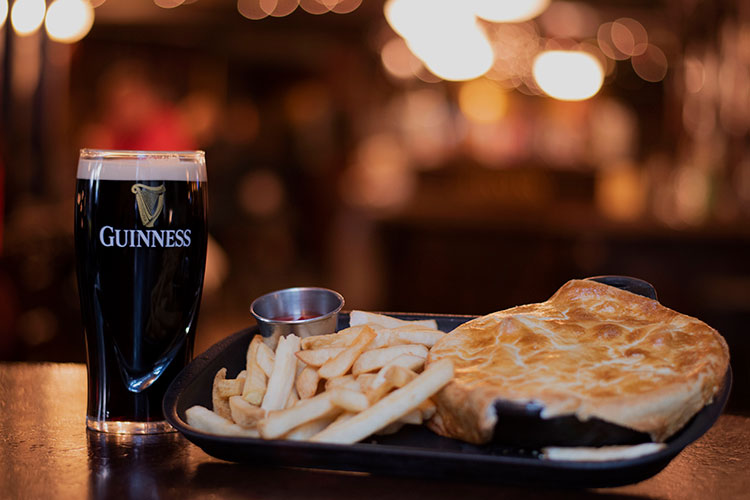 Location: Whistler Village Centre in the Pan Pacific Mountainside hotel at the base of Whistler Mountain
The Irish have perfected the art of cozy pubs, so it's only fitting that Whistler's Dubh Linn Gate Irish Pub makes this list for their signature skillet dish, Steak and Guinness Pie. The simple, yet delicious pot pie features a medley of mushrooms, celery, onions and certified Angus beef; all swimming in rich Guinness gravy and topped with flaky pie pastry. Pair the pie with a side of fries, a pint of Guinness and the merry twang of live music and you have yourself one comforting locale. 
The Dubh Linn Gate is a favourite with both Whistler locals and visitors. The pub is known for its vigorous après scene, iconic patio fire pit, and of course, its abundance of Irish flare. Though established in the 1990s, Dubh Linn Gate Pub is full of history; starting with its name, which translates to "Black Pool". These dark waters at the heart of Dublin, Ireland are rumoured to have inspired Arthur Guinness to create the perfect pint in 1759. The pub itself is also as authentic as they come, and the entire interior was designed, crafted and shipped from Ireland to its home in the Pan Pacific Whistler.
Tips: 
For an equally tasty comfort food alternative, try the Cottage Pie or Bangers and Mash

Happy Hour runs daily from 9 – 11 AM and 5 – 7 PM 
Belgian Waffles at the Crystal Hut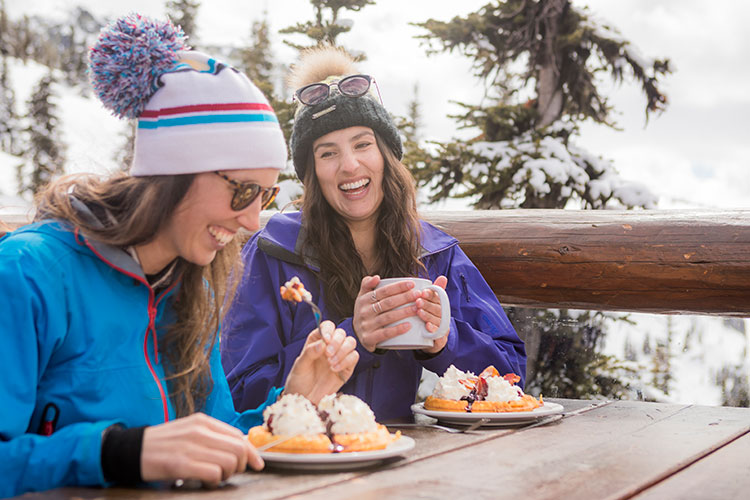 Location: At the top of the Crystal Chairlift on Blackcomb Mountain 
The legendary Belgian Waffles at Whistler Blackcomb's Crystal Hut are a must-do Whistler comfort food (though, unfortunately not available for the 2020/21 winter season). Picture a waffle the size of your plate, topped with a heaped pile of mixed berries and chocolate. This decadent dessert is tasty at any point in the ski day and will give you the energy you need to get those extra turns in — and then some.  
Perched on Crystal Ridge at the top of Crystal Chair, this log cabin on Blackcomb Mountain boasts panoramic mountain views and a toasty sanctuary to take a break from the elements and grab a bite. The European-inspired hut also serves hearty, wood-oven baked specialties if you're on the hunt for savoury options instead.
Tips: 
The portions are large, so bring a friend to share with

Ask for a drizzle of Baileys Irish Cream or another tasty liqueur

to give your waffle a little kick (extra costs apply)

As the Crystal Hut can be busy, plan your visit for outside of peak lunch hours 

Check the Mountain Operations page on Whistler Blackcomb's site to ensure the Crystal Chair and hut are open when you plan to go
Wood-Fired Pizza at Pizzeria Antico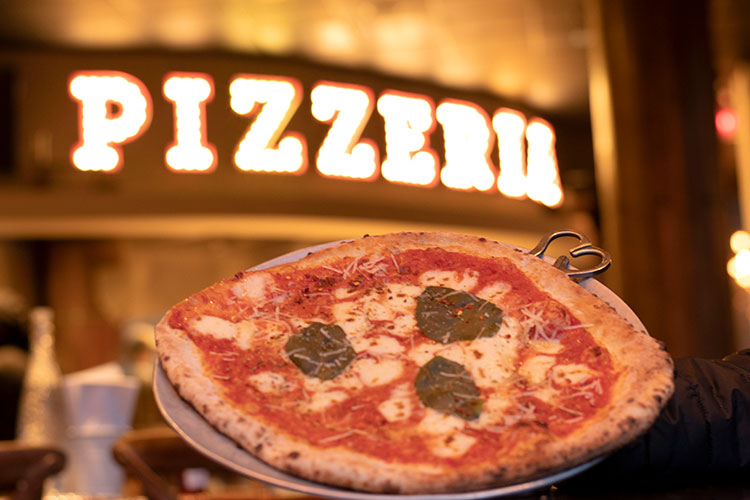 Location: Whistler Village North on Main Street (right on the edge, close to Northlands Boulevard)
Fancy a slice? Pizza is another classic, comfort food option. The family-friendly Pizzeria Antico serves up a dynamic atmosphere and delicious array of authentic Italian cuisine for great value. Their signature dishes are Neapolitan-inspired pizzas cooked in a giant Forno wood-burning oven. In fact, on a busy day, they have been known to bake more than 400 pizzas.    
Watch the pizza masters flip and bake the dough from the open-concept kitchen and have a tasty craft beer from the rotating taps — they have a dozen or more to choose from. If pizza isn't your thing, they have a selection of pastas, salads and appetizers, with meat and vegetarian options available.  
Tips: 
Part of the fun is cutting the pizza yourself with the scissors provided, a traditional way of slicing pizza in Italy 

To spice things up, add a dash of chili oil and a sprinkle of the dried peppers, oregano and shredded cheese toppings they provide on the side

Try their Happy Hour special between 3 – 5 PM every day for a half-price Margherita Classica pizza ($8) and a $4 craft beer
If you're undecided as to whether to go for pizza or poutine, this video could help (or maybe it won't):
Fondue by The Chalet at Fairmont Chateau Whistler
Location: Upper Village, Fairmont Chateau Whistler Golf Clubhouse 
Molten cheese is the ultimate comfort food and The Chalet at Fairmont Chateau Whistler offers one of Whistler's stand-out fondue experiences. During the winter months, they transform their golf clubhouse into a romantic and cozy winter fairy tale with a crackling fire, string lights and plenty of alpine-inspired cuisine to indulge in. 
The cheese fondue sauce is a fusion of Emmenthal, Gruyère, white wine and kirsh, which creates a distinct flavour to dip your baguette into. This is typically followed by fondue chinoise (hot broth), which offers a choice between AAA Alberta beef (turf), West Coast seafood (surf) or a combination of the two. Add additional flavours to your fondue such as winter truffle, foraged BC mushrooms, and roasted garlic and fine herbs. 
Be sure to leave room for a decadent chocolate fondue for dessert. You'll have an indulgent platter of house-made caramellini, banana bread, strawberries, and meringues to dip into the rich, bubbling mixture of milk and dark chocolate. 
Tips: 
The Chalet is

family friendly

. Children five and under eat free and those aged 6-12 have the choice of a special Whistler kids menu or 50% off the regular adult menu 

Finish your meal off with a nightcap from the decorative Schnapps Wagon

Reserve The Chalet ahead of time as they do get busy during peak seasons
Blog editor, Dee Raffo, visited The Chalet last winter with her 3-year-old, read all about her experience in the post: Eating with Your Kids in Whistler.
If we've made your mouth water then why not come and try some of these comfort foods in person? You can find a full dining listing on Whistler.com, along with the folks who can help you put all of these holiday "must-haves" together.