It's a Friday night in Whistler and my husband and I are car-free, kid-free, and in a room filled with gin – perfect. We'd opted to join local tour guide, Ryan Powell on his latest tour, the Whistler Distillery Tour & Tasting Experience and we were getting our juniper on.
Ryan has lived in Whistler since 2008. He originally came to Whistler from his hometown of Murray Bridge, South Australia, drawn to the Canadian Coast Mountains by his love of travel and winter sports. He's travelled all over the world and worked as a guide and driver in multiple countries, including being the driver and tour guide on a vintage, double-decker bus through the streets of Queenstown, New Zealand. When he arrived in Whistler, he initially became a cab driver. As he drove all sorts of people around they would give him tidbits of Whistler knowledge that hadn't made it to the museum, and he kept all these in his back pocket for an idea he had brewing.
Ryan could see there was a gap in the market for a Whistler sightseeing tour, one with a detailed and well-thought-out script that went beyond what people could find out for themselves. He was frustrated that some people only saw the ski hill or Whistler Village on a trip here, and he wanted to change that; showing them that the real magic of Whistler was all over the valley and that stories about First Nations, early European settlers, Olympians, entrepreneurs and dreamers give Whistler its unique sense of history and culture. In 2018, Ryan launched Whistler Valley Tours, offering a three-hour sightseeing tour of Whistler, to which he added a walking tour of Whistler Village, a brewery tour and now a distillery tour.
"I think of what I'd like to do and see in Whistler, and what my friends want to do, and then see what I can make happen," explains Ryan, "I love our local breweries and distillery, but they are a bit tough to get to and I can solve that problem for locals and visitors, and make it an experience."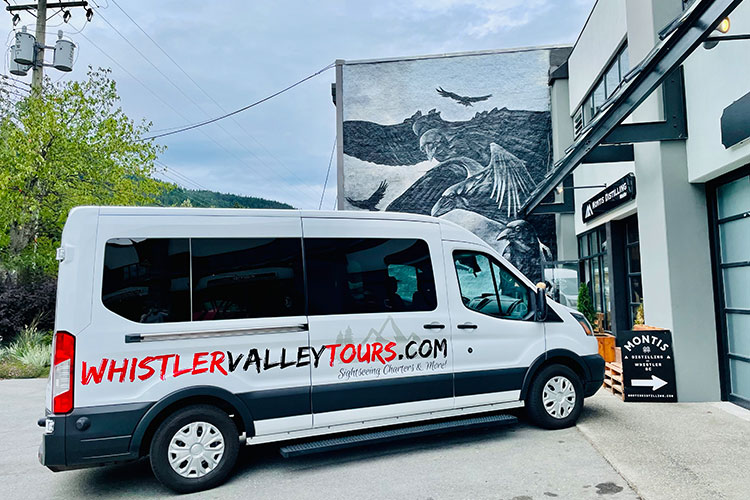 He used the same rationale with his latest tour, which takes liquor lovers to Function Junction, a ten-minute drive south of Whistler to Montis Distilling on a Friday and Saturday in the early evening (5:30 to 7:30 PM).
We hopped on board with Ryan from where we live (hotel and neighbourhood pick-ups are available) and headed to Whistler Village, where another couple from Prince George, and a party of four from Pit Meadows celebrating a 50th birthday, joined us.
As we headed south, Ryan pointed out a few of his favourite restaurants in Creekside (Rimrock Cafe, Red Door Bistro and Creekbread), as we picked up two women from Nita Lake Lodge who hailed from Manitoba. He then began telling us about where we were headed – Function Junction. I've been here fifteen years, but still learned a thing or two when Ryan gave us a little historical overview of the area locals call Funky Town. At one point it was the meeting place of five logging roads (a junction), and over time became the location where the more functional businesses that kept Whistler going were set up, hence the name.
As Whistler expanded some of these businesses found space closer to the village, allowing for new businesses in the food, drink and art sectors to start infiltrating. Today, Function Junction is known as a diverse place to explore, with two craft breweries, art galleries, thrift stores, bakeries and even a place where you can try your hand at axe throwing. It's also close to some great hikes like the Cheakamus Lake and Train Wreck trails, making it an ideal place to grab provisions or celebrate a trail well-trod.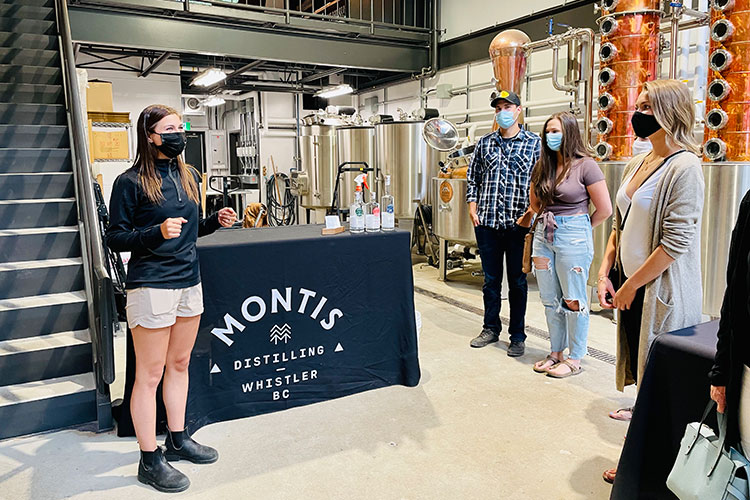 When we arrived at Montis Distilling, which opened in 2019, we were ushered inside by Dani Berezowsky, whose love of distilling certainly came across as she began to take us through the process that they go through to make one of my favourite tipples – gin. They also produce vodka and have whiskey due out next year (2022), but it was the botanical-forward gin I was looking forward to tasting the most.
The meaning of craft in this sense means small. Dani made her case in point when she explained that Montis will make around 50,000 litres of spirits per year, whereas the big distilleries will make that in one or two days. Montis makes all its spirits from a malted barley base, which is quite unusual for gin and vodka production, but not when you realize the end goal is whiskey.
We happened to be visiting the distillery as the fermentation process was bubbling away inside the two mash tuns, which will yield around 200 bottles by the end of the process. The smell in the room was like was whipping up a batch of fresh sourdough, and Dani commented that at this point when it's put into the still, which they call Big Monty, it's essentially a giant beer. She continued to educate us on the distilling process, and even gave us a juniper berry to try – spoiler alert, it tastes like gin and is what makes gin, gin!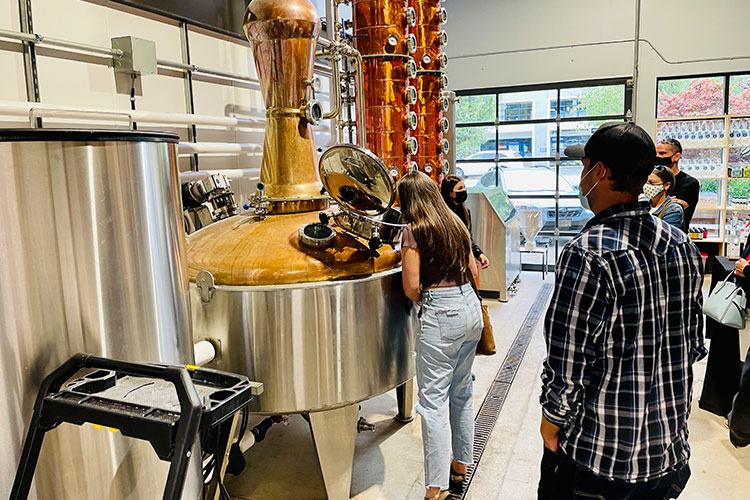 The style of gin that Montis produces is called London Dry. Even though it was the Dutch who originally came up with gin, as a way of treating scurvy, it was the tea-loving Brits who knew how to work the botanicals. Montis has two gins, their Alpine Gin, has strong cedar notes and is inspired by the surrounding forests, and Alpenglow Gin, has a zesty, citrus taste thanks to the grapefruit rinds that are part of the botanical infusion. Dani mentions that they don't like waste and give the fruit section of the grapefruit to Whistler Brewing Co. across the road, who use it in their Grapefruit Ale – another beverage that should be on your list to try.
INSIDER TIP: When asked for a cocktail suggestion, Dani mentioned that the grapefruit in the Aplenglow Gin really opens up when it's paired with sparkling wine, and for the garnish she recommends a herb to contrast the citrus flavour.
The tasting area is upstairs, with whiskey barrels lining one wall, uniquely labelled bottles of gin on the other and brown, leather sofas and chairs to laze in while you sip on the spirits right in the middle. Montis has a gin program where you can distill your own, unique batch playing with the botanicals to suit your taste. They also have a cask program for their whiskey, where you can choose a five or ten-gallon oak cask, imported from Minnesota, filled with their single-malt American spirit. It has to be aged for at least three years before you can call it a whiskey, but if you can't wait that long you can dip into it, you just can't call it whiskey!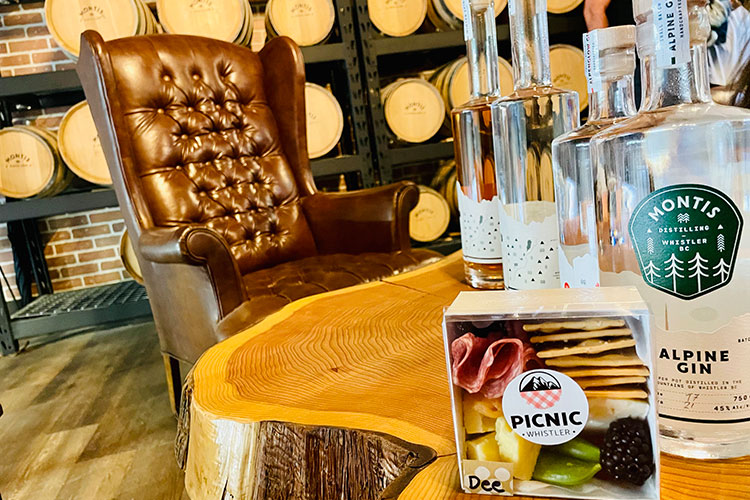 Alongside the gins, you also get a taste of their North Vodka, which is filtered through charcoal for an incredibly smooth finish, and also their Winter Spirit, which is naturally sweetened with apples, spiced with cinnamon and clove and aged with oak spirals for two months (not long enough to be called a whiskey). I am not typically a whiskey lover, but I did enjoy the Winter Spirit and could imagine a little nip of that keeping you warm on a snowy, winter night.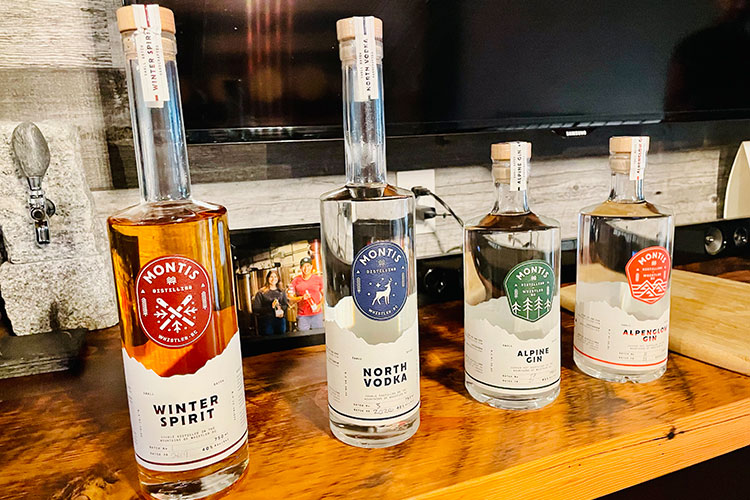 As Dani served the spirits, we snacked on charcuterie treats from Picnic Whistler, including local curated cheeses and meats, artisan crackers and sweet, dried fruits including dehydrated strawberries, which were a personal favourite. Currently a team of four, Dani mentions how sales have been doing really well, and that their small team of four sometimes struggle to keep enough of the hand-distilled, bottled and labelled spirits on the shelves.
On the way back to Whistler Village we compared purchases and plans with the rest of the group. As we parted, Ryan handed out special vouchers that can be used at The Raven Room, a locally-owned venue well-known for its craft cocktails, that gets you a small plate and cocktail for $20. We couldn't refuse and nibbled on focaccia bruschetta spread with whipped goats cheese and spicy, Thai chicken skewers as we enjoyed a round of Montis-filled cocktails.
It was an anniversary well celebrated, a fun and social way to spend the evening with an exploratory twist. The Distillery Tour & Tasting Experience happens every Friday and Saturday, from 5:30 to 7:30 PM and can be booked online.