Since having our daughter my husband and I can count on one hand the number of times we've had the chance to go out by ourselves. This time is precious and so when we look at our date nights we know we had better make them good.
That's why we chose to head out on a Finer Things Dinner Tour with Whistler Tasting Tours, a progressive dinner tour that would take us around four stunning restaurants, plus a sweet treat stop-off. Great for new parents cramming multiple dates into one, it's also a fun option for all kinds of special occasions. In our group there were two anniversaries and five birthdays, yes five. One of the couples had got engaged at Lost Lake two years prior, and the bride had actually done a private tasting tour for her stagette. She still remembered the Ahi Tuna served at Hy's Steakhouse and squealed with delight to learn it was still on the menu.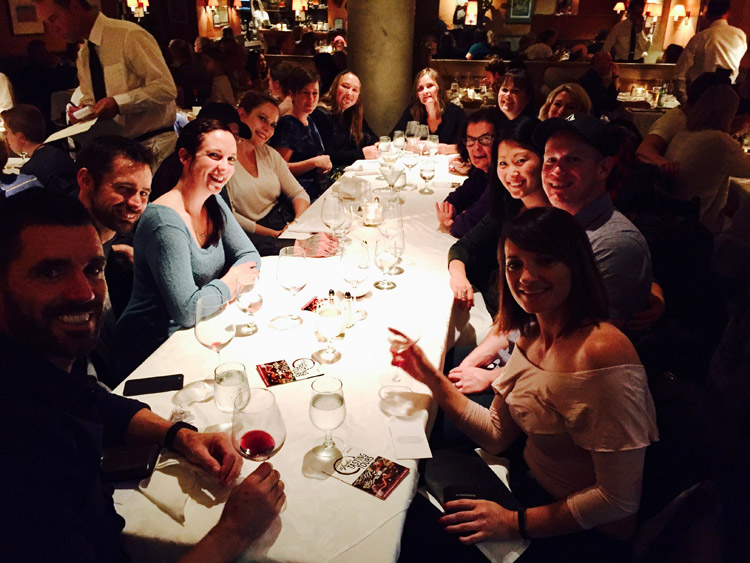 To start the night our guide, Luke, talked us through the stops we'd be making and the courses at each one, which left us all hungry, and ready to get going. He also noted the inclusion of a poker game throughout the night, a fun way to break the ice and ensure the group kept moving from venue to venue. For starters we were off to Caramba!, a casual, Mediterranean style restaurant known for its stone-fired pizzas. Keeping things light and healthy we were served a Chopped Salad with Garlic Prawns with a crisp glass of Montalto Sauvignon Blanc. As we dived in it gave us an opportunity to chat with our fellow foodies. A lady from New York told us her husband had just caught a moose on a hunting trip further north, which led to a lively conversation about Canadian wildlife. Before long we were laughing away as if we'd been friends for years – that's what good food and wine will do for you!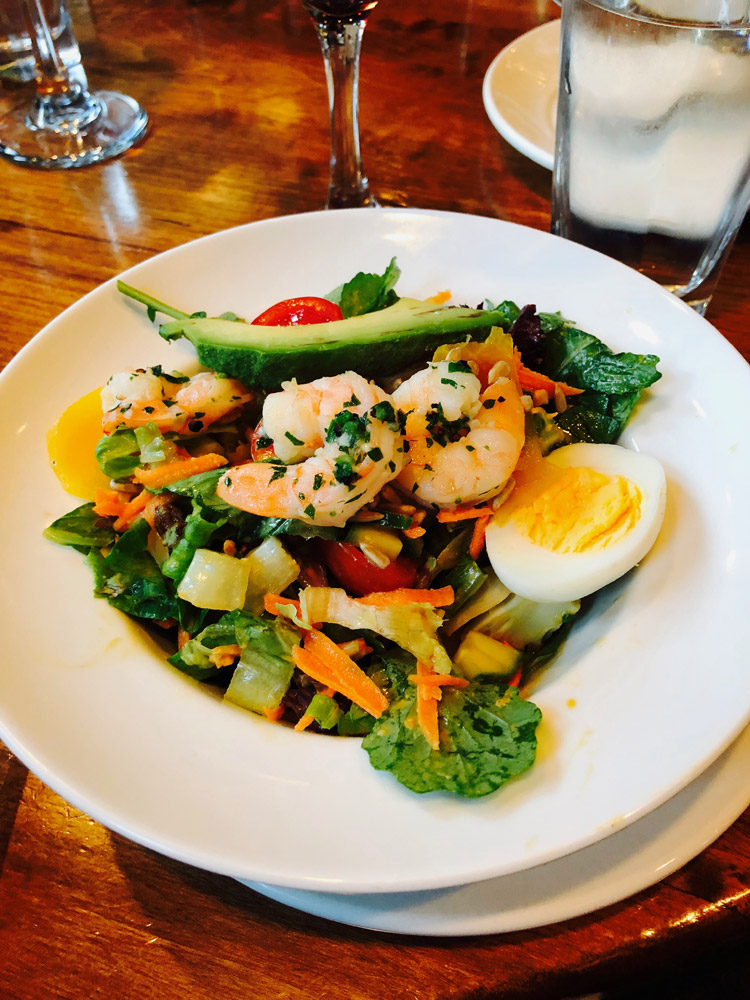 Luke gave us the five minute signal by presenting us with a playing card, of the aforementioned poker game – so far my hand was not looking great. We had a chance at a bonus card at Hy's Steakhouse by correctly identifying the wine varietal in a blind wine test. I went white and my husband went red. With some conferring with our table we had a stab at a Riesling and Pinot Noir – he was spot on, but my glass was actually a lovely Gewurztraminer from Tinhorn Creek. The Ahi Tuna lived up to expectations with a spicy Cajun crust and we shared a tasty bowl of succulent Teriyaki Beef. Hy's is known for its steaks, but check out the surf and turf options to get the best of both worlds and with sides like the double-stuffed baked potato and gorgonzola macaroni you can't go wrong.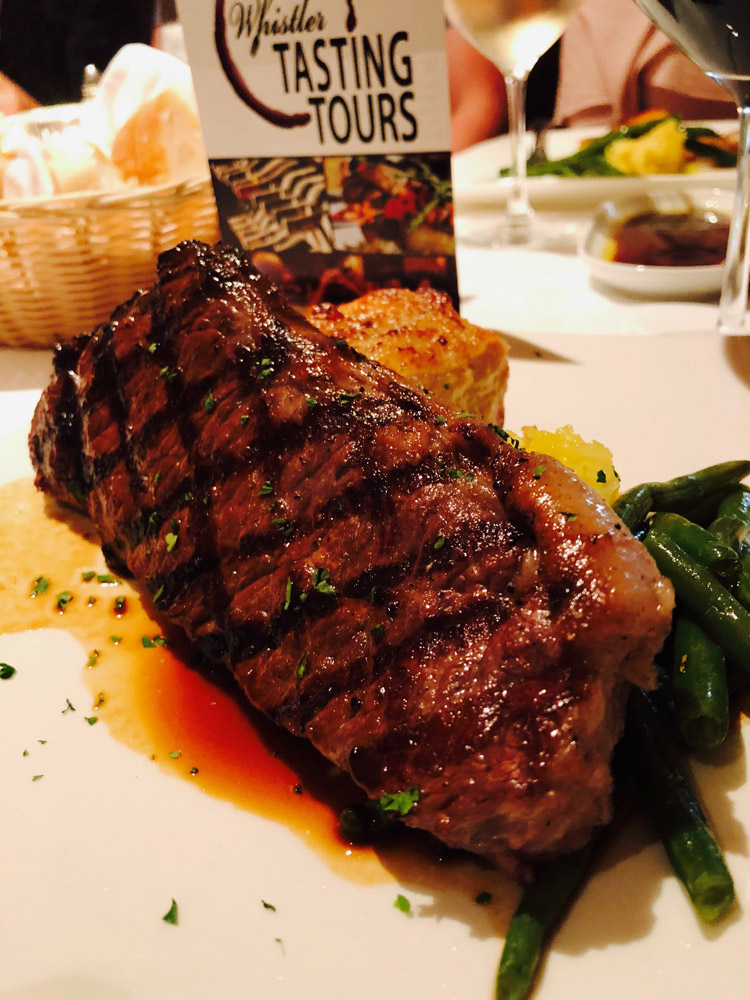 Back out in the crisp fall air we walked up to the base of Whistler Mountain to Trattoria di Umberto. As the doors opened we were enveloped in the warm and bustling atmosphere of this popular Italian restaurant. This was where we were having our main course, and we'd had a choice of steak, salmon, and pasta right at the start of the tour so there was no more decision making needed. Soon the conversation was flowing over more wine, including a lovely Pinot Gris from Liquidity and a Fairview Cellars Merlot. I opted for the vegetarian pasta which was served with a fresh pesto sauce and lightly toasted pine nuts. At first I'd been daunted by the size of the bowl but I was very quickly down to my last piece of penne.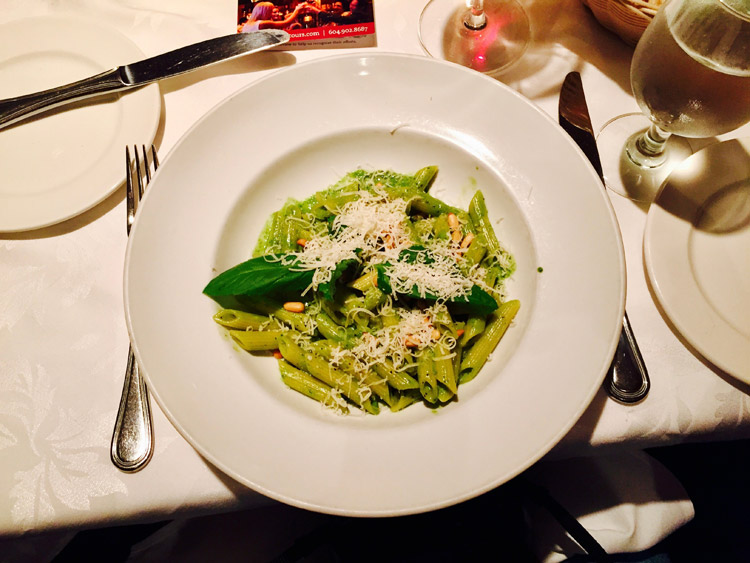 I have a sweet tooth and so I was very pleased to hear the next stop was the Rocky Mountain Chocolate Factory. The smell of maple, vanilla, and melting chocolate fills the air as they make most of their delicious treats in-house. Their glass cabinet full of candy apples is a work of art, but Luke soon got our attention as he wielded a tray full of Red Velvet Fudge pieces. On the way out we snuck a few Bear Claws, which are a cluster of cashew nuts covered in caramel and then coated in chocolate. These are a favourite of Luke's and his tip is to opt for the Sea Salt variety – sold.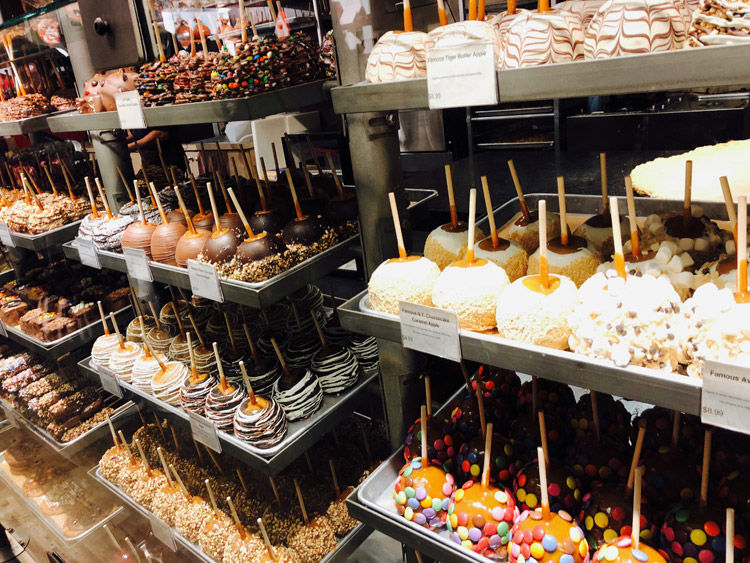 Our last stop was The Firerock Lounge, located inside The Westin Resort and Spa. We gathered around the outside fireplace and all got a bit excited as we saw two bottles of prosecco being brought out. It turned out we had to earn our bubbles and a birthday girl stepped up to sabre the tops off for us. Luke explained that this tradition dates back to Napoleon and if you got the top off nice and clean it was a good omen. If the bottle shattered you might not do so well in the battle the next day – either way meant you got to drink! With a swift slide of the blade and a nice follow-through motion the top was off and we were happily supping on Cinzano Prosecco.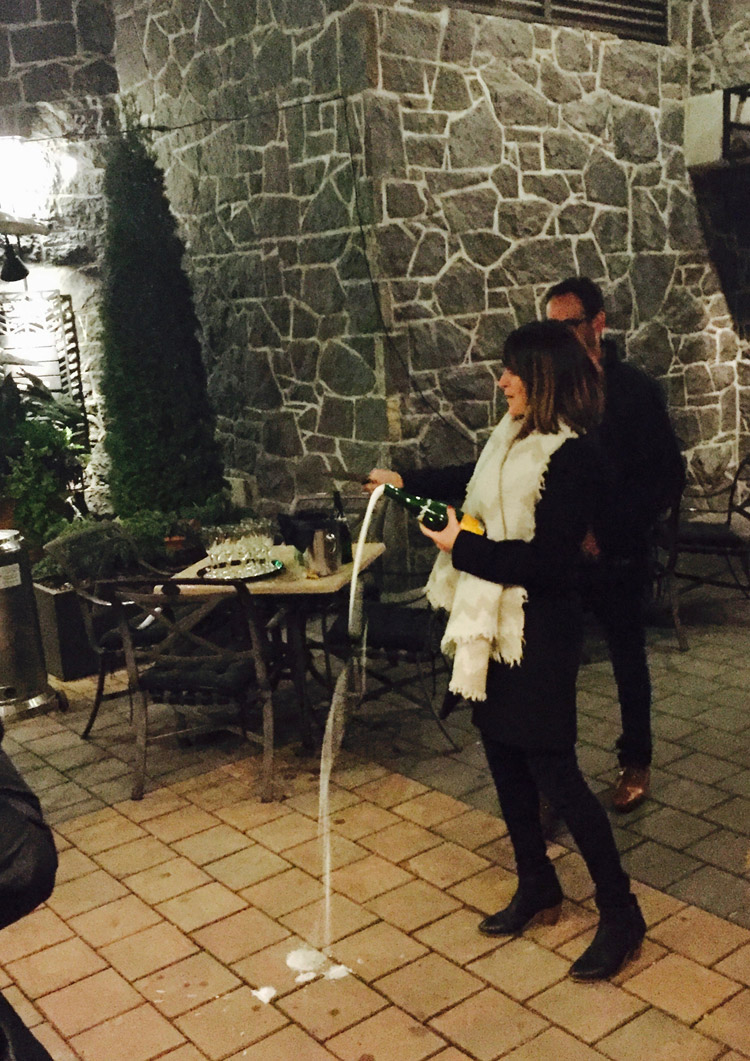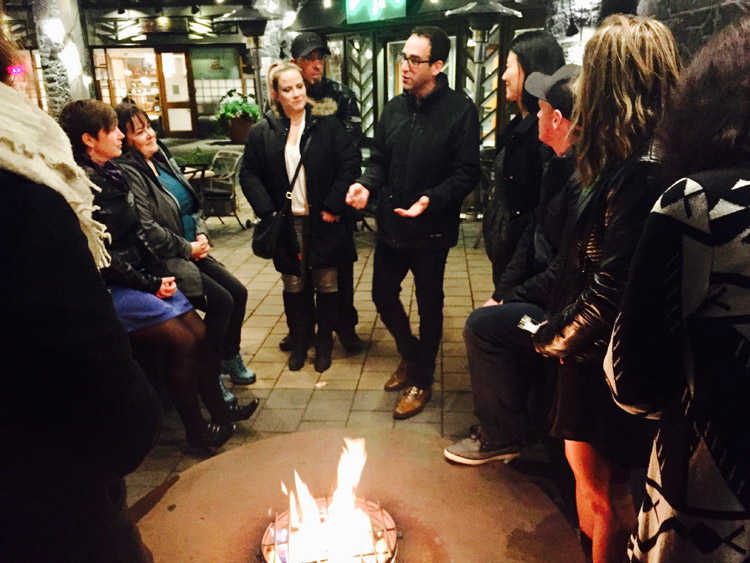 To finish off the evening we headed inside to a table full of cheese, crackers, and Inniskillin Icewine. Mountain-sport photography lines the walls of this funky bar that's also known for it's yummy cocktails and a few couples decided to stay on afterwards to keep the party going. But before the group split up for the evening it was time to see who won the poker – not me I'm afraid.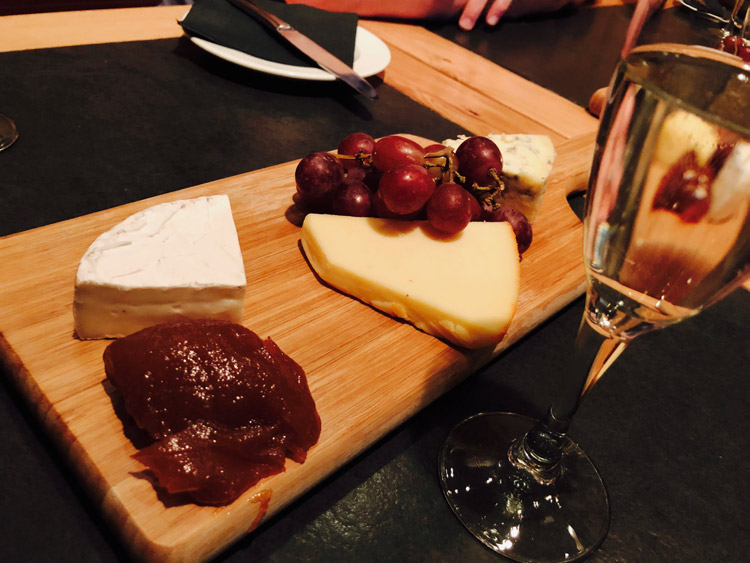 Whistler Tasting Tours run two different dinner tours, a desert tour, and lunch tour. Wine pairings are optional, but highly recommended. Dietary restrictions can be taken into account – on my tour they dealt seamlessly with a seafood allergy, mushroom hatred, and someone who couldn't eat sugar.
The "Finer Things" tour was a lovely way of sampling some of Whistler's high-end dining options, while at the same time being good fun and social. People were swapping stories, suggestions and tips, and as we said goodbye to one couple we vowed that when the snow starts to fly we'd meet up for a ski.
For more information on dining in Whistler, visit Whistler.com.