Editor's Note: Originally written by Feet Banks in 2017, we've updated this post adding new places, tips and photos – cheers!
It's been a long time coming but the sunny days of spring seem to have finally arrived (not that we will ever complain about the endless, bottomless winter we've had). And to celebrate the arrival of Whistler's most festive season The Insider is taking another good hard look at one of this town's most storied, honoured and favourite traditions: après.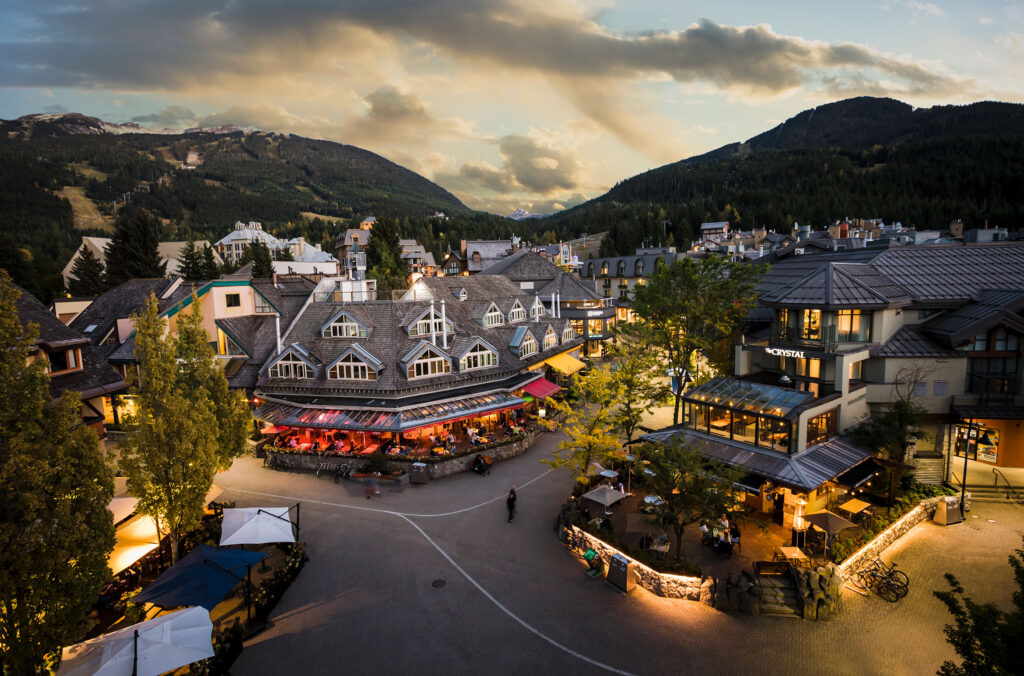 Après is that special block of time in between the day's activities and the night's festivities. It's both a celebration of accomplishments and a preparation for success. How you après, where you après, and with whom you après can say a lot about a person and make or break any ski vacation.
With that in mind, here is the Insider's Guide to Whistler Après.
The Cool Kids
HandleBar is a small spot at the base of Blackcomb in the Upper Village that flies a bit under the radar but has a loyal, local following. There are no bottles in this joint, just beer (and wine) on tap and management has decided to do away with the ubiquitous flatscreen TVs that plague almost every other public drinking space in North America. At the HandleBar, it's all about human interaction – celebrating friendships, making connections and enjoying a frosty beverage or slice of pizza. They also have a pretty skookum patio space that has been underutilized…until now.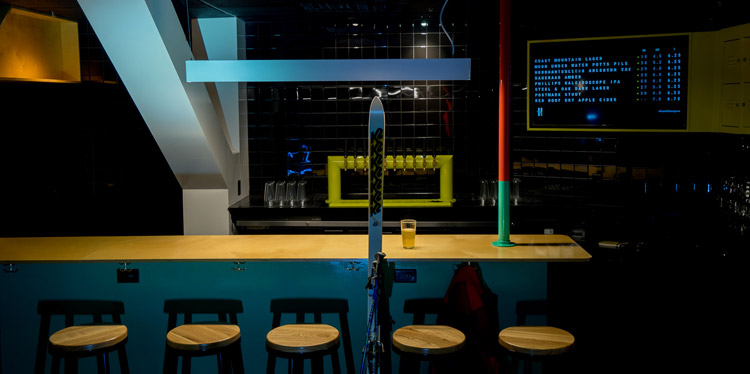 Also nestled in the Upper Village, RMU Blackcomb is part cafe, part bar, part store. With an array of locally crafted beers, local musicians playing, walls of cool ski and adventure gear and a good patio, this is another solid, après option.
The Veteran – Dusty's Bar & Grill, Creekside

Dusty's has been hosting epic Whistler après since the first skis slid down the slopes and it always feels good to tap into that history with a group session at this historic Creekside spot. The Dusty's Caesar (garnished with beef Jerky) is legendary. Bonus points if you hit Dusty's when Whistler legends The Hairfarmers are playing but every day is a party.
(Lesser-known fact: Dusty was also the name of a stuffed horse that "lived" in the bar throughout most of the 1980s. You can still see Dusty on the bar's logo.)
If you love Caesar's, check out our blog post dedicated to this legendary drink, A Whister Tour-de-Caesar: The Geat Canadian Cocktail.
The Big Guns – GLC and The Longhorn

Hear music as you ski down to the Village? That's the Garibaldi Lift Company and/or the Longhorn Saloon & Grill. These two places, located on the snow at the base of the Whistler and Blackcomb Gondolas, are the gold standard for North American après, no one does it better.
These two patios make après dreams come true day after day after day after day. The drinks flow, the food nourishes, the music bumps, the staff are top-notch and we literally know over 15 people who have met their husband / wife après-ing at one of these two spots. They each have their own flavour though, so try both and see which suits you best.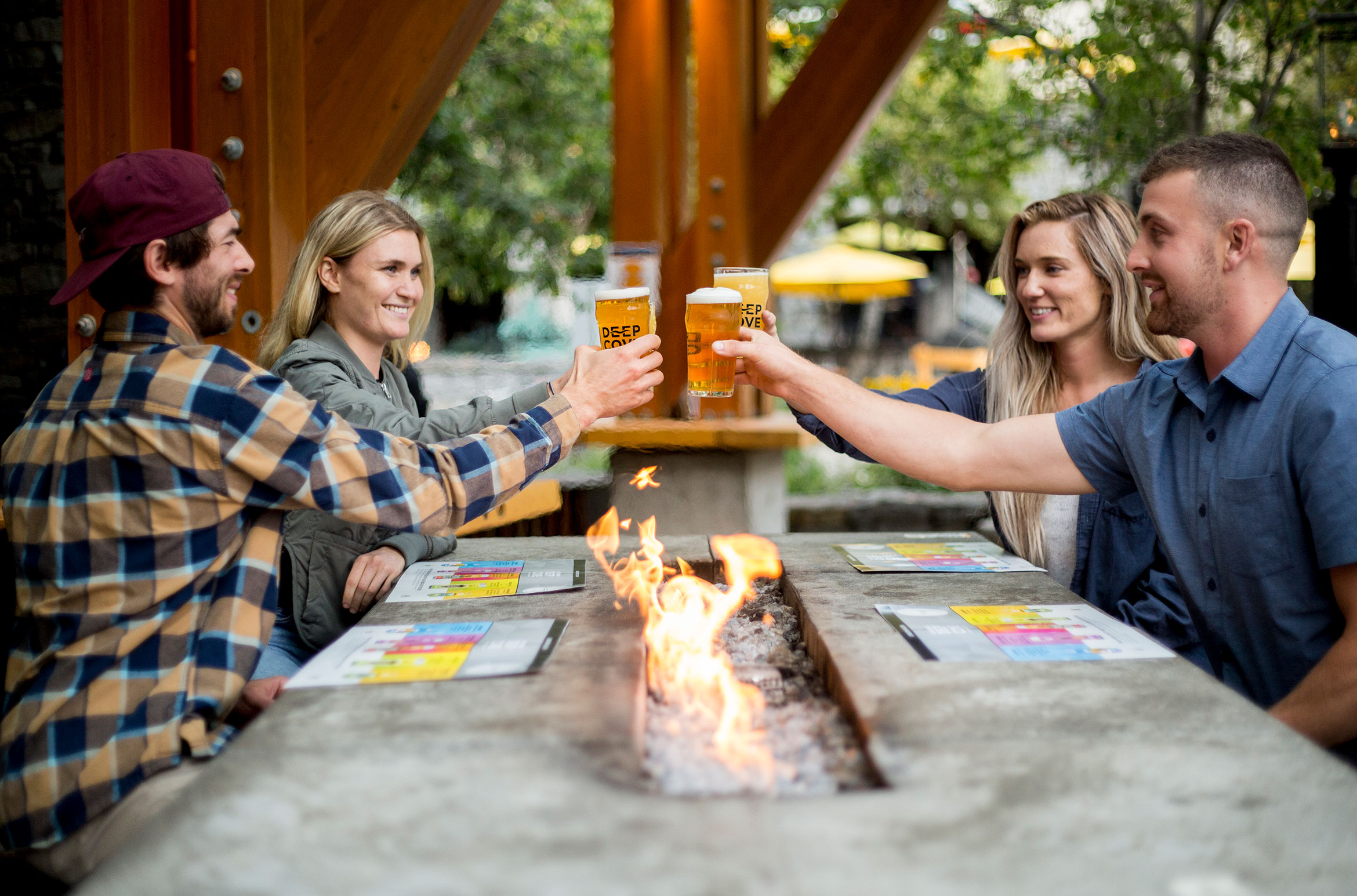 The Underdog – Merlin's Bar & Grill

Technically only an underdog because it sits at the bottom of only one giant ski hill (Blackcomb, in the Upper Village), Merlin's is off the beaten path enough that it might party harder than anyone. The Hairfarmers have a residency here, the DJ plays in a hanging gondola cabin, the whole joint is named after a Wizard…. and the patio is enormous.
Special accolades to Merlin's (and all Whistler Blackcomb bars) for doing away with plastic straws in every drink they serve. Plastic is a huge toxic pollution problem globally and by doing away with straws Merlin's is hoping to keep 98,000 straws (or 20km/12 miles) worth of plastic out of our landfills and waterways each season. Kudos! (and if you really need a straw, staff will provide a compostable one on request).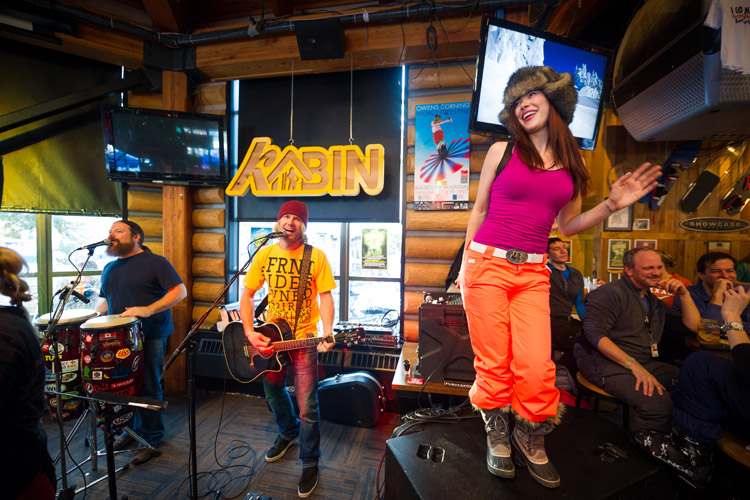 The Out of the Way-ers
Après is arguably the best part of the day so the popular spots can get busy. Luckily, anyone seeking a mellower, quieter après experience need only walk a few steps further and explore Whistler Village. The Amsterdam hosts a fun après (not exactly quiet but it's easier to find a seat), so does the Beacon Pub & Eatery, Earls Kitchen + Bar, Stonesedge, Brickworks and down in Creekside, Southside Diner, Cure Lounge and Roland's Pub. These joints offer a fully functional and enjoyable après, but it will be easier to get a table.
Read about some of these and more in Hidden Gems of Whistler's Apres Scene.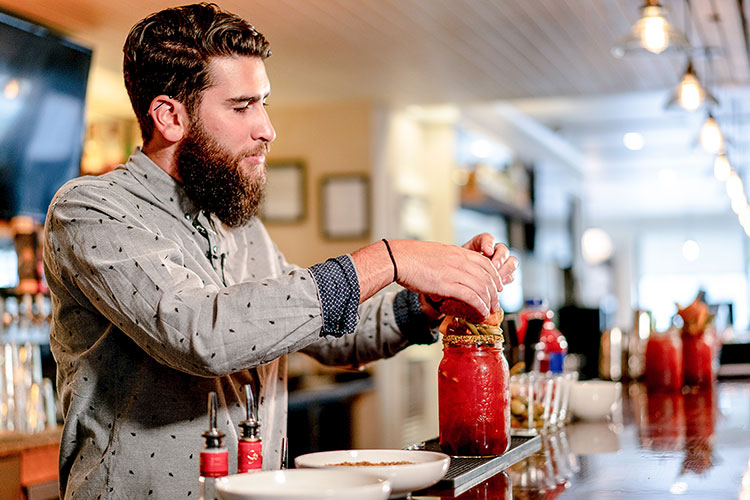 The Boutique Options
Après is universal in Whistler so you can customize the experience any way you like. The Dubh Linn Gate offers live music with an Irish twist, the Bearfoot Bistro serves oysters and cheese fondue in the Champagne Lounge, Araxi cocktail bar is an upscale, central spot for civilized après (they also have some of the best espressos in town).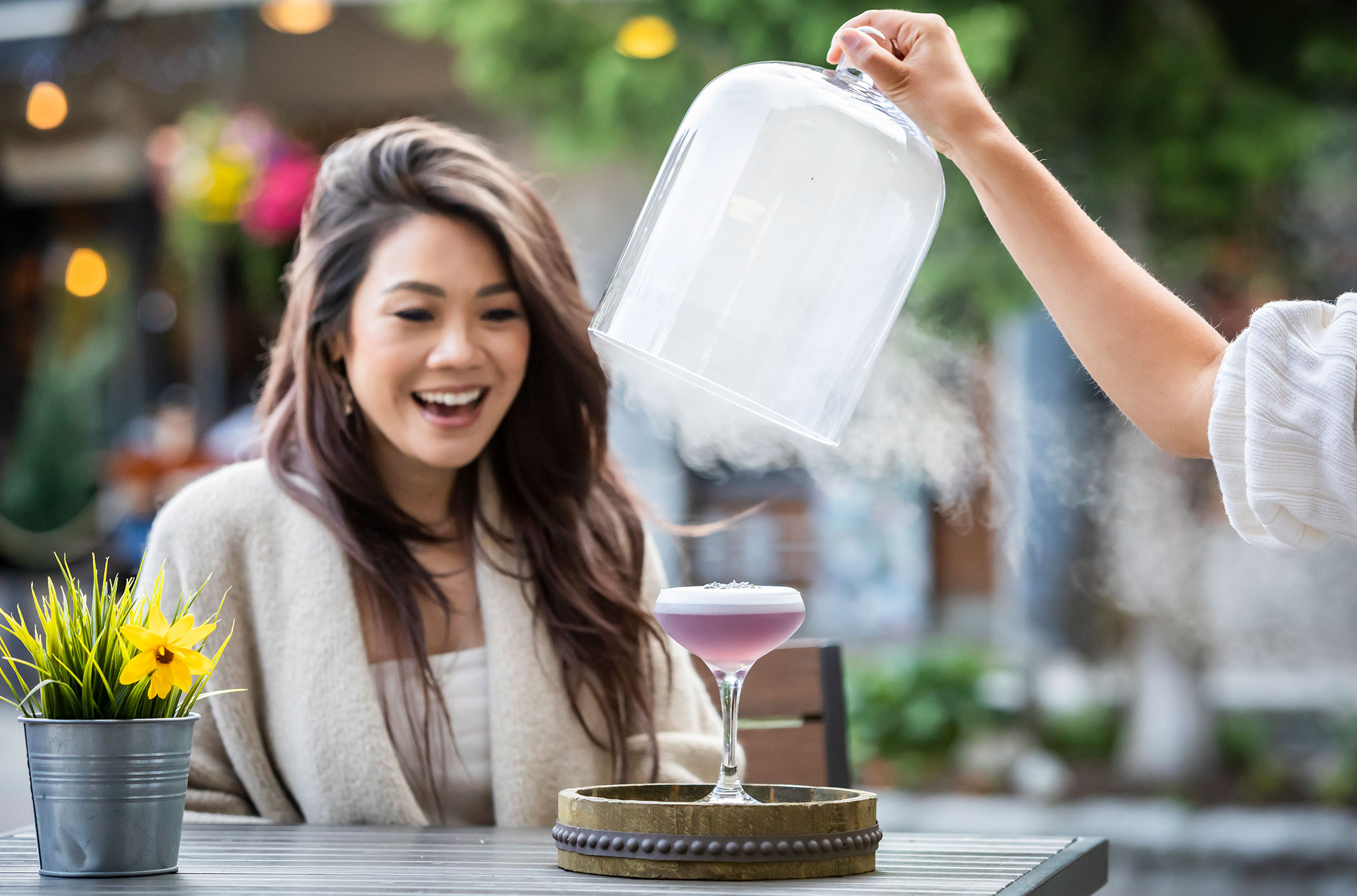 Bar Oso by Araxi offers a pleasant après with windows facing the stroll so you can check out the latest mountain fashions. For more tips on board-based eating, read The Art of Charcuterie in Whistler. There are no rules with Whistler après, so choose your own adventure.
The Hotels
There's a certain charm to a hotel lounge, a sense of style and class. At the base of Blackcomb, The Mallard Lounge (in the Fairmont Chateau Whistler) is well known for its sophisticated après featuring a big fireplace and some of the best-mixed drinks in town. Down the street, Braidwood Tavern at the Four Seasons has a great lineup of craft beers, cool cocktails and a funky, cabin vibe.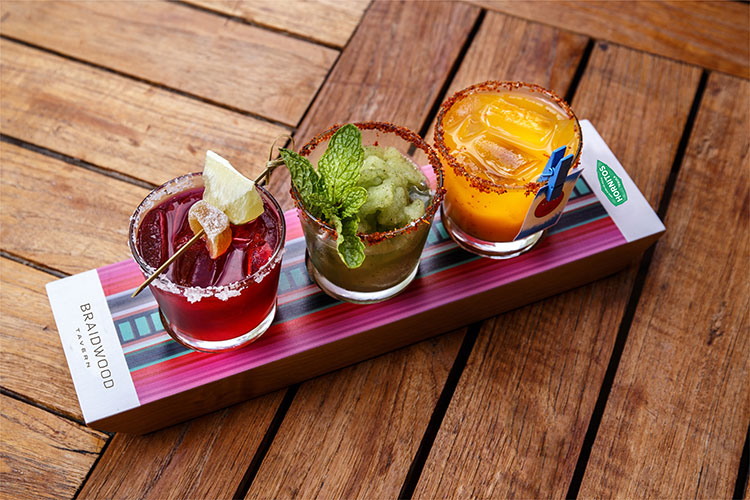 Hidden inside the Pan Pacific Village Centre, The Raven Room is an uber cool place to go for an incredible craft cocktail and is owned by two, young, local couples. And out at Nita Lake Lodge, Cure Lounge offers the only après in Whistler with lakeside views.
On-Mountain Après
Who says you have to be in the valley to après? The après hangout spot on-mountain is the Umbrella Bar, located outside the Roundhouse on Whistler Mountain which means it's accessible to skiers and sightseeing visitors alike. Take some laps or upload, enjoy the views and grab a seat in the bar which boasts some of the best views at Whistler Blackcomb.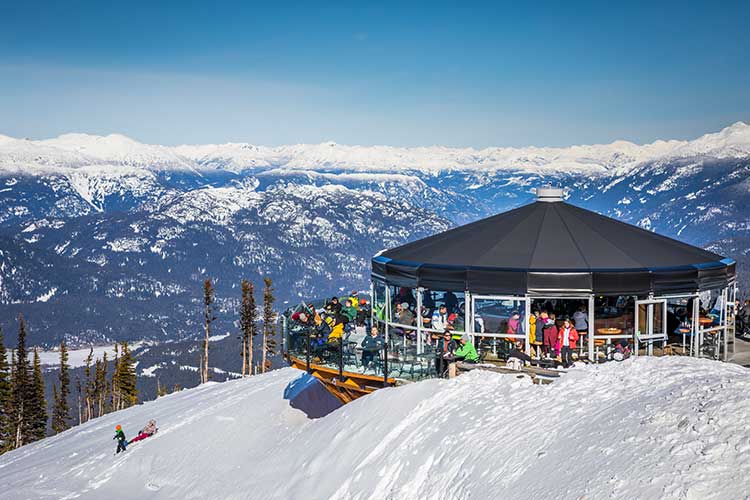 There are pretty incredible sundecks on at both the Whistler Roundhouse, Blackcomb's Rendezvous and the Glacier Creek Lodge on Blackcomb (which will also often feature real DJs spinning 45rpm vinyl). Seppo's, in the Roundhouse is a Whistler institution and the perfect place for "First Après" and the aforementioned Umbrella Bar on the other side of the Roundhouse has top-notch views. (Just remember, never ski or ride impaired, the gondolas are always there for a safe download!)
Self-Guided Whistler Craft Beer Tour
If you like your brews then take a look at the Craft Beer tour on the free Go Whistler Tour app. It features nine suggestions of where to get locally-made, craft beer.
Got you stoked for spring? It's going to be a blast – come and join the fun. For more information on après check out the interactive map, or visit Whistler.com for more après venues.
Book your winter trip now to secure up to 25% off lodging, 65% off lift tickets and 45% off rentals. Come experience Whistler Blackcomb's extensive terrain and adventure at every turn to see why we're known as one of the best resorts on the planet. Secure your winter getaway with Whistler.com for Flexible Cancellation and our Price Match Guarantee. Want to win a winter trip for two to Whistler? Check out our Drop In to Winter contest.