Editor's Note: This blog was first posted in 2011, a year after Whistler played co-host to the 2010 Olympic & Paralympic Winter Games, and now we've updated it on the heels of the Beijing 2022 Winter Olympics.
The closing ceremonies for the Beijing 2022 Winter Olympics have just ended and we wanted to say a huge congratulations to all the athletes who took part from around the world, especially to Team Canada and Whistler's Olympians — some of who came home with hardware.
Marielle Thompson took the silver medal in Women's Ski Cross, Cassie Sharpe also scored the silver at the Women's Half Pipe, James "Jack" Crawford came away with bronze in Men's Combined and Mark McMorris scored bronze in the Men's Snowboard Slopestyle. But the winter sports stoke hasn't finished just yet, the Beijing 2022 Paralympic Winter Games is just around the corner, happening March 4 to 13, 2022.
However, you don't have to check the calendar to get into the Olympic spirit in Whistler as it's celebrated here every day, embedded in the incredible legacies the 2010 Olympic & Paralympic Winter Games left behind.
Self-Guided Whistler Olympic Legacies Tour
You can download the Legacies of the 2010 Olympic & Paralympic Winter Games from the free Go Whistler Tours app. In partnership with the Resort Municipality of Whistler and the Whistler Museum & Archives, it features 18 stops with visual, written and audio content bringing each location to life.
The tour allows you to imagine what it would have been like in Whistler back in 2010 when it welcomed the world.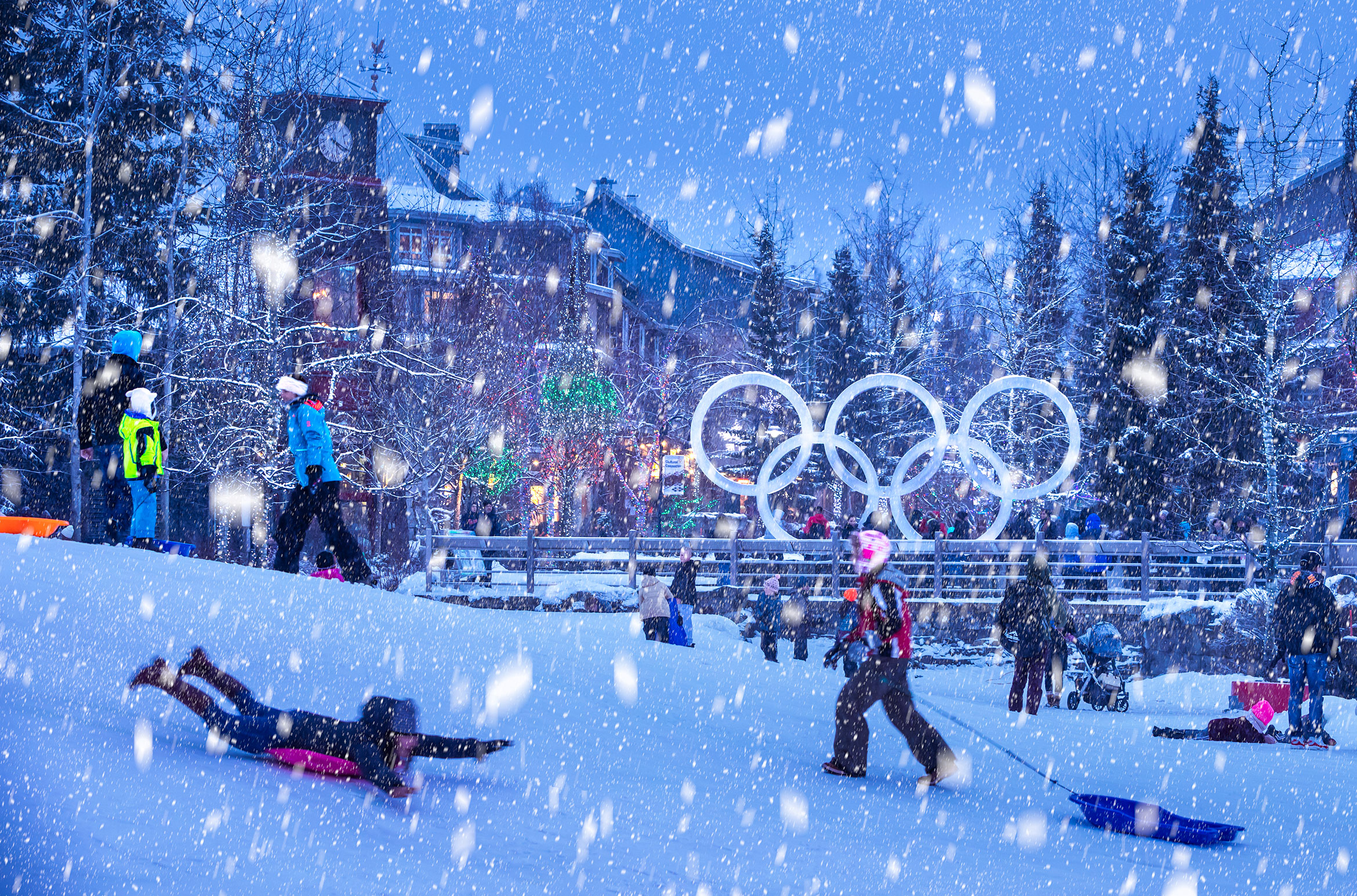 Whistler's Olympic Legacies
Arriving in Whistler it doesn't take long to be reminded of the good times we all had during the 2010 Olympic & Paralympic Winter Games. Right off the highway, a massive Inukshuk looms brilliantly backlit with blue light. Inukshuit (plural) were originally used by the Inuit people of northern Canada as trail markers or points of reference but here in Whistler, the human-shaped rock sculptures serve to remind us of that incredible winter when the world came to our quiet mountain town to party, make friends and watch Olympic and Paralympic athletes shine.
The good news is that the Olympic spirit lives on in the many Olympic Legacies left over from the games and we've put together a list of places and venues where one can revisit the excitement of the 2010 Olympic & Paralympic Winter Games, even if you missed them the first time around.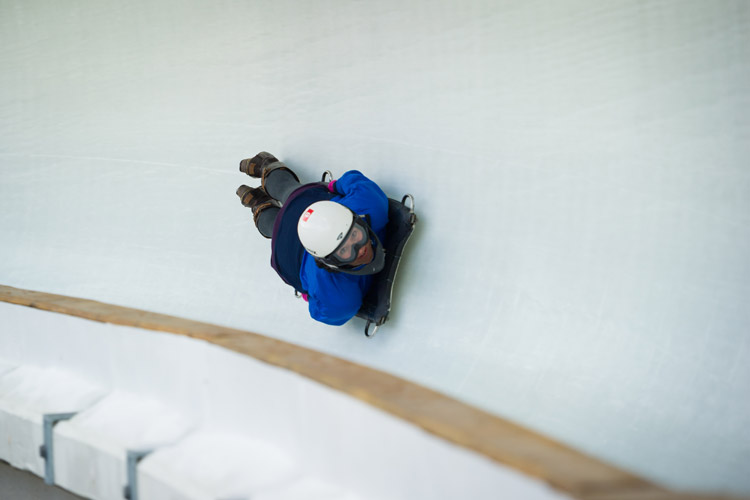 Bombing down an icy chute at upwards of 100 kilometres per hour is actually way more fun than it sounds. And the good news is that you don't have to be an Olympian to have a go. There are two public programs at the Whistler Sliding Centre – bobsleigh and skeleton. You can also watch athletes training and competing throughout the season, with youth development programs running in the winter months.
"The one thing that is always consistent about Whistler is it's one of the best tracks of the world," says Chris Dornan with the Canadian Luge Association. "Whistler has some of the smoothest and best ice."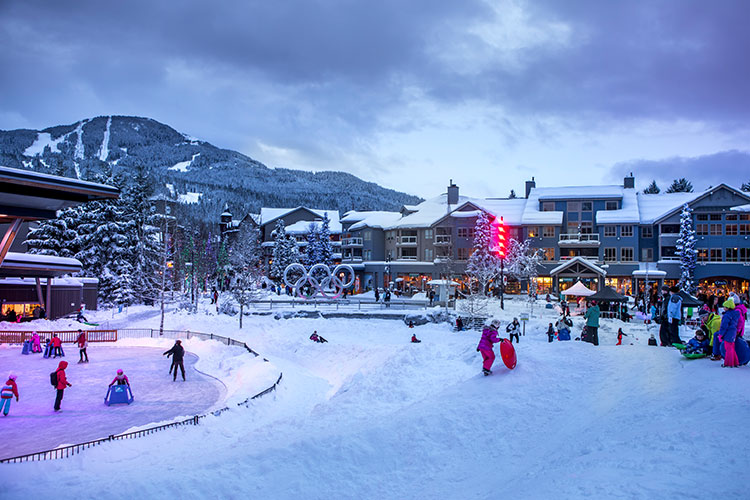 The Plaza started as the site of the Whistler Medals ceremonies but now you can ice skate and toboggan in the winter and in the summer catch a free concert by everyone from Sam Roberts to Loverboy. The covered, centralized gathering spot is currently giving guests and locals alike a new place to meet up, kick back and enjoy the stunning mountain views of the Whistler Valley.
The Plaza also houses lots of 2010 memorabilia, athlete tributes and a memorial to Georgian luge athlete Nodar Kumaritashvili. You pretty much have to check out the Plaza because it's right beside The Rings and everyone goes there.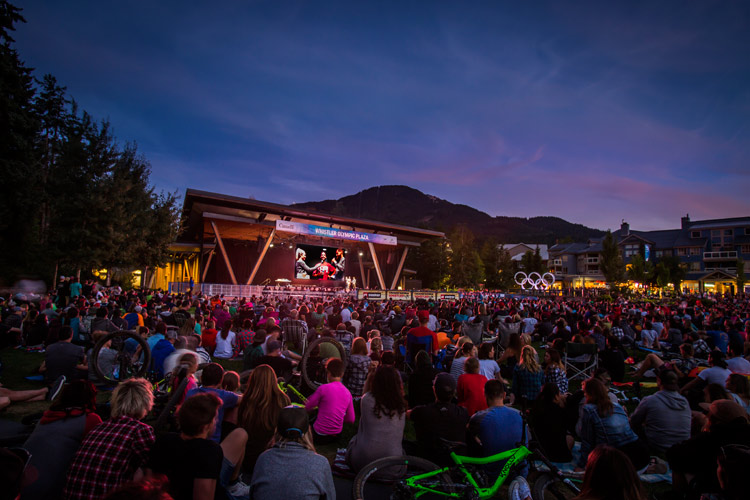 A slower, more peaceful experience can be found just south of town at Whistler Olympic Park in the beautiful Callaghan Valley. The Park offers self-guided, recreational Nordic skiing, tobogganing and snowshoeing as well as lessons or multi-day programs in skate skiing, ski jumping, and Biathlon (which is not as peaceful as the others but when else are you going to be able to shoot a gun on holidays in Canada?)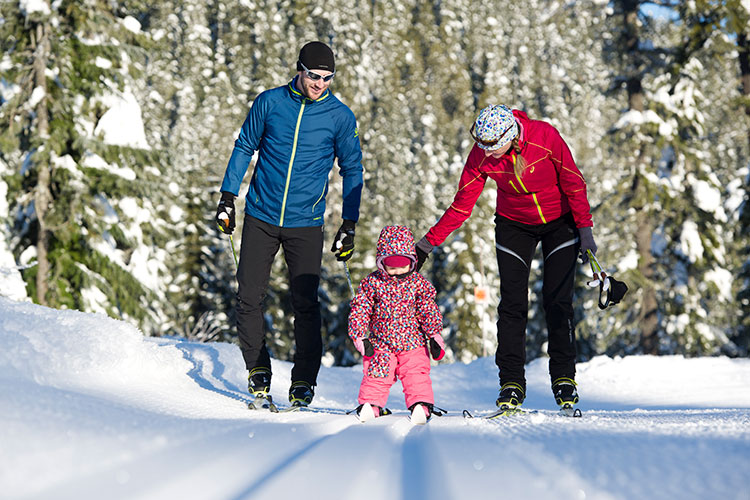 Take a read of these blog posts to get a feel for what's on offer at Whistler Olympic Park.
The Olympic Rings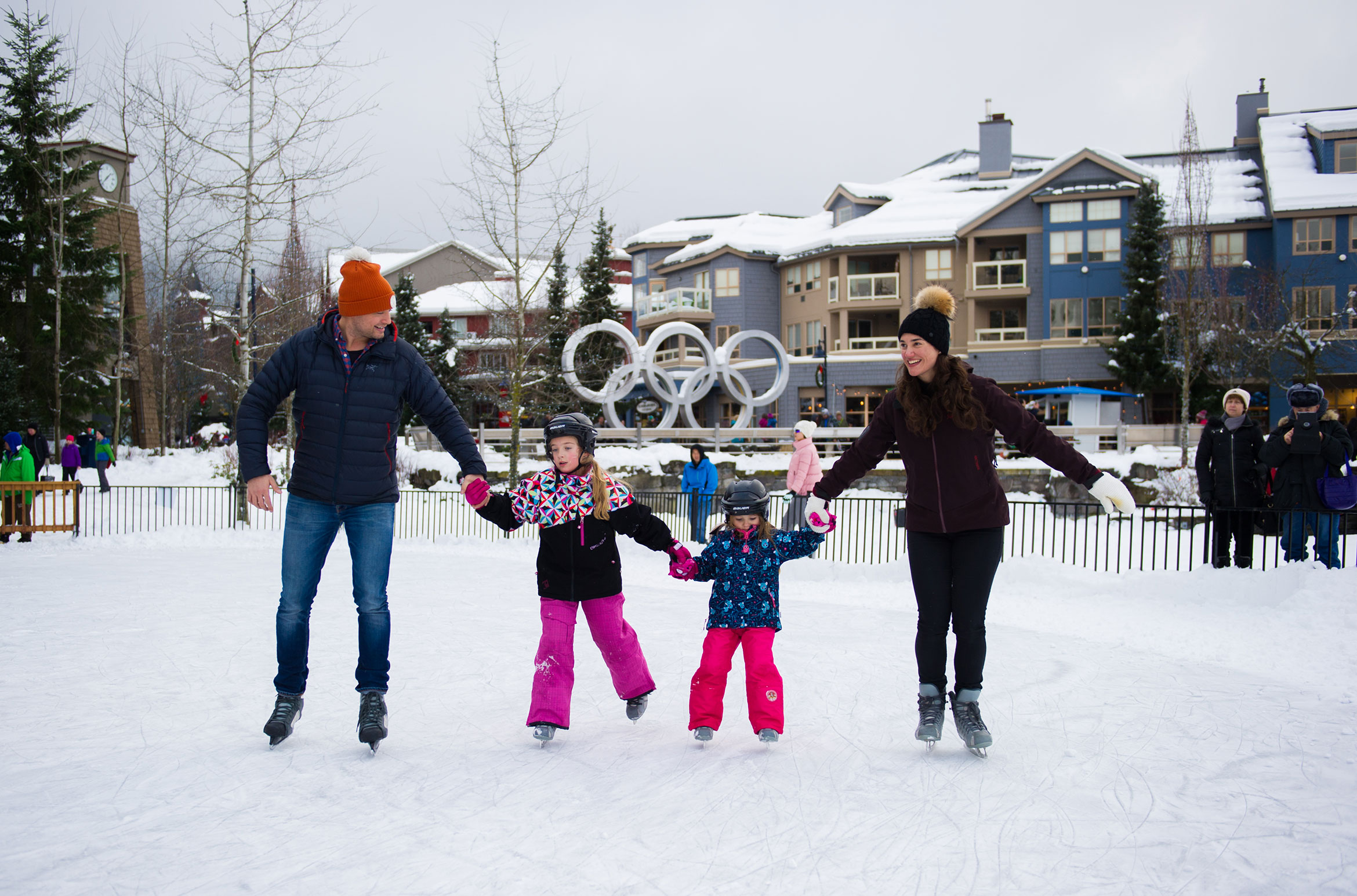 The most popular rings to hit Whistler since melted cheese and onion rings (French Onion Poutine!) the official 2010 Olympic Rings almost always have a crowd gathered around them shooting "Hero" photos and reliving the Olympic dream.
If you stand in front of the rings (no climbing on them please), raise your arms and close your eyes tightly, you really do feel like a bit of a champion there for a second (or longer, depending on how many drinks you had at après.) In any case, the Rings are a Whistler must-see and are located right by Whistler Olympic Plaza in the Village.
Follow in the Footsteps of Olympians
The easiest way to view Whistler's Olympic legacies is via a guided, sightseeing tour of Whistler. For a tour option that takes you all over Whistler Valley, hop in a minivan with Whistler Valley Tours. The fully-guided tour goes north to Green Lake, where you can glimpse Whistler's very own ghost town, before you head on to some picturesque mountain and lake viewpoints that only a local would know about, and then down to Function Junction, where Whistler's two local breweries reside. In terms of Olympic stop-offs, they go to the Whistler Sliding Centre, the Olympic Rings in Creekside, which can be seen from the bottom of the Dave Murray Downhill, the site of the alpine skiing events, and the Whistler Athletes Centre.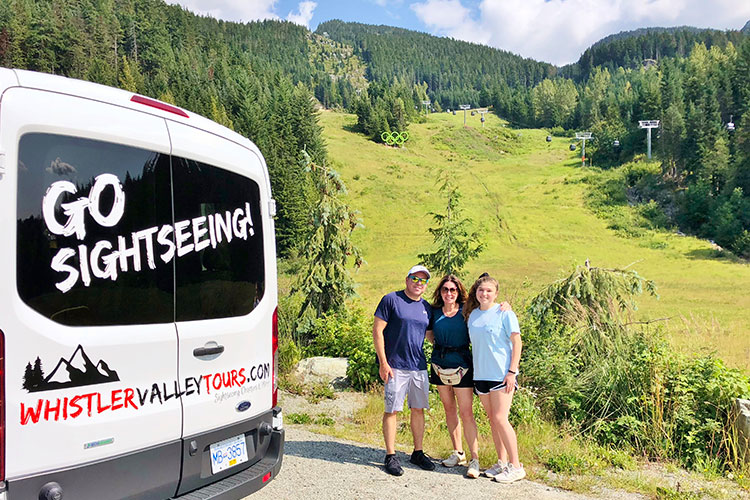 Another option is to go on a Whistler Olympic Park Combo Sightseeing Tour. The combo part refers to bear viewing as well as Olympic sightseeing as Whistler Photo Safaris has exclusive access to areas of Whistler Olympic Park where our iconic furry friends like to roam. A little trivia for you – Whistler Olympic Park was the first Olympic Nordic venue to include all three traditional Nordic sport stadiums on one site: cross-country, ski jumping and biathlon.
Whistler Mountain Inukshuk
Holding it down just outside the Roundhouse Lodge on Whistler Mountain, this Inukshuk is almost always covered in icy rime and blowing snow. The views from up there are absolutely unparalleled and a photo with this guy will make all your friends jealous for sure. There's also another set of rings where you exit the Whistler Village Gondola, next to the Roundhouse Lodge.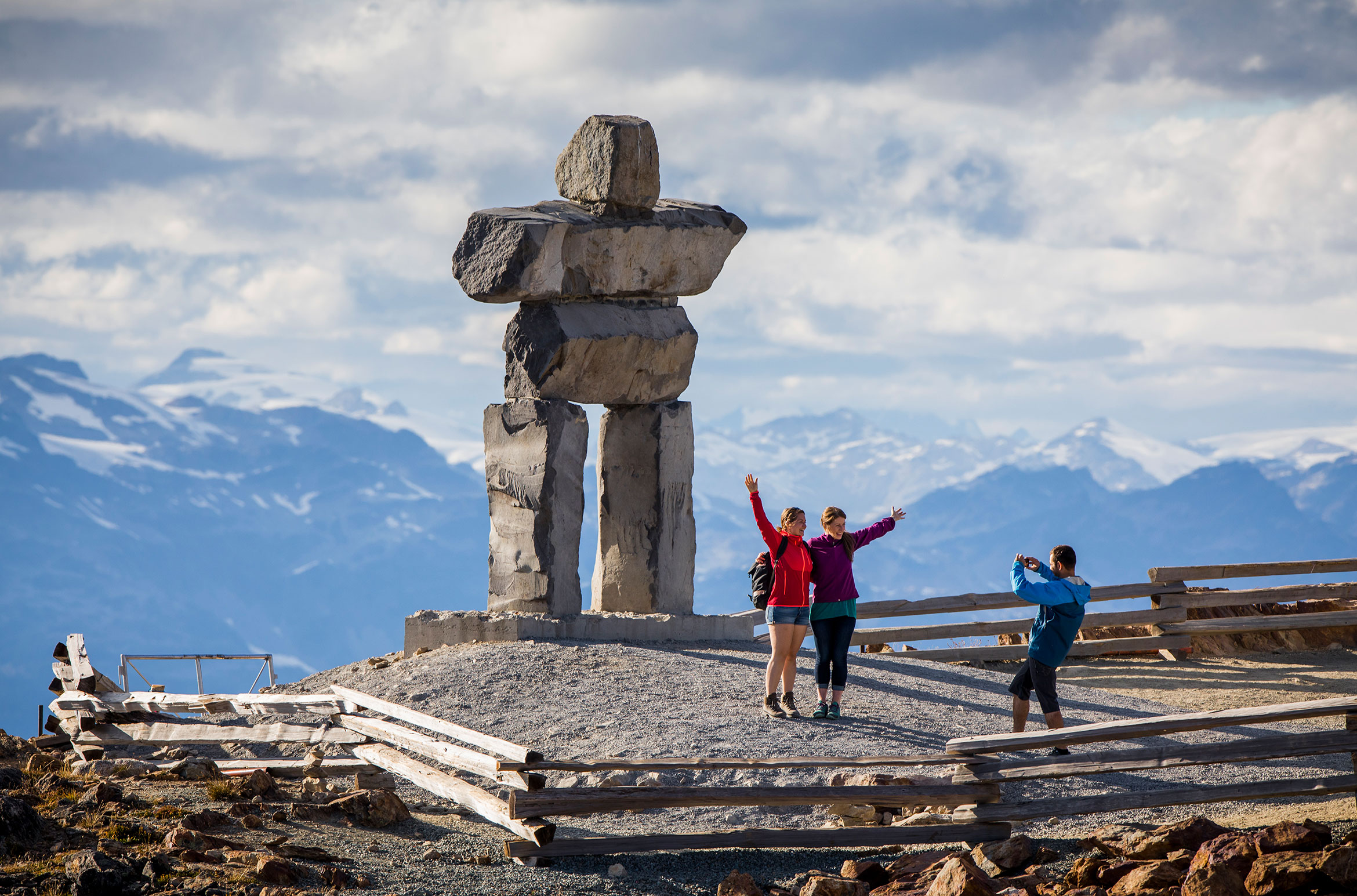 Inside the Roundhouse Lodge, you'll find Whistler Blackcomb's Olympic Legacy Display, which includes stories, photos and the skis of Didier Défago of Switzerland, who won the gold medal in the Men's Downhill.
Dave Murray Downhill
Even though it was around long before the 2010 Games, this Whistler Mountain classic (named after a Canadian ski hero and one of the original "Crazy Canucks") is where they held the men's Downhill, Super G, Giant Slalom and Slalom events. If you have a need for speed, there is no better run in the country.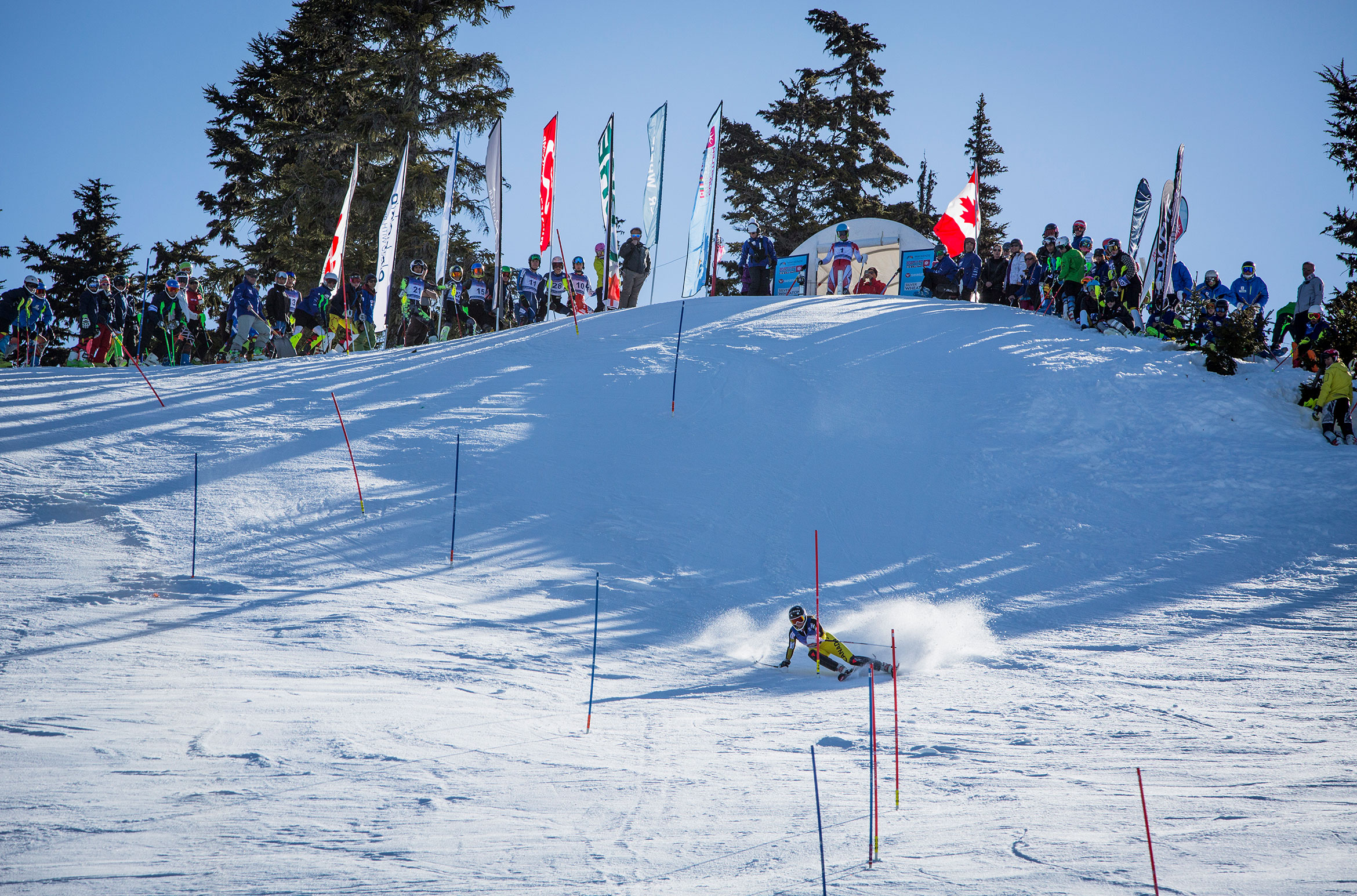 The "Dave Murray" is also a locals' favourite so you never know who might be up there opening it up and getting some wind in their hair – Ski Cross gold medallist Ashleigh McIvor or her teammate Julia Murray (who is also Dave's daughter) have both been ripping that run since they were knee-high to an Inukshuk.
Albeit with substantially less adrenaline than the Dave Murray downhill, the Whistler Museum does provide the most all-encompassing look at our local experience in February 2010. Perfect for days when your ski legs need a rest, the museum offers guests a chance to hold the torch, wear the blue "Smurf" volunteer uniform, check out the Paralympic cauldron and research the history of Whistler, a town that was literally conceived and built with hosting the games in mind.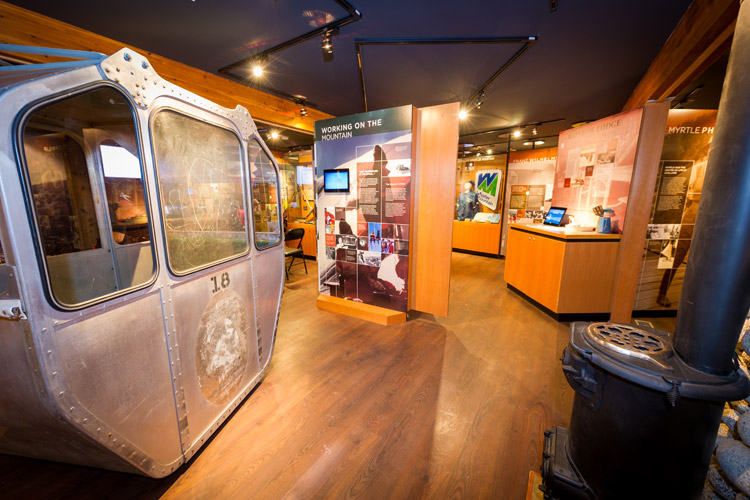 Of course, the best thing about the glory of the 2010 Games was how it brought everyone together under the umbrella of sport, community, friendship and fun. Those themes still live strong in Whistler so don't be shy, talk to people you meet in the Village and step out of your daily routine. Everyone is up here for the same things – good times, great snow and a photo by the Olympic Rings.
Book your winter trip now to secure up to 25% off lodging, 65% off lift tickets and 45% off rentals. Come experience Whistler Blackcomb's extensive terrain and adventure at every turn to see why we're known as one of the best resorts on the planet. Secure your winter getaway with Whistler.com for Flexible Cancellation and our Price Match Guarantee. Want to win a winter trip for two to Whistler? Check out our Drop In to Winter contest.