Updated March 2022
A pretty famous and well-respected wizard once said,
"It's our choices, Harry, that show what we truly are, far more than our abilities."
That's solid advice, even if you're not in wizard school (or named Harry), and with so many adventure and activity options in Whistler, our choices are important. So, to help you choose wisely, The Insider has tapped our own resident wizard, Feet Banks, for his Top 5 Most Essential Things to Do for Any Summer Trip to Whistler.
Editor's Note: Okay, Feet is technically not a wizard, but he spent much of his life riding and shredding under the old Wizard Chairlift on Blackcomb, so that's close enough.
1. Ancient Cedars Hike
"First of all, hiking is free and that is always a good thing," Feet says, "because it means you can spend more at aprés." Even more important, however, is the opportunity to visit, see, photograph and bask in the wondrous monstrosity of 900-year-old trees.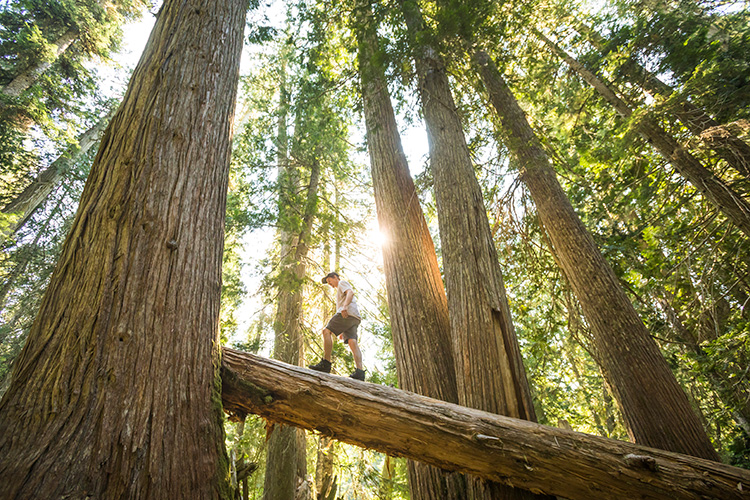 British Columbia is home to a quarter of all the temperate rainforest in the entire world and much of the remaining old-growth forests are super remote and difficult to access. The Ancient Cedars Trail, on the other hand, is just north of town on the flanks of Cougar Mountain and boasts a well-maintained and easily navigable trail. Although, it should be noted that the road to get there is pretty bumpy so a 4×4 vehicle is best.
Allow about three hours for the five-kilometre round-trip hike, but with only about 150 metres of elevation gain, this one is good for the whole family (kids love giant trees the most because they seem even bigger). This trip will bring out the tree hugger in everyone!
Read more in Ancient Cedars: A Tree Huggers Paradise.
2. Via Ferrata
Enjoy pretty much all the fun of rock climbing, without having to live in your van for three years. Italian for iron way, the Via Ferrata is basically a ladder made from iron rungs cemented into the cliffs below Whistler Peak, with steel cables you clip into for safety. The exposure, being hundreds of feet off the ground, traversing ledges and feeling the breeze beneath your feet is very real, incredibly exhilarating, and not something most people ever get to safely experience.
Plus, you have the option to finish the four-hour tour with a fun bit of glissading / glacier sliding down some of the same routes we ski all winter. If you can climb a ladder, you can Via Ferrata.
Read more in Whistler Via Ferrata – Climb On and Climbing Out of My Comfort Zone: Whistler Via Ferrata.
3. Jet Boating
Yes, bashing through white water rapids and ripping across pools is the kind of high-octane thrill that draws people to an area like Whistler in the first place, but the added bonus is a totally new perspective on the region. Before there were roads, rivers were the most efficient means of travelling across British Columbia's densely forested wilderness.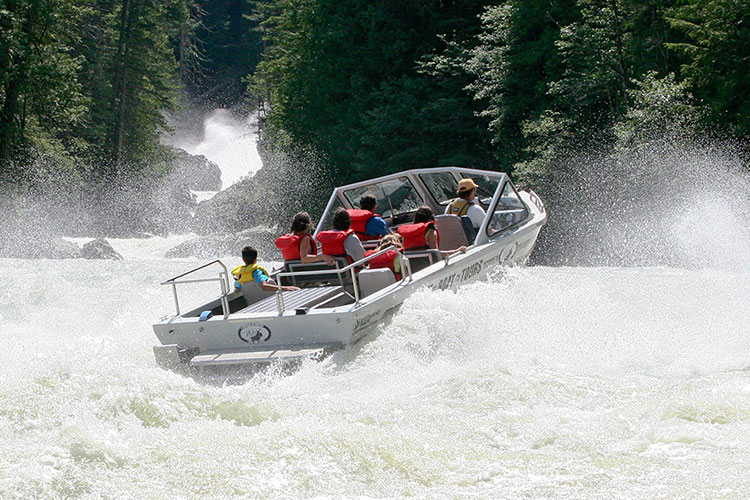 These days, spending any significant amount of time on a river is so rare it legitimately feels like a whole new world. Add in the fact that you get to experience it in a high-performance machine with one of the best jet boat pilots in the world (Canadian extreme ski pioneer Eric Pehota) and this is an afternoon that can't be beat. Plus, you often see bears on the shore.
4. Alpine Hiking on the High Note Trail
Another experience you probably can't get at home, alpine hiking is all about taking your time and enjoying the simpler things in life; like the Zen of following an established, maintained trail into the great beyond. Not to mention, the ephemeral beauty of the wildflowers that somehow eke an existence out of this barren alpine landscape 11 months of the year and then cover the mountainsides in colour and life (usually sometime in mid to late July) for just one.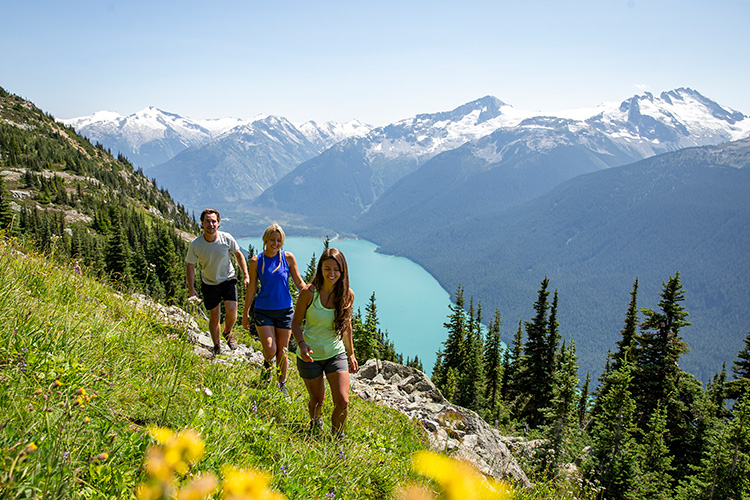 The High Note trail on Whistler Mountain is the gold standard (with shorter or longer route options to suit a wider variety of hiking ability) but don't sleep on the interpretive trails on Blackcomb either (the Decker Loop is the most challenging but also the most rewarding). Best of all, both mountains offer plenty of beginner and intermediate trails as well.
Read more in Adventure Differently: Hike in Whistler This Summer and Know Before You Go: Biking, Hiking and Sightseeing on Whistler Blackcomb.
5. Lake Life
The lakes in the Whistler Valley (there are five of 'em) are very special – pristine, shimmering oases of cool relaxation and soothing perfection. There truly is no other community in the province with this many incredible lakes all connected by a car-free, paved trail.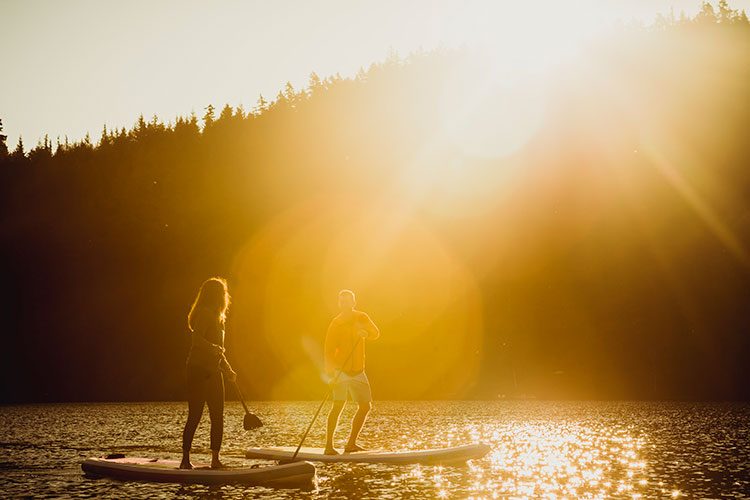 The easiest way to enjoy a Whistler lake is to simply go there and chill – read a book, stare at the mountains, maybe even have a nap, but be sure to hop in the water too, there's a definite, unique Whistler joy to swimming in a pristine lake and looking up at snow-capped peaks.
The other, more adventurous way to experience the lakes is to get out on a paddleboard, kayak, or canoe. Paddling across the sparkling blue water is one of those rare activities that merges relaxation and exhilaration (especially if you jump in!) to create the perfect Whistler summer day. Lake life forever!
Read more in Know Before You Go: Whistler Lakes and Parks and Insider's Guide: Paddleboarding in Whistler.
Runners Up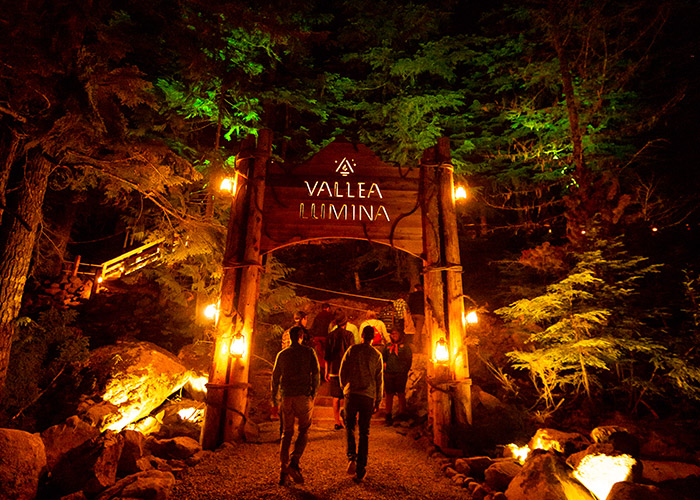 Strawberry Sake Margaritas at Sushi Village, the Squamish Lil'wat Cultural Centre, a burger at Splitz Grill, mountain buggy tours, and the super awesome nighttime fun of Vallea Lumina. Summer is only eight weekends long, get out there, get after it, and make good choices!
Fall in Whistler means more, like great value on accommodation with rooms from $135 CAD per night, plus a free $100 CAD Dining Voucher when you book a stay of 3-plus nights. Book in confidence with Whistler.com for Flexible Cancellation and a Price Match Guarantee. If you're dreaming of a trip to Whistler, enter our Find Your Altitude contest for a chance to win a six-night vacation with flights, accommodation and activities (including a heli trip) all covered.