IUpdated August 2023.
Via-Ferrata from Tourism Whistler.
Via Ferrata means "Iron Way" in Italian. It's basically a re-bar ladder drilled into a cliff. It's relatively easy and safe, but you still get to experience the feeling of being on the rock with some empty space beneath you. This is definitely one of the coolest tours in Whistler.
Tackling the Via Ferrata
I'm the type of person who needs a push to expand my comfort zone.
Earlier this summer I had the opportunity to join Mountain Skills Academy on the Whistler Via Ferrata Tour. My first thought was a firm "no", but after analyzing the idea to death, I thought "why not?" I am, relatively, fit for rarely hitting the gym and sleeping through lunch hour yoga.      
Once the idea was planted, the search for a partner in crime began. Convincing my rock star workmate, Michelle, did not take much arm-twisting. Both of us live in Whistler and hear stories of great accomplishments every day. I am not talking about the incredible athletic abilities of our Olympians, I am talking about the Grandparents who go ziplining with the family even though they're afraid of heights or the honeymooners who cheer each other on as they barrel headfirst down the fastest sliding track in the world on the Skeleton Experience.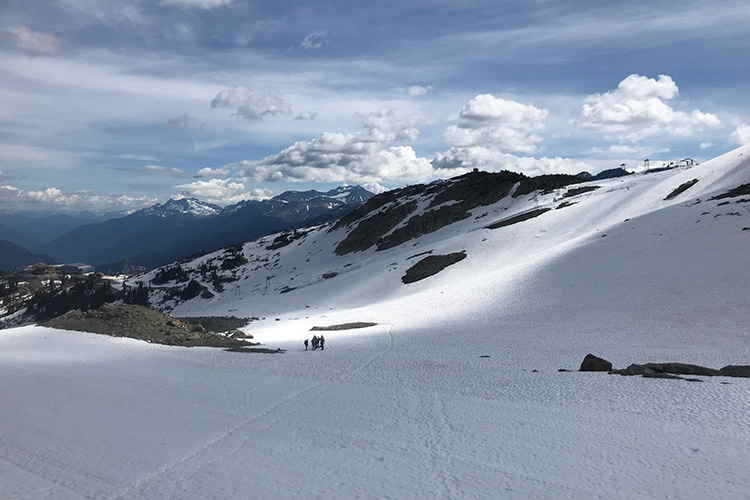 The hiking part of the tour was a no brainer. I walk every day, I enjoy taking in the Valley Trail to Whistler Creekside and hiking the trails around Lost Lake, they're all great for keeping the legs in shape. But climbing, for me, is an unknown. This is where my fear kicked in. 
The fear of not knowing if I had a fear of heights. I know it sounds odd, but how do you know if you have a fear of heights if you've never tested the limits? I am fine on elevators, chairlifts and suspension bridges. But how I would feel on the side of a mountain? I had no clue.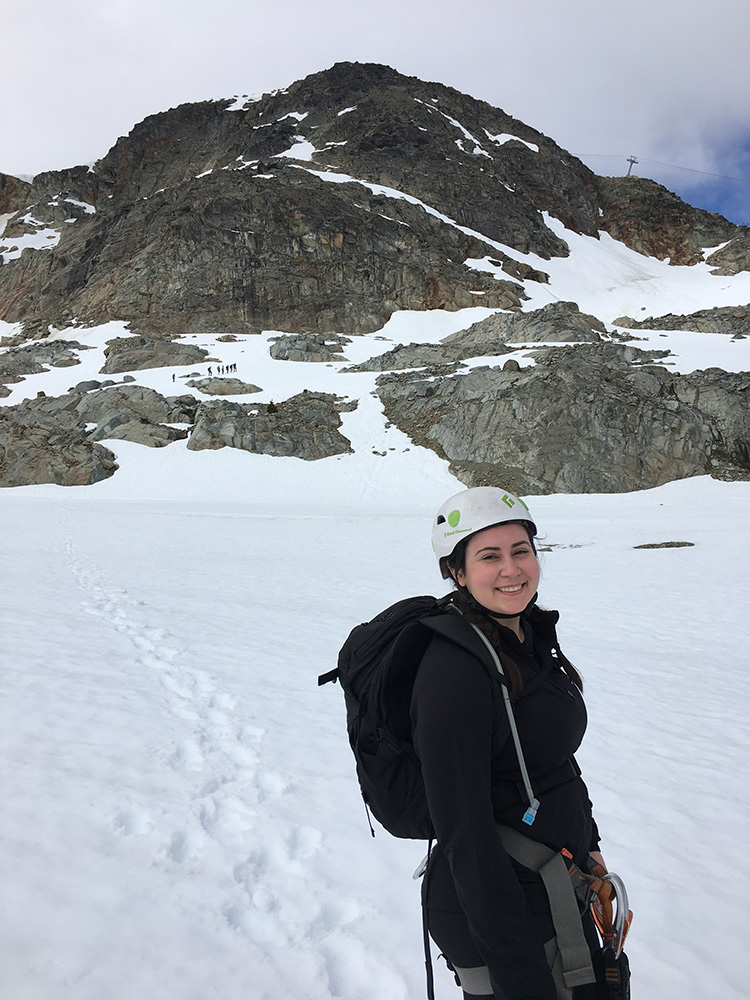 Getting Started on the Via Ferrata
The tour started at the top of the Whistler Gondola. Michelle and I were psyched to get suited up for the 4-hour tour. Thankfully, owning extensive personal equipment was not required, everything from loaner boots to gloves were available to us. The hike up the trail was mellow, and the guides entertained us with stories and history lessons at each view point. It turns out, Via Ferrata is Italian for "iron road".
INSIDER TIP: Dress in warm layers, a weatherproof shell jacket and pants, depending on weather conditions shorts are acceptable. Don't forget sunglasses, water, snacks and your camera!
Our tiny group had become a real team by the time we reached the first rock face. After some practice working the safety clips, we felt transformed into wild mountaineers.
The Climb
In all honesty, during the first half of the climb I don't think I looked past the location of where I needed to fasten the clips. The only thing I remember thinking was, "wow, I really do need to purchase proper hiking boots, these boots rock". No deep ruminations on mountains or geological time, my mind was focused on safety and comfort.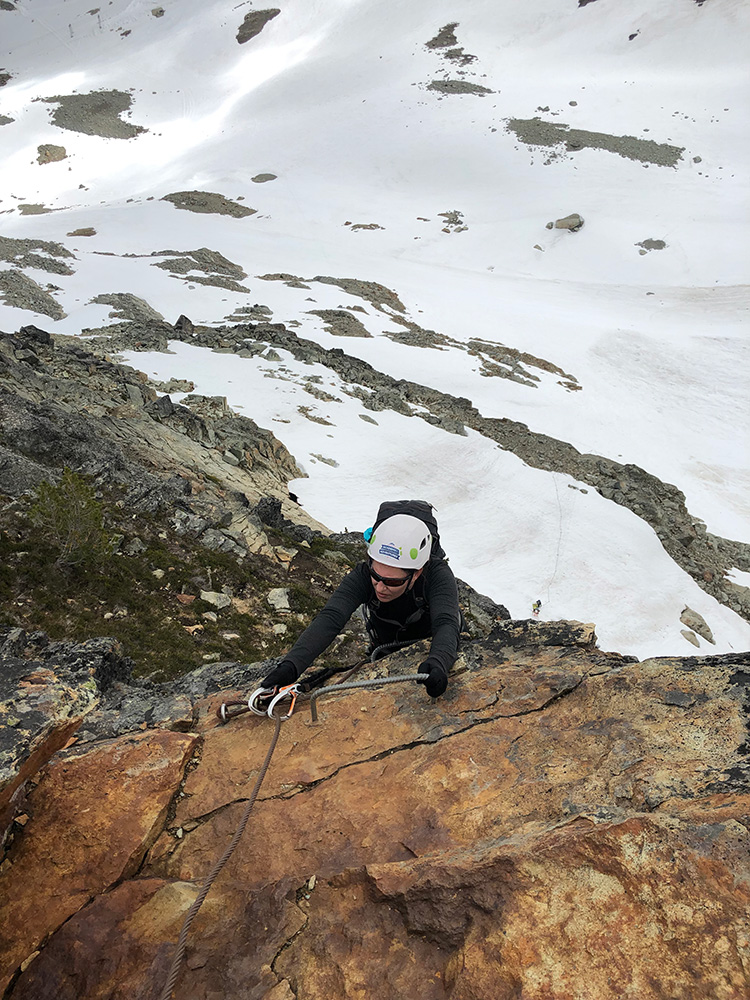 As we reached the midway point, I had started to get the hang of it. I even briefly thought about joining the Whistler Core to become a true rock-climbing mountain woman. We took a break, and to my delight, Michelle had been wise enough to remember to bring food. There is something truly spectacular about hanging out on a rock cliff, eating banana bread and looking out at the familiar Blackcomb Mountain from a totally new vantage point. 
The second half of the rock climb was more challenging, but also more rewarding. With a few more yoga classes I could be unstoppable. I can't explain how I felt when I reached the top, the emotions were running high and so was my pride. Mission accomplished! And thanks to Instagram, everyone would know it.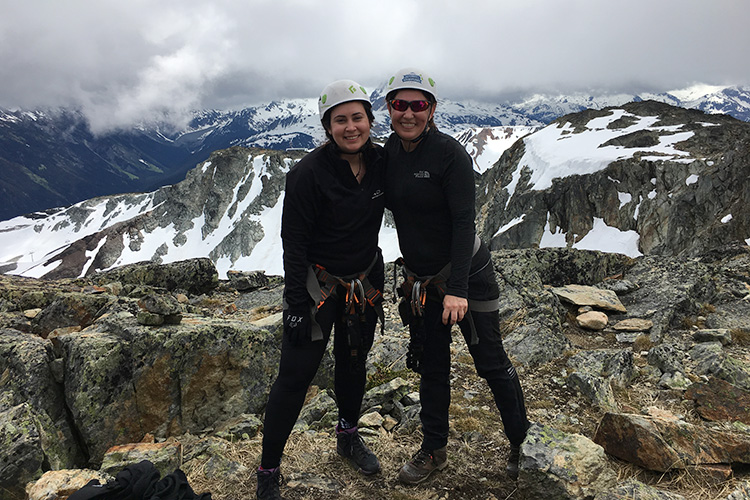 The adrenaline buzz slowly faded into pure bliss as we took in more fabulous mountain views, 360 degrees and as far as the eye could see. I felt like I could stay up there forever but the descent back to headquarters awaited.  
Getting down
For most of the year, this tour would download via the Peak Express chairlift but our tour took place before the chairlift opened for summer sightseeing. So our trail to home base went through the labyrinth of snow walls and onto one of Whistler's famous ski runs, The Saddle. Now came the moment I had been waiting for, the chance to strap on yellow rubber ducky pants and slide down one of Whistler's "Must Do" ski runs – on my butt – on purpose. The best thing about being a human toboggan other than the fact you get to be a human toboggan? There's very little hiking required to make it to the finish line.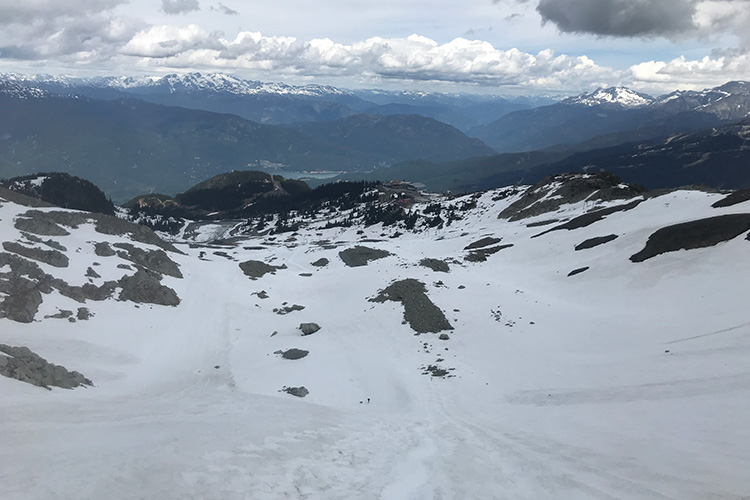 If you're looking to add that extra thrill to your mountain top adventure, book your Whistler Via Ferrata Tour and grab your PEAK 2 PEAK 360 Experience ticket (needed for the tour) at Whistler.com.