From Hawaii to Peru, Italy to Israel, the beginnings of paddleboarding around the world have all had one thing in common – the ocean. So it may come as a surprise that the modern version of stand-up paddleboarding (also known as SUP) has effortlessly immersed itself in mountain culture. While you won't find us surfing on Whistler's lakes, you will find us in downward-facing dog during a SUP yoga class, touring lakes, navigating the River of Golden Dreams and portaging boards up to glacial lakes.
The versatility of this activity is perhaps why it has found such a welcoming home in Whistler. While the majority of our sports are adrenaline-fuelled, paddleboarding offers a yin to the yang, a way to cool and slow down while enjoying time in nature.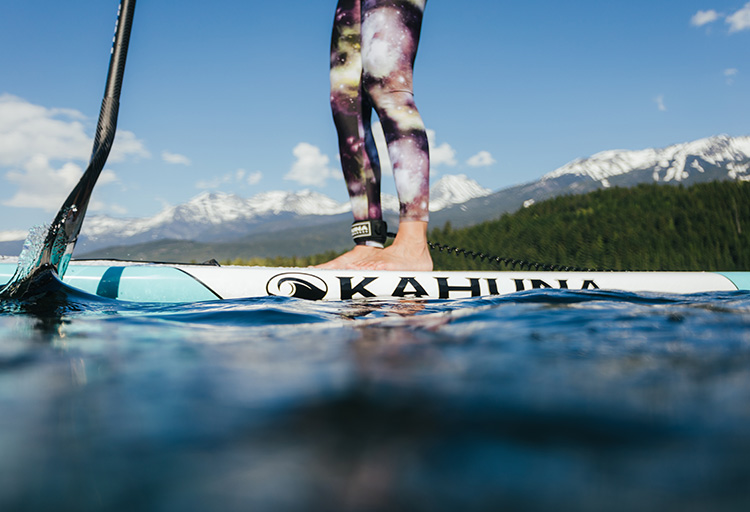 In Blue Mind: The Surprising Science That Shows How Being Near, In, On, or Under Water Can Make You Happier, Healthier, More Connected, and Better at What You Do, author Wallas J. Nichols points out "For many of us, the ocean, and other bodies of water literally pull the stress from us". Who couldn't use a little more of that?
Whether you've never paddleboarded or it's your favourite pastime, Whistler has a way for you to get out and enjoy the benefits of being on the water.
Guided Paddleboard Tours in Whistler
If you're new to paddleboarding, a guided tour is the perfect way to dip your toes into this activity. You will gain confidence as you learn the core skills and techniques from a certified instructor. As a bonus, you'll also learn about the local ecology and history of the area.
Whistler Eco Tours (WET) also offers advanced SUP instruction so you can take your learning further and begin to explore more challenging Whistler waterways.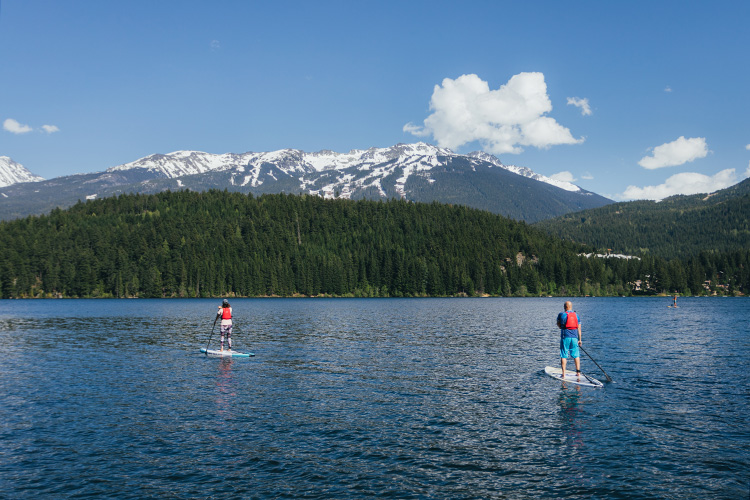 Paddleboard Rentals in Whistler
Paddleboard rentals are offered at two lakeside locations (no transport needed!), Lakeside Park from Backroads Whistler and Wayside Park from WET on Alta Lake. Both outfits will sort you out with all the gear you need and their staff can offer tips on where to go, hazards to be aware of and wildlife to watch out for.
Hourly, half day and full day rentals are offered so you can choose between a leisurely paddle or an all out-excursion around Alta Lake with swim and snack stops.
If you are an advanced paddleboarder you can go from Alta Lake to Green Lake by paddling down the River of Golden Dreams (an experience worth doing in it's own right). But, you will need a way to transport the paddleboard back to your starting point.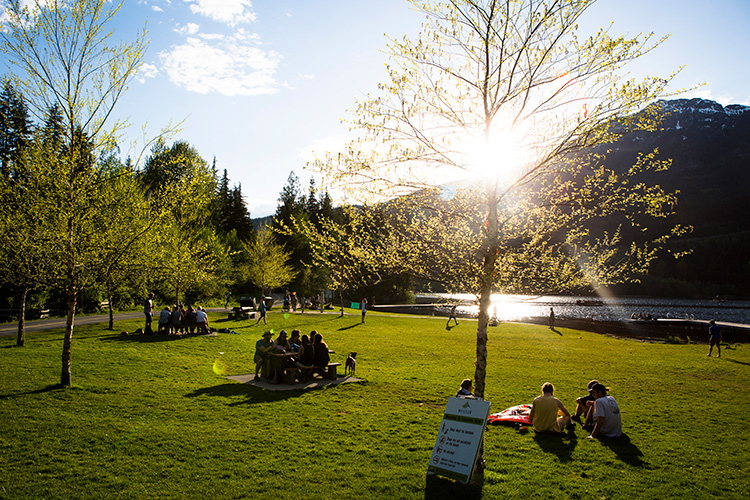 SUP Yoga in Whistler
Ready to really test your balance? SUP yoga could be the challenge you're looking for. WET offers 1 hour SUP yoga classes on Alta Lake off of Wayside Park. It is a fun-focused class meant for all levels. Both of these activities are great for you on so many levels on their own that together they make for a powerhouse activity. Plus, think how much more motivated you'll be to stay in a difficult asana when an impromptu dip is on the other side of giving up.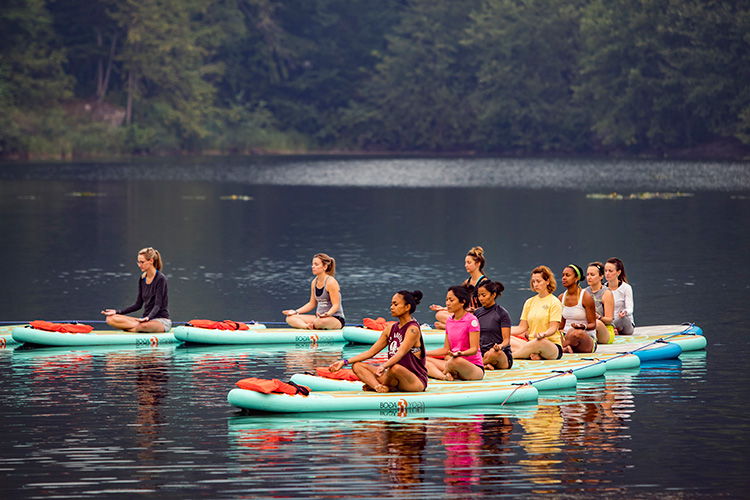 B.Y.O.P. – Bring Your Own Paddleboard
If you're travelling to Whistler by car, you can bring your own inflatable paddleboard with you (I'd leave the non-inflatable kind at home as storing it at your accommodation could be difficult). With your own board (and a way to transport it) Whistler's waterways are yours to explore. Here are three locations to consider putting on your list:
Alpha Lake – Beginner. Small and protected, Alpha Lake is a great place to start out. You can put-in via the beach or the dock. Keep an eye out for the resident beavers!
Cheakamus Lake – Beginner to Advanced. If you want to hike-in your paddleboard to an alpine lake, Cheakamus Lake is the most accessible. The trail is both mellow and short, and the views far outweigh the effort. Check out our Insider's Guide to Hiking Cheakamus Lake for more information.
River of Golden Dreams – Intermediate to Advanced. The scenic and meandering River of Golden Dreams connects Alta Lake and Green Lake. You'll need to be able to paddle small rapids and safely navigate around other watercraft users. Check water levels before heading out, if the water is too low or too high conditions can be unsafe.
For a truly unique experience, you could take on the challenge of hiking your paddleboard to one of Whistler's glacier lined lakes like Wedgemount Lake or Iceberg Lake (love of "Type 2 fun" required) or arrange a heli-picnic paddleboard with Blackcomb Helicopters.
OUTSIDER CODE: Transport Canada requires you to have a life-jacket / personal flotation device (PFD), a buoyant heaving line (tow rope) and sound signalling device (like a whistle) with you on your paddleboard. A leash, waterproof light for signalling, water bottle and a dry bag with your sunscreen and phone secured inside are all good ideas too.
Ready to cruise along Whistler's waterways? Learn more about paddleboarding rentals and tours in Whistler, and find all you need to plan your summer vacation at Whistler.com.