Summer belongs to the young. Certainly, we can all enjoy it (and I increasingly appreciate being warm the older I get) but it is difficult for an adult to truly match that childish, exuberant thrill of finishing that last one-hour day of school and then rolling right into summer vacation.
For a kid, summer is freedom – two glorious months untethered from the monotony and structured routine of the school system. With warm weather and longer days (here in Canada at least), summer offers kids the opportunity to explore and expand their own limits of adventure, opportunity and fun.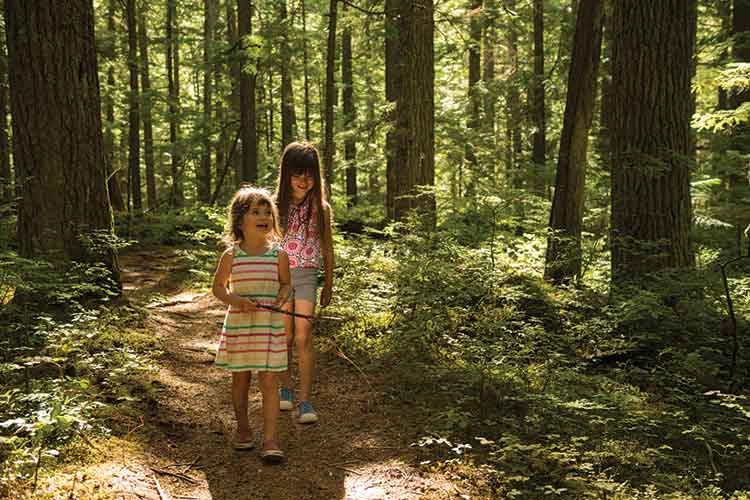 And whether that's water fights and starry nights in their own backyard, lessons learned, friendships formed at camp, or on holiday, those glorious days of youthful summer can become a foundation for how we spend the rest of our lives.
So, in the spirit of making the most of your children's days this summer, here are eight things you can do with your kids in Whistler this summer that won't have them asking – are we there yet?
1. Bike the Fitzsimmons Pump Track
Officially known as the Fitzsimmons Bike Park (because it's on the shores of Fitzsimmons Creek on the eastern edge of Day Lots 2 and 3), this skills park is built to suit almost any level of rider. Beginners can rip around the mini pump track or skills area, while more advanced rippers can go for glory on the jump lines.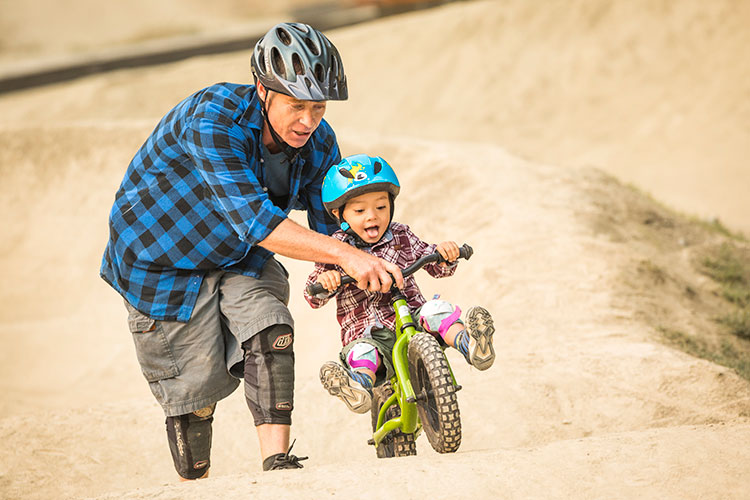 It's all free, just be sure your tots on run bikes (or scooters) don't end up over in the skateboard park next door. The skaters are all very nice, but there is a level of knowledge and etiquette required in a skate park to avoid collisions. On that note, pebbles from your bike's tires are no good if they end up on the skaters' concrete. Keep your bikes in the bike park; respect and fun are the keys to a good time!
Are We There Yet Score: 0. This spot is so close to the Village and parking, the kids are there before they know it.
 2. Check Out Some True 'Heavy Metal' at the Train Wreck
In the old days, we weren't supposed to talk about this awesome spot because it required a short hike up the railway tracks to access but thanks to a new trail and (really beautiful) bridge accessible from the Cheakamus Crossing area, Whistler's infamous trainwreck is back on the menu!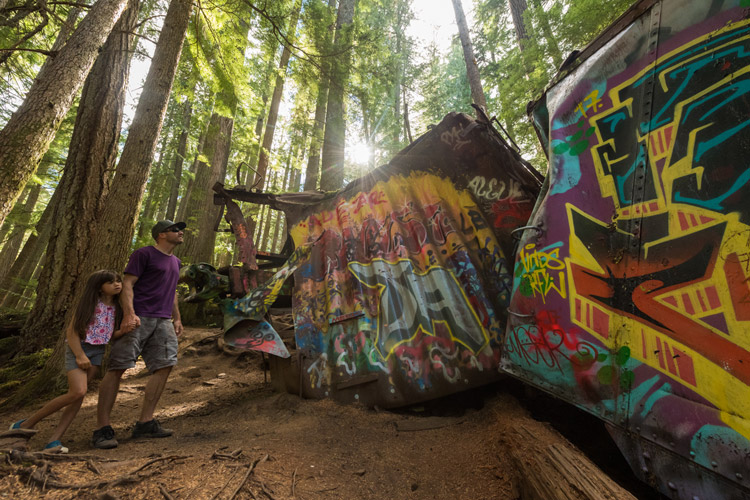 The hike through the forest (short, with no elevation gain) and over Cheakamus River is pretty incredible on its own, but even the surliest little hiker will liven up at the sight of huge, mangled freight train cars scattered amongst the towering rainforest trees.
Plus, local artists continue to paint and update whatever flat surfaces they can find with graffiti so it's like a nature walk, history lesson, and art tour all in one. Check out Boxcars & Bridges: Whistler's Iconic Train Wreck Hike for access info.
INSIDER TIP: This trail can get busy at the weekends, so we'd suggest doing it on a weekday or getting out there early in the day.
Are We There Yet Score: 4. It's just far enough that you might actually hear this. If that happens, mention to your kids that goldfish have an eight-second attention span and ask them to time their own by counting to 16 Mississippi. Then ask them to spell Mississippi nine times. By then you will be there.
3. Escape the Weather (and more) at Escape! Whistler
Yes, it sounds unbelievable, but sometimes it rains in Whistler, which is good for the forests and rivers and animals, so we try not to complain. Instead, we head down to Escape! Whistler to challenge our creativity, wit and teamwork skills in one (or all) of their six-themed escape rooms. (The Gold Rush is my personal, new favourite).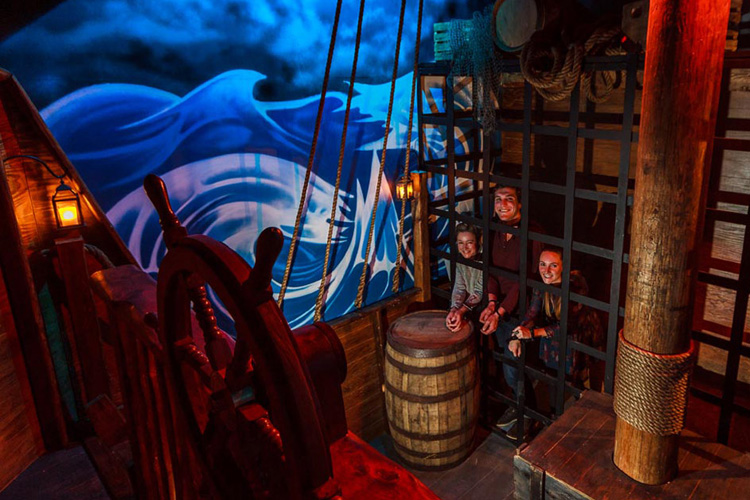 Kids seem to absolutely love these rooms and are often better at escaping them than adults. Escape! Whistler is downstairs in the Hilton Hotel, right in Whistler Village's Mountain Square.
Are We There Yet Score: 0. It's right in the Village and "getting there" aka escaping, is the point.
4. Trip the Light Fantastic at Vallea Lumina
Legitimately the coolest thing to hit the Whistler nightlife scene in decades, Vallea Lumina is a family-friendly, outdoor, interactive, multimedia experience that combines the natural beauty of Whistler's coastal rainforest with a laser / technicolour-accentuated mystery adventure story about two missing hikers and some forest magic.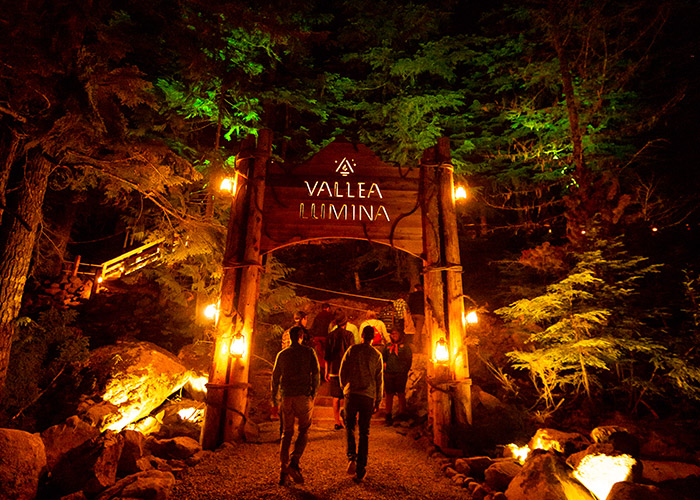 Set up a bit north of town on the flanks of Cougar Mountain, Vallea Lumina is a true and incredible wonder.
Dads / Moms: bonus points if you can somehow play the song Fly at Night by the Canadian band Chilliwack all day and get it stuck in your kids' heads. Not for any reason other than Chilliwack's seventh album (1978) was titled "Lights from the Valley", which is pretty close to a good enough translation of Vallea Lumina. Also, isn't ear-worming your kids with 70s dad-rock anthems one of the best parts of summer vacation?
Are We There Yet Score: 2. It's a ten-minute drive north from Whistler Village, but the kids will wonder where they're going when they pass by Green Lake and head towards the forest at night – always fun to keep them on their toes! 
5. Whistler Scavenger Hunts
One of the many benefits of Whistler hosting the 2010 Winter Olympic and Paralympic Games was a community-wide interest (and injection of funds) into the local arts and culture scene. One legacy of that is dozens of incredible public art installations spread out throughout the Whistler Valley.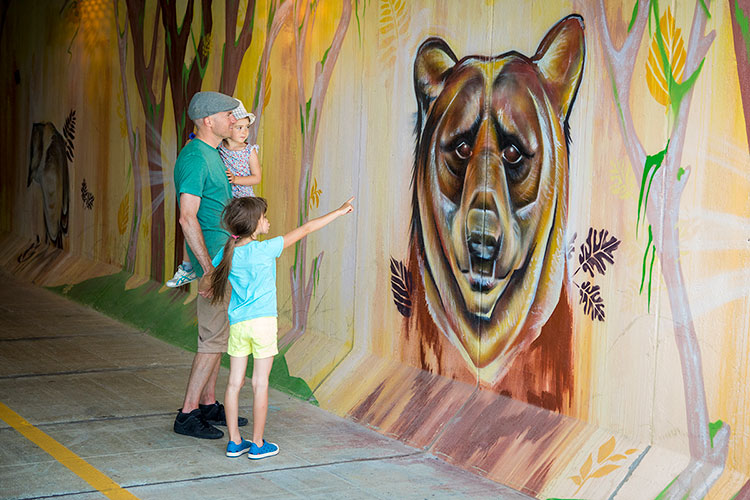 It's plenty of fun to just stroll aimlessly (while eating ice cream of course) to see what you can find but if your kids are into it you can gamify the experience by doing a Whistler Scavenger Hunt. There are downloadable Art Tour Maps available online at any time for you to do your own, the Visitors Centre has one that you can download or pick up in person, or after July 9, 2021, the Whistler Children's Festival is launching a Family Arts Adventure map with clues and interactive games.
Are We There Yet Score: 7. This whole experience is about walking around and exploring with no real end in mind, so there is the chance you may hear those dreaded words. Good news is, there is no final destination on this one, so you can respond, "no, and we never will be." See how that goes (and then get some more ice cream and push on!)
6. Get Inspired and Educated at Boarder X
Yes, I realize it's a summer vacation faux pas to even mention the word education to your kids, but this incredible art exhibit at the Squamish Lil'wat Cultural Centre bypasses that problem because it's features contemporary First Nation artists showcasing their connections to the land through skateboarding, snowboarding and surfing!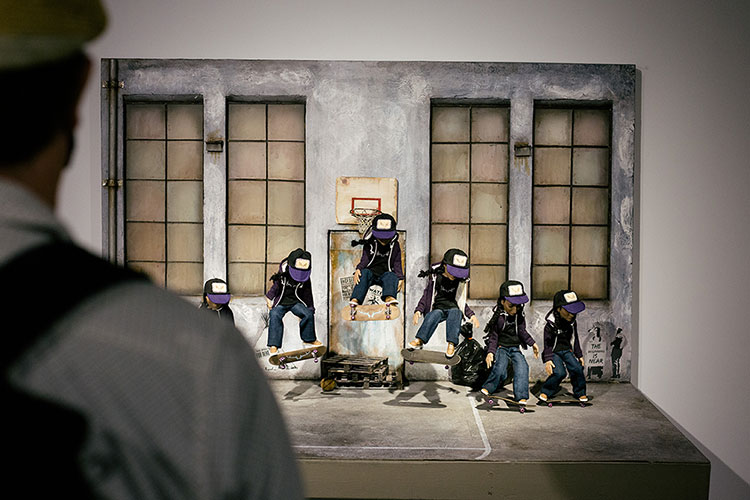 Let their love of boardsports trick your kids into learning something and going to an art gallery! It's good to note that some of the subject matter at Boarder X may not be ideal for super young kids, but the rest of the Squamish Lil'Wat Cultural Centre will impress them. There are even kids crafts and an amazing gift shop (ever meet a kid who didn't love a gift shop? Me neither). The good news is that you can check out the exhibit and decide for yourselves, it's all on the same admission ticket.
Are We There Yet Score: 5. The Squamish and Lil'wat peoples have such a rich and storied history you will want to spend a lot of time in this world-class museum, so your kids might lay a "are we done yet?" on you. Just get them a Bannock Taco, that will fix anything.
7. Dine High With an Alpine Picnic and Hike
The PEAK 2 PEAK Gondola is by no means a hidden Whistler secret but that doesn't make it any less awesome. Spanning the 4.4 kilometre gap between Whistler and Blackcomb Mountains, the PEAK 2 PEAK includes the world's longest unsupported span for a lift of this kind (3.024 kilometres / 2.7 miles) and carries you and your kids 436 metres / 1,427 feet above the valley floor (geek out more by reading Inspiring Mountain Innovations on a World Scale).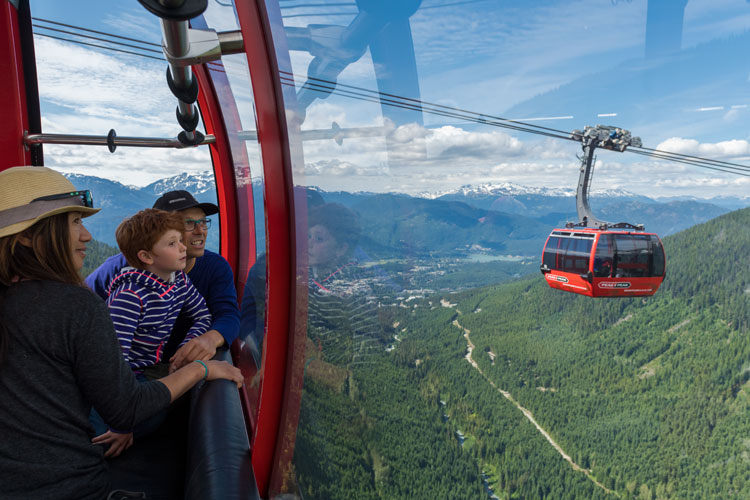 But the fun is only starting once you get off the lift. Pack a picnic, head out on one of Whistler Blackcomb's incredible alpine hiking trails, and coerce your kids into what will undoubtedly be one of the most scenic picnics of their young lives. Take a read of our Insider's Guide to Alpine Hiking With Kids for some suggestions.
Both mountains have a variety of hiking trails to suit any skill level and if you catch wildflower season (sometime in late July depending on weather, winter snowpack, etc.) the hills come alive with colour. Don't worry though, the views and marmots are around all summer long.
Are We There Yet Score: 8. You're hiking, so if it's gonna happen, this is the place.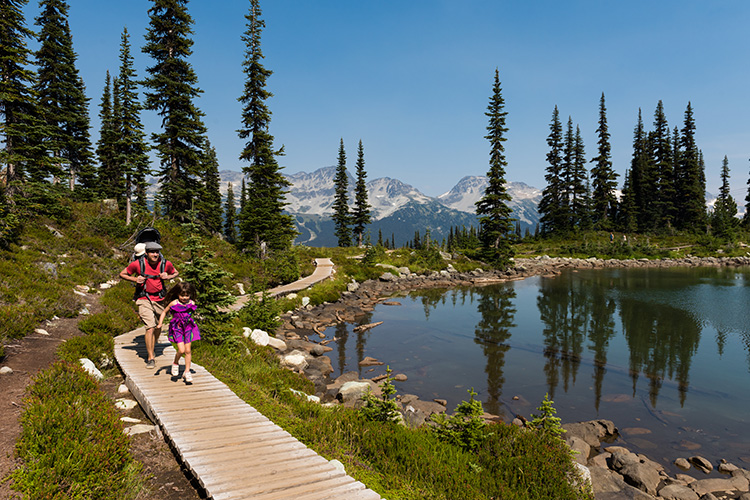 8. Unplug Your Imagination at the Whistler Children's Festival
The Whistler Children's Festival is the longest running festival in Whistler (38 years running!), and while COVID safety protocols have thrown a wrench into the usual giant get-together, Arts Whistler is soldiering on with smaller and online events throughout the summer.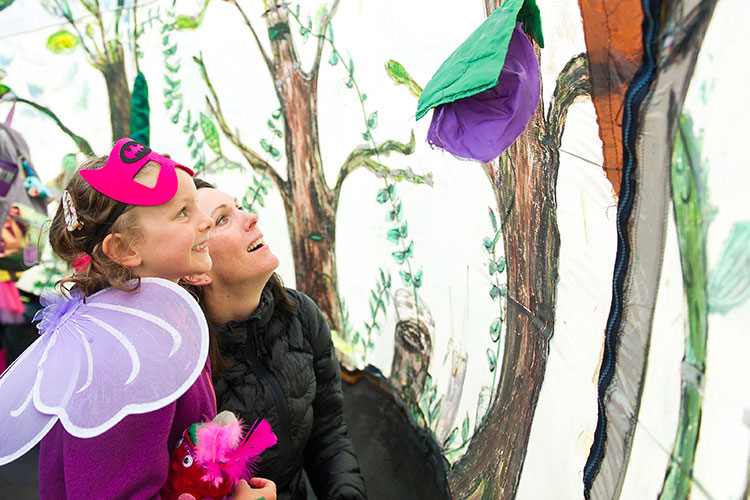 Imagination Unplugged is an exhibit featuring young local artists (12 years and under) showcasing their work on the walls of The Gallery at the Maury Young Arts Centre (it's also free). The Children's Festival is also hosting a handful of virtual performances and concerts throughout the summer that can be enjoyed from anywhere in the world with a wifi uplink.
Are We There Yet Score: 2. You're either already there or you're at home watching online. Easy Breezy.
Obviously, this is just the tip of the iceberg when it comes to fun things for kids to do in Whistler (of course, there's the Whistler Bike Park, whitewater rafting, ice cream for dinner, etc.) but it's also important to remember to take some time to chill – maybe at the beach (Whistler has four excellent ones) with a book from Armchair Books (a Whistler institution). And remember, it's not the destination kids, it's the journey. Instead of asking if you're there yet, make something awesome happen right where you are!
This summer, the longer you stay, the more you save with room rates dropping as you book more nights (7 nights from $109 CAD per night). You will also receive a free adventure voucher, which gets you up to $100 off a Whistler activity.