Updated, January 2023
Whistler has a reputation as a high-adrenaline, bucket-list-checking, fast-paced place and it is; but it's more than that. The yin to Whistler's yang is about appreciating a whole morning spent drifting down a river, hiking with multiple stops to breathe in the surrounding beauty, sessioning a nemesis rock roll on a XC bike trail until you conquer it, and sitting still for sunsets that turn the sky into unbelievable colours before the stars take over.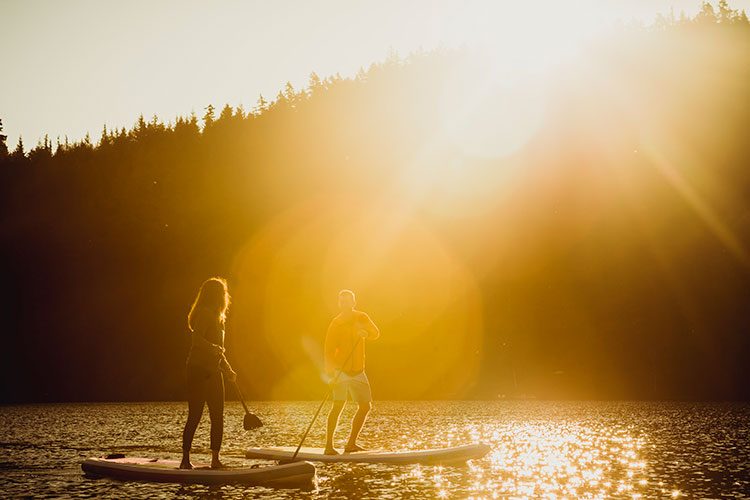 You might have heard of the term slow travel, which is exactly what it sounds like; it's about relaxing the pace at which you vacation. Instead of packing in activities and must-dos while you're here in Whistler, we invite you to take your thumb off the throttle, stay longer and go deeper into what you love about the mountains this summer. We guarantee that this way of travelling will make for a more meaningful trip and uncover something new, even if Whistler is like a second home to you.
1. Make a Connection
Connecting with the locals is another way to feel part of Whistler's mountain culture. For example, you might try a locally made beer at one of Whistler's bars and restaurants and then take it a step further by heading down to Function Junction to explore the brewery where it's made.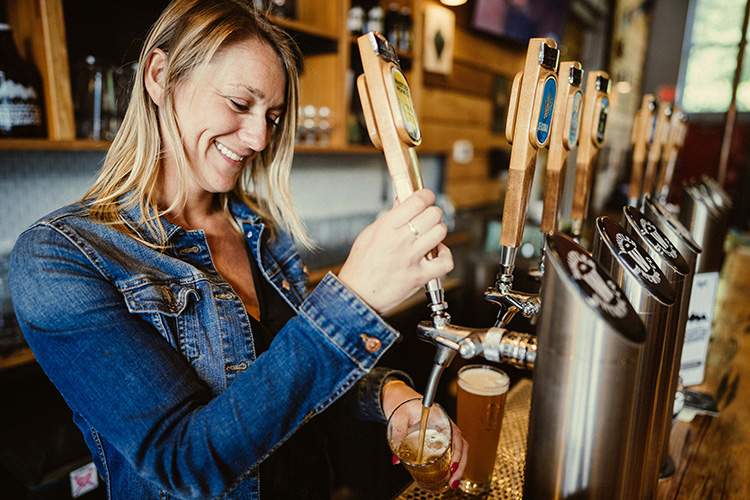 Or, if you love the local art on display at the Whistler Farmers' Market you could see if any of the artists or artisans offer workshops, like Andrea Mueller's paint nights. Arts Whistler, our local arts council, is another place to find information on local arts-based events.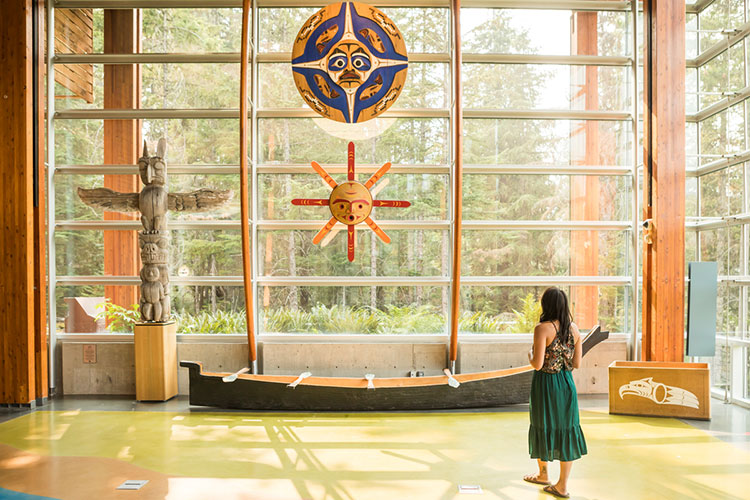 Indigenous people have lived and travelled through the Whistler Valley for millennia and you can connect with their culture and living history by visiting the Squamish Lil'wat Cultural Centre; trying their cuisine at the Thunderbird Cafe and looking out for the work of Indigenous artists represented in our public art program as you travel throughout Whistler Valley.
2. Learn Something New or Improve Your Skills
Guided tours and coached sessions are another way to dig deeper in Whistler and can be personally rewarding. Sure you can hike and bike by yourself, but would you know which medicinal plants in the area are used for healing by Indigenous people? What makes the strange, claw-like markings on a tree? What's the best way to tackle a gnarly-looking woodwork bridge on your bike? Where are the best areas to go rock climbing?
If you love natural history, consider going on a guided tour of the River of Golden Dreams. Not only will the guide help you with your j-stroke, point out beaver dams and explain the abundant flora and fauna, but they'll tell you how it was the connection to water and fishing that actually started tourism in Whistler.
If you're an animal lover, then a bear viewing tour with Whistler Photo Safaris will give you another layer of understanding and appreciation for one of Canada's most iconic animals – the black bear. And if you want to learn from a culture that's inhabited this area for hundreds of years, take a wander on the Salish Stroll with an ambassador from Squamish Lil'wat Cultural Centre.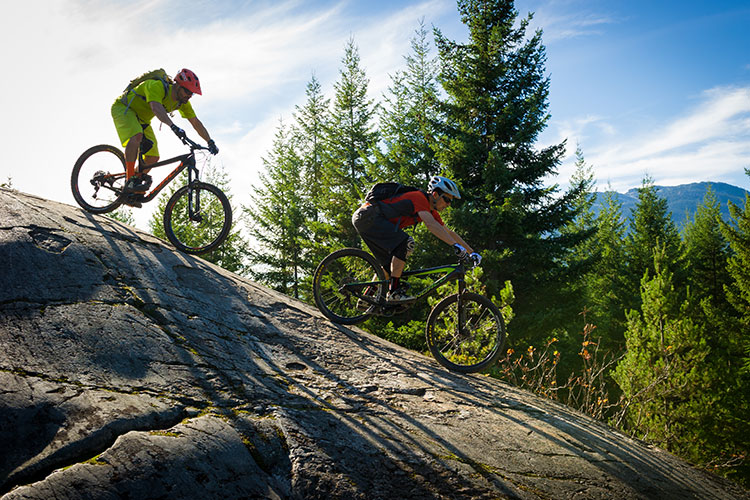 Whistler is a biking Mecca, and so naturally, we have some of the best riders and coaches right in town. Maybe you've never been to a bike park before or ridden on an XC trail, or perhaps you're ready to level up to gain more confidence and tackle harder terrain – Whistler's the place.
However, learning these skills takes time. Why not set yourself a challenge, get a coach and become a better biker this summer? Imagine what a couple of weeks of solid riding could do for your technique, especially with someone giving you tips and tricks along the way and taking you to some of the best bike terrain on the planet. Whistler Blackcomb offers lessons, as does ZEP Mountain Bike Camps, Whistler Eco Tours and the female-focused Sweet Skills Mountain Bike Coaching and Trek Dirt Series Mountain Bike Camps.
Mountain Skills Academy and Adventures offer introductory rock climbing courses in Whistler during the summer, so if this is a sport you think you might like to have a go at why not build your Whistler vacation around that goal?
We also have four championship golf courses, which offer private coaching sessions and camps. So, if you're looking to improve on your swing why not do it in the mountains where we have incredible views, moderate temperatures and designer greens?
Did you know that Whistler has a sailing association? That's another skill you could pick up in Whistler over an extended stay.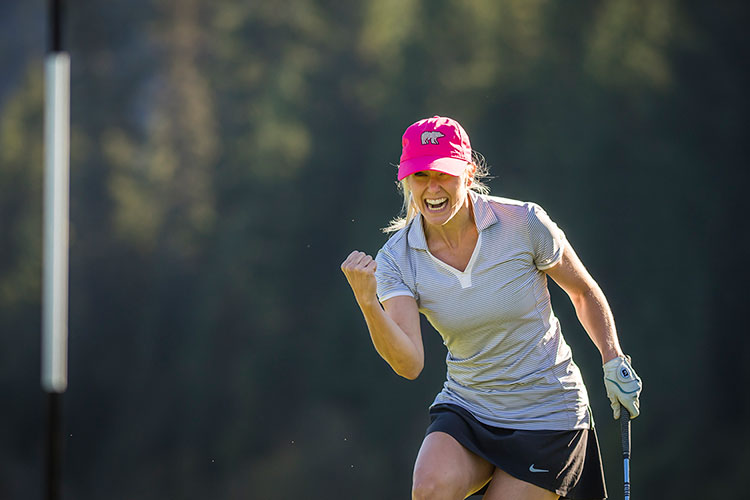 Investing in learning naturally slows the pace, focuses the mind and leaves you with new knowledge and skills. You just need to spend time digging into what you're passionate about and then follow that thread of curiosity from one thing to the next.
3. Explore Deeper
Consider choosing an area of Whistler you haven't been to and really exploring it. I've been in Whistler for 15 years and I still find myself turned around in the weaving trails of Lost Lake Park. The area can be exhilarating on a cross-country bike ride, make for a challenging trail run, a leisurely walk with wanders out onto its floating docks, a peaceful picnic by the lake or splashy fun with the toddlers or a member of the hairy, tail-toting crew in tow.
Download the free, Go Whistler Tours app, which has a series of self-guided routes for you to choose from including a tour at Lost Lake with the Whistler Museum. It gives you information on the flora, fauna, wildlife and land formations along a small section of the trail close to the Whistler PassivHaus.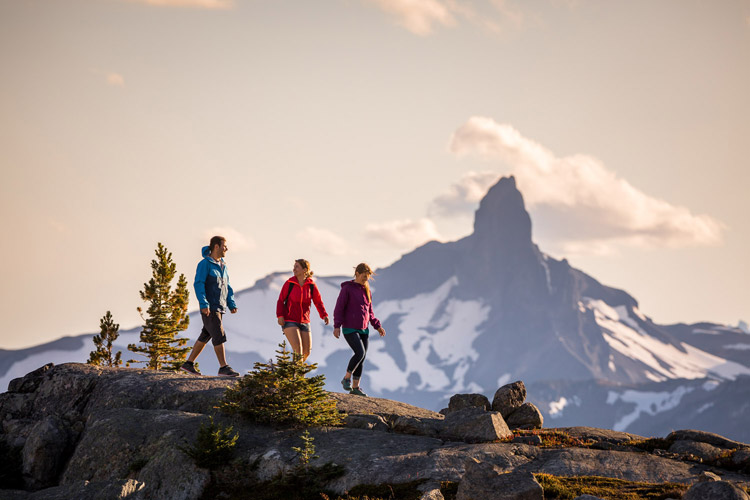 How many days do you think it takes to explore two gigantic, ancient mountains? Many. Whistler Blackcomb's alpine trails take you to pristine lakes, wildflower meadows and viewpoints of the Coast Mountains range that will take your breath away.
There are 50 kilometres of trail to explore, but we'd suggest breaking that up a bit. If you like a challenge then you could opt for the Ascent Trail on Blackcomb Mountain, which goes from the bottom of the mountain to the Rendezvous Lodge (6.1 kilometres with a total elevation gain of 1,200 metres). We'd recommend a day spent at the Scandianve Spa after that one.
For your next hiking adventure, you could make it all high alpine on the High Note Trail, a 9.4-kilometre loop from Top of the World Summit to the Roundhouse Lodge on Whistler Mountain. Hit the lakes (note that Rainbow Park is closed due to construction for the summer of 2023) on your day off and then it's time to tackle Blackcomb Mountain's Decker Loop, which takes you into Garibaldi Provincial Park, a 7.1-kilometre loop that gives you incredible views of the Overlord Glacier and Decker Tarn (glacial lake). Again, a deeper look into one of Whistler's most iconic summer experiences reveals more to explore.
Take a look at our blog posts on hiking in Whistler for more inspiration.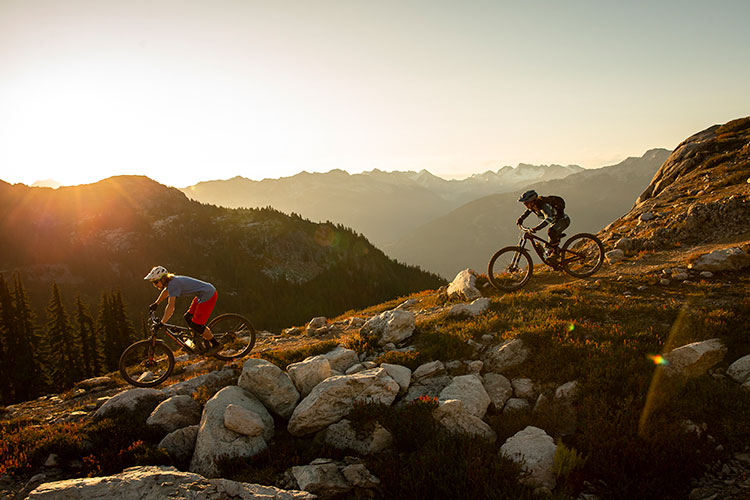 If you're an XC biker then read our Insider series that splits riding the trails in Whistler into four sections, giving you beginner to expert trail suggestions for each. Make sure to download the Trailforks app, so you can see which trails are open and how to navigate them, and grab a membership to WORCA, the organization is responsible for most of our trail maintenance and building in the valley.
Joining in on a local ride night, whether it's in-person or virtually this season, is another way to connect with Whistler's community, making you feel part of the crew. You can easily see how a bike-based trip to Whistler could extend to staying out here for a week, or two, make that a month, oh wait, I've been doing it for 15 years.
On a lighter exploration level, if you've been to Whistler Village but not ventured far from it, take a look at our post on e-biking to Creekside Village and Function Junction – these areas are full of innovative small businesses, shops, cafes and breweries. Travelling by e-bike takes the pressure off some of the pedalling and gives you the option of stopping wherever catches your eye.
4. Time for R&R
Mornings at the lakes are peaceful times. Whether you like to meditate, sink a paddle into still waters or read a book on a floating dock, it's a calming way to start the day, taking that feeling into whatever you do next.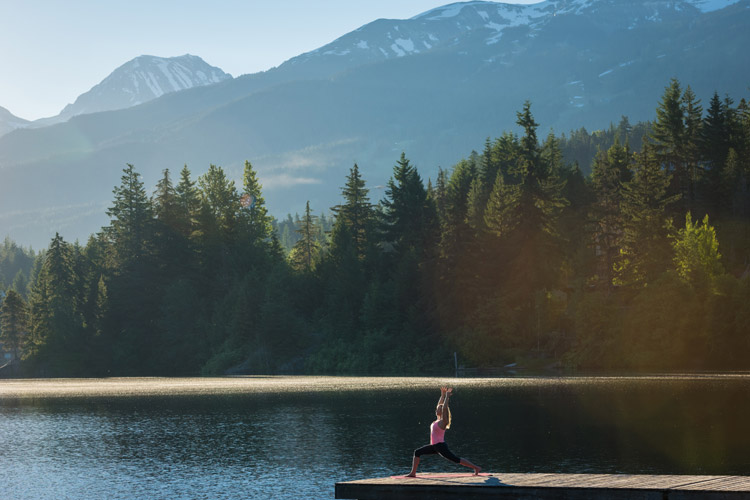 You can spend a whole day at one of Whistler's lakeside parks; building up the courage to take a dip, taking a paddleboard out for a few hours to scout the edges and find hidden spots, taking time over your picnic choices and gathering them from local shops, journaling, sketching or reading surrounded by stunning, snow-capped peaks.
And then watching the sunset cast its glow across the glassy waters, and huddling under a blanket for when the stars come out. It sounds simple, but a lot of people don't give themselves the time to just sit back and take it all in.
Other ways to relax and rejuvenate in Whistler:
INSIDER TIP: Whistler's parks can get very busy, especially at the weekends. Consider visiting midweek, or at off-peak times like first thing in the morning and in the evening. Paid parking has been introduced (the money goes right back into paying for more transit to reduce congestion and pollution), so we'd suggest biking, walking, or taking the bus to the parks.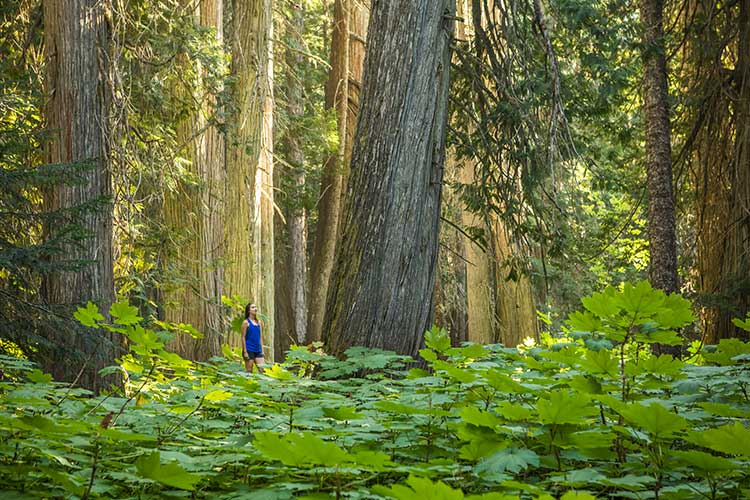 5. Enjoy the Journey
Instead of just choosing the quickest way to get from A to B, consider the journey itself. Whistler has a 46-kilometre, car-free Valley Trail system that weaves its way around parks, lakes and neighbourhoods.
Exploring slowly means you might spot something you've never seen before like a hidden trail to a beautiful cove of trees, an empty dock on the lake, a charging waterfall, a sculpture or public art piece. Take a read of Walks on the Mild Side for some inspiration on where you can wander in Whistler.
Don't worry about time, just unleash your curiosity and see where the unbeaten path takes you.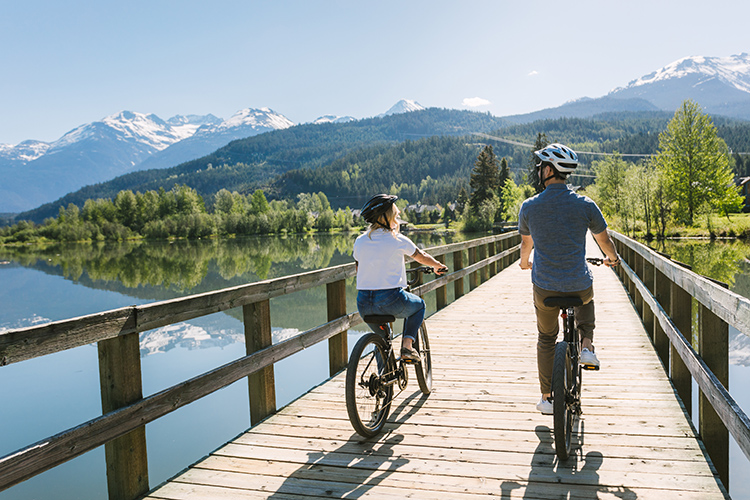 Bonus: You Support Local Whistler Businesses
Whistler is home to hundreds of small businesses and to support them is easy – buy local. Get your picnic from Whistler's selection of bakeries and cafes, grab take-out from your favourite Whistler restaurant, and if you need a new pair of running shoes go in and speak to retailers who live and breathe exploring mountain trails.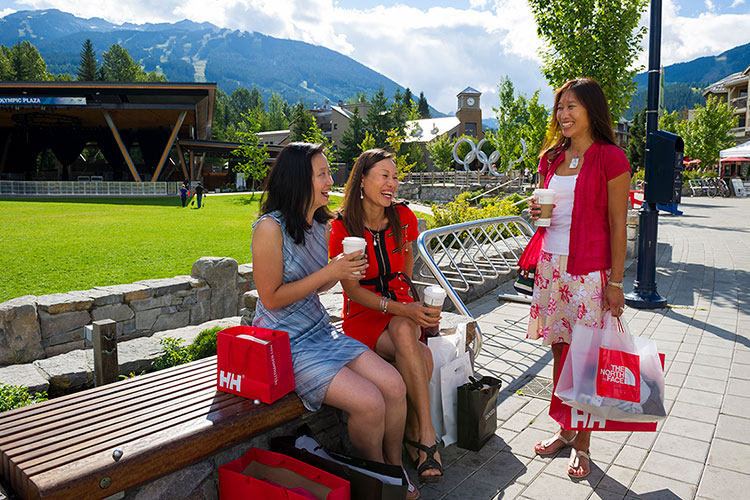 If you see a piece of artwork in a gallery or on the wall of a local cafe take note of the artist's name and contact them. Got a birthday, anniversary or milestone coming up? Pop into Whistler's gift stores for something unique and memorable from your time away.
Extend your stay, slow down and explore deeper. Whistler's weekends are typically busy, so consider coming midweek for a quieter experience and the best deals on accommodation.