Updated November 1, 2021
You're practicing your turns, pizza-ing down the mountain, when suddenly you hear a succession of whooshes as 10 tiny humans fly by you in their Ski School jerseys. Being out-performed by Whistler-born super tot athletes is all part of the adult beginner experience. But pride aside, there's a reason these kids are so good and it's because Whistler is the ultimate place to learn outdoor, winter sports.
With unparalleled access to terrain, professional guides and even Olympians for instructors, Whistler is the adult beginner's playground. But, we get it, being a beginner means being a bit vulnerable. There's social pressure to look like an immediate natural, and for most of us when trying a new sport, that just isn't the case.
In Whistler, lots of people are out here trying things for the first time, and it's with a nod of camaraderie that they're greeted. It takes courage to be a beginner, and the reward is fun, new challenges where you get to broaden your skillset, meet like-minded people and potentially find a sport you love.
Here are some amazing Whistler experiences that you can have if you decide not to give a flying whiskey jack about social pressures and want to embrace being a beginner instead.
Ice Climb a Frozen Waterfall
Talk about bucket-list worthy. Learning to ice climb in Whistler is easier than you might think. You don't need any previous climbing experience, all you need is to be able to ski or snowboard a blue run so you can get to the climbing location, called a crag, on Blackcomb Mountain.
This location is unique in that it is naturally formed (as opposed to a human-made tower) and suitable for beginners. Where water that would normally flow over the cliff, large icicle formations solidify in temperatures below minus one degree Celcius. Because of the low temperatures needed, December to February are usually the best months for ice climbing. 
Once you decide to take the swing, the guides at Mountain Skills Academy and Adventures will be there for you every step of the way, from how to use the gear to coaching you through your confidence building ascent. Read about Insider, Marion Young's experience ice climbing for the first time, she shares tips on how to layer, what to pack and what it was like to swing an axe at a frozen mountain. 
Book a Whistler Ice Climbing Tour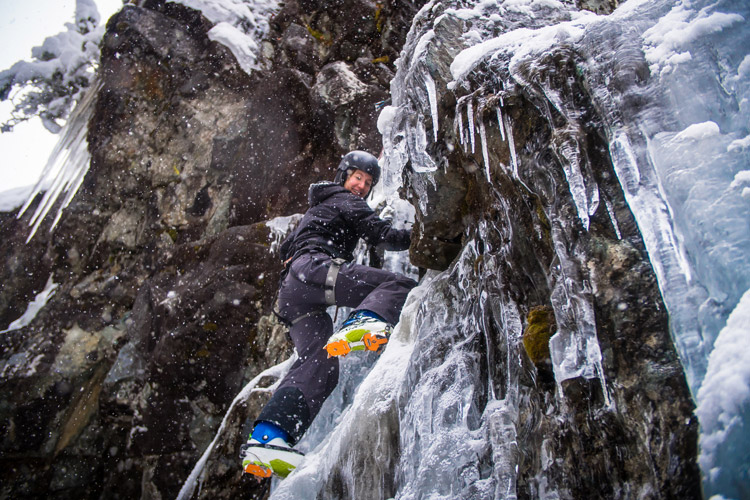 Bobsleigh or Skeleton Down the Fastest Track in the World
Constructed for the Vancouver 2010 Winter Olympics, the track at the Whistler Sliding Centre is the only active sliding track in Canada. It's used for athlete training and to host national and world competitions, but it's unique because it's the only track in the country that's open for the public to try sliding sports.
You can sign up your group as a bobsleigh team and be paired with a professionally trained pilot, or take on the track headfirst and solo on a skeleton sled.
Either sport is an incredible way to feel like an Olympian. No previous skills or experience are required, just a burst of courage to last you around 30 seconds!
Read Insiders, Kristen Wint and Dee Raffo's, accounts of both activities as first timers on the track and make your choice between the two!
Book a Winter Bobsleigh or Skeleton Experience in Whistler
For youth and young adults who are interested in learning a sliding sport, the Whistler Sliding Centre offers development programming for all disciplines (luge, skeleton, bobsleigh).
Editor's Note: The Public Skeleton experience is not running for the 2022/23 winter season.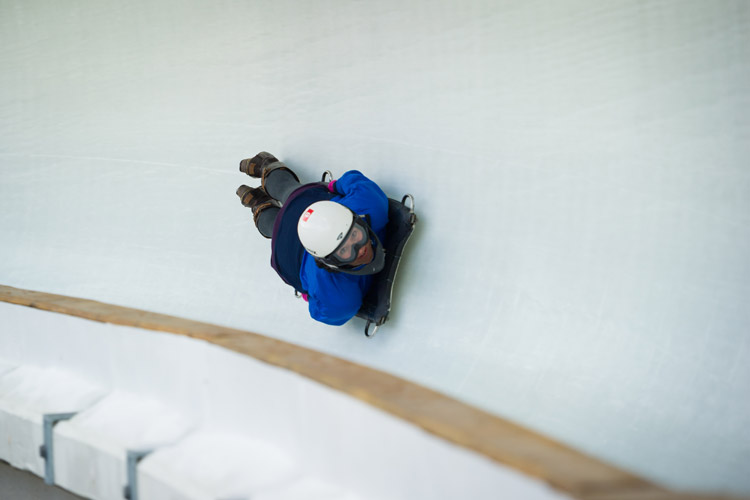 Nordic Style: Skiing on Skinnies
Nordic skiing is projected to keep growing in popularity into the next decade. What has made this ancient activity surge in popularity? Likely the combo of peaceful time in nature and the challenging, but not too challenging, physical aspect. It doesn't hurt that it can be a dog- and family-friendly activity too. Whistler has over 150 kilometres of track to explore, with plenty of green runs for beginners. 
There are three destinations for cross-country skiing in Whistler, Lost Lake Park, Whistler Olympic Park and Callaghan Country, with the first two offering lessons.
A Discover Classic Package at Lost Lake Park will teach you how to get moving and stop (important!), plus get up those pesky hills. After you've practiced your technique you can take the Ready to Skate lesson which will expand on the fundamentals. 
At Whistler Olympic Park, you can take a private lesson or have up to 4 – 6 people in your group. Introductory group lessons are set to return for the 2021/22 season. It's up to you if you want to learn the classic style of Nordic skiing (where you ski in tracks) or skate skiing (where you ski off the tracks). To go beyond the basics you can take a 2-day Adult Nordic Ski Camp, or, if you have the time, a 5-week progression clinic, which is guaranteed to elevate you beyond beginner status. 
What's really unique about Whistler Olympic Park lessons is you can choose to add on an Experience Biathlon package to a cross-country ski lesson. You'll learn to shoot a .22 calibre biathlon rifle at the Olympic range, it's just one more way to get a taste of being an Olympian in Whistler.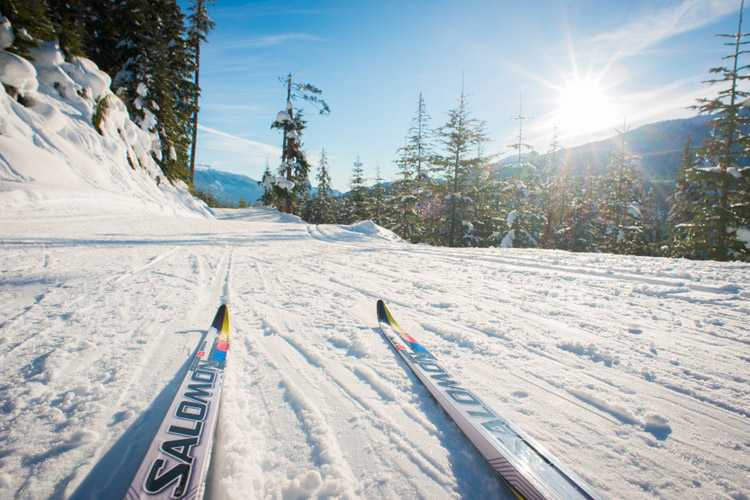 Skiing and Riding in Whistler's Backcountry
Another winter sport on the rise, backcountry skiing can seem intimidating to the uninitiated. And for good reason, winter conditions are no joke and there are serious safety skills required. But thankfully, you can learn it all in Whistler.
If you're looking to try it before investing in all of the gear and courses, the Intro to Backcountry Skiing / Riding with a professional guide is for you. You can read about Insider, Emily Wright's first time into the backcountry to get an idea of what to expect.
If you already know you want to pursue the sport, check out our guide to Backcountry 101 to learn about the gear, courses, forecasting and planning needed before stepping into the backcountry. 
When you're ready, Whistler has a host of backcountry terrain and experiences waiting for you. 
Book a Whistler Backcountry Tour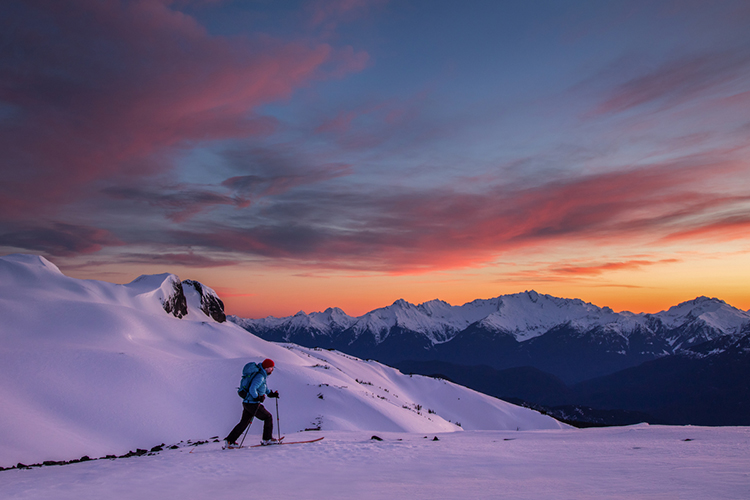 Learning to Ski and Snowboard
About twenty percent of Whistler Blackcomb's 8,171 acres is classed beginner terrain – that gives you a lot of space. Whistler Blackcomb offers a variety of lessons specifically for adults, you can choose between private and their MAX 5 group lessons, and half, full or 3-day options.
Taking a lesson is not only great for learning new skills, but also for getting to know the terrain on Whistler and Blackcomb Mountains, not to mention being able to jump to the front of the lift line. With your instructor's experience and knowledge, they'll not only show you where to go for your current skill level, but they can also recommend areas to explore for when you're ready to challenge yourself.
Read about Insider, Prajakta Kharkar Nigam's first experience at Snow School.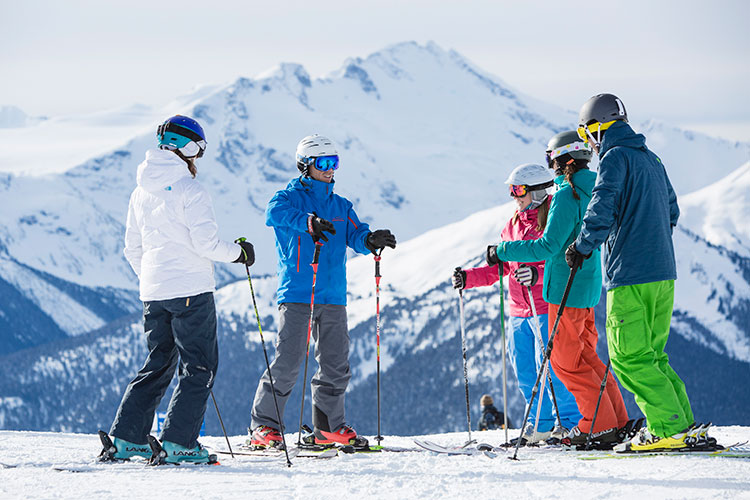 Snowshoeing Through a Winter Wonderland
On the less extreme side of winter sports is the oh-so-peaceful sport of snowshoeing. Snowshoeing, at its essence, is walking, but it can take a minute to get used to the shoes. Adopt a wider stance and make sure the straps are done up snugly for success. Because of its simplicity, snowshoers may not realize they also require avalanche training before heading into the backcountry. They should also be familiar with hazards such as tree wells and cornices.
You can take an Avalanche Skills Training 1 Snowshoe course if being in the backcountry unguided is your ultimate goal, but Whistler has in-bound and guided options as well. If you want to go self-guided in-bounds, Lost Lake Park and Whistler Olympic Park are your venues. Both are incredibly scenic and offer trails from easy meanders to challenging climbs. Check out our guide to snowshoeing in Whistler for recommendations.
If you want an expert guide to show you the way, your options really open up, from 4×4-ing up Rainbow Mountain to remote, pristine wilderness, to enjoying a cookout and campfire in the Callaghan Valley, there are lots to choose from. 
Book a Whistler Snowshoeing Tour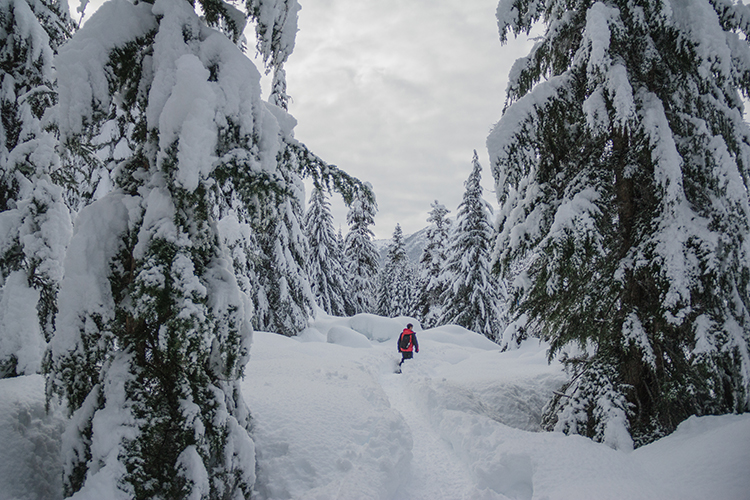 Snowmobiling in Whistler's Backcountry
For our motorized-sport-loving adult beginners, last but not least is snowmobiling. There are many snowmobiling tours to choose from in Whistler but they all have three things in common, experienced guides, jaw-dropping scenery and a thorough lesson on how to drive the snowmobile. Some tours offer groomed trails while others offer you the choice between groomed and untouched pow. The choice is up to your comfort level!
If you're an early bird, try the Yukon Breakfast Tour or Fresh Tracks Snowmobile Tour to start your day with a touch of adrenaline and a hearty meal. If you are a jump without looking kind of beginner, why not go all out on a Wilderness Snowmobile Tour. 
Book a Whistler Snowmobile Tour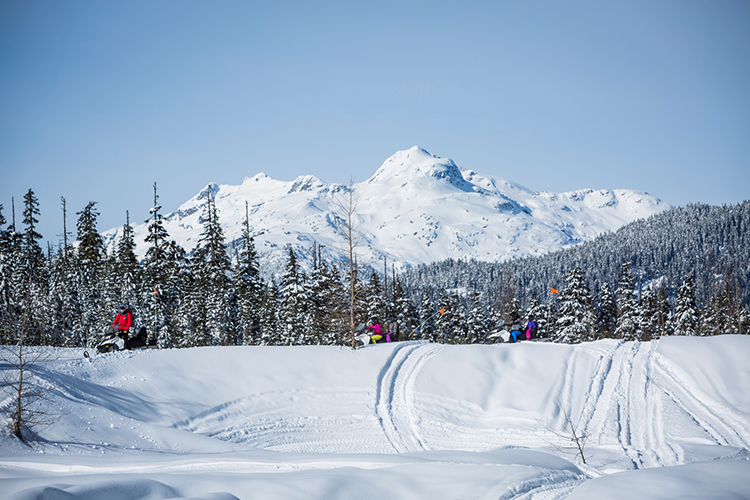 Not only is learning something new good for you physically, but also mentally. It increases your mind and body connection, and continues to build neural pathways. By embracing adult beginner hood, you're embracing the spirit of Whistler – staying young at heart!
Head to Whistler.com for all of your accommodation and tour needs. 
Fall in Whistler means more, like great value on accommodation with rooms from $135 CAD per night, plus a free $100 CAD Dining Voucher when you book a stay of 3-plus nights. Book in confidence with Whistler.com for Flexible Cancellation and a Price Match Guarantee. If you're dreaming of a trip to Whistler, enter our Find Your Altitude contest for a chance to win a six-night vacation with flights, accommodation and activities (including a heli trip) all covered.