This quest for the best burger in Whistler was thoroughly researched and written by Clay "Dog" Dowling.
Friday afternoon in Whistler Village is a great time to get together with your pals (or, right now, due to public health guidelines, with your household only) for a leisurely lunch. It became a bit of a tradition (23 years running) to meet with my good pal, Big Rich, at one of the many food-serving establishments in our town; we are lucky to have so many amazing choices.
One Friday, we met for lunch and our typical friendly banter ensued. I might have made some bravado comment about how the burger I was eating was "the best burger I've ever had in my life," which immediately set Richie on edge.
"How can you say that, Dog?" he said – not for the first time. Anyone who knows me knows I'm prone to hyperbole. But this was not that. This was in fact the best burger I had ever had in my life. Just like that. Out of nowhere. I was not expecting it anymore than Rich was, but there it was, the best damn burger I'd ever eaten. Ever. Of course, Big Rich was skeptical, so I said, "Let's break it down." We came up with the following criteria.
The Criteria
Burger to Bun Ratio
There needs to be just enough meat to last the whole experience without leaving you with a mass of bun and no meat, but not too much that the meat falls out.
Quality of Bun
It needs to be fresh, pliant and nice to look at.
Toppings
Sauces should be tangy and interesting, and any tomato, lettuce, onion or pickle had better be fresh and eager.
Quality of Patty
The best ones are usually handmade, spiced to perfection and need to have a depth of flavour.
Overall Burger Experience
The plate should be picked clean, hunger satisfied and service taken into consideration.
The Quest for the Best Burger in Whistler
Once we broke it down, Rich reluctantly capitulated that I had thought it out and wasn't just making baseless statements. However, even though I had claimed this to be the best burger in Whistler – quite possibly the world – Big Rich was reluctant to allow my singular opinion to stand uncontested. It was then that the quest to find Whistler's best burger truly began.
We sat down to plan (actually, we were already sitting enjoying Bailey's coffees – no rim, no whip). The plan was to sample all the burgers in Whistler available to us at lunchtime. Yes, all of them. And judge them using a set of criteria that would bring consistency to the ratings, thereby finding the indisputable best burger in Whistler.
It took us just over a year.
To save you all the trouble and strife we had to endure in testing all the burgers of Whistler, we have compiled a list of Whistler's best burgers. For the sake of brevity (a quality I'm not personally known for), here's a breakdown of the top five.
Whistler's Top 5 Burgers
# 1. Caramba: 49/50
The Caramba Burger is transcendent. It scored a near perfect 49/50, potentially making it the best burger in Whistler. With a housemade brioche bun, not one but two housemade patties, dripping with melted cheese, a secret sauce and arugula, this burger scored higher than any other burger in Whistler. And for good reason.
The burger to bun ratio was ideal. Just enough bun to ensure that your burger doesn't end up in your lap, but not too much to leave you with extra bun. The patties themselves were undeniably made with the highest quality ingredients, seasoned to perfection and grilled for a depth of flavour that only comes from cooking over fire.
The bun was perfect. Springy, full of flavour and fresh as fresh can be. The toppings were off the charts with the addition of arugula as a spicy, textured substitute for the garden-variety lettuce so many establishments fall back on. The arugula in this burger spawned the last category of uniqueness as a measure against which all other burgers would subsequently have to be judged. The burger was extraordinary and unique and prompted us to add this criterion to give extra credit to chefs who think outside the box.
The plate was picked clean, including the fries. The service was exemplary and my hunger was satisfied. Overall, a perfect burger experience. I was satisfied at an emotional level.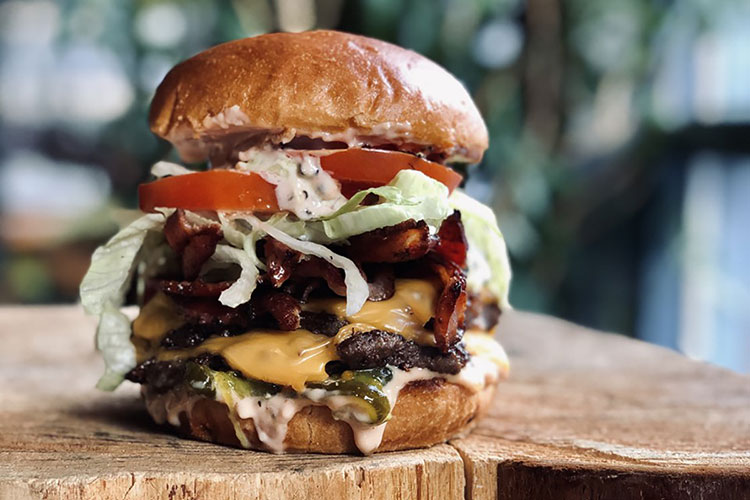 #2. Fairmont Chateau Whistler Golf Club: 48.5/50
The Chip Out Cheeseburger delivers a burger experience that stands the test of time. Not for nuthin', but you'd expect an establishment of this calibre to produce something delicate and refined; something for small manicured hands. Nope. This burger is a beast and fulfills every category with aplomb.
The chefs at Fairmont Chateau Whistler Golf Club put together a masterpiece. It's decorated with honey bacon, aged white cheddar and a garlic aioli that reminds you they do not get anything out of a can back there. The whole experience scores high for a lot of reasons, not the least of which is the club level of service and the quality product. You do not have to have a tee time to enjoy this burger – just walk the heck in. Sadly, only available during the golf season.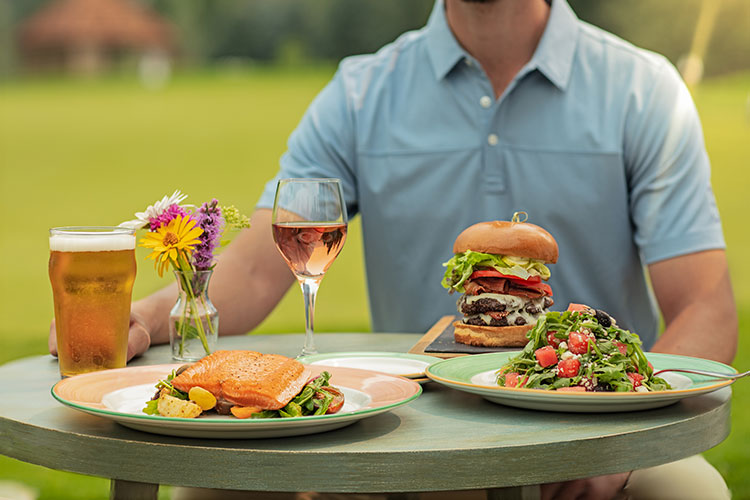 #3. Southside Diner: 47/50
The Diner Burger is unexpectedly splendid! Not to take anything away from the chefs at Southside Diner, they do a great job with everything they make, but you don't walk in there thinking this might be one of the best burgers I'll ever eat.
So, when they drop the plate down in front of you, you are in for a pleasant surprise. This burger scored high in every category, but highest in overall burger experience. It just tastes really, really good. Ya. That's two "reallys". Really good. The burger will leave you licking your chops. You may even want to order another one. But don't. Richie did that once and it just wasn't necessary.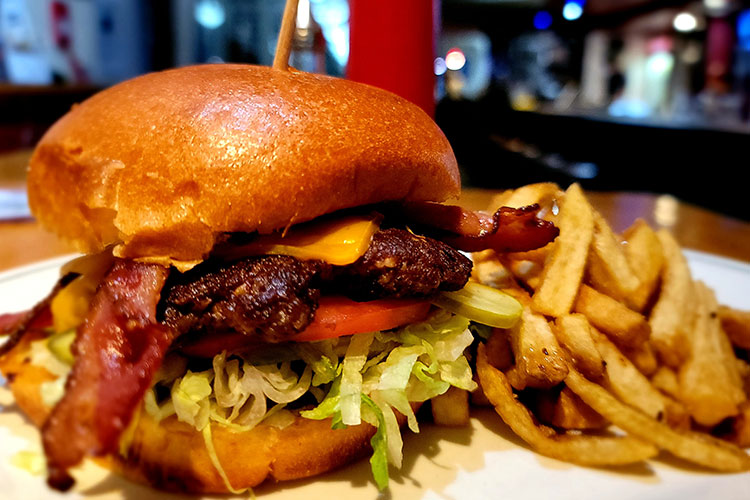 #4. Roland's Pub: 46.5/50
The Roland's Burger is about what you would expect from a pub burger if your pub kitchen was run by one of the most celebrated five-star chefs in town. Which it is. RD and his crew put love into every bite, and the burger, while straightforward in its delivery, truly delivers on all levels.
The burger patty is homemade and delicious. Check. The bun is fresh, flavourful and well proportioned. Check. The toppings are fresh, crispy and full of flavour. Check (we added bacon and cheddar – because, well that's how we roll). The overall burger experience was that it was well made, well presented and complimented by some of the best fries in the valley. Check. Roland's is a local favourite for a reason – the value, the atmosphere and the consistency all play a role.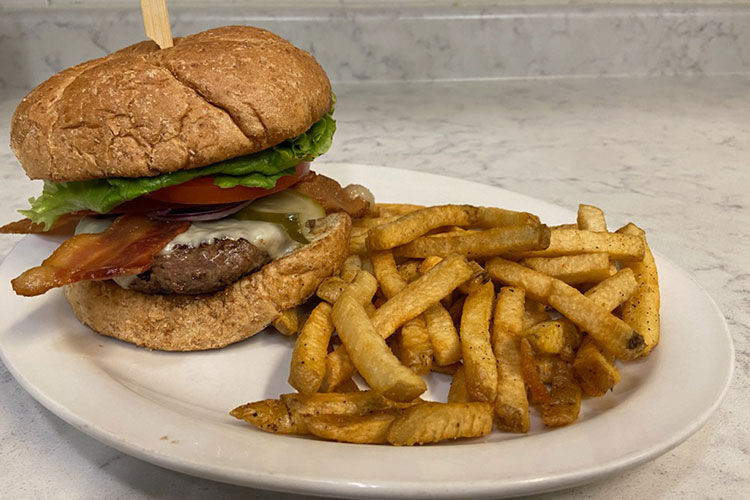 #5. Alpine Café: 46/50
The Canuck Burger presents itself nobly. Standing tall on the plate, this single patty burger is impressive. The bacon peaks out suggestively from the side of the bun and the cheese is melty and delicious. The green lettuce is piled high for great underlying texture and the pickles, tomato and housemade burger sauce add flavour and the perfect amount of juice. The spicy red onion adds an element that is perfect for my battered old taste buds.
All in all, this burger stands up to the best in town and deserves its place in the top five. Editorial note: since this burger was originally judged, and due to COVID-19, the team at Alpine Cafe has changed to a frozen patty. Having tested the new version I can honestly say that it does not really suffer for it.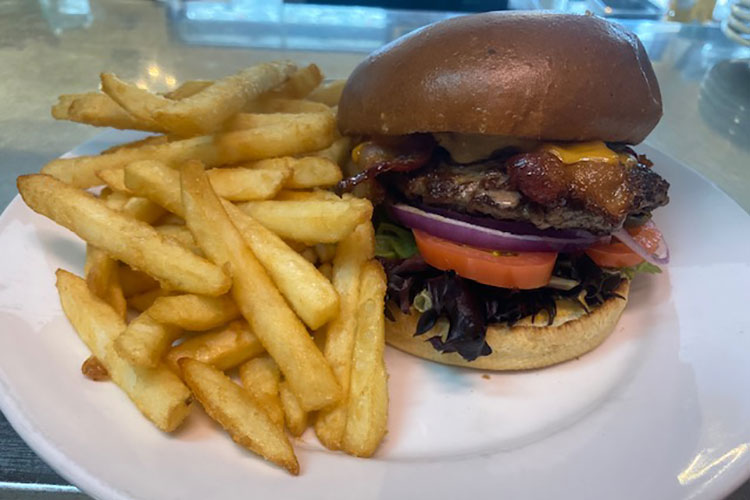 Conclusion
The top five, simply put, will not disappoint. The difference in scores between #1 and #5 is a measly three points, which put all these burgers in a class of their own. You can't go wrong trying every one of these burgers. We stand by the scorecard and I stand by my original statement that started this whole thing.
"The Caramba Burger is the best burger I've ever eaten. You may choose to disagree. You have every right to be wrong."
Put Clay's claims to the test on your next trip to try to find the best burger in Whistler. Get other locally sourced tips from the team at Whistler.com, along with their price guarantee and flexible cancellation policy. We hope to see you on a Whistler patio enjoying a burger very soon!