When we were told we were having twins we were a little shocked. That took us to three kids under three as we already had a toddler when my belly started growing once again. My husband, Darren, and I came to Whistler in 2008 and, like many, we fell in love with the place and decided to make it our home.
We're explorers by nature and Whistler is the perfect playground for that. Enter three small children and we worried that our ability to "adventure" would be a little curbed. However, where there's a will, there's a way and although our adventures may not involve long days spent in the wilds of the backcountry, we still find ways to get out into the mountains with the kids in tow.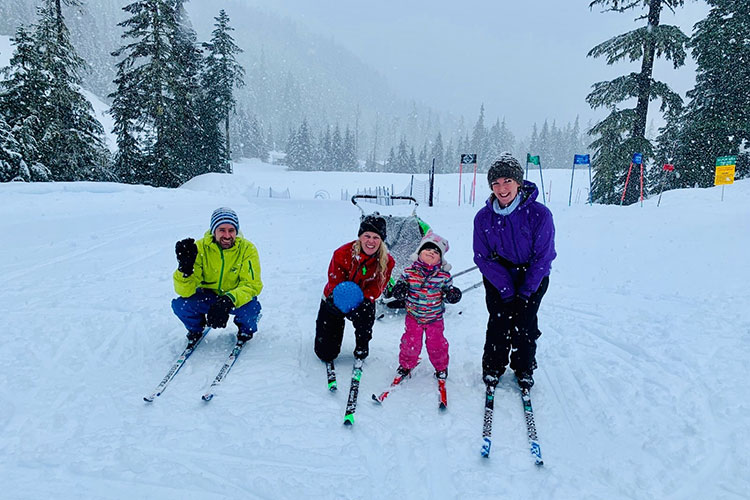 Cross-Country Skiing with Babies and Toddlers
Whistler Olympic Park is a legacy from the 2010 Olympic and Paralympic Winter Games – it's where the Nordic competitions were held including cross-country skiing, biathlon, Nordic combined and ski jumping. Located in the Callaghan Valley, a 15-minute drive south of Whistler Village this area has a slightly different weather pattern to Whistler and gets a lot of snow. It has 90-kilometres of cross-country ski trails and 40-kilometres of snowshoe trails (including some dog-friendly trails) to explore.
We wanted to spend some time outside as a family, which is a little hard to do given that the twins are only ten months old and Ella is an active three-year-old who is always on the move (I'm sure other parents with a combination of small children can relate). So, we decided to head to Whistler Olympic Park as we'd heard that you can pull a "Chariot trailer" (think of a stroller on skis) while cross-country skiing. The only issue being that both my husband and I have only been on cross-country skis once or twice before and the idea of pulling two small babies while chasing after a toddler was a little daunting. With that in mind, we opted for a private family lesson ($333 in total with rentals for everyone including the Chariot, a private lesson and our park passes) and we're so glad that we did.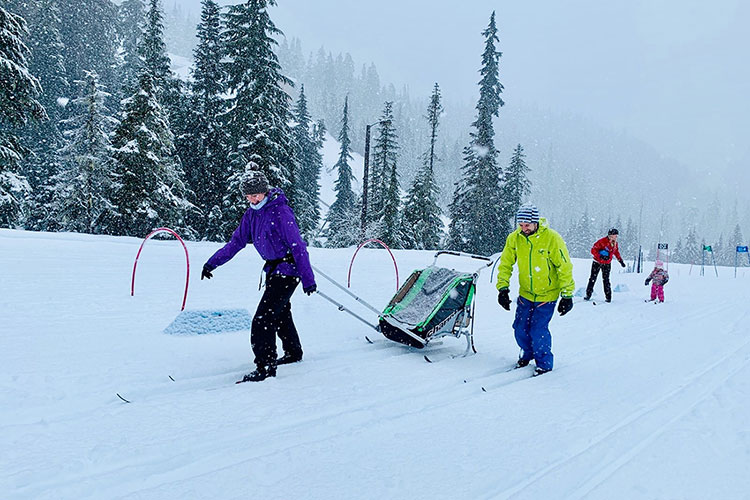 INSIDER TIP: Try to avoid peak times like weekend mornings and Wednesday nights (local's night) when you book your lesson so the rental shop will be quieter and staff can lend more of a hand getting your little ones ready.
It was raining when we left Whistler and I was worried that we hadn't packed enough spare clothing, but as we turned off Highway 99 towards Whistler Olympic Park, the rain turned to big, fat snowflakes. In the spring and summer, you can often see a bear or two nibbling on the foliage along this road, but today the snow was flying thick and fast. We grabbed our park tickets ($28.50 per adult, kids six and under are free) at the entrance booth and continued to the Day Lodge to meet our instructor and pick up our rentals.
INSIDER TIP: If you can, park in lot number three as it's the closest to the entrance of the Day Lodge. Use the drop-off zone to unload the kids and gear before parking your vehicle. There is also a shuttle available if your kids don't need a car seat.
Christine, our instructor, opened the door to the Day Lodge and quickly took stock of the situation. I was struggling with a double stroller stuffed with gear, Ella needed the toilet and my husband looked a bit lost. She took control (immediately earning my respect and thanks). I got my gear on first and then battled the twins (who currently love to roll) into their snowsuits.
Meanwhile, Christine helped Darren and Ella get their gear on – the extra set of hands was invaluable. The smallest boots they carry for classic skiing are US 9 / EU 26, with 100-centimetre skis and if you're opting for skate skis then it's US 12 / EU 30 boots and 117-centimetre skis — children tend to start with the classic setup as it's easier to pick up.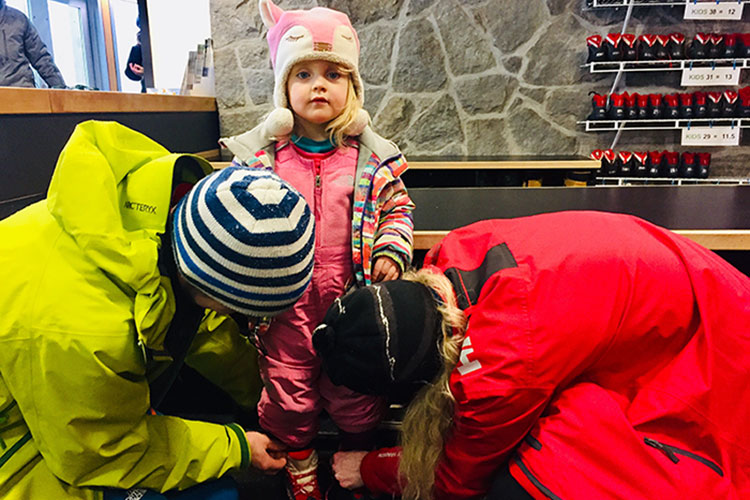 They had a Chariot set up for us ($17 to rent for two hours). You can get a single (max load 34 kilograms) or a double Chariot (max load 45 kilograms), which are good for babies / toddlers aged six months and up, who are able to sit upright (they also have a sling insert available for additional stability). A harness system fits over their heads and around their waists and there are two covers that go over the front to protect them from the elements.
I'm sure the twins would have liked more of a view, but with the falling snow we had to put both wind and rain covers down and occasionally wipe the snow off so they could see out. There's a small pocket at the back where I put a snack bag and a bottle of water. The harness for the Chariot fits around your waist and then it's up to you to do your best sleigh-horse impression and get mushing.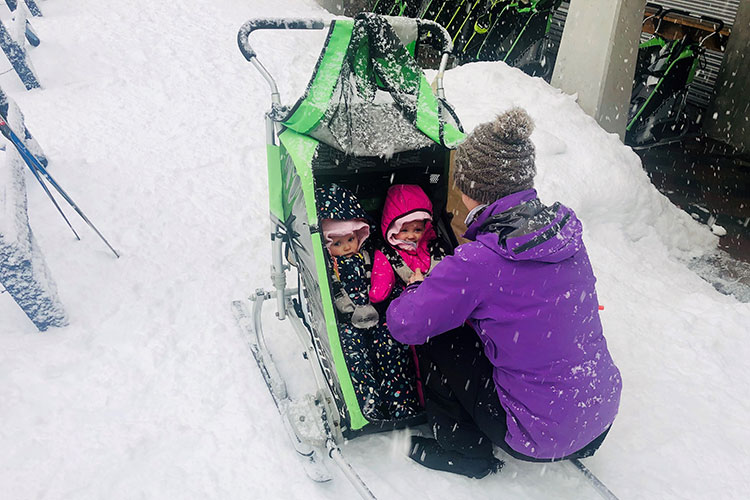 Christine helped us get into our skis. Unlike with downhill skiing, the boots are more malleable with a small bar at the front that clips in, leaving your heel free to move. The skis are skinny and have a fish scale-like grooving on the bottom, helping you to grip and glide.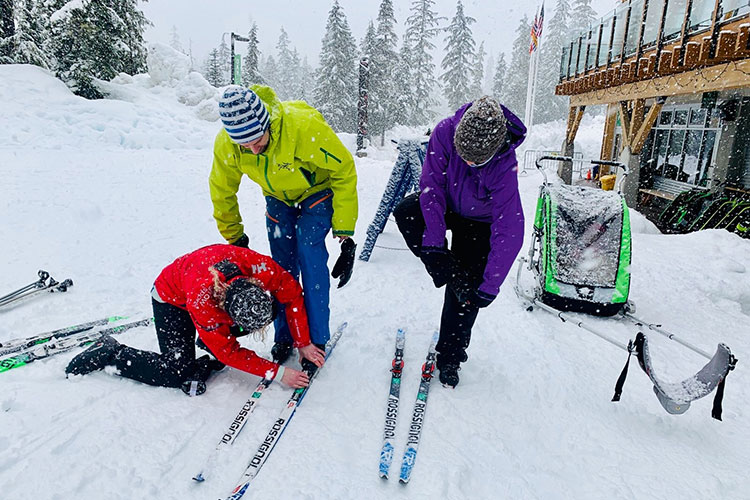 She led us to a gently sloping practice area just past the Day Lodge and tasked Darren and I with some laps up and down to get a feel for the skis while she focused on Ella.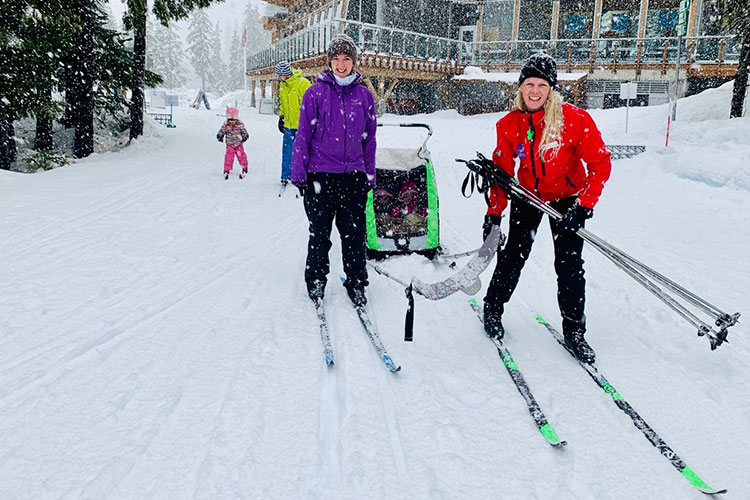 She knows the secret equation "happy kids = happy parents" so, as Ella learned the basics, we were able to reacquaint ourselves with the sport. I should mention that Ella started ski school back in December so she has a good sense of balance and is used to skis. If it's your child's first time on skis then I'd definitely suggest a lesson as kids tend to take direction better from a "teacher" than their parents.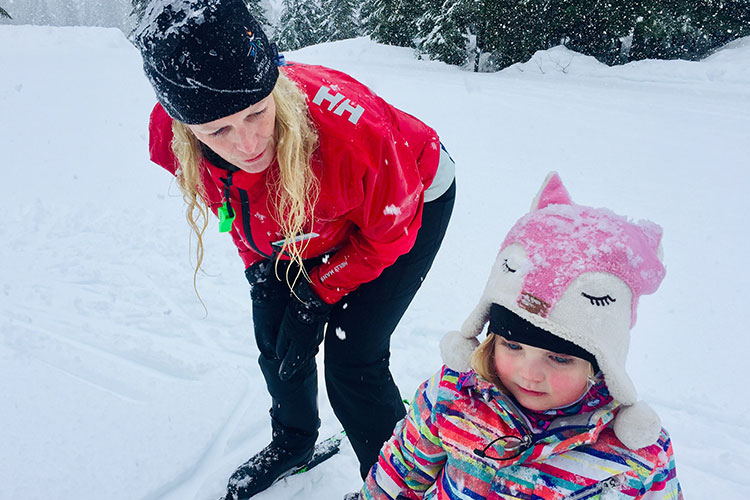 Our goal was to learn enough from Christine that we'd be able to fend for ourselves on the trails. Using a series of exercises, Christine got us bending over, adjusting our weight, using our arms and learning the right way to get up after a fall.
For Ella, she brought out hoops, cones and balls and made sure that each thing we did had an element of fun. One thing I wanted to try was a downhill slope with the chariot. The night before, I'd had a reoccurring dream (read: nightmare) of not being able to stop and the twins running me over as they careered down the hill. Christine said she could help with that fear (my respect and thanks further growing).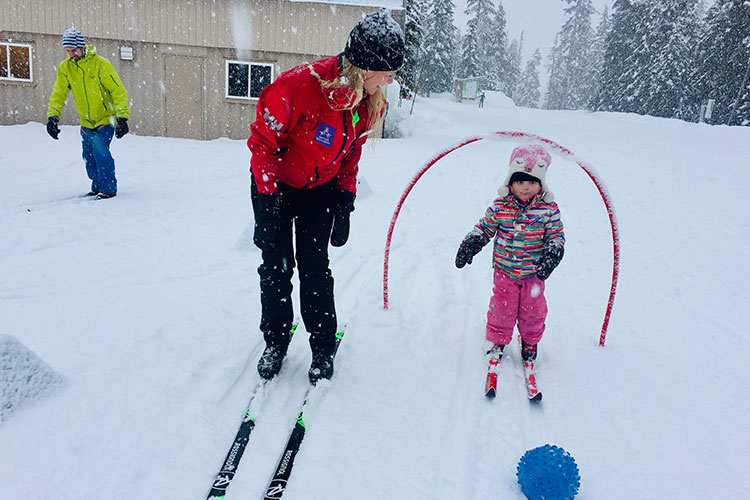 Doing a snowplow on cross-country skis is a little different than alpine skiing as you don't have as much ski to work with, but if you bend your knees and really push on the inside of the skis, you can get a good bite. However, try not to cross your skis at the tips as this typically leads to some quality ground time.
Christine mentioned that if the terrain looks too steep to tackle then small side steps are the way to go. She had Ella practice a "star dance" where she turned in a circle, creating a star pattern with her skis and perfecting her small-steps technique.
I had a funny moment trying to get back up the hill with the twins in tow. I was doing my best "duck legs" (an inverted snowplow), but I started to slide slowly backwards. Christine reminded me to shift my weight over my boots (I'd been sticking my bottom out), bend my knees and really dig in the sides of the skis. After I stopped laughing at myself, I managed to pull us all up.
We wrapped up the lesson after about an hour while Ella (and the rest of us) were still on a high. The twins had been lulled to sleep by the rhythmic pull of the Chariot (well, mostly rhythmic). The snow was falling, our cheeks had turned rosy and as we looked around at the mountain scenery, it was one for the picture books.
Our time spent at Whistler Olympic Park really opened my eyes to what's achievable with a young family. With a little planning (and patience), we can all get out for an adventure in the mountains.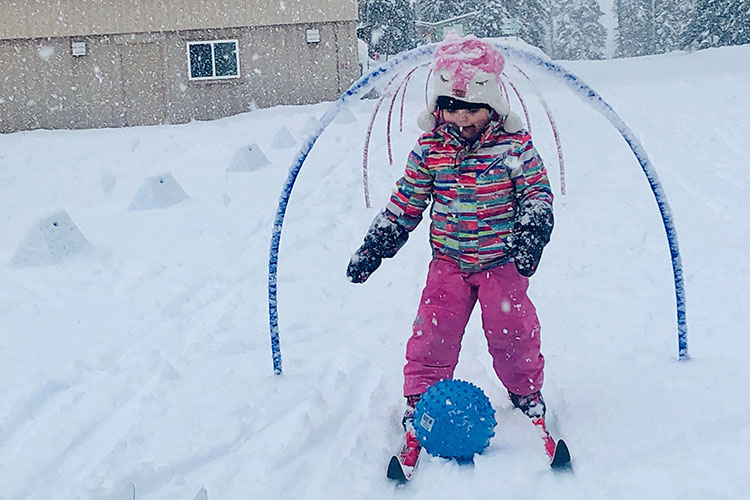 What to Take
Always check the weather before you go, but if you're headed out in the snow this is what we'd suggest:
For adults and toddlers – the same gear as when you're skiing: waterproof jacket, trousers, neck warmer / balaclava, gloves (warm, but thin so you can slip them through the pole straps), hat and glasses/goggles. You can work up a sweat so I'd suggest layering your outfit so you can easily strip down or layer-up if you need to (synthetic fibres or wool are best).
If the sun's out then make sure to pack sunscreen and your sunglasses as the surrounding snow gives off quite a bit of glare.
For babies – normal outfit with a sweater layer, then a waterproof snow suit with hand and feet coverage, hat and blankets.
Food – there's a canteen-style restaurant at the Day Lodge so we took snacks out on the trails, but then headed there for lunch as they have a variety of soups, chili, hot sandwiches, noodle bowls and salads (it's catered by locally-owned company Whistler Cooks – yum). They have high chairs too!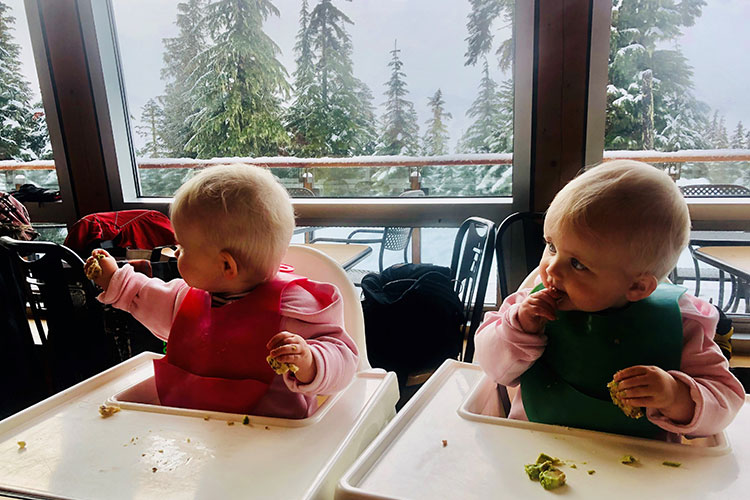 More Family Fun at Whistler Olympic Park
Snowshoeing is another way to explore the expanse of trails at the park, and if you can walk, you can snowshoe! You can take small children in a baby carrier (remember this extra weight will make for quite the workout) or if your kids are big enough they can snowshoe themselves (the smallest snowshoe they have fits a child that's at least 30 pounds).
Whistler Olympic Park does not rent baby carriers and suggests that people consider their skill level and trail choice when carrying a young child. You can choose to head out on your own or go on a guided tour. If you haven't done it before and do have young kids, it's fun to go with someone who can show you the best routes, point out fun facts about the area and help with any gear issues.
It's worth noting that if you decide to take a lesson you can switch from cross-country ski rental to snowshoes, so you could easily spend a whole day at Whistler Olympic Park.
There's also a dedicated sledding hill for tobogganing and you can bring your own sled or borrow one for free (with park admission). Anyone under 18 must wear a helmet while tobogganing, so bring one with you as they have a limited amount to borrow.
INSIDER TIP: On weekend afternoons and Wednesday evenings, they light a bonfire for après-sledding fun and we suggest bringing a pack of marshmallows to toast!
If you fancy a trip to Whistler Olympic Park you can book self-guided, cross-country shuttle packages, snowshoe tour and self-guided shuttle packages, and sightseeing packages via Whistler.com, however private cross-country ski lessons have to be booked directly with Whistler Olympic Park via email  / 604-964-0059. Visit Whistler.com for more family-friendly trip ideas and help bringing it all together (read: let them do the hard work).