Our snowshoes crunched loudly on the packed snow as we followed the marked trail. Our human loads wiggled about as they repositioned themselves in their backpacks; not so that they could better see the wonderful snow-laden trees or get a glimpse of the rabbit that scurried across the trail, but to find a more comfortable sleeping position.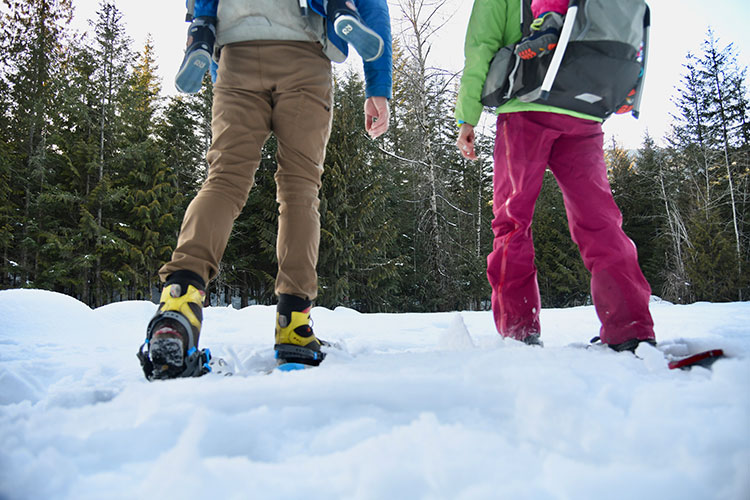 My wife and I looked at each other, perplexed at how the children's initial excitement to go snowshoeing had culminated in, well, sleep. But that is what fresh, crisp air tends to do to little ones. As for us adults, the reward was that we got to enjoy the beauty of the trails at Whistler Olympic Park in relative peace.
Start Slow
Our first jaunt was along Stadium Explorer, a green trail. It felt like a mom and dad wilderness date. We chatted, held hands when the trail was wide enough and let the silence and beauty of our surroundings overtake us. My three-year-old's rhythmic, deep-sleep breathing seemed in unison to our Sasquatch-like steps.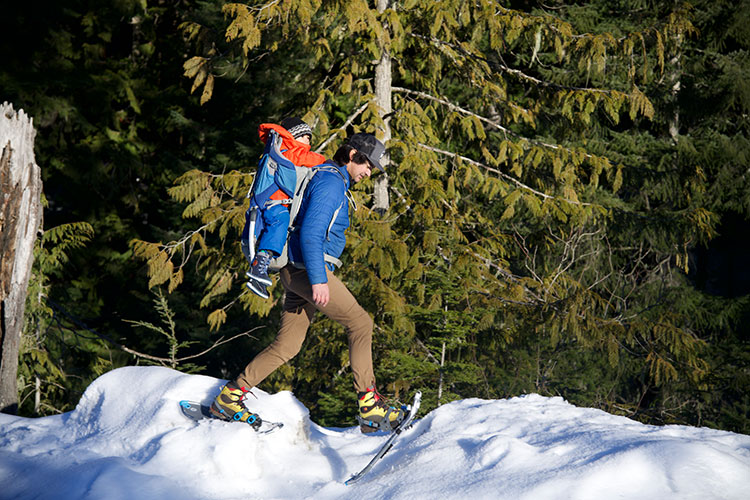 We joked that the challenge of getting Catalina, who's one and Mikio, who's three, ready for snowshoeing took almost as long as we intended to be outside. We'd even hesitated about coming as we were late leaving the house — would this work? Would it be worth it? But, as we took in the stunning scenery around us we were glad we had persevered.
Play in the Snow
Mikio and Catalina woke when we stopped to layer down. We decided it was a good opportunity to let them stretch their legs and play in the snow before putting them back in the packs.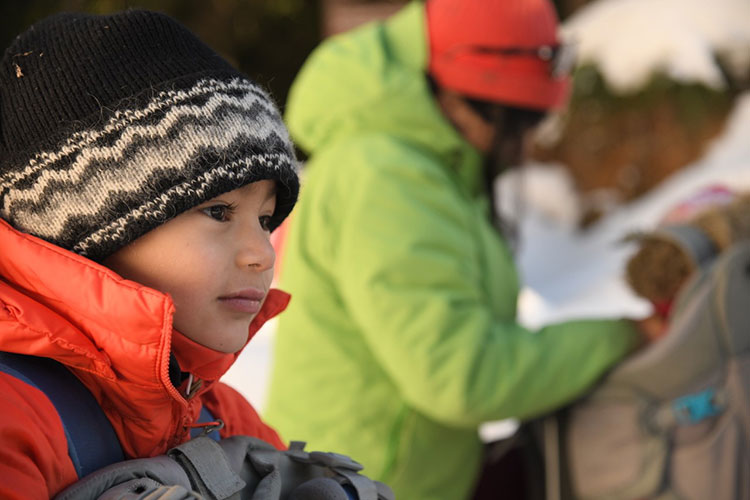 We had considered bringing Mikio's snowshoes — but knew that he wouldn't last too long. Some outings with children are for the kids, while others are for the parents. That's what makes snowshoeing so great, you get both. We got the exercise and fresh air that we desired and the little ones got a wintery outing to "snowchoooo" as my boy likes to say.
When he's four or five we'll let him jaunt about on his little snowshoes, even if we have to take smaller hikes. That's one of the great things about Whistler Olympic Park — there's a lodge to keep the kids warm before and after being out and about on the trails.
If you don't have your own snowshoes you can rent them from the lodge. The smallest snowshoe is good for a child who is at least 30 pounds, which is usually around age three, but our experience is that these young explorers don't usually go too far on them!
Taking It up a Notch
We switched onto the Olympic Explorer, a blue trail, and enjoyed taking it up a notch for a little while. The trail has some steep sections that had us sliding and laughing with our precarious loads. If you have not snowshoed with a child in a backpack before we'd suggest sticking to the green trails as you want to stay safe and in control.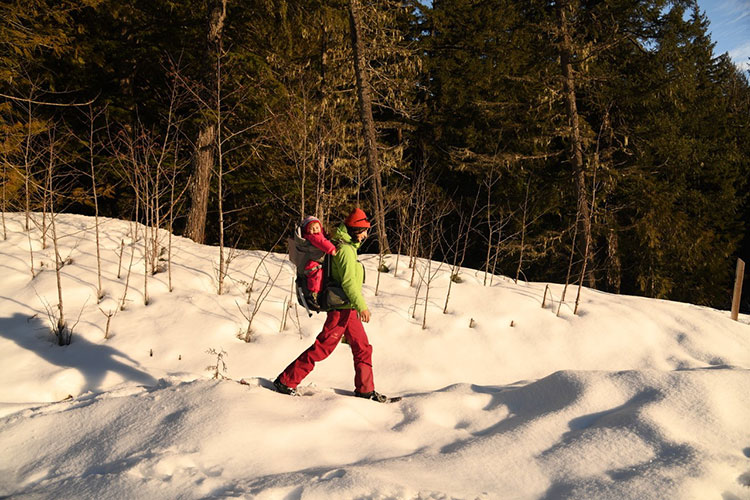 We decided to call it a day and opted for the green Ski Jump Loop back to the lodge. It felt absolutely great to head out for a snowshoe as a family; a fun and accessible adventure in Whistler's stunning backcountry.
Family Snowshoe Tips
Kid Tips
Layer and dress your kids as you would yourself. That means Merino wool base layers, snow pants, a mid-layer and winter jacket, wool toque and gloves. Dress for the weather. If it's wet snow, make sure the kid's jackets are waterproof.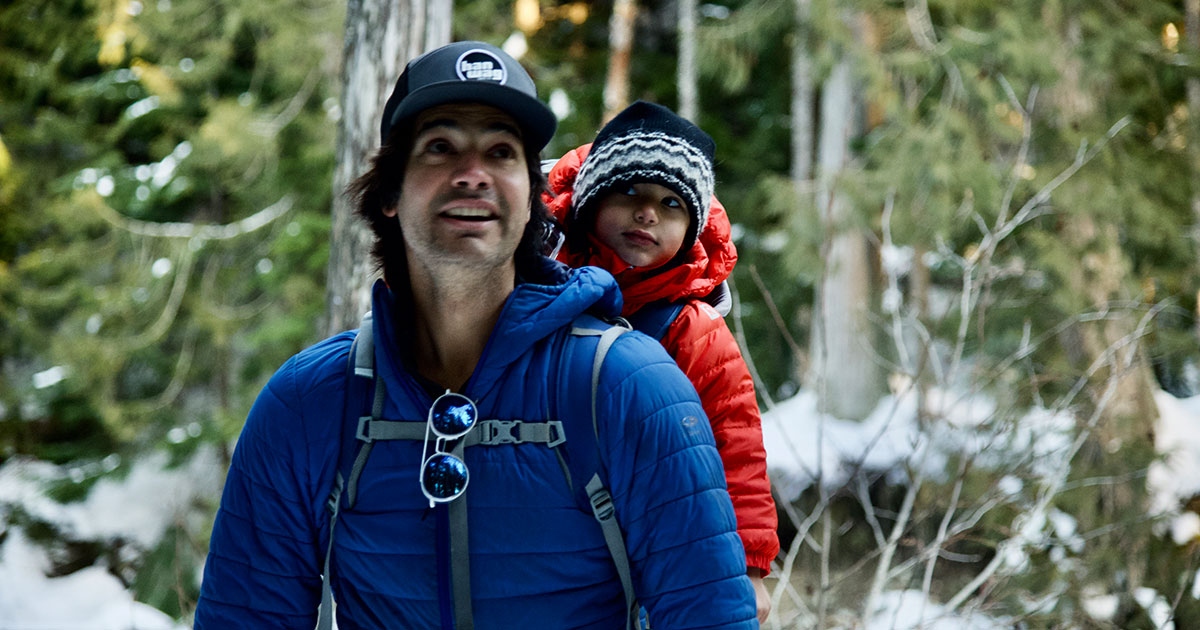 Remember that if your child is in your backpack they aren't exerting themselves, so just because you're boiling from carrying them it doesn't mean they are. Make sure they're warmly bundled and check on them routinely for signs that they might be getting chilly. Our suggestion is to take them out every half hour or so to make sure that their blood is circulating well, give them snacks and drinks and take a family picture of course!
You don't want to add too much more weight to your pack, but it's always good to have water and snacks with you.
Trail Tips
Snowshoeing is more tiring than simply hiking, whether you're carrying your kids or they're snowshoeing themselves. Begin on an easy green trail close to the lodge. That way you can gauge both your own and your children's ability level before you explore further.
On our first few times at Whistler Olympic Park, we stuck to Marley's Meander because it's relatively flat but still takes you through some beautiful new and old-growth forest.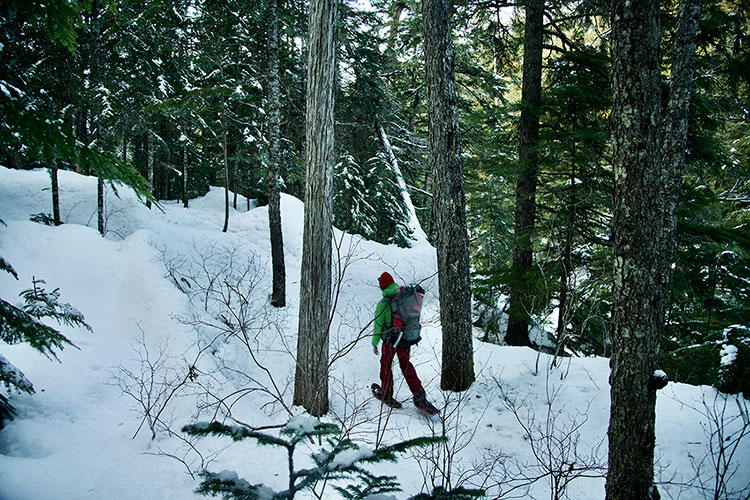 Olympic Park Tips
There's a lot to do at Whistler Olympic Park from marshmallow roasting by the fire and having lunch at the lodge, to tobogganing, cross-country skiing and the biathlon experience. It's a wintery paradise.
The great thing is that you don't have to have any gear — everything you need can be rented, even a Chariot (a stroller on skis). We've cross-country skied with Mikio gliding happily behind us in one of those multiple times. You can sort out your rentals online, ahead of time, and, just a note, Chariots can only be used with cross-country skis, not with snowshoes.
As with all outdoor adventures, we suggest you check the conditions and trail status and have the right gear before you head out to explore.
Book your winter trip now to secure up to 25% off lodging, 65% off lift tickets and 45% off rentals. Come experience Whistler Blackcomb's extensive terrain and adventure at every turn to see why we're known as one of the best resorts on the planet. Secure your winter getaway with Whistler.com for Flexible Cancellation and our Price Match Guarantee. Want to win a winter trip for two to Whistler? Check out our Drop In to Winter contest.