Guest Author: Marion Young
After years of ogling at ice climbing photos on lnstagram, I finally added it to my bucket list. As someone who has only climbed the indoor wall at the Whistler Core a few times in the last couple of years, I certainly don't fall into the category of experienced climber.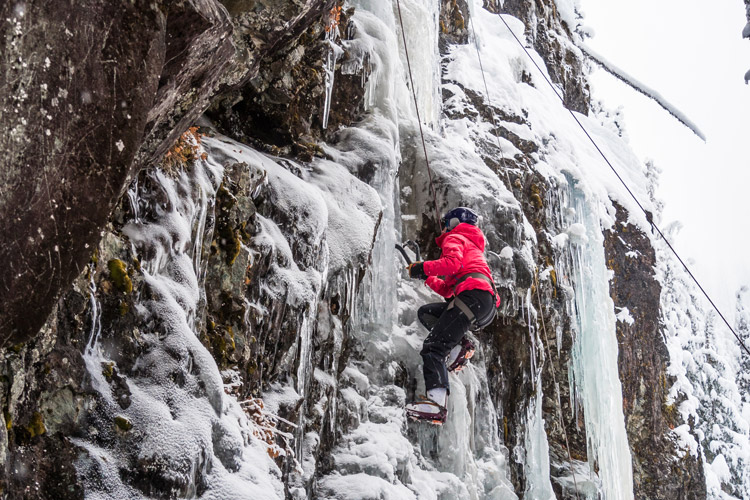 Ice climbing is very much a deep winter sport, only available when cold temperatures firm up the ice to form a solid wall. Instead of spending winter dreading the colder days, ice climbers look forward to when the temperatures drop between -1 °C to -30°C to freeze waterfalls.
I assumed it would take years for me to work my way up and cross it off my list. So, when I learned about an ice climbing offering in Whistler with Mountain Skills Academy and Adventures, tucked away off a run on Blackcomb Mountain and welcoming beginner climbers – I had no reason (besides nerves) not to give it a go.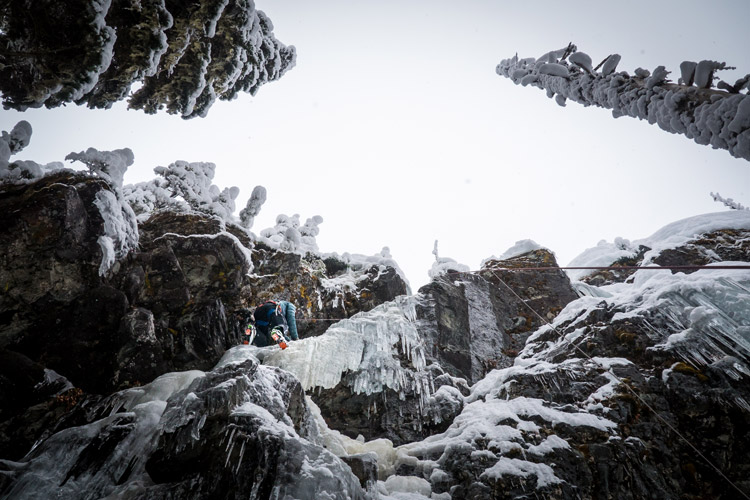 Fast forward to 8:30 AM one day this winter inside the swanky new Escape Route Alpine Demo Centre in the Village, and we're warming up with coffee as our guide Josh goes over the legalities and paperwork. After introductions have been made and we've been securely fitted with a harness and crampons, we're out the door and on our way up to the alpine to start swinging axes.
One gondola, two chairlifts, one t-bar, a run down the glacier, a short hike through the snow later and we're there.  As we make our way through the snow, I catch a glimpse at our destination, an ice wall jutting out from a cliff protected by trees. Our guides leap into action getting the rope system set up while we take off our bags and get our crampons and harnesses fitted for go time.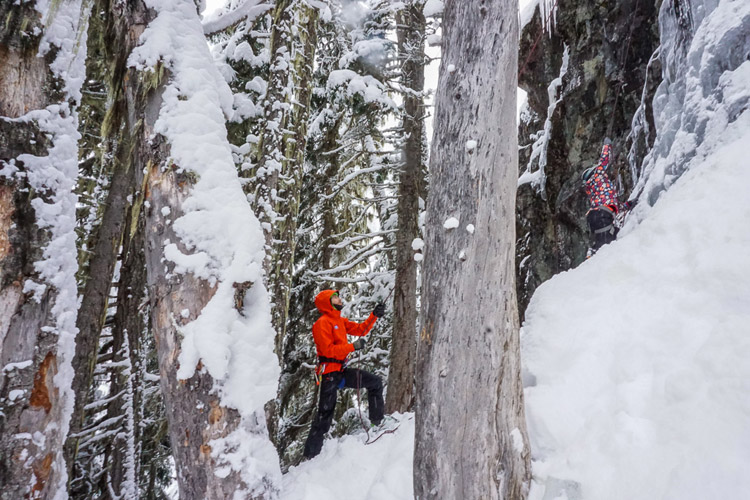 Before we break ice, Josh explains the techniques around using our new tools. My takeaways were don't smash the ice, swing the axe like a dart and use your feet. After that, we were on our way.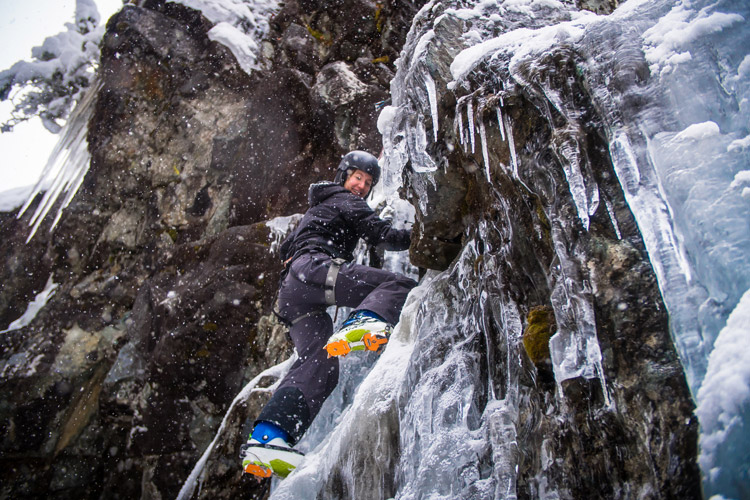 Like a classic keener, I volunteered to go first. Nerves buzzing, I kicked in to gear and after a few steps up I could already feel the adrenaline. I then looked down and realized I hadn't even made it a foot off the ground. Still, it took all my concentration to focus on where to place my axe next as I hooked it onto the ice formations. Afraid to really hit the ice, I became a hooker (an industrious individual taking advantage of natural frozen ice features to hook my axe on). That was until I ran out of hooks and Josh yelled not to be afraid of actually swinging the axe.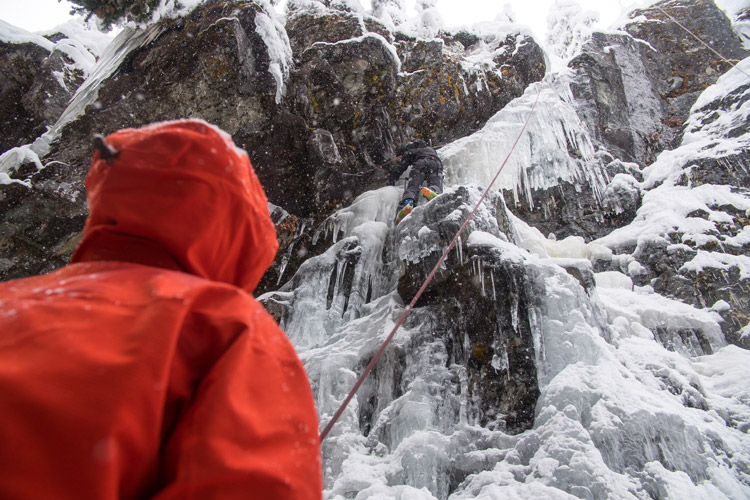 A quarter of the way up the route as I swung from the ropes after a second or third fall, I questioned whether or not I could continue to the top. I was exhausted and exhilarated but after a break and some encouragement, I continued on my way. With good instruction and support from my guide and new climbing mates, I made it to the top. The confidence boost was unlike anything I'd felt in a long time – and the view was pretty sweet too.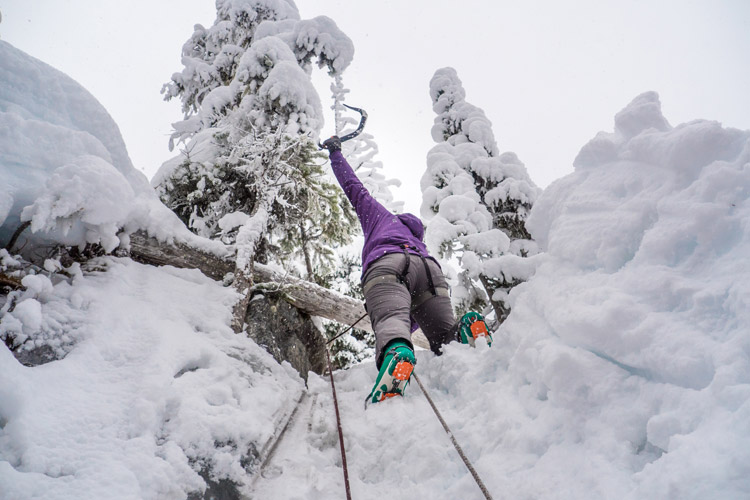 Before making my way back down, I relished in the sense of accomplishment and the legitimate struggle that I'd overcome. The descent was a lot quicker but just as fun, with Josh fully lowering me down the ice. Once back on the ground, I felt a renewed sense of energy. I rode that high for the rest of the day. I was buzzing! While I watched the rest of our group conquer the ice wall, as we skied back down the mountain and even as I returned to my desk at work.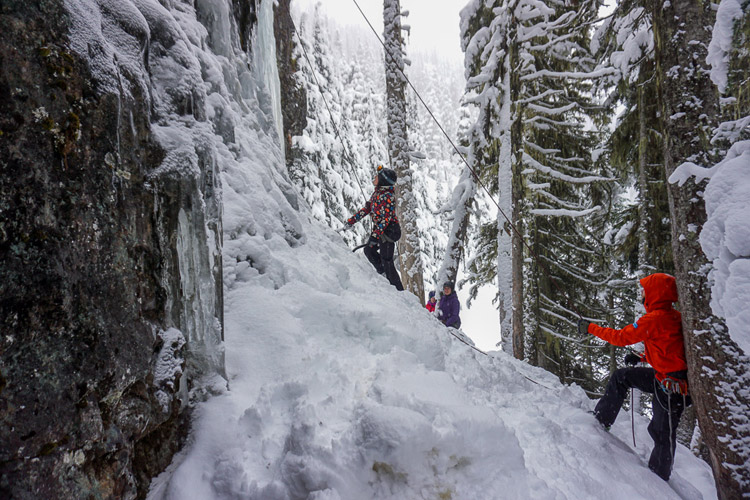 The thrill of ice climbing is real. Make this the winter you try one of the coolest activities Whistler has to offer. Learn about a new sport, pick up some new lingo and climb some ice.
First Timer's Tips for Ice Climbing in Whistler

Go with a guide. Even if you're an advanced ice climber, the pro guides will lead you to finest ice climbs around
Seize the season. The ice-climbing window in Whistler is only available for a limited time!
Layer up! You're going to get hot and sweaty on the climb, but you'll want layers to keep you warm when you're back on the ground
Pack a camera to make sure you get the shot. My phone always dies in the cold!
Fill up your thermos with soup, hot tea or coffee to sip on while you watch your friends tackle the ice
Treat yourself. I always take chocolate on alpine adventures, because I'm worth it…
Ask questions! Your guide is a professional with vast experience and stories that will blow you away
You thought Whistler was all skiing, right? This is just one of the many neat outdoor adventures on offer – check out the full list of winter activities here.