Public health officials have ordered the closure of Whistler Blackcomb, and Whistler's restaurants, pubs and bars are closed for indoor dining until April 19, 2021 at midnight to prevent community spread of COVID-19 related to non-essential travel.
Like you, we hear the call of adventure, but now is not the time for personal, non-essential travel.  We look forward to welcoming you back to Whistler soon, so keep dreaming and planning for tomorrow. Information and resources for travellers are available at whistler.com/covid.
We all know and understand that this winter is going to be different, but Whistler is open and ready. With gratitude, patience and grace, we're looking forward to an incredible winter season that's still got all the components we love, just adjusted.
Planning for dining will be key this winter, with capacity being limited while demand remains high. We've put together what you need to know about après and dining in Whistler for this winter, so you can avoid getting hangry and enjoy Whistler's varied food and beverage scene.
Note from the editor: Things will be changing quickly this season as Whistler adjusts to new health advisories as they come out, and we will aim to update this post as quickly as we can to keep it up to date and a useful planning tool for you this winter.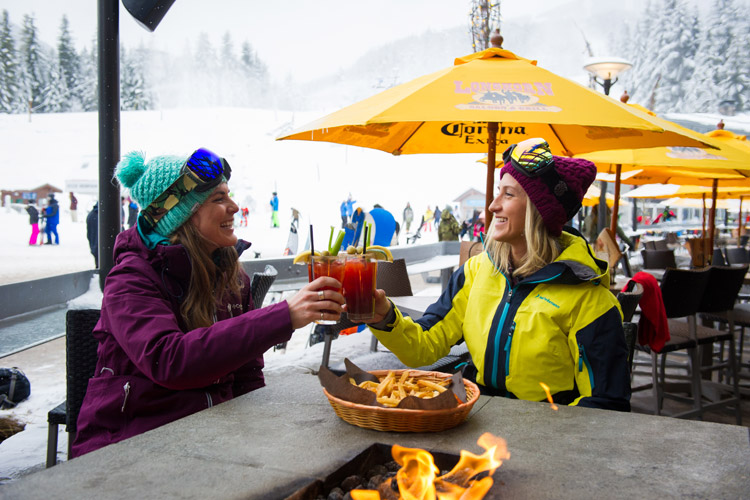 Après in Whistler
Whistler's après scene is the stuff of legend and that hasn't changed – it's just more spread out. The Resort Municipality of Whistler (RMOW) expanded many outdoor patio areas for the summer season, and they're hoping to keep the majority of these for the winter, although they have snow clearing to contend with so it's not going to be possible for all locations, which means capacity will be reduced this season.
When you rock up to your patio of choice:
Wear a face mask.
Make note of any instructional signage, wait for the host and prepare to give them your details for contact tracing.
Stay seated (unless you're heading to the washroom), which means no dancing on the bar this year although foot-tapping and table drums are definitely encouraged.

Keep that jacket on and layer up, as some new patios may not have heating systems in place.
Although some venues are offering live music and trivia nights, the current health recommendations mean there are no dartboards or billiard tables open and karaoke is currently on hiatus too. At most venues aprés sessions are non-reservable, but some places have started a reservation system that comes with a fee and / or minimum food and drink spend (although this hasn't been widely adopted across the resort).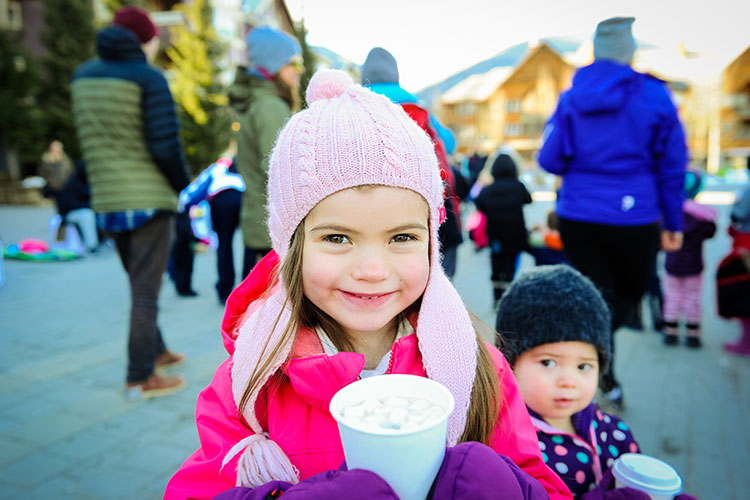 Après Family Fun
The RMOW's Family Après is being renamed and rejigged this season. Instead of a fixed location at Whistler Olympic Plaza, it will be like the Explore and Experience program that ran in the summer where musicians, artists and activities were spread throughout the Village in a pop-up format. It's due to start in early to mid-December, with times and locations changing each month depending on what's happening.
Whistler Olympic Plaza Skating will open on November 27 with limited numbers (30 on the ice at one time and mandatory mask-wearing) and the adjacent Snow Zone, a fun tobogganing hill and play area, will start to take shape as soon as temperatures are cold enough, creating a free, outdoor play space at Olympic Plaza (bring your own sled).
Another après activity that usually happens during the December school holidays is Whistler Holiday Experience, an indoor play area for kids with bouncy castles, games and toys. However, the plans for how to do this safely this winter are still TBD. The RMOW are working on something to replace it, but it will obviously be a lot different.
Our Advice
Our number one tip for this winter is to really explore Whistler's après scene and find somewhere a bit more off the beaten path to celebrate your day in the mountains. You'll find some suggestions in the post Hidden Gems of Whistler's Après Scene.
Timing is also something to consider. Après is at its height around 3 PM when the lifts stop turning, then there's a bit of a lull between 4:30 – 5:30 PM. If you're an early bird then consider an early après, in keeping with your potential crack of dawn alarm the next day. Or, you could make it a later après session and head back to your accommodation for a soak in the hot tub (make that the Scandinave Spa if you want to up the tub ante) before you go out.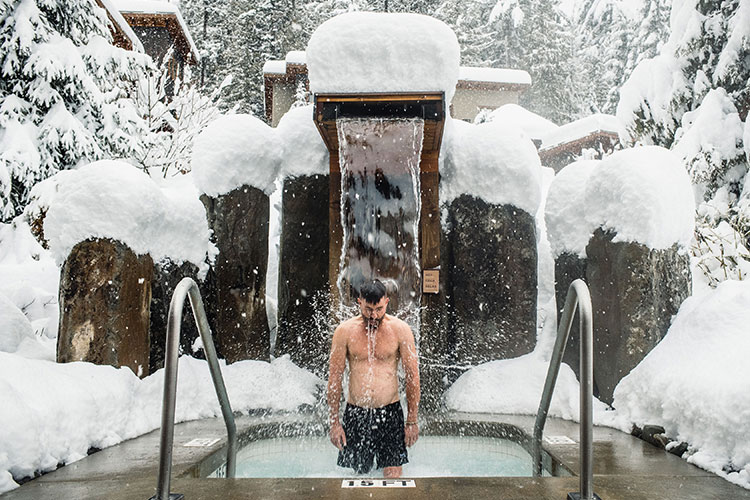 Don't confine your après to the bars, make it an adventure après instead and go ziplining, snowshoeing or snowmobiling. Doing something like this with a later lunch could mean you grab a later dinner reservation and avoid the peak times.
There are also activities that are good for in-between après and dinner, like attempting to get out of a pirate ship at Escape! Whistler, throwing axes with Forged, finding magic in the forest with Vallea Lumina, or opting for one of our cultural offerings like the Audain Art Museum and Squamish Lil'wat Cultural Centre.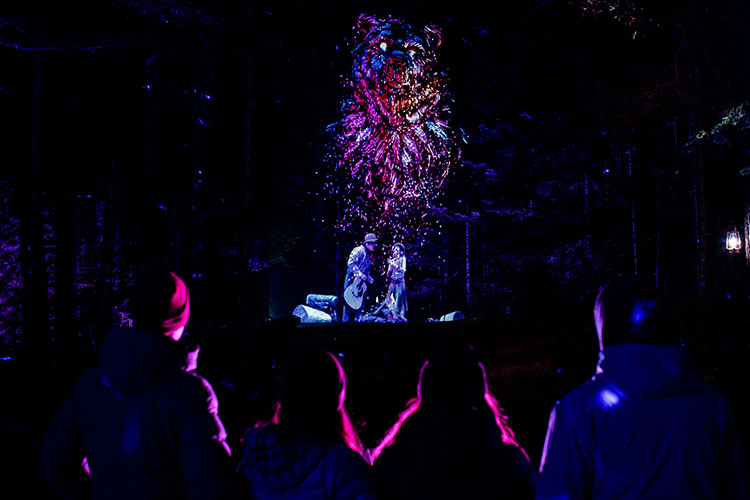 Dining in Whistler
You're going to have to be proactive in your dining decisions this winter as demand on our food establishments will be high, while their capacity is restricted by the new safety protocols. Many restaurants have added Plexiglass between tables and booths, which has helped put capacity numbers close to what they were, but not everyone has been able to do that so we're still looking at reduced capacities.
Here are some tips to avoid the dreaded hangry syndrome.
Make a reservation ahead of time. Find your favourite Whistler restaurants in the Doors Open Directory with booking links.
Think about eating outside of peak times, like considering an early lunch and dinner, or go make it a slightly later one. Bear in mind that public health regulations mean the liquor cut-off time is currently 10 PM, so last call is at 9:45 PM and everyone has to be out by 11 PM.
Take it away. Have a look at Whistler's take-out offerings (more and more restaurants are offering this service) and either pick up your food directly or get it delivered and enjoy it at your home-away-from-home.
Buy local. Sometimes it's fun to shop in a new place, check out which products are local and whip up your own culinary delight. The locally based Whistler.com team can help find home chefs an accommodation option with a rad kitchen.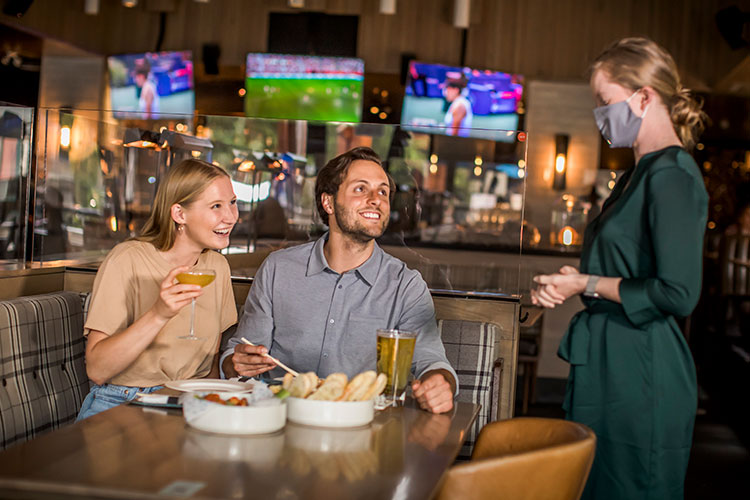 Be a Responsible Diner
Wear a face mask.
Pay attention to directional signage and abide by it.
Stay seated unless you're using the washroom.
Call to cancel a reservation if you can't make it or are running late.
Pack your patience.
Take a look at our dedicated COVID-19 page and our Doors Open Directory, which highlights businesses that are open and what protocols they have in place, so you know what to expect when you head up here. We're excited for the start of the winter season and hope you are too. If you're coming to Whistler this winter please bring your face mask, travel manners and as always, your sense of adventure.