Sleeping under the stars, telling stories around the fire (or flashlights) and following nature's rhythms, these are the things that come to mind when we think of camping. It's all so romantic, isn't it? We usually leave the bug bites, cramped dishwashing and mysterious night noises conveniently out of the picture. But that's because the experience always outweighs the minor discomforts.
In Whistler, you can find whatever camping experience you yearn for, whether you want to sleep on a real mattress or get up into the alpine and forget the rest of the world exists. Camping is a deeply beloved part of Canadian culture and should be on everyone's bucket list to try at least once. But before you make your camping dreams a reality, you first need to know where to go, what to prepare for and how to respect the environment. Read on to get Whistler camping ready.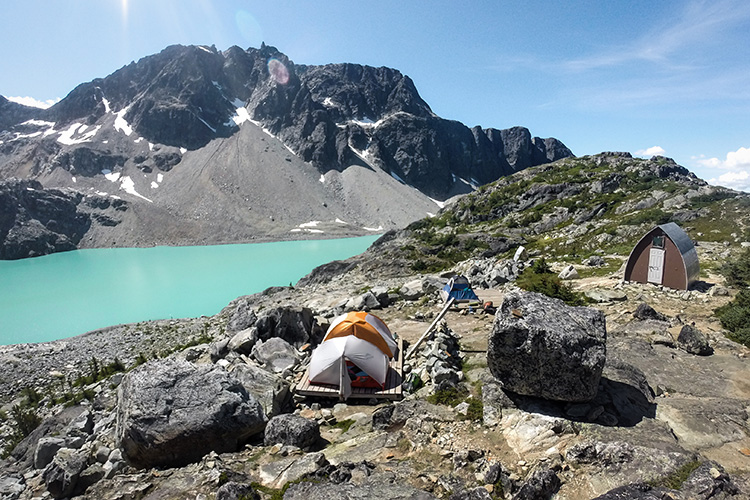 Car Camping and Glamping in Whistler
Riverside Resort
If you're road-tripping or after a glamping experience, but still want the convenience of being close to everything, Riverside Resort is the spot for you. This is the closest campground to Whistler Village, it's also near Green Lake, Nicklaus North Golf Course, cross-country biking trails and the Scandinave Spa. The Valley Trail connects it all so if you don't even need to drive, you can walk or bike instead. Cabin rentals and RV sites are available in the winter as well.
Sites Offered:
Full and partial service sites for RVs
Multi-use camping sites
Log cabins
Yurts
Tent
Whistler RV Park & Campground
At 20 minutes south of Whistler, this is the farthest campground from the Village. But it is close to the Callaghan Valley, which means plenty of opportunities for exploring. Whistler RV Park & Campground also has a lot to offer onsite, including; wiffle golf, frisbee golf, photo safari tours and more. The campground is perched over the valley and the vantage point offers fantastic mountain views, some of the sites look directly at the infamous stratovolcano, Black Tusk.
Winter RVing is available but the operators ask that guests check the conditions and call ahead as there is a 10% grade hill which can become challenging in snowstorms. But it is a great location for snowmobilers with easy access to trails!
Sites Offered:
Full RV hook-up, back-in and pull through
Tent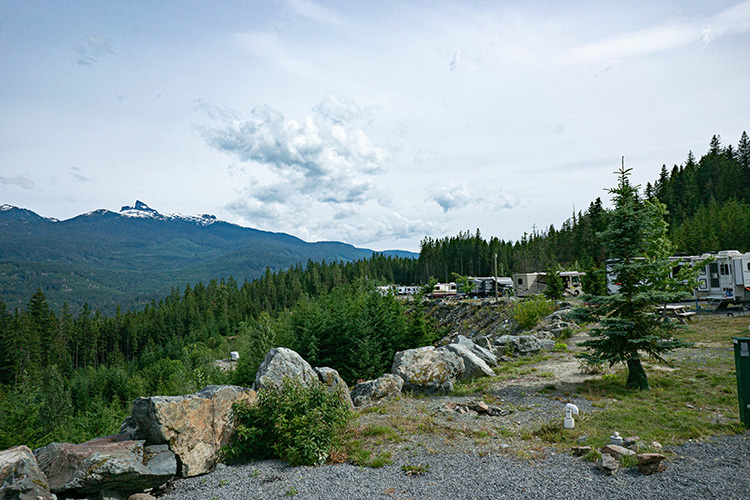 Cal-Cheak Recreation Site
Cal-Cheak is part of the provincial park system and runs on a first-come, first-served basis. Most of the campsites include a fire pit (check the fire danger rating before using) and a picnic table. The campground is divided into three sections with over 50 sites. Some of these are big enough for an RV but there's no power or hook-up.
The location is in the forest and between the Callaghan Creek and Cheakamus River, making it feel peaceful and farther away from the world than it really is. With access to a popular section of the river for white water kayaking, and hiking and biking trails, this is a great spot for those who like to get up and go about their adventures. Cal-Cheak is open from May – October.
Sites Offered:
Tent
Trailer and RV (but with no services)
What You Need to Know Before You Go
Campfires within Whistler require a permit from the Resort Municipality of Whistler. Campfires are banned once the fire danger rating reaches High – Extreme.
Be bear aware, keep your campsite clean and food securely stored, follow the campground guidelines for disposing of food waste
Car camping or van life-ing is not allowed in Whistler on roads or in parking lots, there is a fine for illegal camping and checks occur frequently
Overnight Hiking and Camping in Whistler
Camping at Russet Lake
The Russet Lake campground sits on an alpine lake below Fissile Peak, which is the peak you can see poking up between Blackcomb and Whistler Mountains from the Village. One of the oldest peaks in the area at an estimated 230 million years, it is made up of shale and sandstone which is what gives this mountain its unique reddish colouring.
Russet Lake is reachable by three different trails, Singing Pass, High Note and Musical Bumps. High Note and Musical Bumps are on top of Whistler Mountain and accessed by gondola, so you will need a sightseeing ticket. The hikes vary in length and difficulty but they all require a good level of fitness, preparation and backcountry knowledge. See our Alpine Hiking Guide: Trails on Whistler and Blackcomb Mountain for more information on the trails.
There is a basic hut that can hold eight – 12 people, but campers should be prepared to tent in case the hut is full. There are seven tent sites (clearings not pads), reservations are required and can be made through BC Parks. There is also a pit toilet but no cooking facilities or food storage. However, there is a new, state-of-the-art hut under construction at Russet Lake that is set to open in September 2019.
INSIDER TIP: The ever-elusive local mountain goats have been known to frequent this area.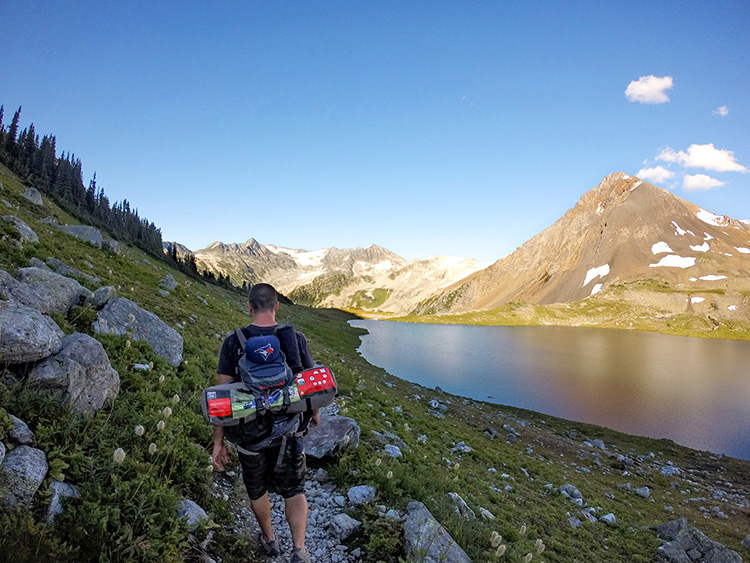 Camping at Garibaldi Lake
Garibaldi Lake campground has 50 sites but campers must reserve ahead of time through BC Parks. It is one of the more popular overnight hikes in the Sea to Sky region due to its accessibility and incredible scenery. The campground rims the northwest section of the turquoise lake and offers stunning views of the Battleship Islands and Castle Towers Mountain. The campground facilities include; day-use cooking shelters, a sink with greywater disposal, picnic tables and pit toilets.
If you are unable to get a reservation at the Garibaldi Lake campground or want to explore further, check out Taylor Meadows campground (40 sites) or Helm campground (nine sites).
See our Insider's Guide to Hiking Garibaldi Lake & Area for more trip-planning details and inspiration.
Camping at Wedgemount Lake
Wedgemount Lake campground has an emergency shelter hut and two different tent areas, one near the hut and another by the Armchair Glacier inlet, for a total of 20 available sites. Reservations are needed and can be made online through BC Parks. There are two pit toilets in the summer and a place to hang food but no garbage facilities, you will need to pack out what you pack in.
This is one of the more difficult hikes, and while it can be done in a day, making it not necessary to camp, the scenery will likely leave you wanting to stay longer. You can see both Wedgemount and Armchair glaciers from the lake and a plethora of peaks, including Wedge Mountain – the highest peak in Garibaldi Provincial Park. Wedgemount Lake campground also makes a great base camp for further exploration of the surrounding trails and mountains.
INSIDER TIP: Keep an eye (and ear) out for hoary marmots!
See our Insider's Guide to Hiking Wedgemount Lake for more trip-planning details and inspiration.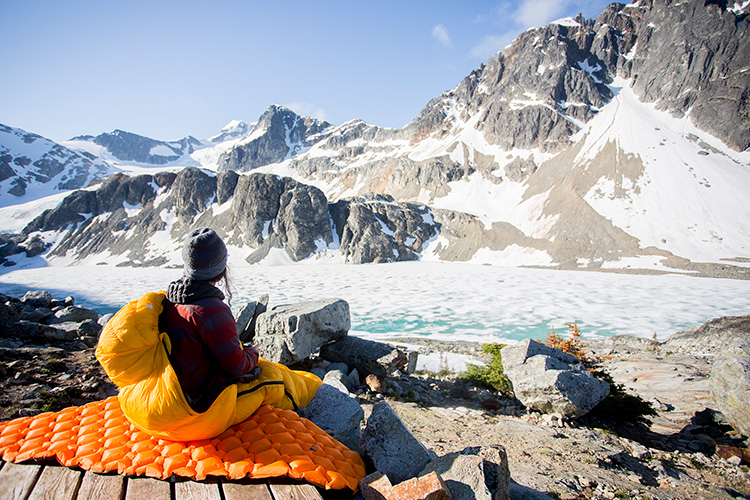 Camping at Cheakamus Lake
There are two campgrounds to choose from at this lake, the Cheakamus Lake campground (10 sites) which you reach first, and the Singing Creek campground (seven sites) farther down the lakeshore. Both sites require a reservation. There are pit toilets and food caches but the caches fill up during busier times so be prepared to hang your food.
This is the mellowest overnight hike in the area and due to the lower elevation, it is usually the first ready for summer camping. If you're ambitious, you could portage a kayak, canoe or paddleboard along this trail.
See our Insider's Guide: Hike or Bike Cheakamus Lake for more trip-planning details and inspiration.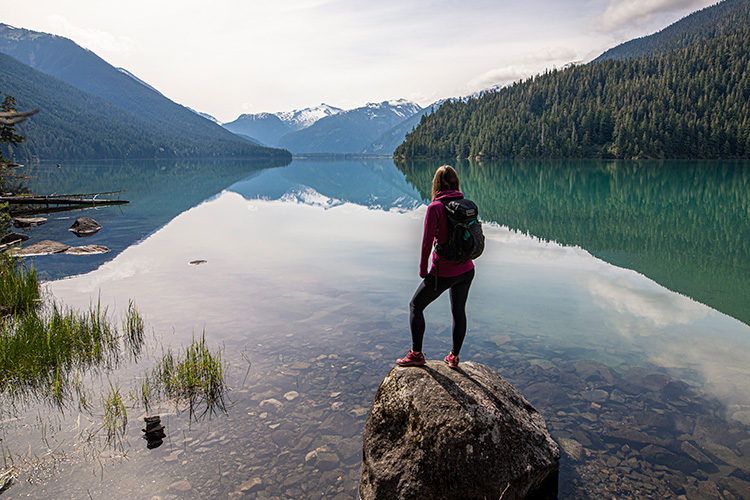 What You Need to Know Before You Go
In some backcountry areas, like Garibaldi Provincial Park, campfires are banned year-round due to sensitive environments. If you see a wildfire, report it to BC Wildfire Service 1-800-663-5555
Pack out what you pack in, even if a campground has garbage facilities you need to be prepared that it may be full
Be bear aware, hang or cache your food, leave not a crumb behind (even if it is compostable, it is still a wildlife attractant), carry bear spray, check bear and wildlife alerts and respect any trail or area closures. Report any emergency human-wildlife conflict to the RAPP hotline 1-877-952-7277.
Tell someone where you're going and when you're expected to return
Read and follow the Insider's Guide to Backcountry Etiquette
Make sure you have these essential hiking items
If hiking in the spring or fall be prepared for winter conditions and make sure you have the appropriate gear and backcountry knowledge
Stay and on the path and only camp in designated areas as to not damage the surrounding ecosystem. If you must camp outside of a designated area due to emergency or conditions, follow these wilderness camping guidelines from BC Parks
Reservations are needed for camping in Garibaldi Provincial Park (year-round), you will need to be able to provide proof of reservation. If you're parking in the designated Signing Pass parking spots in Day Lot 4, you will need to display your reservation number on your dashboard
If you want to have the experience of spending the night in the alpine but aren't comfortable enough in your skills, consider booking an overnight hike with Mountain Skills Academy. If you're travelling from afar and want to backpack but are reluctant to haul all your gear here, check out Escape Route for rentals.
Ready to plan a night under the stars? Head over to Whistler.com to find out more about camping in Whistler. While you're there, you can book your outdoor and sightseeing activities too.