Summertime means mountain biking in Whistler. The chairlifts are running, the trails are open and the Whistler Mountain Bike Park is full of riders blasting down trails. Now that you've read Whistler Mountain Bike Park 101 and are comfortable riding green and easier blue trails, you're ready to progress on to the next level.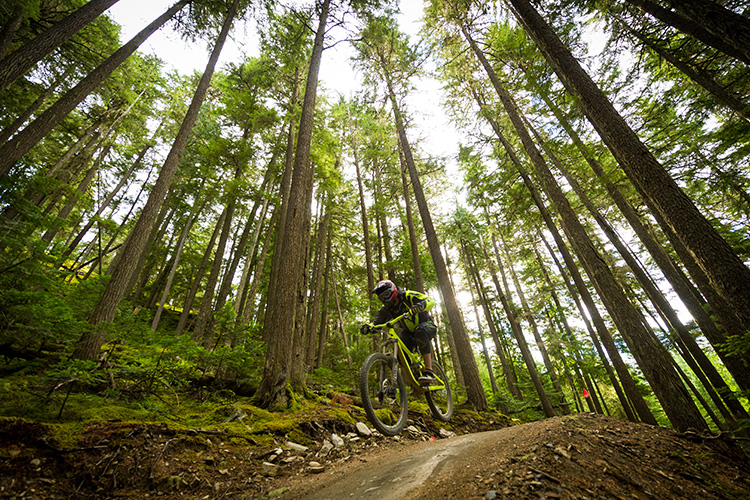 What Trails To Ride Next?
There's a big world of bike trails out there beyond green trails like E-Z Does It. Not all blue trails are made equal though. They can vary in length by a lot and some have features that are not found on other blue trails. Follow our guide to progress your way through the Whistler Mountain Bike Park!
Flow Trails
Flow trails are trails that feature manmade jumps and berms. They're generally quite wide and are often machine-made. They're called flow trails because riders can "flow" over the jumps and around the corners.
Current Ability:
B-Line is your home! You're clearing all the jumps (most of the time), railing berms and in full control of your bike. Now it's time to move onto longer trails with bigger jumps.
Next Step:
Up next – Blue Velvet. This is a long jump trail. The jumps are more frequent than those found on B-Line and there's a whole lot more of them as well. You'll really build up your fitness and improve your focus riding Blue Velvet. This trail has step-ups, step-downs and some big jumps.
Beyond:
Has Blue Velvet left you wanting more? The next step up in flow trails is the world-famous A-Line. This is a black trail and a big step up in difficulty from Blue Velvet. There are mandatory drops, much larger jumps and it even has a fast, technical section.
Recommended Lap
Follow this route to ride the best flow trails in one lap:
Blue Velvet – Crank It Up – C-More – Heart of Darkness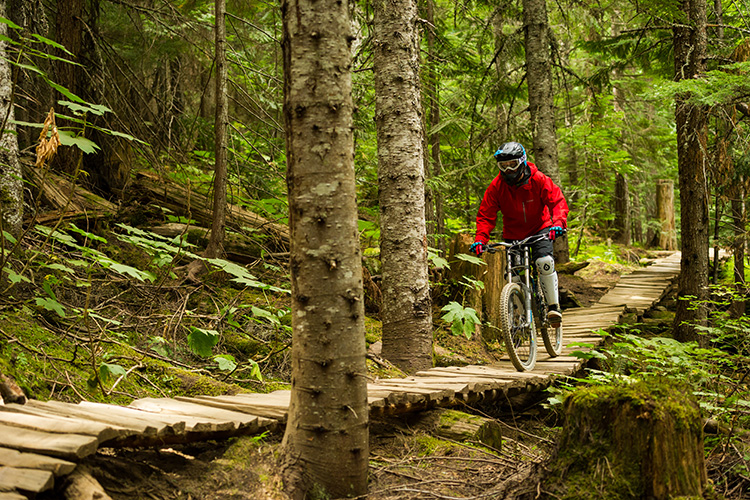 Technical Trails
Technical bike trails differ from flow trails as they are "singletrack". This means that they are much narrower and tend to pick their way through trees and rock gardens. They generally require more technical ability to ride than flow trails and most feature rocks, roots and other features.
Current Ability:
Having a blast riding Del Boca Vista and Shady Acres? Finding yourself riding with more speed and confidence? Now is a great time to move on to more difficult, technical trails.
Next Step:
It's time to seek out the technical features in the park. There's no shortage of technical blue trail options in the Fitzsimmons Zone. From rock rolls on Blueseum to tight corners on Karate Monkey and wooden bridges on Devil's Club, this zone has so much to offer.
Beyond:
Have you mastered the technical trails in the Fitzsimmons Zone? You could be ready for the Top Of The World trail. This is a very long, iconic, black technical trail that starts at the peak of Whistler Mountain. The trails up there are rocky, loose and a step up in difficulty too due to the endurance needed and potential alpine weather conditions. Riders should be prepared for low to zero visibility and a temperature drop (snow is not out of the question).
Recommended Lap
Follow this route to ride the best technical trails in one lap:
Ninja Cougar – Karate Monkey – Pizza Cat – Devils Club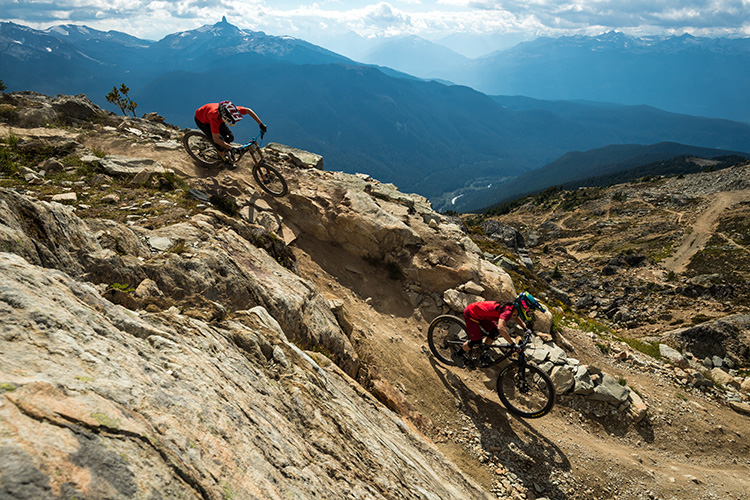 Must Ride Features
Whistler Mountain Bike Park is a blast, you'll find fun and adrenaline around every corner. But if you ask us, there are some features that every rider should hit. These features are all on blue trails so they're all well within the skillset of an intermediate rider.
Flow Trail Features
Feature: Drops | Trail: Wednesday Night Delight
Here you'll find a series of drops alongside each other. A "drop" is when you ride off of an edge and land on the trail below. You can choose to ride whatever size drop that suits your current ability. These drops are a great place to improve your technique and build confidence.
Feature: Wooden Wallride | Trail: Blue Velvet
One of the most photogenic features in the Whistler Mountain Bike Park, the oversized wooden wallride. A wallride is a wooden feature made of boards that wrap around a berm and it is often quite tall. Riders sweep around the corner, riding as high as they like on the wallride.
Feature: Clear Every Tabletop Jump | Trail: C-More
While technically not a single feature, riders should aim to be able to clear every tabletop jump on C-More. Tabletop jumps consist of a takeoff and a landing that are connected together by a flat "tabletop" section. Once you're comfortable doing this, you're ready to make the step up to larger and different types of jumps.
Feature: High-Speed Berms | Trail: B-Line
Most flow trails have berms, but most aren't as fun as the ones on B-Line. Berms are banked turns that feature on most flow trails. These berms have been expertly designed and crafted by the trail builders to flow together perfectly. Even though it's a blue trail, you'll spot lots of advanced riders enjoying these berms. Can you ride all of B-Line without pedalling?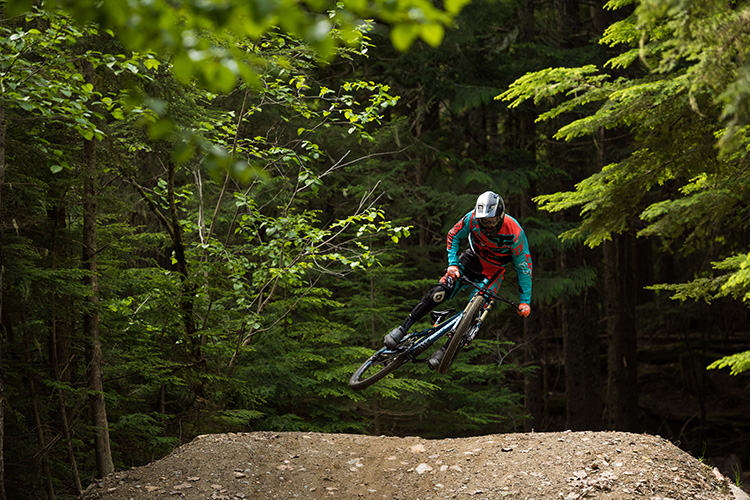 Technical Trail Features
Feature: Rock Roll | Trail: Blueseum
The rock roll on Blueseum is the first one that most riders encounter in the Whistler Mountain Bike Park. A rock roll is when you ride down a rock face. You'll ride through the relatively flat tech trail and come to the rock roll at the end. Approach slowly and point yourself down the rock. There's a berm at the end that catches you.
Feature: Wooden Bridges | Trail: Devil's Club
Wooden skinny bridges have been around since the conception of mountain biking, and this area is known for pioneering them. Wooden bridges are often elevated above the trail and most vary in width. They're one of the "old-school" mountain biking features and a great test for holding your nerve and improving your bike control. Remember the basics – look where you want to go!
Feature: Rock Garden | Trail: Smoke & Mirrors
Rock gardens are important parts of technical trails, especially here in Whistler. A rock garden is a section of the trail that is littered with large rocks. They can be daunting at first glance, but keep practicing them and you'll be able to spot the best lines. A perfect place to practice is at the end of Smoke & Mirrors.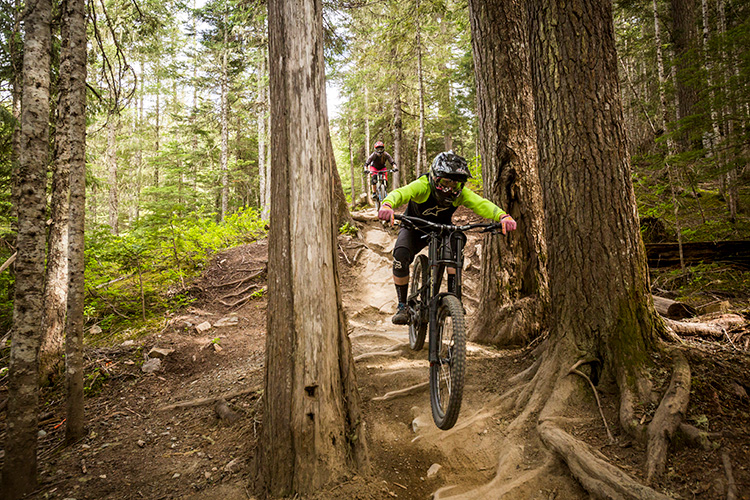 Best Ways To Improve
Practice, Practice, Practice
Mountain biking is quite simple – the best way to improve is by riding and riding lots! Take advantage of the chairlifts and gondolas here and ride as much as you can. Extended opening hours during the summer, from 10 AM – 8 PM, make Whistler Mountain Bike Park even more accessible. Experienced riders in the park know their favourite trails like the back of their hands. They ride the trails so often they know which slippy root to avoid, what lines to pick through the rock gardens and where to takeoff of on every jump.
Ride With Friends
Whistler Mountain Bike Park riding is very sociable. Everything from riding the chairlift to picking trails and going to après is better with friends. Riding with friends also makes you a better rider, you can follow more experienced friends into features and you can pass your knowledge on to newer riders. Once you hear your friends hooting and hollering through the trails, you'll be hooked!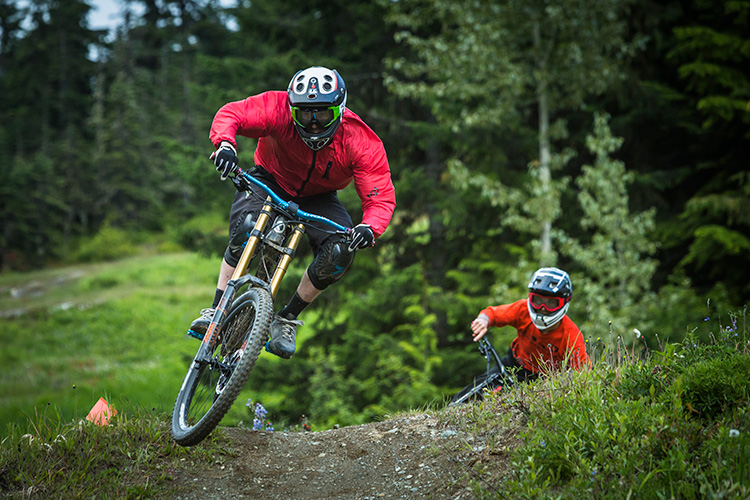 Take A Lesson
Just like there's a wide choice of trails to suit everyone's needs, there's also a wide choice of lessons.
GT Women's Nights
Easily the most popular Whistler Mountain Bike Park lessons, GT Women's Night is a group-based coaching session where groups are divided up by ability. Coaches bring your group through the park and teach as you go. Afterward, there's food, beer and a raffle! It's a fantastic way to meet new riders, learn new skills and win some amazing prizes.
Private Lessons
Private lessons are another popular choice. You can progress so much in a short period of time with the right guidance. Pick a trail that you want to ride faster and you'll receive expert coaching that steers you in the right direction.
Find everything from bike-friendly accommodation to bike rentals on Whistler.com and start planning your dream mountain biking vacation today!