Pre-wedding celebrations are no stranger to Whistler. In fact, we believe it's the ultimate bachelor and bachelorette location. Why, you might ask? Aside from being a stunning location on its own, the variety of ways to embrace stag and stagette traditions in Whistler will please any group. From pampered relaxation to mud coated goggles, Whistler has something for every bride or groom to-be.
INSIDER TIP: For our readers outside of BC, stag means bachelor and stagette means bachelorette. We wish we could tell you some cool origin story about why the lingo is different but it remains a mystery.
The variety isn't only in the activities, it's also evident in the array of experiences, nightlife venues and ways to appreciate this beautiful mountain town. Get your planning process started by scoping out this list of fun activities for a bachelor or bachelorette trip below.
No Cold Feet Here: Whistler Adventures
Committed to adventure? There are more than a few ways to get your heart pumping, adrenaline flowing and "team bonding" happening while on your Whistler stag or stagette. Superfly or Ziptrek can both accommodate large groups for an afternoon of soaring through the mountains via zipline. Speaking of large groups, Forged Axe Throwing is an awesome venue to rent out for a few hours of fun and it's conveniently located between two of Whistler's craft breweries, Whistler Brewing Co. and Coast Mountain Brewing. Canadian Wilderness Adventures, TAG or Whistler ATV can lead groups on motorized adventures up, over and through the majestic Whistler mountains while supplying a serving of mud and dirt.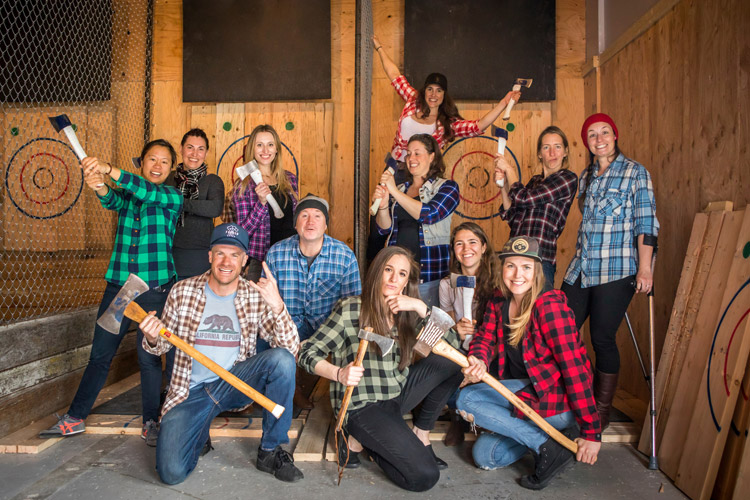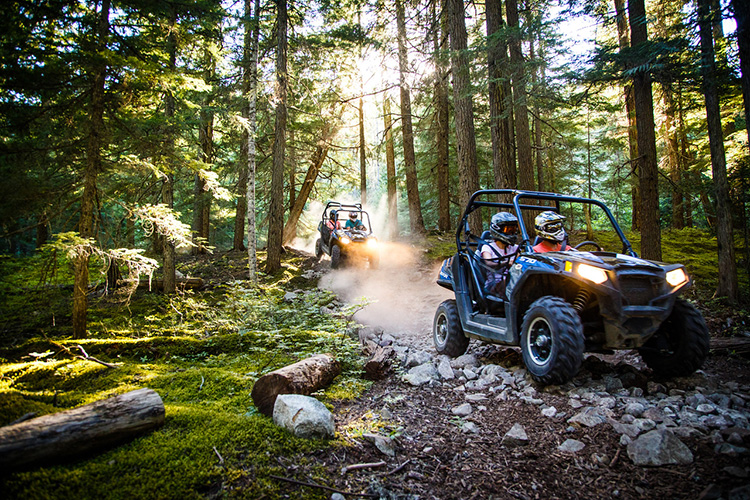 If you're a small group, you can fit five or less in a private helicopter for a sightseeing tour or book a private bike lesson either in the Whistler Mountain Bike Park or on the Lost Lake trails. Groups of any size can find the fun in bungee jumping, hiking and whitewater rafting. Check out our summer activities directory for a full list of Whistler summer shenanigans.
Foodies Rejoice: Dining in Whistler
No matter what the intentions of your stag or stagette, there's one thing they all have in common, human fuel! Why not turn your necessary meals into an experience? You can book a food tour with Whistler Tasting Tours or a liquid-based tour with a Whistler Craft Beer Crawl.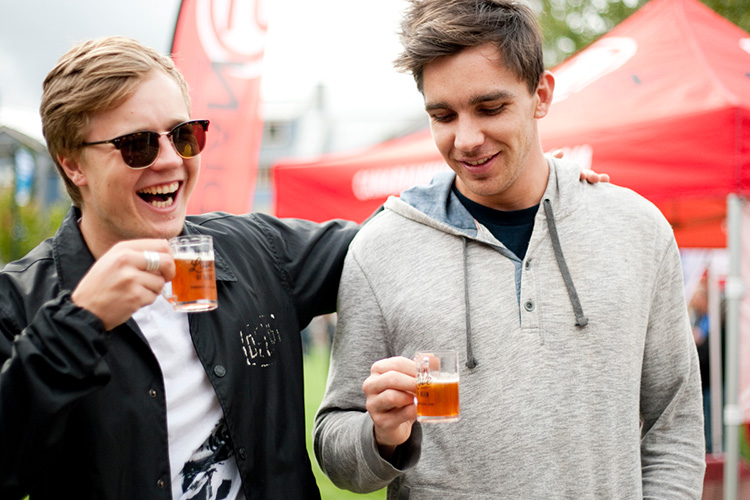 Marry fine dining and a unique experience at Bearfoot Bistro by ordering decadent eats in the restaurant then popping into the Ketel One Ice Room for a vodka tasting. See the full list of dining options in Whistler and check out the Insider dining guides. We always recommend making a reservation for any sit-down restaurant in Whistler.
Party Practice: Whistler Nightlife
Stags and stagettes are just a warm-up for the main event right? Get your wedding party practice in with Whistler Club Crawl or Bar Hop Whistler. They will take your group on a tour of Whistler's nightlife complete with drink tickets, covered coat check and guaranteed good times as you sample the best nightlife in town.
More of a DIY planner? Check out the Whistler nightlife directory to find the perfect atmosphere for dancing, playing casual pub games or listening to live music. Don't forget to eat beforehand and remember that there are a few select pizza and poutine joints (plus Stonesedge) open past last call. You'll have earned a slice with your dance moves, no doubt.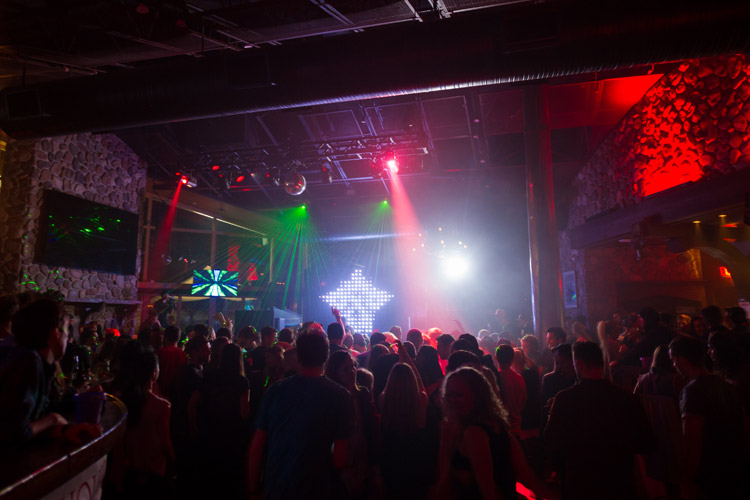 Relax: Wellness in Whistler
Whether relaxation is the theme of the whole stag / stagette or just how you recover from the night of party practice, Whistler has plenty of options. The Scandinave Spa Whistler is the best at accommodating groups who like to rejuvenate together. Relax in the hot pools, saunas, steam rooms and then embrace a cold plunge or sway in a hammock with a good book. It's a silent experience to ensure tranquility for all guests.
If you're looking for more of a social spa atmosphere the Fairmont Chateau Whistler, The Westin Resort & Spa and The Four Seasons Resort have wonderful amenities for their hotel guests. Find your zen at yoga or simply unwind in the outdoors. Head to one of Whistler's famous lakes and hang out on the beach or take a walk on one of the peaceful Lost Lake trails.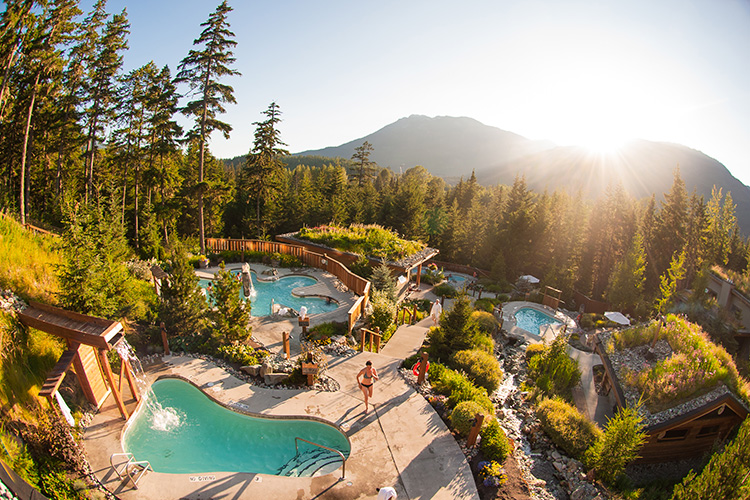 Tips for Your Whistler Stag or Stagette
Dress for the mountains. Coats are encouraged as the weather can change and does so often (expect a temperature drop in the evenings).
The Village Stroll is a stone walkway and while it is charming, it isn't always forgiving to stilettos.

With dress in mind – note that our clubs have a more relaxed dress code than you'd encounter in a city.

Day outfits should be weather resilient. Pack your closed toe shoes as they are needed for most of the outdoor adventure activities.

Book everything early! From dinner reservations to group ziplining and massages. We want your entire crew to have an epic time, booking your favorite activities will ensure you don't miss out.
We told you Whistler had a bit of everything for everyone – we hope you found a dose of inspiration for whatever speaks to you and your crew! Happy stag and stagette planning!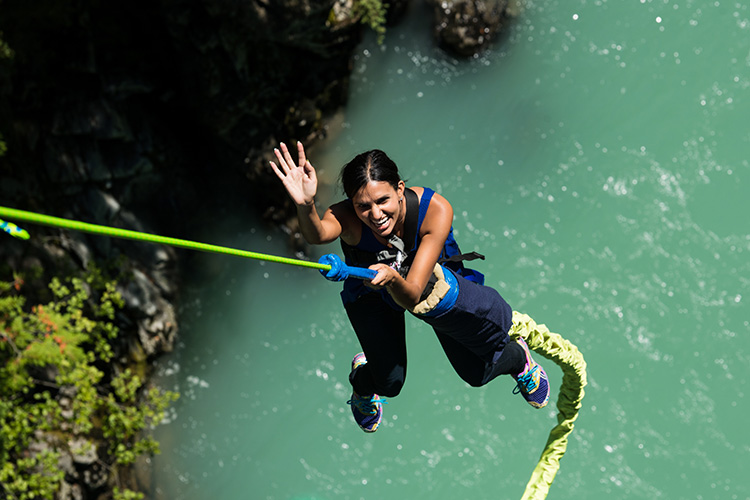 INSIDER TIP: Whis Vegas is not a thing. While we understand the urge to celebrate a little too hard sometimes, please treat our home with the same respect as you would your own (hotel rooms included!).
Wondering where to begin and lock in the details? Whistler.com has a wealth of planning resources to help you ensure a flawless Whistler bachelor or bachelorette experience.