There's a certain satisfaction that comes with hurling a weapon across the room and having it firmly embed in the wall with a resounding "thunk"!
And when it thunks into the bullseye…cue the cheers, smiles and fist pumps.
The good news is you don't need to be Paul Bunyan or Johnny Canuck to enjoy that satisfaction–anyone can become an axe thrower in minutes at Forged Axe Throwing, Whistler's first-ever indoor axe throwing venue.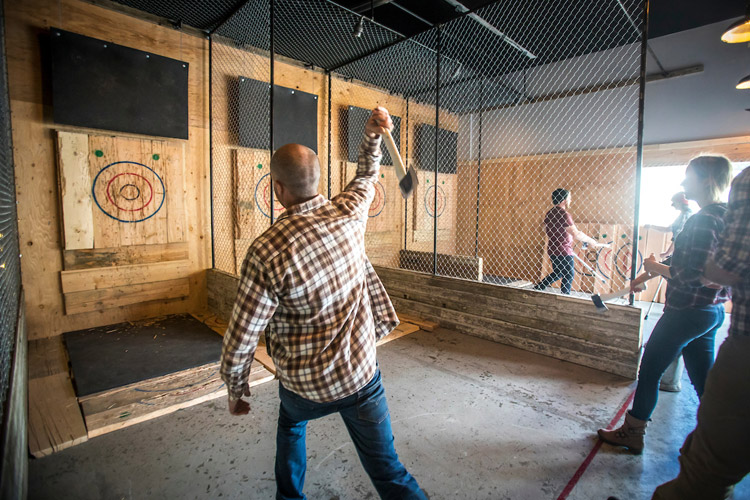 "It all started on a 5-day rafting trip on BC's Chilko River," says James Anderson who opened Forged with friend/co-raft guide Brett Easton. "We'd play games at the end of every day and the best game, by far, was chucking our firewood splitter at stumps."
After the trip, James and Brett found themselves continuing to enjoy hurling steel at wood so they started researching their new pastime on the Internet. Although North American First Nations have been throwing axes for thousands of years (and Medieval Europeans for hundreds), Brett and James discovered that the sport is currently enjoying a surge of popularity.
"We discovered all this buzz and found there is even a National Axe Throwing Federation," James explains. "So we joined that and started looking for a venue in Whistler. We looked around for a while and then this spot turned up, it made sense right away."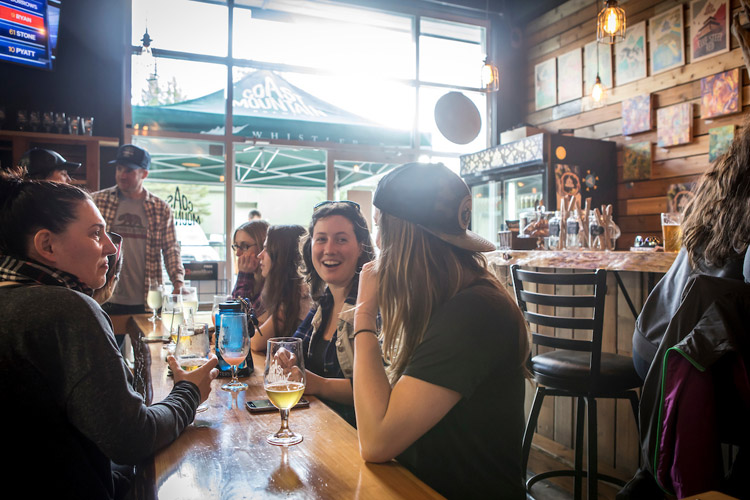 Here's where we mention that Forged is located right beside Coast Mountain Brewing in Whistler's Function Junction industrial neighbourhood. Which means after a high-fiving few hours of chucking axes with your friends you are literally fifteen steps away from some of Whistler's most popular microbrews (and some damn fine pepperoni too!).
With that kind of perfect-match location, Forged has already been incredibly popular with staff parties, stags/stagettes, and birthdays but they're open for drop-in at any time and even run a local axe throwing league.
"We have 15 people in the league right now," Brett says, "and it is getting super competitive. We also have a mobile unit and are hoping to get that involved with Whistler's official Canada Day celebrations."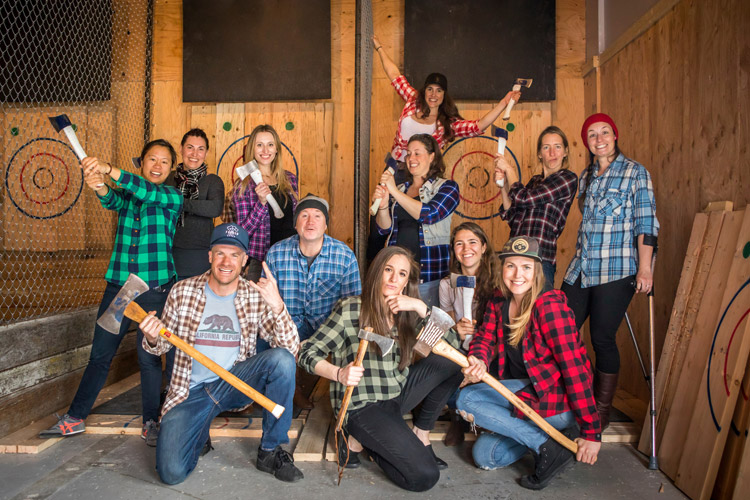 But the best way to experience axe throwing is down at Forged, in the throwing arena James and Brett built themselves from reclaimed materials to help share their love of chucking steel. Both incredibly adept throwers, the duo can have anyone sinking an axe into the target in a matter of minutes.
"It's all in the shoulders, not the elbows," Brett explains. "Too much elbow and you risk hitting yourself in the face." Even at that, Forged hasn't seen any injuries thus far.
"Well, definitely some bruised egos," James says.
"People enjoy the empowerment," Brett adds. "When that axe hits the bullseye there is really no better feeling, it's too much fun."
The kind of fun that only gets better with friends, some light competition, and a few cold ones after.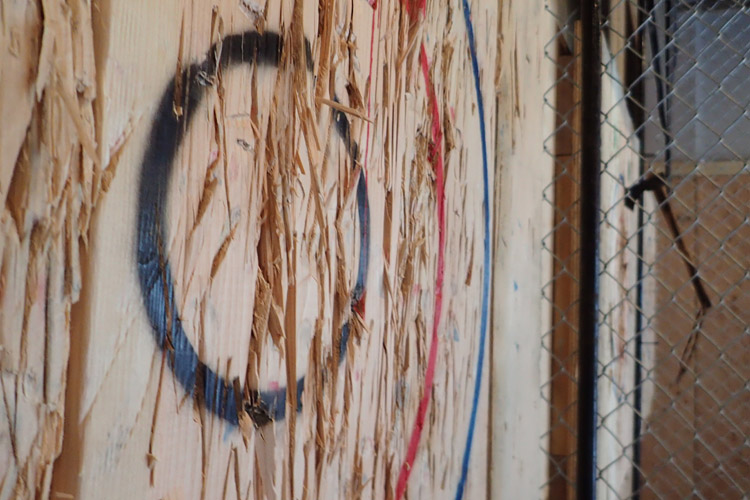 You can book your sessions online, (might as well let Coast Mountain Brewing know you're coming too and Whistler Brewing Co. is also a good spot for a post-throw beer) and for more info on Whistler's Canada Day 150 celebrations hit up Whistler.com