The term 'local' has started more than a few debates around town. Apart from the Squamish and Lil'wat Nations that call this region their ancestral home, the degree of "local-ness" of the rest of our residents is generally up for interpretation. While we may never settle on when you get to call yourself a local, something we can all agree on is that Whistler animals truly hold local status. Here are a few that you might see during spring and summer in Whistler.
1. Bears
Whistler's bears are some of our most beloved local animals, so it's not surprising that seeing one is high on many visitors' wish lists. After spending the winter months hibernating, the bears emerge around mid-April to spend the summer foraging for food. With over 50 bears calling our valley home the chances of seeing one for yourself are pretty good.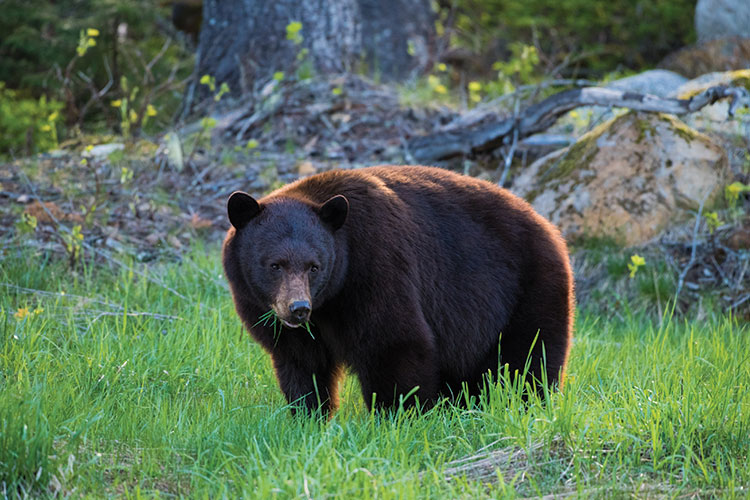 Where to See a Bear in Whistler
The absolute best way to see a bear in Whistler is on a Bear Viewing Tour. The trained guides will not only help keep you safe, but they are also endless sources of bear knowledge. They'll teach you some interesting tidbits and take you to the best places to spot them.
Another place that bears are regularly seen are on our summer ski slopes. They love to munch on the fresh grass under the lift lines. Keep your eyes peeled as you ride the Whistler Village Gondola or Blackcomb Gondola as part of the PEAK 2 PEAK 360 Experience.
Safety Tips
Being bear aware is not only important for your safety but to also for that of the bears. Here are a few simple tips:
Keep your garbage inside and take it to the waste depots frequently. Bears have a very keen sense of smell and can easily become attracted to the smell of food and garbage. Don't forget that this counts for your car too

. A bear habituated to garbage will often return to the same sources which can lead to human-bear conflict. When this escalates it's the bear who pays the price, avoiding this situation is paramount to keeping Whistler's bears safe and wild.

Never approach a bear. While our bears are pretty relaxed, they're still bears. Give them room to do their thing in peace

.
Do not stop on the highway if you see a bear.

BC's Ministry of Transportation and Infrastructure strongly advises against creating these

"bear jams"

for the safety of other drivers and the animals

.

Keep your dogs on leash. You never know when you'll come across a bear on a walk

.
2. Grouse
Proving that confidence comes in all sizes, this small and mostly flightless bird isn't afraid to let you know when you're in their territory. Locally infamous for startling hikers, these chicken-like birds can be bossy but are pretty harmless.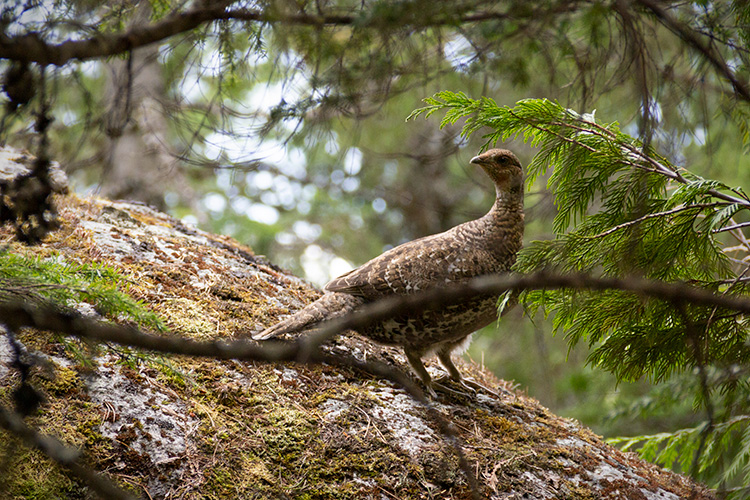 Where to See a Grouse in Whistler
These confident fowls can pop up on any forest trails around town. They can be spotted trail-side in the Whistler Mountain Bike Park, Blackcomb Ascent Trails or even along the Valley Trail.
Safety Tips
Grouse have surprised more than a few mountain bikers by popping out mid-trail. While the grouse itself isn't really dangerous to people, suddenly swerving off trail to avoid them can be. Make sure to keep your eyes peeled down trail, and don't listen to music so you can hear them coming.
If you find yourself in a mid-trail standoff with a grouse you can continue to walk past it by walking wide around it. You won't be in any danger from them, but respecting their space will help save the animal from getting stressed.
3. Beavers
Early in Whistler's history, logging was one of the first reasons for people to journey up to this valley. While the slopes immediately around Whistler don't see much logging, we are home to a small but dedicated group of loggers, our local beavers. Famous for being a national symbol, getting to see a beaver is a quintessential Canadian experience.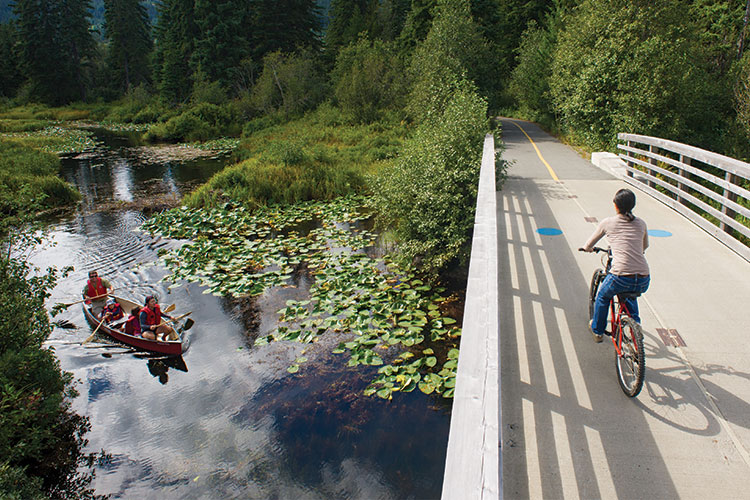 Where to See a Beaver in Whistler
Beavers like to live in and around shallow bodies of water like ponds, marshes, lakes, rivers and streams. With five lakes scattered throughout the valley, and plenty of streams and marshes, Whistler has a wide range of locations that beavers call home.
In Creekside both Alpha and Nita lakes are home to resident beavers. If you're in the neighbourhood keep your eyes peeled while walking around their shores. On your walk you may spot what looks like a large pile of sticks and mud, but it is actually a beaver lodge (the beaver's house). If you wait quietly you may be lucky enough to see one as they work around the lake.
Another opportunity to see beaver is on a tour of the River of Golden Dreams. You'll spend the day meandering the wetlands between Alta and Green Lakes. The friendly guides will not only show you where to go, but also share interesting facts about Whistler ecology.
Safety Tips
If you're planning on spotting beavers from the shore, remember to keep your dogs on leash so they don't spook or chase after a beaver when you see one.
4. Stellar's Jays
You're likely already familiar with blue jays (especially if you're from Ontario), but you may not know that the West Coast is also home to its own variety of jay, the Stellar's jay. Their body shape looks similar to their famous cousins, but with dark blue and black colouring.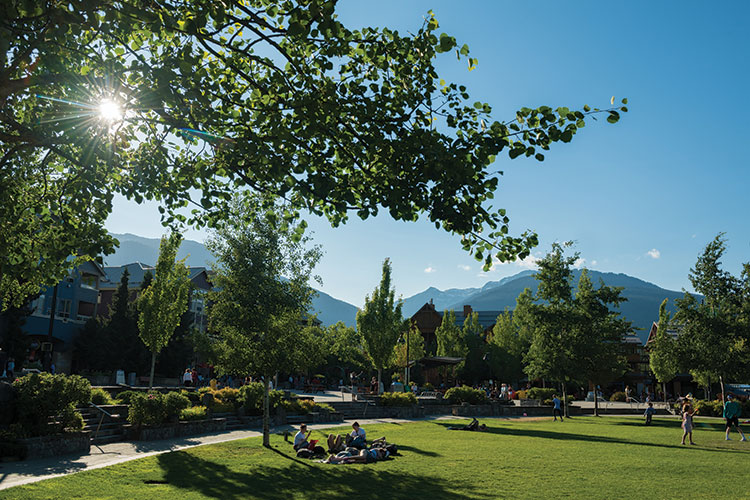 Where to See a Stellar's Jay in Whistler
You can find them anywhere there are trees in Whistler from the Village Stroll, Lost Lake Park to the hiking trails. You won't need binoculars to spy these birds. They're fairly brave around humans without being aggressive. Grab a spot in a park, put your eyes to the skies and you're sure to spot one.
Safety Tips
While out for a hike or having a picnic at a local park, do not feed the birds and take any leftover food with you. Not only is human food not good for the birds, Stellar's jays cache their food (they hide it away for later), which can attract bears to the area.
5. Pikas
If you've been here to ski or snowboard in the winter you've likely skied down Pika's Traverse (from the top of Harmony Chair to the Roundhouse) or enjoyed a bite to eat in Pika's Mountain Market. But have you ever wondered what exactly is a pika? These adorable rodents are close cousins to rabbits and live in the high alpine. You'll recognize them by their short fuzzy bodies, round ears and very photogenic faces.
Where to See a Pika in Whistler
Pikas are pretty shy animals, making them tough to spot. Here's how to have the best chance of seeing one:
Venture Further: When out hiking, exploring away from the crowds will improve your chances of spotting a pika. Whistler Blackcomb's lift accessed summer hiking takes the hard work out of getting to higher elevations, so you can use your energy to travel further not higher. You're more likely to spot a pika on slightly longer trails like the High Note trail on Whistler Mountain, or Overlord trail on Blackcomb Mountain where hikers become more spread out.
Enjoy Moments of Stillness: Stop for lunch, or take the time to grab a seat on an alpine boulder and savour the views. By sitting quietly, shy alpine wildlife is more likely to poke out from their hiding places amongst the boulders.
Hike More: The more time you spend on-trail, the greater chances you have of spotting a pika. You're in no danger of getting bored of the hiking trails in Whistler. You could spend a full summer exploring the alpine hikes and still not experience them all. Plan multiple trips this summer and see how many you can tick off your list!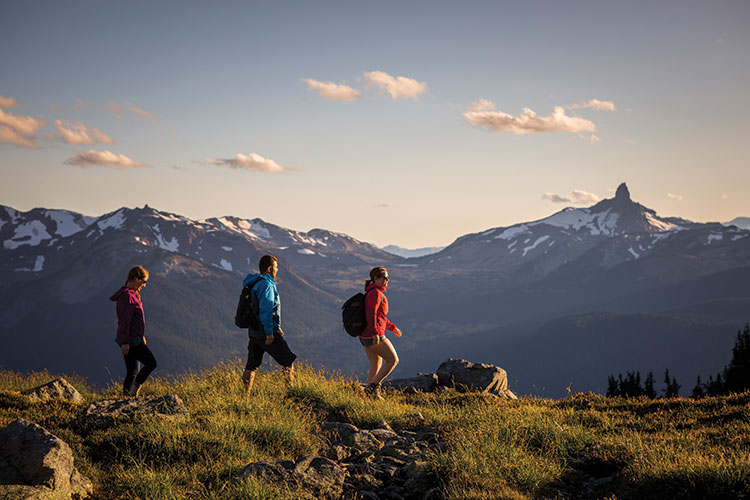 Safety Tips
While a pika encounter doesn't hold any risk for you, your actions can put these cute creatures in danger. As tempting as it can be to coax them out of their hiding spots with a piece of your lunch, human food isn't good for their health. You can also help keep them safe by not stacking rocks in the alpine and altering their habitat. Whether it's an inukshuk, or a cairn (a stack of rocks), these tipsy piles can also fall over and potentially hurt or trap pikas.
Our wild locals are here and enjoying this beautiful spring weather, you should be up here too! Take advantage of incredible deals on accommodation and visit Whistler.com to start planning your trip