Whistler Creekside was the original site of Whistler's ski scene. It was even the site of the first gondola-accessed ski area in North America, which started shuttling skiers up the hill in January 1966. And now, at the end of 2022, it's another historic moment for Whistler as Whistler Blackcomb completes the installation of the new Creekside Gondola.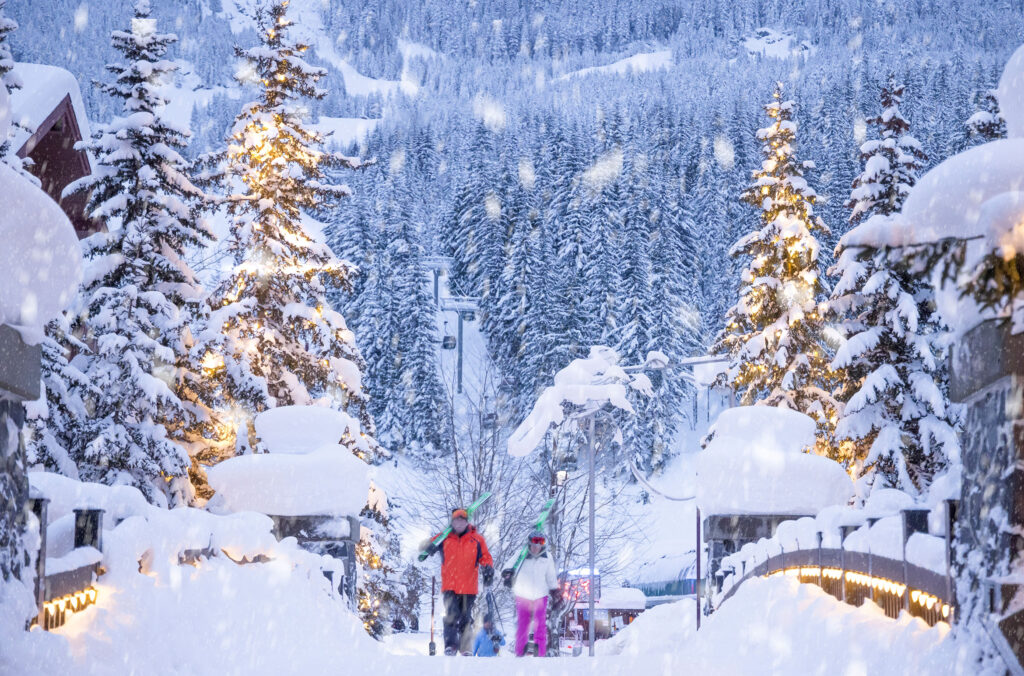 The gondola isn't the only new thing happening in Creekside Village. It's home to a new, locally-owned coffee shop with a rock'n'roll theme, an artist pop-up gallery and workshop space, as well as a new spa and an expanded interior design store.
This is alongside the food market, award-winning bakery, liquor store, gym and retail shops, like Coastal Culture Sports, 122 West, Bach & Co., Get the Goods and Can-Ski Creekside. And right at the base of the ski slopes, Dusty's Bar & Grill, a famous, Whistler après hot spot (check our events page for live music).
Creekside Village is certainly a place to visit, whether you ski down to it, walk along the Valley Trail (just under five kilometres / three miles), or hop on a bus. You can also stay in Creekside, with slopeside options like First Tracks Lodge, Legends and Evolution Whistler, as well as the lakeside, Nita Lake Lodge, just over the highway.
We take a look at some of these new initiatives that are being added to a vibrant part of Whistler with an incredible history.
New Creekside Gondola
Good things come to those who wait. Whistler is rejoicing as the new, high-speed, 10-person Creekside Gondola (Facing North: Sq̓útsa ti Tsaw̓ewéca "by the creek" – Lil̓wat7úl Ucwalmícwts; Facing South: Ch'it ta Swá7elt "beside the creek" – Sḵwx̱wú7mesh Sníchim), which started turning on December 23, 2022.
View this post on Instagram
It takes skiers and snowboarders up to Big Red Express (Kwemkwim K'aýk in the Squamish language, Tseqwtsíqwa Q̓ilq̓ in the Líl̓wat language). This has also been given an upgrade to a high-speed, six-person chair, which opened on December 16, 2022.
These upgrades aim to reduce wait times and increase out-of-base capacity by 35%. In layman's terms, more time riding, and less time waiting – sweet.
New Coffee Shop: Rockit Coffee Co.
Although the coffee is something seriously special (more on that later), you can't help but be blown away by Rockit Coffee Co.'s ridiculously funky decor. Owner, Pepe Barajas, told us that when he thought about opening a coffee shop in Whistler, he wanted it to also be a place that fits with that celebratory, Whistler vibe and decided it had to have a connection to music.
"Music is integral to life. Good music, good life," says Pepe. "We chose the 70s and 80s because those decades pushed the boundaries, made us look at things from new perspectives, they were exciting and challenging."
Pepe is no stranger to Whistler's culinary scene, he's opened the outrageously popular, fast-food-style restaurant, Tacos La Cantina (two locations in Whistler), and the fine dining, yet casual, The Mexican Corner. Rockit is a step away from his Mexican heritage, but he threw himself into the research and it shows.
The logo itself was inspired by the 1968 Mexican Olympic Games imagery, but also has a connection to Whistler, which hosted the 2010 Olympic and Paralympic Winter Games.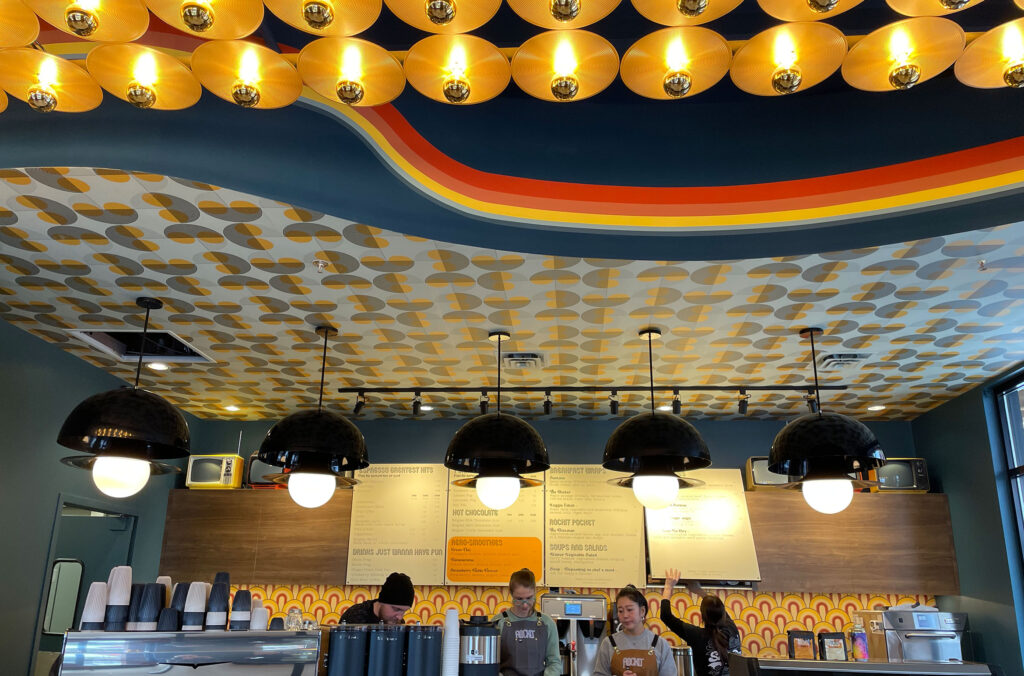 The lighting is so much fun, over the main counter are huge, bulbous, black lights reminiscent of 1960s hair salons. Running overhead are custom-made, record-shaped discs, which cast a warm, brassy glow. In the upper area, microphone chandeliers fight for attention with their crescent moon tasselled counterparts. And then there's the seating. I counted five different styles, including some yellow lounge chairs that face a retro, space-age burner, which actually houses a screen (very Jetsons).
Each wall and alcove houses iconoclastic gems, you could spend your whole coffee break just perusing them. The pièce de résistance is the wall of working speakers, which fills the coffee shop with retro, new world and contemporary music.
For the coffee aficionado, Rockit's Victoria Arduino, Black Eagle espresso machine is as precise as it is good-looking. Working with award-winning roasters in Vancouver, Pepe crafted Rockit's proprietary blends, which have an exact percolation time of 28 seconds. They are roasted in small batches to ensure that the beans all taste as they should, and the barista team is led by General Manager Angie Yamazaki, who's been passionate about coffee-making since 2015.
Their food menu is as fun to read as it is to devour with names like Strawberry Fields Forever, Santana and Prosciutto Rhapsody. It's all freshly prepared in Pepe's commissary kitchen in Function Junction,  offering breakfast wraps, salads, soups, sandwiches, smoothies and baked goods (veggie and vegan options too).
The latter, I should point out, is made with New Zealand butter, which any pastry-lover knows is the perfect base. Marketing Manager, Daniela Soto, points out that because the items are pre-made in their kitchen they can't make any modifications to the food.
"It's a, we come as we are, mentality here," she explains. "We believe this extends to our customers too. Come as you are, relax with us, enjoy a coffee, eat fresh food, celebrate the day, and catch up with friends. We want this to be a place for people to come and connect. It's about good times and good vibes."
Rockit Coffee Co. is open from 7 AM to 8 PM on weekdays, and 6:30 AM to 8 PM, Friday through Sunday. They saw a gap in the market for a place that served non-alcoholic drinks into the early evening. Just one of many innovations that the dynamic team behind this coffee shop has brought to Whistler – may they keep on rockin' it.
New Artist Space: ART POP
Part local art store, part gallery, part creative workshop space, ART POP is a friendly and inviting place to explore. You can look for that key piece of art for above the mantle, a from-Whistler gift, or get your hands dirty and do some arts and crafts. Take a look at the website for information on paint nights, kids' craft kits you can take home or do onsite, adult weekly paint sessions and kids' classes.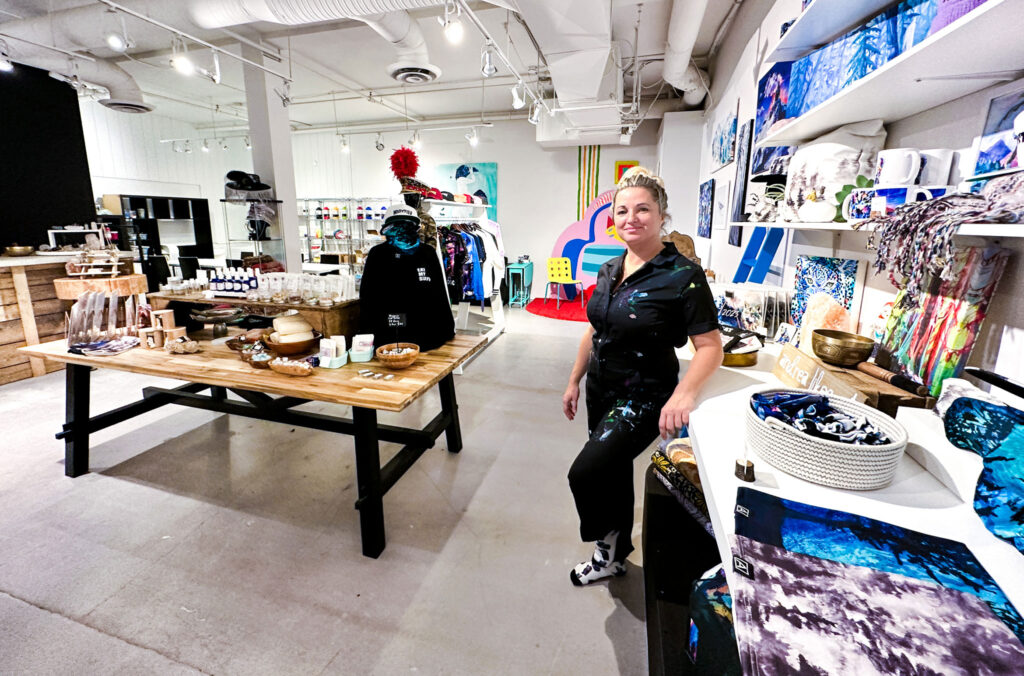 Knowing that Whistler was crying out for some more art-based outlets, local artist, Andrea Mueller opened ART POP this December.
"My main goal with ART POP is about inclusivity — it's a place where anyone can come to experience a colourful, fun creative space and immerse themselves in creativity and feel welcomed. Weather it's by watching an artist at work, picking up an art kit, perusing locally created items, checking out the gallery or signing up for a class. Creativity and the arts is an integral part of a heathy community and I want to continue to be someone who keeps it thriving here in Whistler".
Originally from the east coast, Andrea is a Fine Art graduate from the Ontario College of Art and Design in Toronto, Ontario. Her work is inspired by the mountains, ocean, animals and forest, which makes Whistler a constant source of inspiration.
INSIDER TIP: I can speak from experience that a paint night with Andrea is a lot of fun. Note that there are options for a private party if you have a large family or group.
New Restaurant at Nita Lake Lodge: The Den
With stunning views out over glacially-fed, Nita Lake, The Den at Nita Lake Lodge definitely has a unique link to the wild with its locale, decor and menu. They bring the outside in with soft, forest-inspired colours, rawhide furnishings and lighting that reminds me of berries in the fall.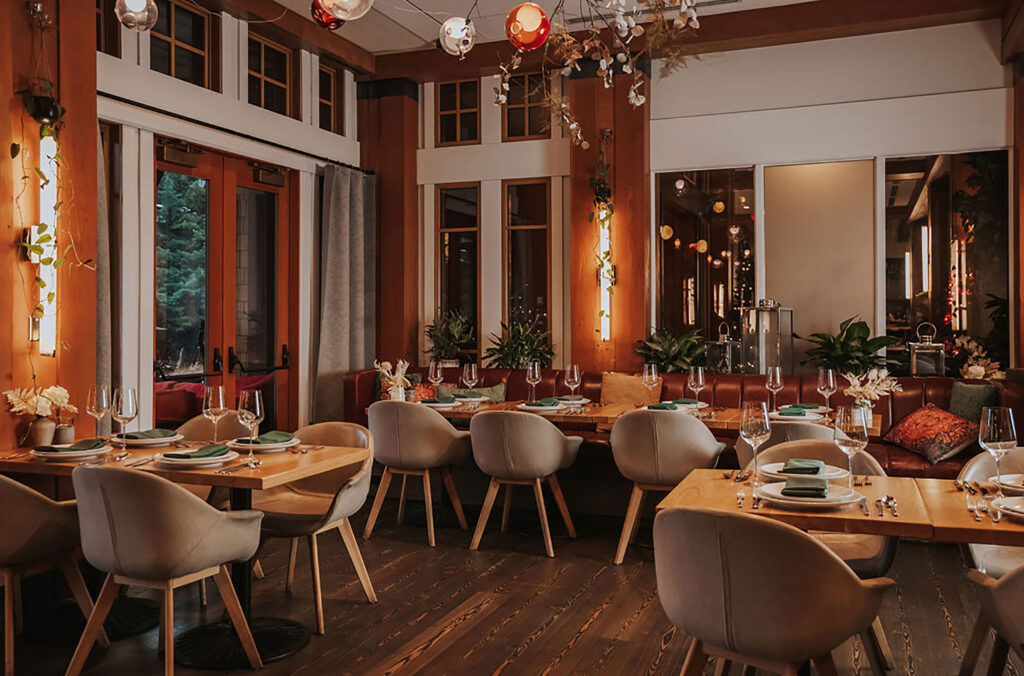 The same level of detail has been given to their menu, which has a strong emphasis on plant-based alternatives, like their Vegan Rigatoni Bolognese, Curried Squash and Jackfruit Cassoulet, and Truffled Mushroom Risotto. These menu choices play well with wellness-minded travellers to Whistler in search of adventures both on the mountains and on their dinner plates.
The dishes are switched out seasonally with local, farm-to-table-product, another menu focus; predominantly coming from the nearby, farming community of Pemberton, just twenty minutes north of Whistler Village. Look out for the North Arm Farm Beet Carpaccio, Butter Potatoes and Winter Squash. They also take the time to source Canadian, artisanal meats, like the Wagyu Beef from Lake Brant in Alberta and steaks from BC's 63 Acres Ranch.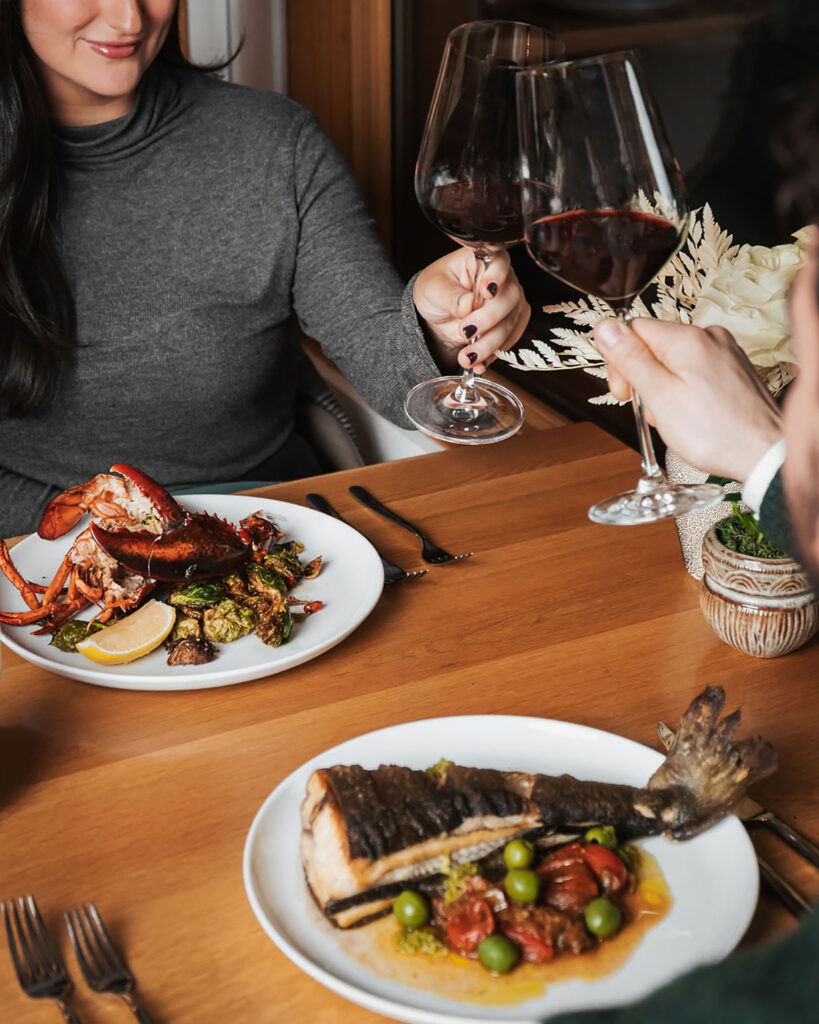 Other popular dining destinations in Creekside include Rimrock Cafe and Red Door Bistro, both on the fine dining spectrum, Creekbread for artisanal pizzas with a casual vibe, Southside Diner or Fix Cafe for breakfast and brunch, and Roland's Pub, where you'll find the Creekside locals on game day.
Book your winter trip now to secure up to 25% off lodging, 65% off lift tickets and 45% off rentals. Come experience Whistler Blackcomb's extensive terrain and adventure at every turn to see why we're known as one of the best resorts on the planet. Secure your winter getaway with Whistler.com for Flexible Cancellation and our Price Match Guarantee. Want to win a winter trip for two to Whistler? Check out our Drop In to Winter contest.