What I love about skiing and riding Whistler Blackcomb is how varied the terrain is; there truly is something for every kind of skier. The resort boasts 8,171 acres of skiable terrain, with sixteen irresistible, open bowls and endless, secluded powder stashes; often just beyond the perfectly groomed trails.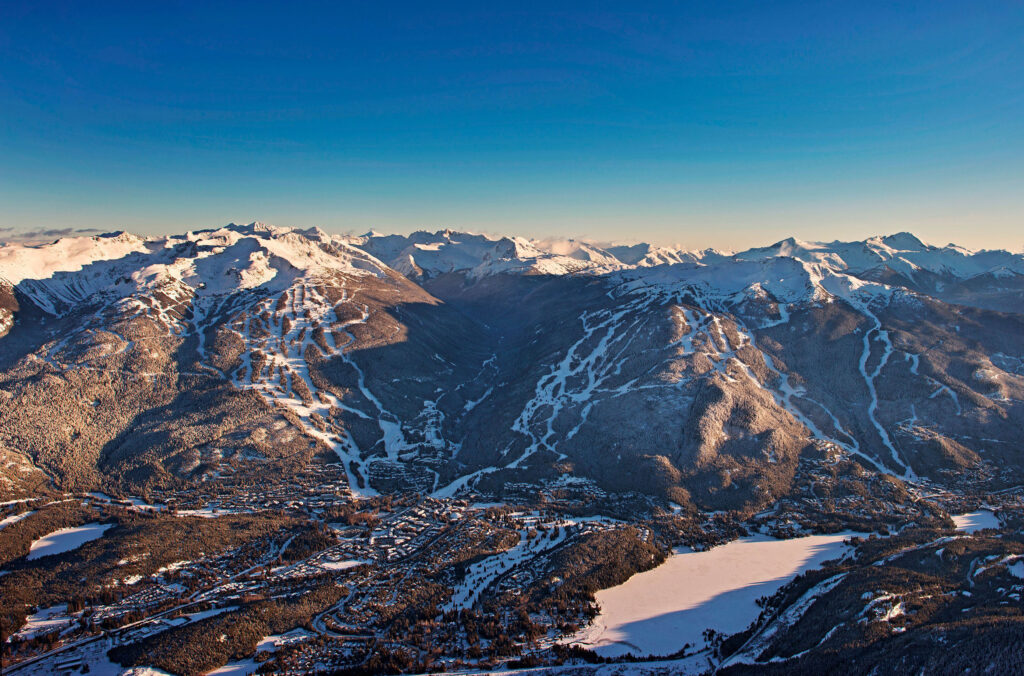 Whether you're showing your parents around for their first visit, riding in full force with your squad, or on a ski date where you're trying to impress, there's a run for everyone. With that in mind, I decided to break down some of my favourite runs in Whistler by skier type, to help you best navigate the endless choice of epic runs. Here are my picks for Whistler's best ski runs.
Best Whistler Ski Runs for Corduroy Cruisers
Dave Murray Downhill is a Whistler classic and one of my personal favourites. Located on the lower part of Whistler Mountain, this is best skied on a cold day when the freezing point lies low. Stand in the GMC gates at the top to feel like the real deal and count yourself into one of the best-sustained pitches on the mountain. For a longer run, hang a right down Tokum to end up at Garbanzo Express.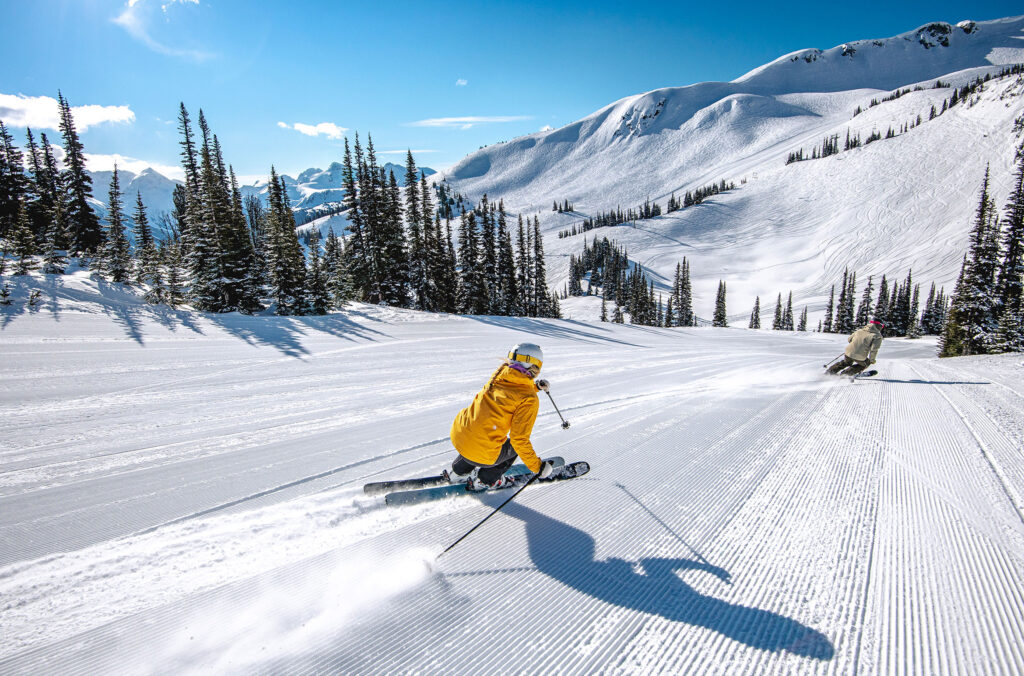 One of my favourite blue runs is Harmony Ridge. This one runs great as a fresh groomer in the morning, it's not very steep and has to be one of the most scenic in Whistler. Don't be put off if the first few hundred meters off Harmony Express are on the icier side, once you turn the corner of the ridge you'll be rewarded with mellow, fresh corduroy and views crispier than your eyes can fathom.
On Blackcomb, Springboard is the quintessential (and forever reliable) groomer; the ideal spot to test just how far over your edge you can get. It runs directly under the Blackcomb Gondola and is steep, wide and beautiful. Lap to mid-station, rinse, repeat.
Best Whistler Ski Runs for Workout Warriors
There are not too many resorts where you can ski all the way from the peak of the mountain to the base on a single run, but Whistler Blackcomb is one of them. Enter: Peak to Creek (Whistler Mountain). Stretching for 11 kilometres (seven miles) and boasting a 1,529-metre elevation loss, the Peak to Creek is one of the longest runs in North America.
On a day when it has been freshly groomed, Peak to Creek is one of the best carving runs on the whole mountain, and when it is not, it is home to some larger-than-life moguls. Either way, you'll get your workout in on this run, which is accessed by Peak Chair, and ski all the way to Dusty's to enjoy a power hour Caesar.
Best Whistler Ski Runs for Vert Stackers
For those whose world revolves around verticle gradient per minute (you know, the ones who panic when their pass doesn't scan and their daily stats don't log), you'll want to lap Garbanzo Express on Whistler Mountain.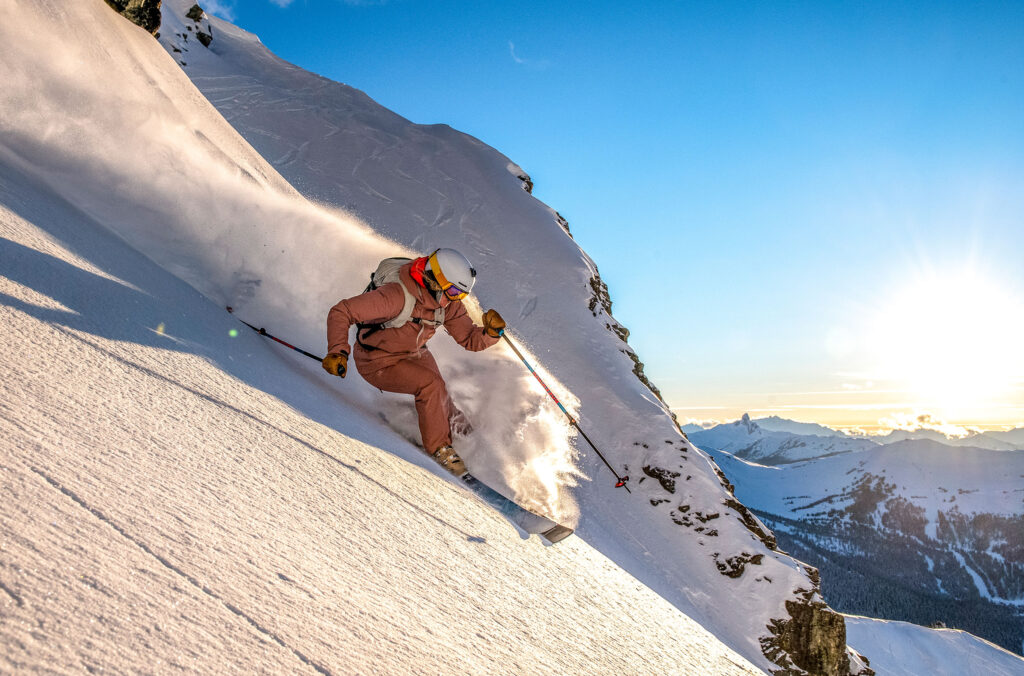 Home to some awesome, steep terrain, both groomed and ungroomed, you can lap Raven or Seppo's to stack some serious vert. If you're of the need for speed ilk, The Saddle is essentially a beeline from the top of Whistler Mountain straight back to Peak Chair.
When there are lots of people around, be sure to take The Saddle at a more mellow pace and save the straight-lining for when you've got it all to yourself.
Best Whistler Ski Runs for Powder Hounds
Given away by their super-fat skis, blackout lenses and fully concealed faces, you'll find Whistler's powder hounds frequenting Spanky's Ladder on Blackcomb Mountain and anything off Peak Chair on Whistler.
For wide-open bowls with minimal trees, head to Harmony and Symphony Chairs on Whistler Mountain. For storm days, when the alpine isn't open yet, there's fantastic tree skiing off Excelerator Express on Blackcomb.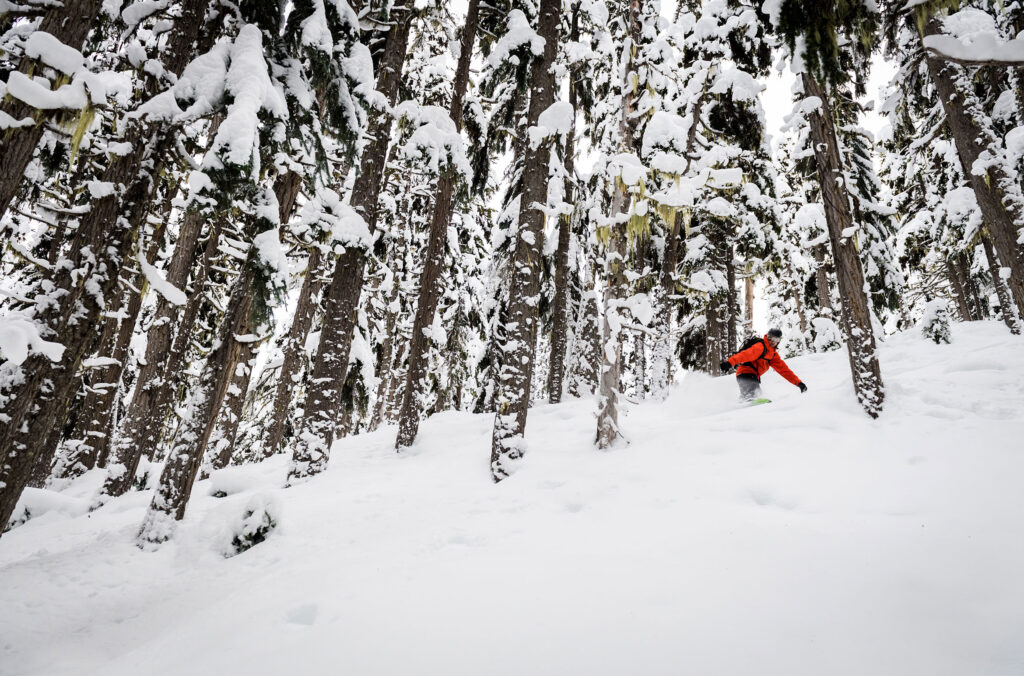 Whistler Blackcomb is so vast that you can often find powder stashes up to a week after a fresh snowfall. However, if you're heading into the trees be sure to buddy up with someone who knows the terrain. We're still in the early season and tree wells pose a real threat.
Best Whistler Ski Runs for Ski-fluencers
For endless photo opportunities both on and off the chair, there are instagrammable spots aplenty on Hugh's Heaven. It's located under the 7th Heaven Express on Blackcomb Mountain and is a content goldmine for those looking to capture the day for the fans.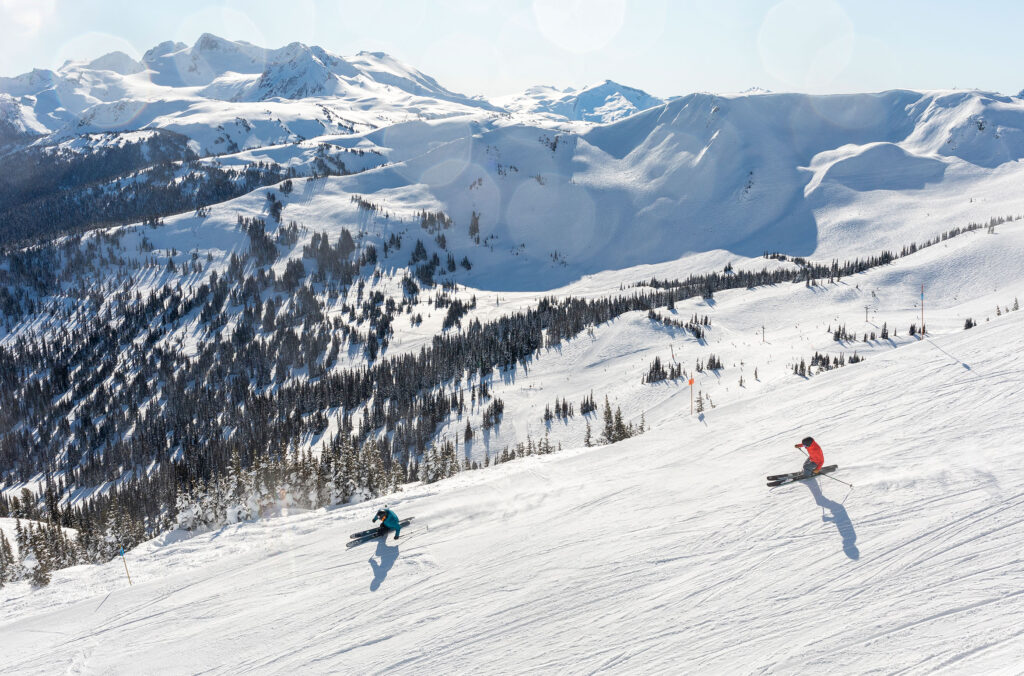 Whisky Jacks, also known as Canada Jays, are small, pot-bellied birds that frequent the lift line and often land on skier's helmets and pole tips. Just remember not to feed them! The views on the chairlift up are second to none and waiting at the top is one of Whistler's hidden gems, Horstman Hut. Stop at this idyllic cabin to enjoy a mountain-top, hot chocolate with views of Black Tusk. And of course, there's an Inukshuk to get that classic, Whistler snap.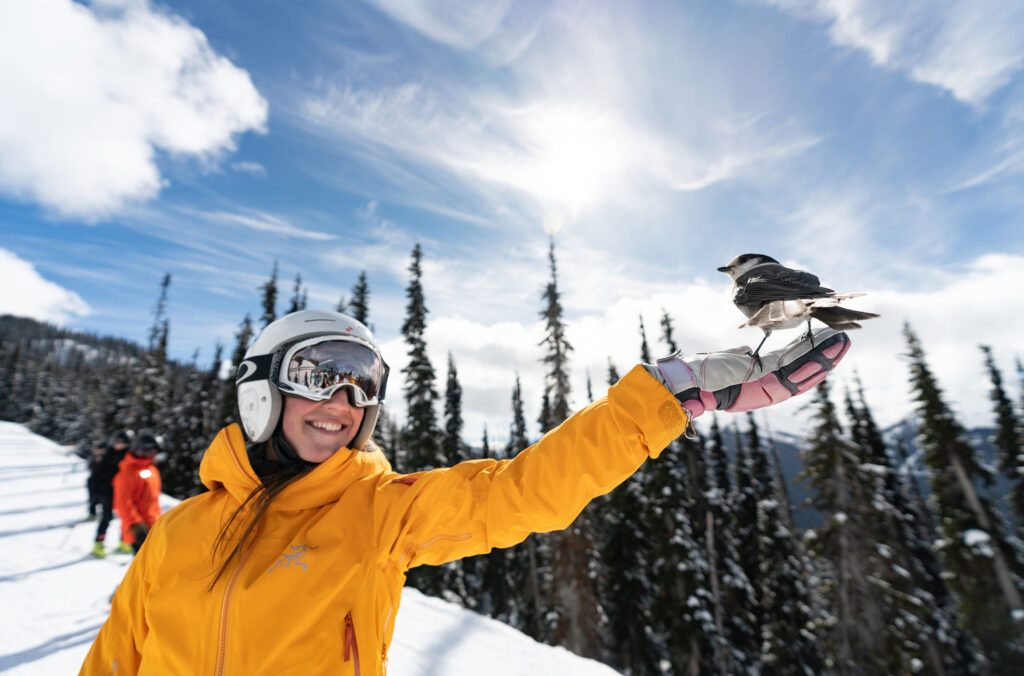 Best Whistler Ski Runs for First Timers
Whistler Blackcomb is a beginner-friendly resort, with 35% of its 200+ runs marked green for beginners (check out the trail map). If you're still finding your feet, head over to the Olympic Zone on Whistler Mountain where you'll find wide open slopes and soft gradients. We'd highly recommend getting a few lessons if you're completely new to the sport or returning to it after a lengthy hiatus, as it's the quickest way to gain skills and confidence on the slopes.
When you're ready to push yourself a bit further, Whistler has some spectacular green runs to choose from. My favourite is Ego Bowl, with its sweeping views down to the valley.
Best Whistler Ski Runs for Gnar Hunters
If tricky cornices, steep chutes and hyper-speed runouts are what floats your boat, head to Whistler Bowl and enjoy a smorgasbord of chutes, steeps, cliffs and couloirs. Many of the double black diamond runs off of Peak Chair are home to drops that most people would (understandably) call cliffs.
This is a freeskiing paradise: and on a powder day, one of the best places to catch a show is the Peak Chair lineup. The main event? Air Jordan. Perched precariously above the chairlift, it's possibly the most famous in-bounds, huck line in the world. Stoke levels remain at a guaranteed high as spectators roar encouragement to their friends and riders above in a crescendo of pole taps and hollers.
Just take a look at local athlete Marcus Goguen sending it off Air Jordan in the Instagram post below.
View this post on Instagram
Best Whistler Ski Runs for Leisure Athletes
For those who must remain in close proximity to facilities at all times and want nothing but pleasure laps – Easy Out on Blackcomb Mountain is a fan favourite. It's a wide-open run with a subtle gradient and epic views.
On Whistler, enjoy a cruisey ski down from the Roundhouse to Raven's Nest via Pony Trail or Franz's. They have plenty of spots to stop along the way, and once you unload from Red Chair you're spitting distance from the Umbrella Bar and the chance to warm your toes up. These routes are especially good for when you're happy to do a few casual laps, but also want a Baileys-infused, hot chocolate with the girls.
Best Whistler Ski Runs for Park Rats
Fueled exclusively by dodgy energy drinks and identified by wearing oversized everything, if you're a park rat then Blackcomb Park is the place for you. Marked by a pile of backpacks at the top, this zone is where the world's pros rub shoulders with us mere mortals in a medley of table tops, hip jumps, spines, step-up jumps, banks, rails and boxes.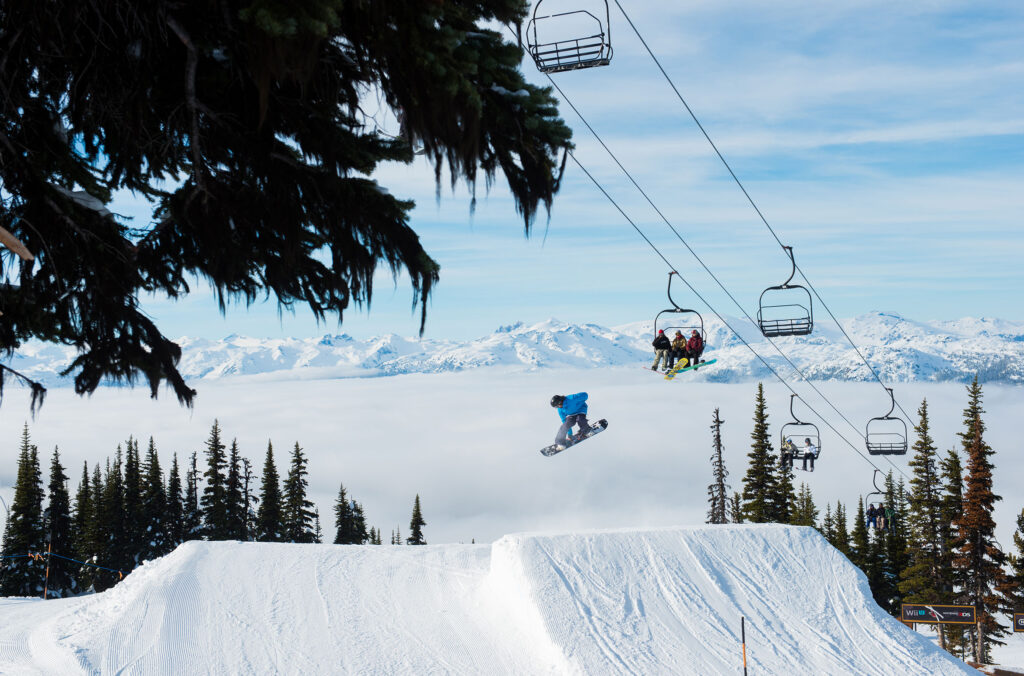 If you want to see a real show, head to Shack Left to see some of the world's top athletes spin and flip on a jump that's as high as my house. Riding the Catskinner Chair is an activity in its own right, as you watch riders launch themselves into the skies – often higher than the chair itself.
Best Whistler Ski Runs for Old Schoolers
Sporting straight skis and sunglasses, you'll find Old Schoolers hunting down moguls and telling the youngsters why new gear doesn't translate to better skiing. If you're a die-hard mogul lover, there are a few guaranteed lump-fests year-round.
Chunky's Choice and Sun Bowl on Whistler are great places to start, as both are usually a mogul labyrinth unless it's a pow day. On Blackcomb, the last pitch of Sunburn and Hugh's Heaven under the 7th Heaven chair both provide ample bump coverage. Having said that, most ungroomed blue runs provide moguls a-plenty after 1 PM on a pow day (I'm looking at you, lower Peak to Creek).
Best Whistler Ski Runs for Side-hit Savants
For those who love to get some stylish, mid-run airtime, there are a few lesser-known runs that come to mind. Honeycomb, Rock and Roll and Ridge Runner are all found on mid-mountain Blackcomb. They're all home to rollers, berms and side hits.
The lower sections of all the blues on 7th Heaven are also side-hit central for when you can't help but jump, whoop and holler at the end of your run.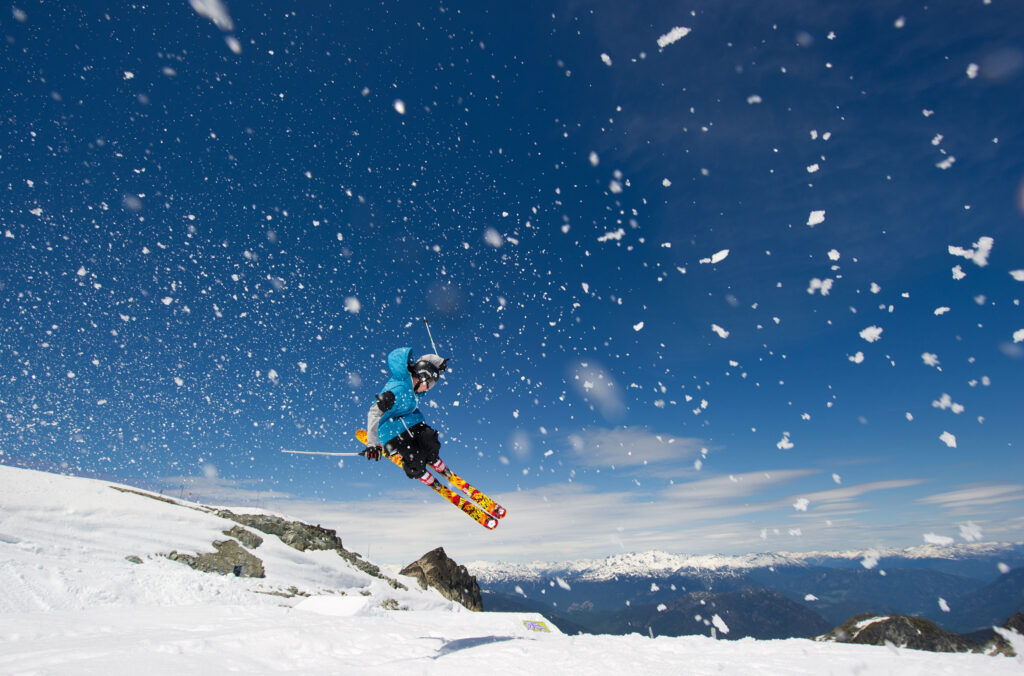 Whistler is a phenomenal place to develop your skiing and riding. Sometimes, as adults, we forget we can benefit from coaching too. For an inclusive and welcoming space for women, check out the Helly Hansen Ski Camps or Showcase Snowboard Camps. To finally tackle the steep terrain you've always dreamed of shredding, check out the Extremely Canadian Steeps Clinics. And of course, Whistler Blackcomb has a ton of snow school options for when you'd like some overall guidance, as a group, family or solo.
Book winter by November 15 to secure the biggest savings of the season (up to 30% off lodging, 60% off lift tickets and 45% off rentals). Come experience Whistler Blackcomb's extensive terrain and adventure at every turn to see why we're known as one of the best resorts on the planet. Secure your winter getaway with Whistler.com for Flexible Cancellation and our Price Match Guarantee.