"The possibilities – they are endless. Off and on the slopes."
Tonje Kvivik's answer when asked what she loves most about Whistler – it's hard to argue with that answer. 
Big mountain ski athlete Tonje Kvivik's name is embedded in the Whistler ski scene and beyond. For the last three years, Tonje has filmed with the sought-after Matchstick Productions crew in their feature, ski films Huck Yeah, Stomping Grounds and most recently Anywhere From Here, which have premiered both locally and globally.
Notorious for her big lines attacked with grace and strategy as well as her sweet demeanour, Tonje has undoubtedly earned her place as a pro skier. This year she was awarded 2022 Standout Female Skier of the Year at the International Freeski Film Festival (IF3).
Locally, she won the People's Choice Award at the 2018 Intersection film competition, which is part of the World Ski and Snowboard Festival. Her long list of accomplishments and gracious attitude towards earning and receiving them makes Tonje a local favourite, and someone that Whistler is happy to call a regular. 
Growing up in Kristiansand, Norway Tonje started skiing when she was two years old. She took to the sport naturally so her family introduced her to ski racing at age three. They quickly rethought that approach when Tonje would intentionally miss all the gates to straight line the course.
The need for speed has always been at the forefront of Tonje's approach to skiing. Pursuing skiing, she moved to the French Alps after high school and eventually made the move to Canada to pursue epic powder and big backcountry lines. Now a seasoned Sea to Sky local, Tonje favours remote backcountry locations accessed via snowmobile for filming, but you can find her frequenting Whistler Blackcomb for all that it offers.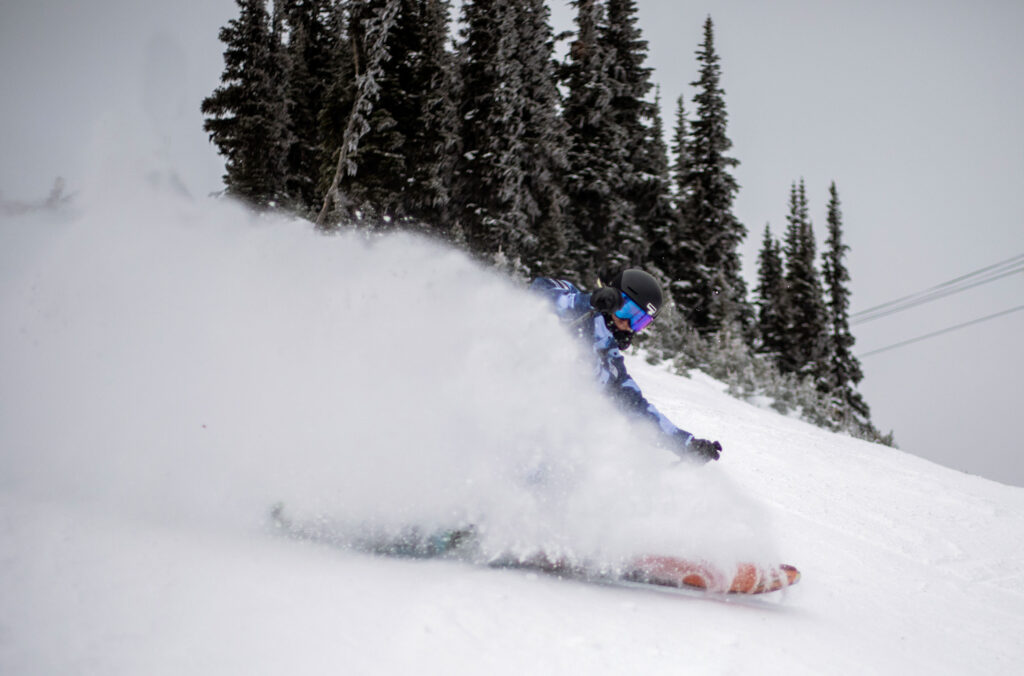 When asked about her favourite place to ski on Whistler Blackcomb she shares…
"There's so much terrain, I'm still finding secret spots and new-to-me zones after years of skiing the resort." This time of year you can find Tonje ripping groomers like the rest of us, working on getting her ski legs back into full form. "My favourite place to ski is where my friends are."
Tonje is part of the ski crew called The Blondes, which includes Emily Childs and Janelle Yip – a trio well–versed in the greater Whistler area. 
So what does Tonje get up to on a typical Whistler day? Typical isn't synonymous with a day in the life of most professional skiers. Some days require 3 AM alarm clocks, snowmobiles and cameras. Others include recovery stretches, training sessions at the gym and weather tracking. So, while not an everyday routine for Tonje, she shares her ideal day in Whistler where she can freely soak in all of her favourite places.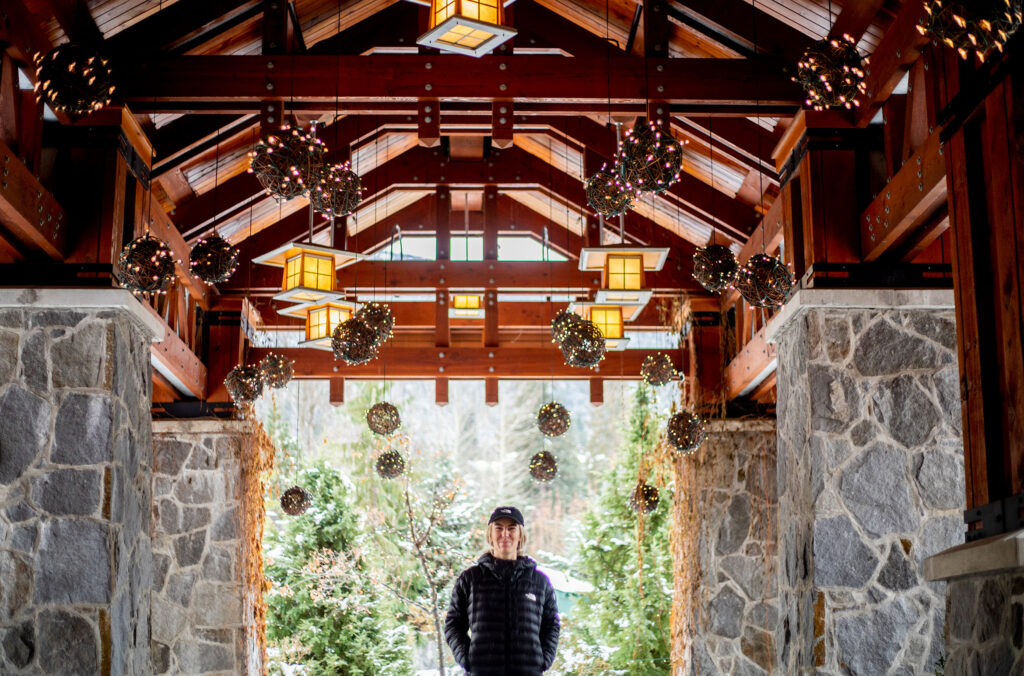 Brunch at Nita Lake Lodge
This particular morning Tonje's eyes lit up when she saw Truffled Mushroom and Brussel Sprout Hash on the menu. "Truffles for breakfast?!" That was an easy yes for her. The playful offerings change frequently and keep curious locals coming back to see what new creative dish will make its way onto the menu next. 
Tonje's been dreaming of staying at Nita Lake here ever since she first visited. She loves its cozy and luxurious atmosphere.
"The Christmas vibe this time of year is unreal, feels like you are walking straight into a Christmas movie and I love it. The staff are also super friendly."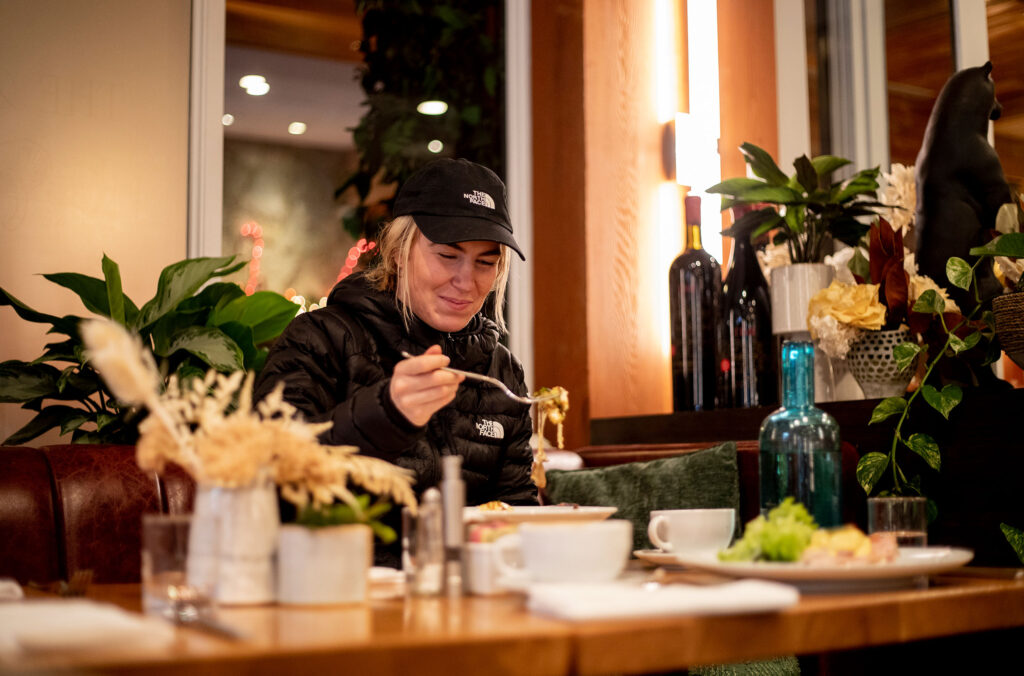 Whether snagging a quick coffee at Fix Cafe en route to the resort or settling in for a drool-worthy brunch at The Den, Tonje would start every morning at Nita Lake Lodge if she could.
Skiing on Whistler Blackcomb
Skiing the 8,100 acres of Whistler Blackcomb is what pro skiers' and first-time skiers' dreams are made of. For the more experienced, the pristine terrain park on Blackcomb Mountain entertains and offers a training ground for athletes just as much as the steep technical lines scattered across both mountains.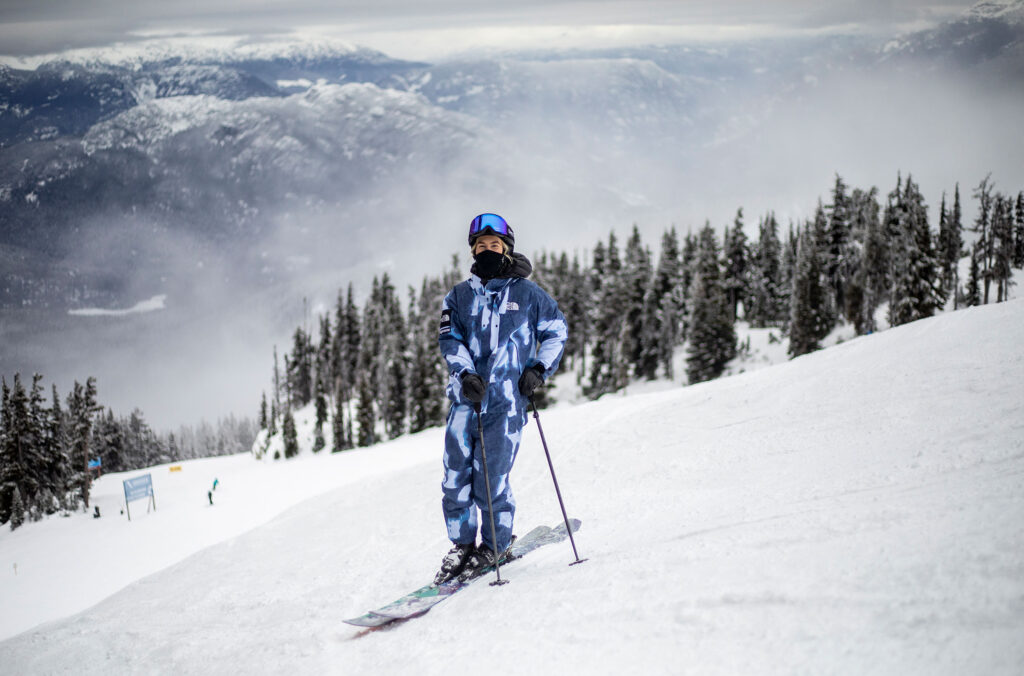 Matching the conditions and the crew to the terrain is Tonje's approach. It keeps her busy exploring both mountains. 
Relaxing at the Scandinave Spa Whistler
Ah, the sanctuary of Scandinave Spa. This outdoor spa tucked beside Lost Lake Forest is a must-do after a day on the slopes.
"The hot-cold method is a game changer. For recovery, injuries and as an immunity booster. It is also just such a great place to disconnect."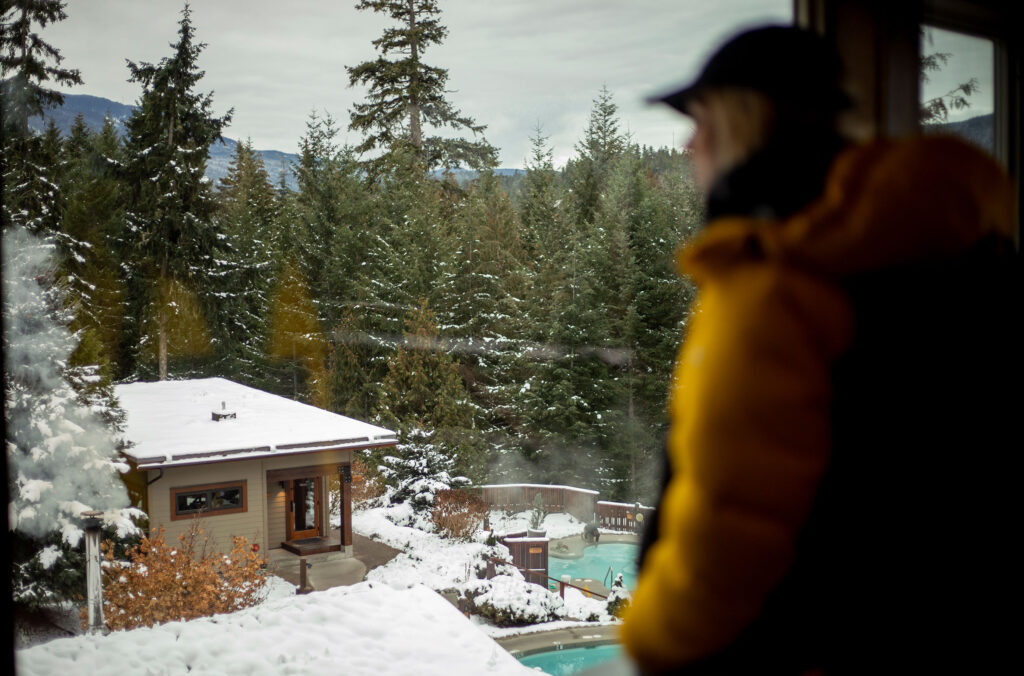 Unplugging for a mental and physical recharge is a welcome addition to Tonje's day. The hot-cold method she mentions is hydrotherapy, the process of heating up the body and quickly cooling it for benefits like increased blood flow and the release of endorphins, as well as reduced blood pressure and muscle tension. Try doing at least three rounds of this process when you're there – your body and mind will thank you.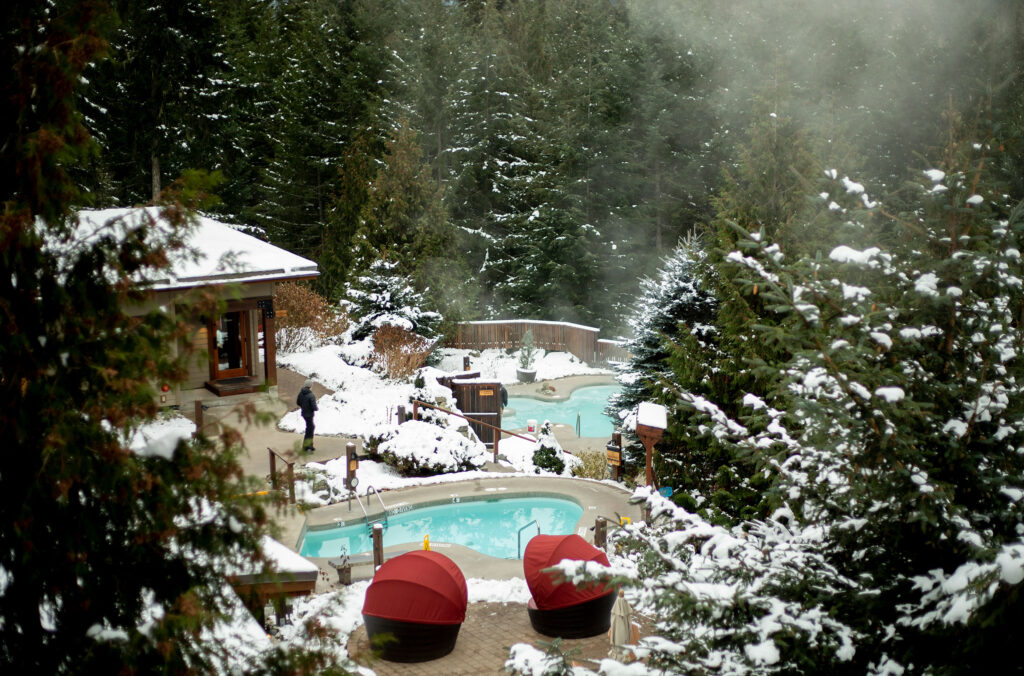 Après at Coast Mountain Brewing
Whether celebrating a big day, a social day or a recovery day, Coast Mountain Brewing is Tonje's go-to for celebratory cheers or as she would say in Norway – skål. What's in her glass? Currently, it's the collaboration beer brewed by The Blank Collective called Feel Real after their most recent ski film in which Tonje has an appearance.
Noting that the west coast double IPA is a strong one, she also favours the Hope You're Happy IPA, whether seated at the brewery, at another Whistler bar, or outdoors with a classic Coast Mountain view.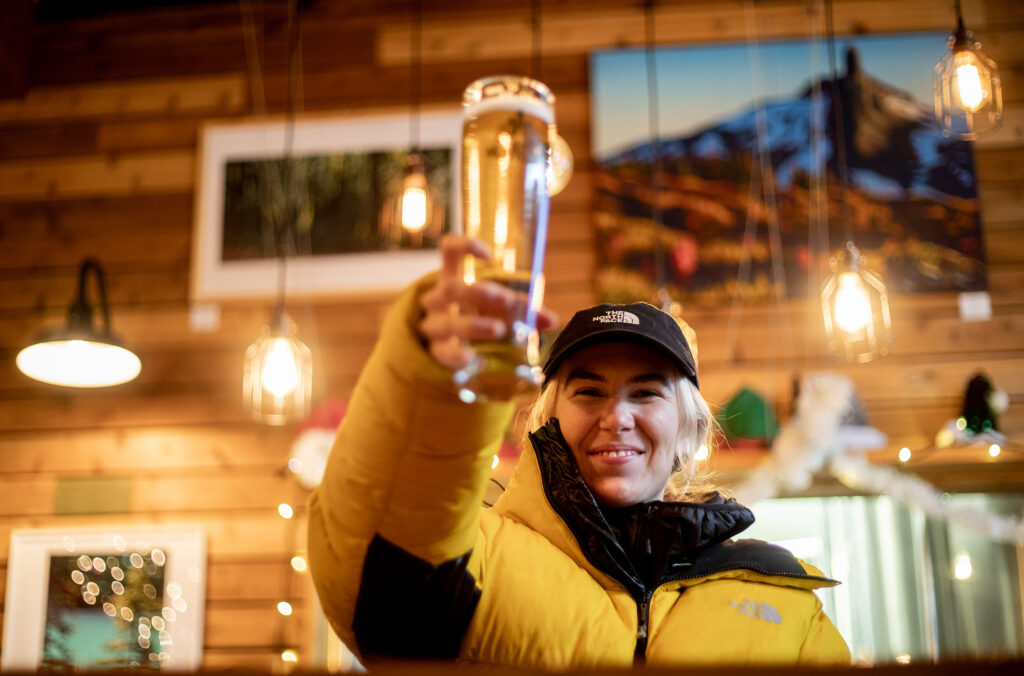 With rosy cheeks from a day on the slopes, a hydrotherapy session at Scandinave Spa and maybe something to do with what's in her Coast Mountain Brewing class, Tonje tells me:
"I love the people of Whistler. It's a good mixture of tourists, locals, shredders and beginners – everyone is welcome! And I really felt that invitation when I moved here, and I feel it on days like today too. There's a little bit of magic here for everyone." 
Book your winter trip now to secure up to 25% off lodging, 65% off lift tickets and 45% off rentals. Come experience Whistler Blackcomb's extensive terrain and adventure at every turn to see why we're known as one of the best resorts on the planet. Secure your winter getaway with Whistler.com for Flexible Cancellation and our Price Match Guarantee. Want to win a winter trip for two to Whistler? Check out our Drop In to Winter contest.