The draw of the mountains has a yin and yang to it. On one hand, there's the promise of adventure and thrills in the tall, snowy peaks and then the yang brings that slower-paced connection to nature and sense of restoration. There is no better time to experience this duality than when the seasons shift to spring and early summer, a time that embodies renewal and regeneration.
Most of us intrinsically know that time in nature is good for our mind and bodies (we can feel it), but recent research by the BC Parks Foundation has gone a bit further. It shows that people should spend a minimum of two hours in nature per week, giving themselves at least twenty minutes at a time to soak it all in. They suggest writing nature into your daily schedule, but in Whistler, you won't have to make a concerted effort – it simply surrounds you.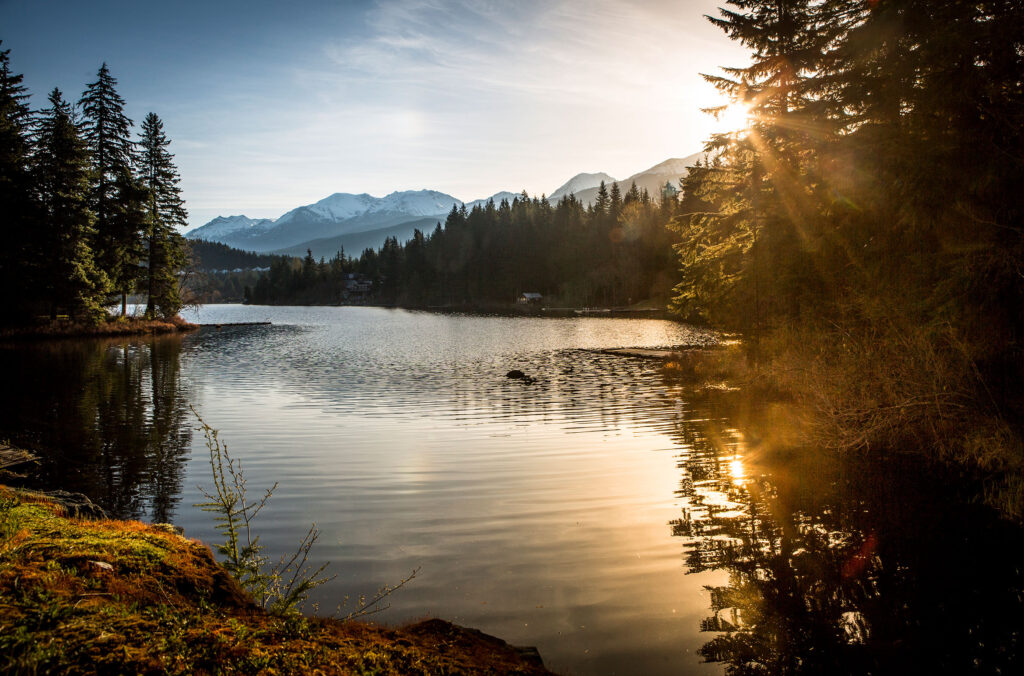 Here are just a few of the BC Parks Foundation's findings after their extensive research into the connections between nature with our health.
Busts Stress: Sitting in the forest for just 15 minutes significantly reduces your cortisol levels and heart rate variability.
Gives Your Brain a Rest: People who take a walk in green space instead of on a busy street have fewer repetitive, racing thoughts.
Controls Your Blood Pressure: People who sat, walked and relaxed in the forest for 4 hours dropped their blood pressure over 10 points.
Reduces Your Risk of Cardiovascular Disease: A review of 143 scientific studies showed that spending time in green space cuts your overall risk of diabetes, heart disease and stroke.
Reduces Your Risk of Chronic Respiratory Diseases: Studies show that spending time in green space drops your risk of asthma and mortality from lung disease.
What makes Whistler a natural wellness retreat is the variety of ways you can experience nature. You can take a contemplative stroll, or opt for a more strenuous hike dotted with incredible mountain vistas. You can paddle glacially-fed lakes or choose them as a backdrop to your daily yoga or running routine. You could pedal along on the Valley Trail weaving in and out of parks or pick up the pace on the cross-country trails that pepper the landscape.
What will wellness in Whistler look like for you this spring and summer?
Active Relaxation in Nature
I once complained to a friend that I find seated meditation hard, but that when I go for a gentle run in the woods I feel a deep sense of well-being and usually come back calmer and more centred. She pointed out that those runs are my version of meditation, and I think the same personalization applies to active relaxation (relaxation with movement).
You might find that a white knuckle ride on two wheels in the Whistler Bike Park is the best way to clear your head, a day hiking with friends could fill your cup, or a gentle stroll in the forest could be the calming balm you're looking for.
Active relaxation is on a spectrum, and you get to choose the pace of the movement, especially in Whistler where the options are many. Here are five ways to actively relax in nature, in Whistler.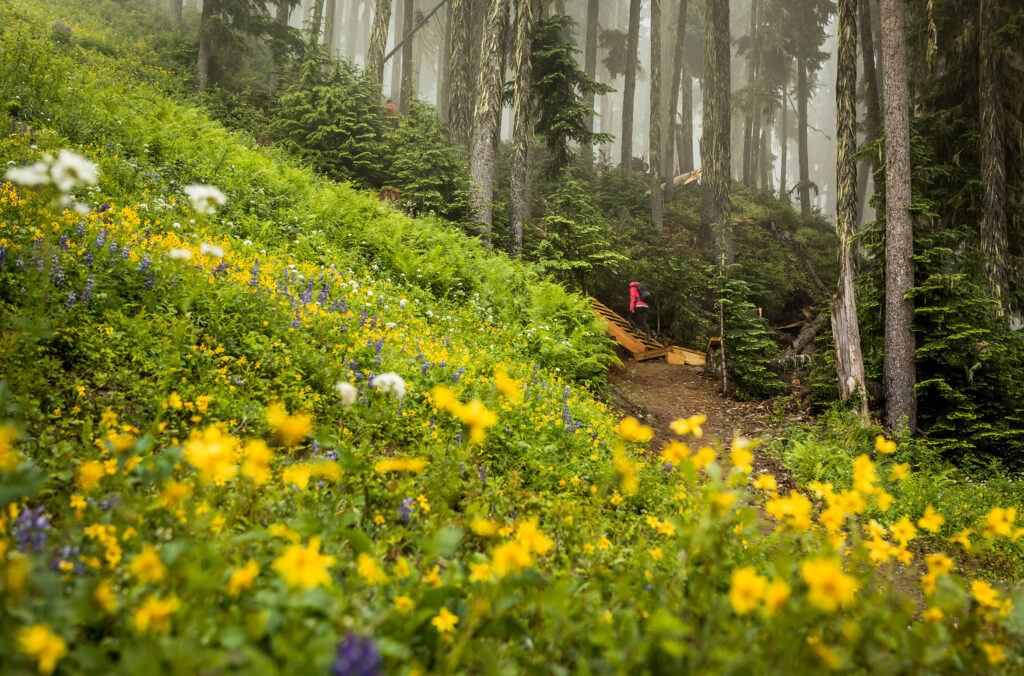 1. Go for a Walk or Hike
Whistler Insider, Prayakta Kharkar Nigam wrote about what spending time in nature does to our brains last year. Something that really stuck with me was the idea that a walk in the woods is more a tonic for the mind than it is both the body; that the sheer beauty of nature demands us to be present.
"A visit to Whistler is a relaxing detox from our heavily digital and urban lives. Instead of being constantly hooked to notifications or conversations, the alpine world allows us to live in a more present state. Encounters with its raw nature and its beauty feel sublime because they yank us out of our thoughts (or wherever it is that our minds have drifted). The bountiful nature makes us take note of the present moment and lose ourselves to it." Prayakta Kharkar Nigam.
Whistler has a wide variety of hiking trails, from short, gentle meanders to full-day, thigh burners. They offer incredible mountain views, waterfalls, lakes and lush forests, and will undoubtedly capture your attention.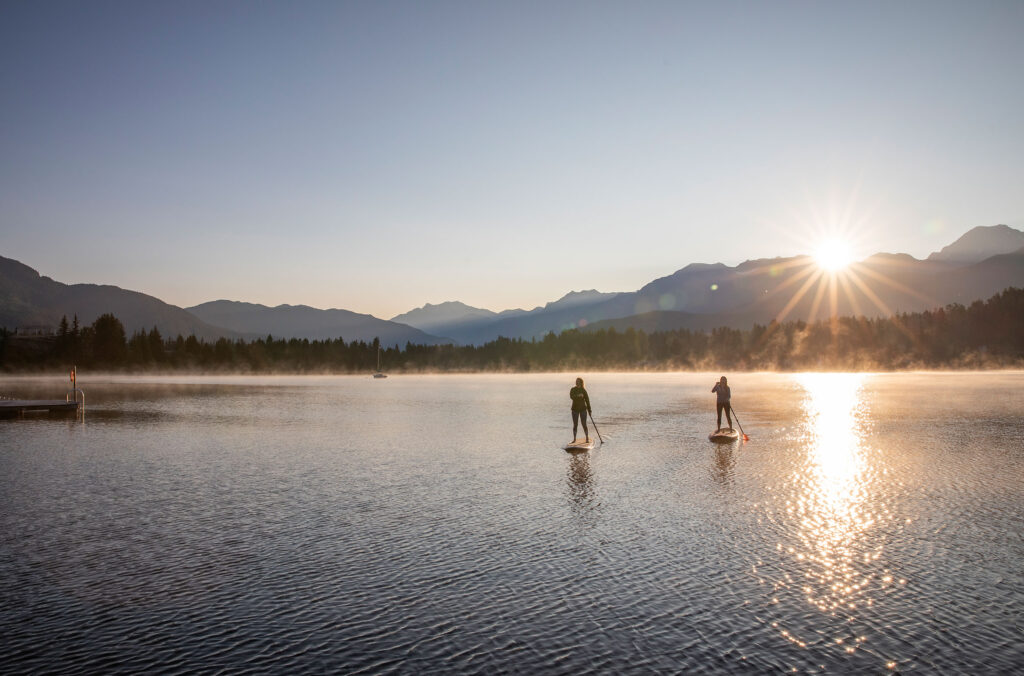 2. Spend Time by or in Water
Imagine the rhythmic sound of your paddle in the fresh waters of Whistler's glacially-fed lakes. The sun is rising, sending a streak of light over the mirror-like surface of the water. The morning mist is dissipating and you spot the v-shape form of a flock of Canadian geese overhead. How do you feel? Calm? Connected? Inspired?
There is something about water that most people find relaxing, and although there's no concrete science as to why (yet), we can simply feel the connection. You could choose to relax on a paddleboard, while you fly fish, or by starting your daily yoga routine on one of the floating docks at Whistler's lakeside parks.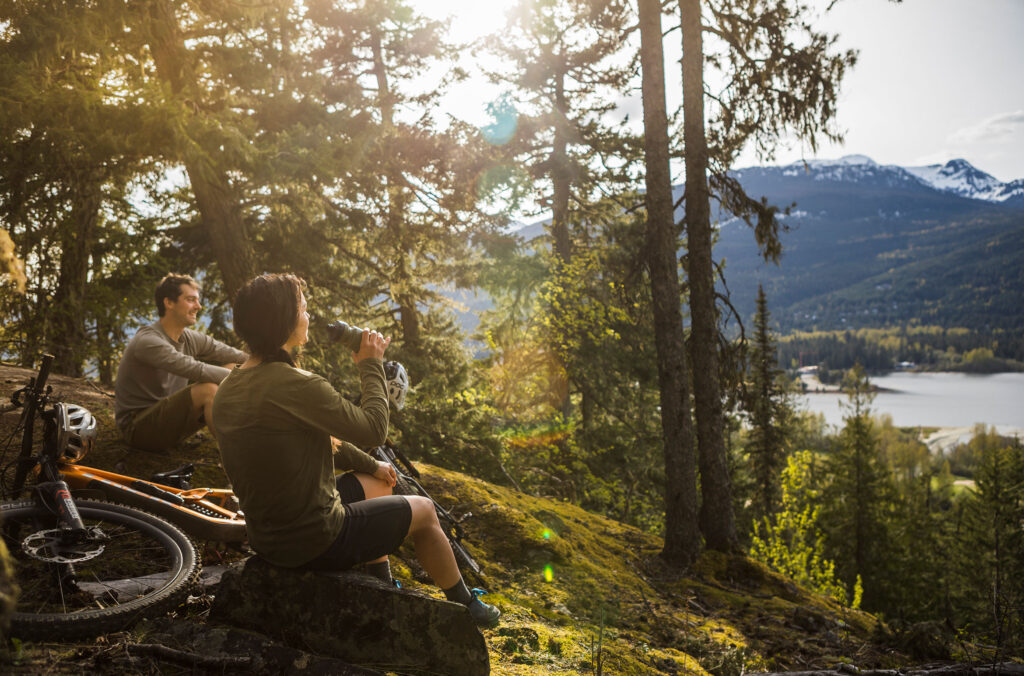 3. Challenging Play Time
When faced with a steep rock roll there's no way that there can be anything else on your mind. It has your complete attention. You take a breath, analyze the line and think about where the point of no return is; when you're going to have to let gravity take over.
If you watch a child at play they are engrossed in the activity at hand; they're not worrying about what's for dinner, what the stock market will do, or who's going to get that promotion. They're playing, and that's enough.
Adults don't give playtime as much attention, and that's likely to our detriment. In our distracted world where people can reach us anywhere at any time, it's hard to stay focused, but if you can fully immerse yourself in something you find challenging (yet fun) you could find a state of flow. Put your phone away, plan a day-long bike, hike or paddle and make that the only focus of your day, and the only thing on your to-do list.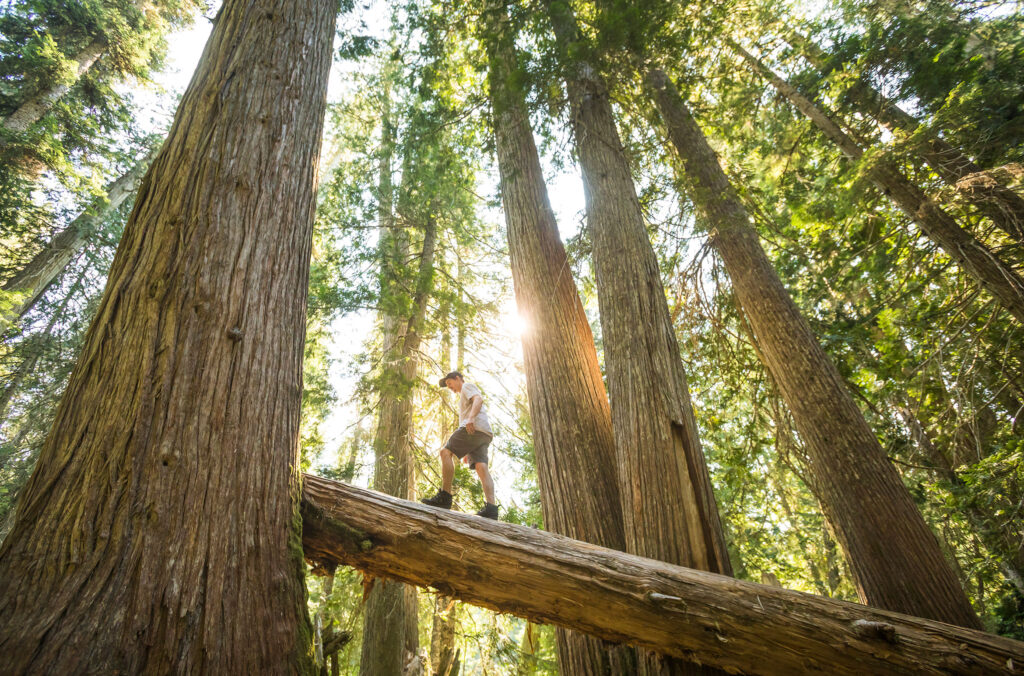 4. Forest Bathing
Originating in Japan, shinrin-yoku, forest bathing is the idea of taking in the forest through our senses – literally bathing in the forest atmosphere. We asked Insider, Megan Wilson, to take a look at the benefits of and for her suggestions on where to go in Whistler, which you can read in Insider's Guide: Forest Bathing in Whistler.
"Tapping into your five senses is a key component of forest bathing. While you walk, take some time to savour what you feel with each one. Breathe deeply, taste the freshness of the mountain air, take your shoes off and feel the earth under your feet, run your fingers along a leaf or branch, dip your hand into a stream, and marvel at the way the sun filters through the trees and warms your face." Megan Wilson.
Thanks to the BC Parks Foundation, we know that a mere twenty minutes spent in nature can make our cortisol (stress hormone) levels drop, and you don't have to be active to feel the benefits, you can be still.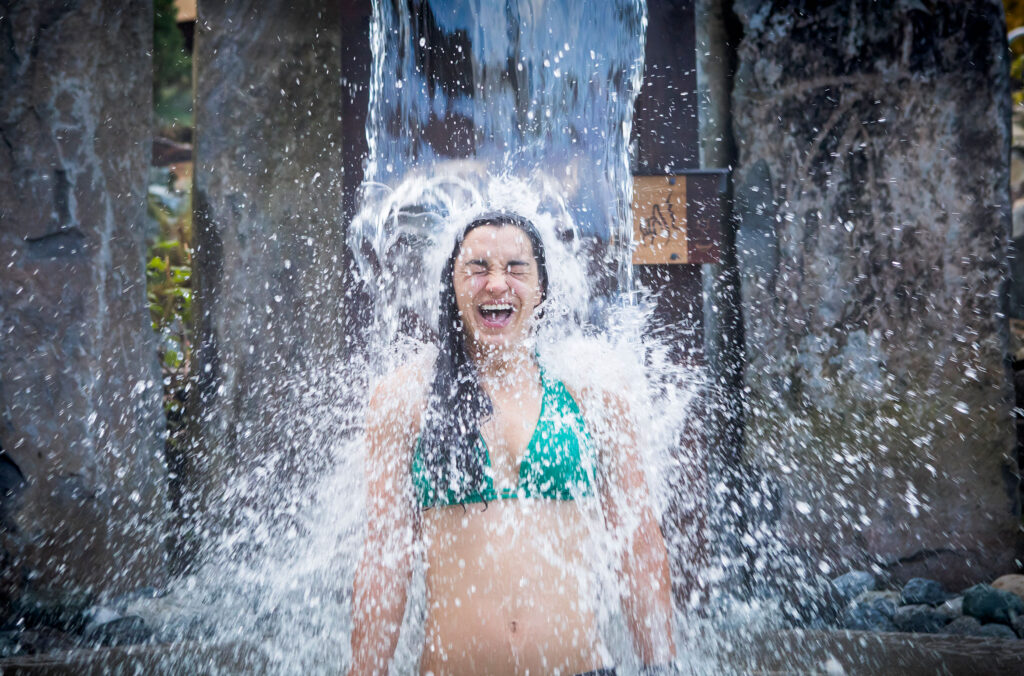 5. Hydrotherapy
People have been using the benefits of hydrotherapy (heating and cooling the body), in its multiple forms, throughout the ages. We caught up with Whistler local, Asta Kovanen a few years ago when she set herself the challenge of 300 days of freshwater dips.
"Our quick dip in the newly unfrozen waters of Alpha Lake was intense but after the initial shock of cold — which is overcome by consciously gathering your breath back under control — a healthy jolt of norepinephrine kicked in. You feel alive, awake." Asta Kovanen.
However, if you like the idea of the heating part of hydrotherapy being close to hand, Whistler has the Scandinave Spa. Set on the edges of the forest, this outdoor spa is a relaxing haven with its warm pools, ice plunges, saunas, steam rooms and solariums. There is a silence rule at the spa, so you can let your mind wander. The combined benefits of hydrotherapy, peacefulness and proximity to nature make this an ideal location for some active relaxation.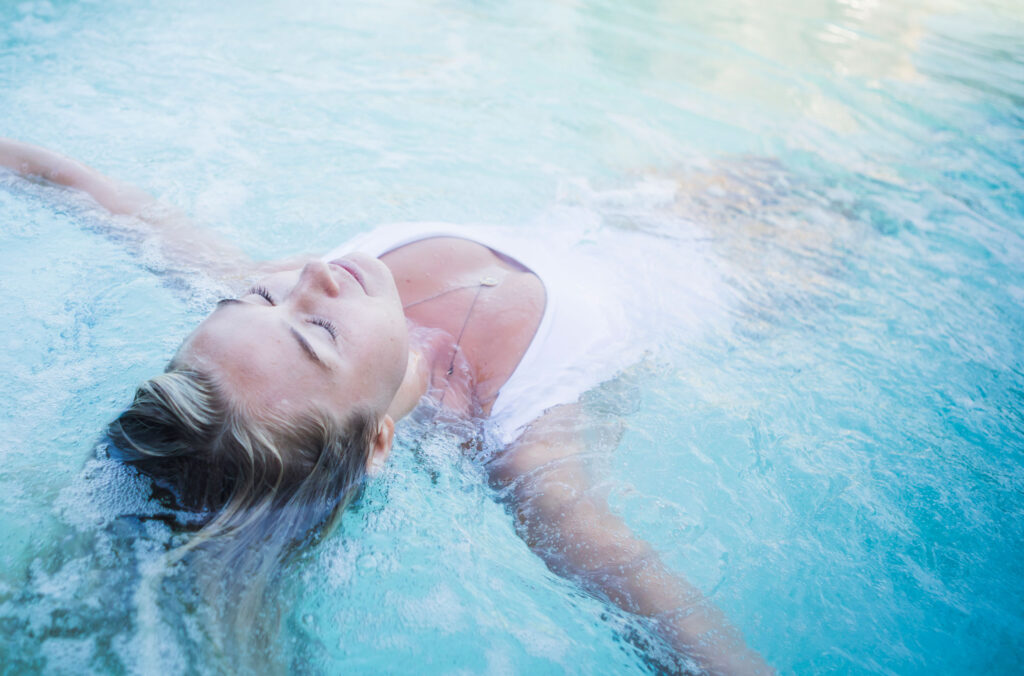 Another thing that the BC Parks Foundation found was that nine in 10 Canadians say they feel happier when they're connected to nature. So, what are you waiting for? Come to Whistler, spend time in the magnificence of the mountains and coastal rain forest, plan some active relaxation and be happy.
Fall in Whistler means more, like great value on accommodation with rooms from $135 CAD per night, plus a free $100 CAD Dining Voucher when you book a stay of 3-plus nights. Book in confidence with Whistler.com for Flexible Cancellation and a Price Match Guarantee. If you're dreaming of a trip to Whistler, enter our Find Your Altitude contest for a chance to win a six-night vacation with flights, accommodation and activities (including a heli trip) all covered.