Walking along the Valley Trail, all of a sudden, a breathtaking vista of swans floating on Alta Lake opens up before your eyes. Everything stops.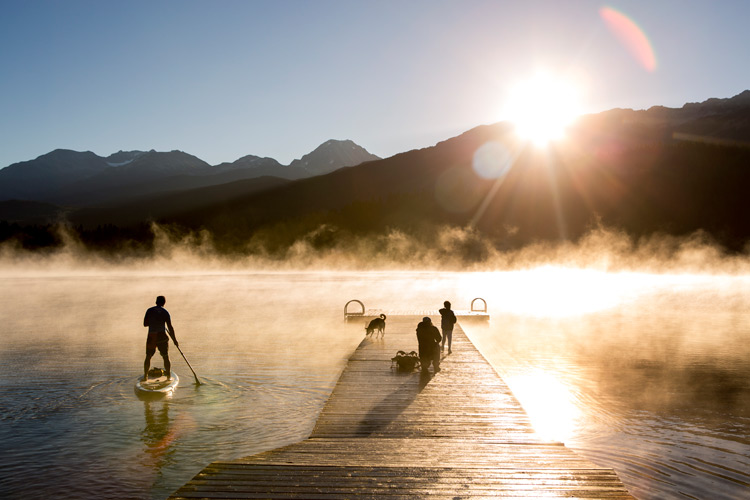 Or strolling through Whistler Village, you chance upon a large Shannon Ford painting of a bear staring right at you from the window at Mountain Galleries at the Fairmont. The multicoloured, lifelike bear stops you in your tracks and compels you to take notice. For a moment, even in that bustling locale, there is you, full of awe and that bear – nothing else.
Ever wondered why?
Why does time in nature and its depictions stun our minds?
We Live in a Distracted World
Part of that answer could be how distracted our brains are in our day-to-day lives. My meditation teacher once said,
"In the modern world, we either want to be entertained or asleep."
Is it any wonder that we fill up our minds, rooms and schedules with activities and gadgets?
Too much stimulation from using gadgets and video games is linked to shortening attention spans and learning disabilities in growing children. The effects are perhaps more serious in adults since our brains are ageing. Indeed, on days when I find myself in too many video calls, I am left exhausted.
Great Minds Have Always Sought Time in Nature
In the course of researching environments conducive to my daughters' development, I have found myself asking the question – in this world inundated with technology, what is a desirable level of mental stimulation and which environment could provide that?
Interestingly, wise minds across times and cultures echoed the same answer, best summarized by German philosopher Friedrich Nietzsche.
Only ideas won by walking have any value. ~ Nietzsche, Twilight of the Idols
Nietzsche wasn't the only advocate of walking through forests. Many famous walkers across generations and cultures, including Leonardo da Vinci, Pablo Neruda, Steve Jobs and Warren Buffet, have espoused walking in nature as a tonic for the mind, more than the body.
In general, spending most of their time in nature seems to be a common thread in the daily routines of the greatest thinkers throughout history. This is in stark contrast with our world, which is characterized by an obsession with busy.
Whistler's Nature Lets Our Minds Play, Be and Expand
Could spending our time in nature influence our mental state so that we become more present, relaxed, and creative? And if so, what is so unique about the mountains and the forests here in Whistler that gives people, residents and visitors alike, a sense of freedom and calm?
A visit to Whistler is a relaxing detox from our heavily digital and urban lives. Instead of being constantly hooked to notifications or conversations, the alpine world allows us to live in a more present state. Encounters with its raw nature and its beauty feel sublime because they yank us out of our thoughts (or wherever it is that our minds have drifted). The bountiful nature makes us take note of the present moment and lose ourselves to it.
And that is Whistler's superpower – its ability to pull me into the moment, instantly.
The interesting thing that happens when we become present is that our brains relax completely. For instance, when I come upon a beautiful waterfall, I am mesmerized but don't covet it. I don't want to bring it along and install it in my living room. Or you may come across rotting stumps, and yet you don't look away in disgust. They don't repel you enough to be afraid of coming upon the next one. We are centred.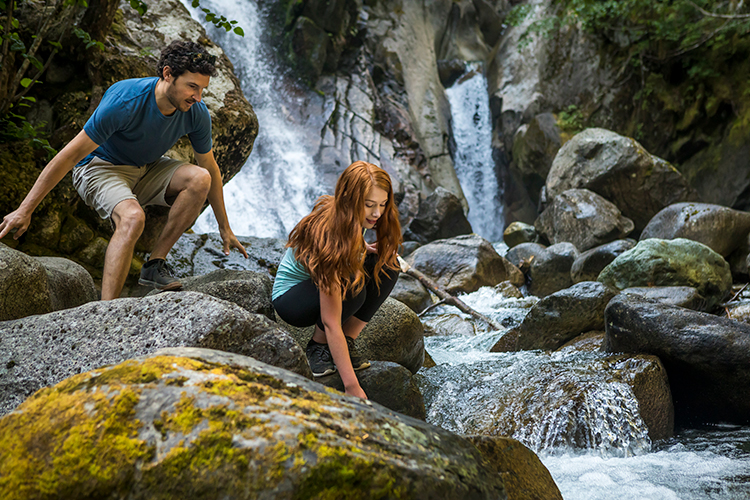 In our otherwise distracted worlds, where we constantly remain hooked to instant gratification, we can at best feel a sense of relief when things are pleasant. On the contrary, in the natural world, we accept things as they are and let them be. Not overly concerned about our surroundings, time in nature allows us just to be, in our own zone. Therein lies true joy, naturally.
Being present not only rests our brains but also heals our bodies and expands our creativity. Scientifically, by placing people amidst nature, their brains have been shown to emit alpha waves, which are associated with a more relaxed and creative state of mind, greater levels of intuition, spiritual connection and healing. It is easy to understand why there is this connection between relaxation, play and a more creative state of our brains.
In his book Deep Work, Cal Newport explains that our brains are capable of paying intense attention for only a limited amount of time each day.
Such directed attention, which allows us to focus deeply on challenging tasks, tends to get depleted unless we rejuvenate through rest. The best kind of rest for our brains besides sleeping is playing. The joy we experience in skiing, biking or hiking is nothing but our brains at play. In that state of mind, we can access the deepest recesses of our minds to unlock our best insights, ideas and creativity. The multitude of natural environments in and around Whistler are a handy way to expand your mind.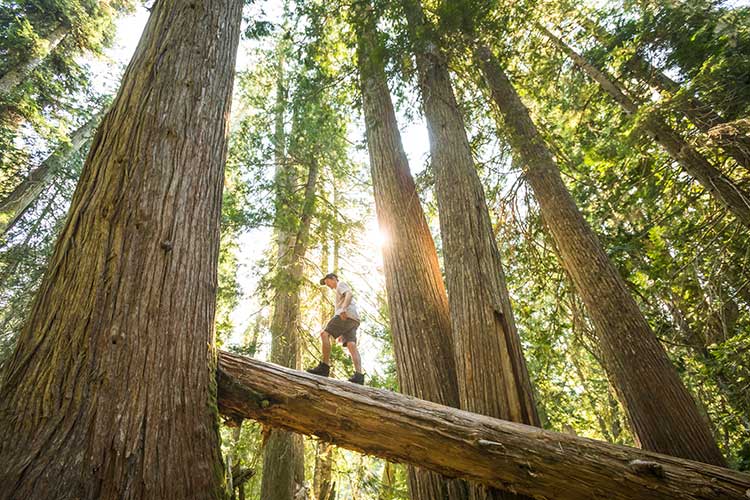 Our Family at Play in Whistler
My family's experience bears this out too. Pristine, undisturbed nature is the only environment we've found to present complete order – the perfect blend of chaos, order, challenge and the right level of boredom, too. So, since the summer of 2020, when we moved here, we have been placing ourselves in Whistler's natural environment consciously and reaping its benefits.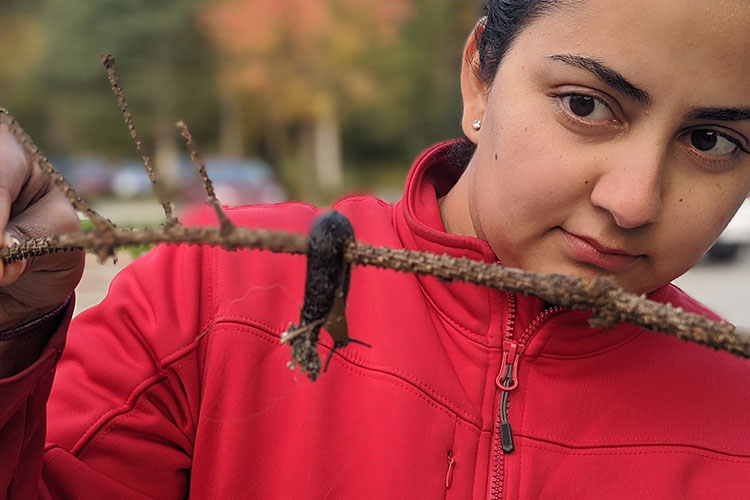 Forests
By the time we moved to Whistler last summer, we were already keen on making forests, mountains and nature our anchoring experience here. Luckily, we found out about a program that would allow our kids to acquaint themselves with the forests in Whistler in a playful way. Soon after we arrived, they began forest schooling with Hazel Tutoring's Forest Exploration Program. The founder, Matt Hazel, designed this program to combine his passion for the outdoors with his love for learning.
The fresh air and sunshine in Whistler feels like medicine for my body, reducing my stress levels instantly. When I teach, I love watching the focus and motivation of my students blossom as soon as they step into a natural setting.~ Matt Hazel, Founder of Hazel Tutoring
The program allowed our daughters to meet other kids their age in this new town, with whom they explored the local trails to their heart's content, all summer. They enjoyed their guided treks and educational activities, often coming home and trying to "forest-school" their parents!
Alongside, my husband and I enrolled in the Resort Municipality of Whistler's Forest Bathing sessions with Maeve Jones on Saturday mornings (details on these for spring / summer 2021 are still TBD). Forest bathing is a Japanese mindfulness practice that allows us to observe and feel the forests in a whole new way. Using each of our five senses, we quietly explored the same forest every week. Each week, we discovered new things about this green patch as our senses sharpened, and about ourselves as we became more mindful.
I can still hear our guide, Maeve's voice ringing in my ears when on a hike with a friend sometimes,
What are you seeing in the forest? And now, consider what it feels like to be seen by the forest. ~ Maeve
In fact, hiking through forests with mentors and friends has been crucial in my developing a social and intellectual life during the pandemic months. I have gained many insights into good writing practices and the life experiences of others through these walks. My mentor and Whistler's beloved author, Stella Harvey, who is always generous with her afternoons for hiking the Rainbow trails with me, says,
These hikes have kept me sane and engaged during these strange, strange times we're currently experiencing. We get to know each other naturally, and accomplish a great deal during our hiking meetings all while enjoying this incredible place. ~ Stella Harvey, Director of Whistler Writers Festival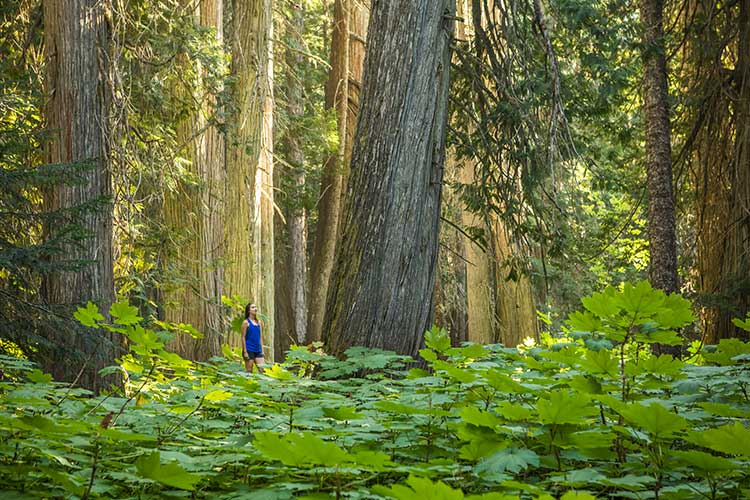 Mountains
Encouraged by our wonderful experiences in the forests, we took to the mountains of Whistler this winter. Whistler has become a playground for our children and us. As all four of us learn to ski for the very first time with the Snow School, we have enjoyed powdery slopes and stunning vistas.
Being up in the mountains broadens our horizons literally and brings us a sense of expansiveness. On days when I hit the slopes, I feel much calmer, freer and clear-headed. It is almost meditative. There is magic in the air we breathe here.
And on days when we don't feel like being that active before our girls get home from school, my husband and I sneak in a PEAK 2 PEAK Gondola ride to fill ourselves up with that elusive sense of being tiny specks in such a vast world. It is a humbling experience.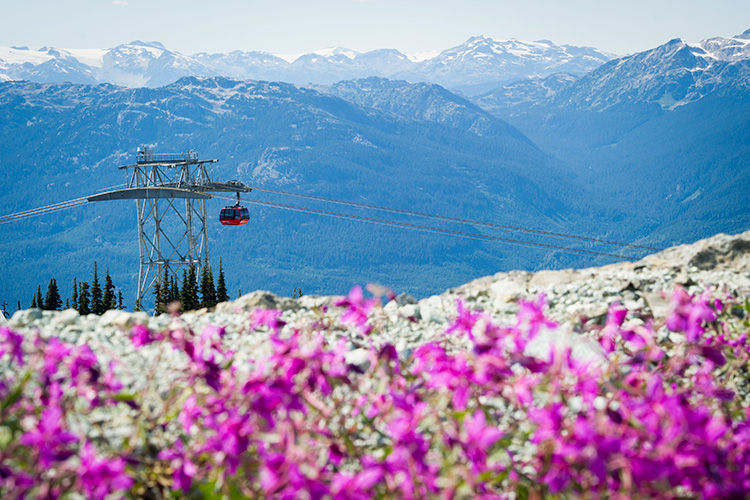 Nature at Night
Whistler has countless other natural attractions, which make this truly a playground for adults and kids alike. We have loved watching the forests fill up with laser light fireflies as we walked through Vallea Lumina in the fall. Engaging, entertaining and relaxing all-at-once, this experience designed as a quest to find two lost hikers and transports us back to the days when we enjoyed being explorers ourselves.
These were perfect stepping stones for our family to acquaint ourselves with what Whistler has to offer, slowly but steadily. All these months of living in this nature's playground has allowed us to develop a greater awareness of the world around us and a feeling of centredness within us.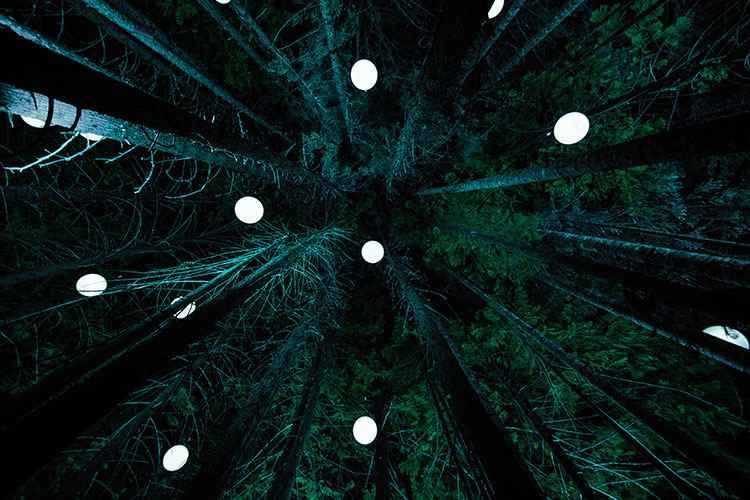 Time to Spring Clean Our Souls
Spring is just around the corner. The forests will soon burst into fresh flora, and the mountains will still be welcoming to skiers and riders of all abilities. Perhaps, along with our spaces, we need to spring clean our souls by reconnecting with the natural world that is so readily accessible to us.
All of us have an innate need for presence and play. We all knew the value of being present and playing as children, but somewhere along the way, if we have missed the point, it may be time to reclaim that childhood and rekindle our playful spirit in Whistler this year. Be it snowshoeing through the old-growth forests in the Callaghan Valley (which is next on our list) or cooking up a meal on the campfire under a starlit sky, you can enjoy yourself plenty with time in nature without the pressure of seeking an adrenaline rush.
You never know, à la Da Vinci, you might chance upon an idea for that dream portrait or an uncanny new product during your next stroll through the whistling woods of Whistler.
See you on the blossoming trails!
INSIDER TIP: Early spring in Whistler still means there's snow on the ground and that our parks and trails are not fully open. Be sure to bring the right clothing and footwear for the weather, and do your research ahead of time on what's open and fun to do at this time of year.