All the beautiful photos featured in this post were taken by Whistler wildlife photographer, Liz Barrett.
There's much to love about spring. The days are warmer and longer, and visitors to Whistler can soak up après rays while refuelling for their next adventure. What you might not know, is that during spring, Whistler also hosts around 200 species of birds that stopover on their migration north to summer feeding and breeding grounds.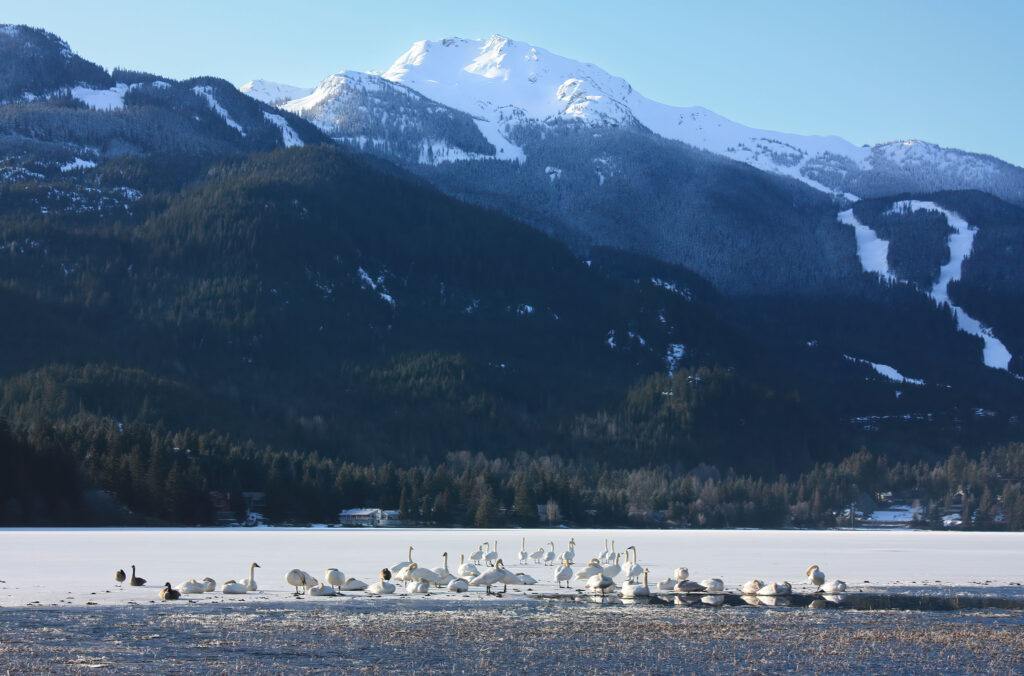 As part of the Pacific Flyway, Whistler's melting lakes provide crucial habitat for migrating birds in need of food and rest. The lakes, and joining trail networks, also provide people with a great opportunity for easy-access birdwatching. Alta Lake, Rainbow Park and the nearby, made-for-purpose bird viewing platform all offer good vantage points to observe visiting and local birdlife. But for the best spring bird experience in a stunning mountain setting, nothing beats a visit to Green Lake.
INSIDER TIP: The Pacific Flyway stretches from Patagonia to Alaska, and Whistler's lakes and wetlands are part of a vital chain of freshwater locations.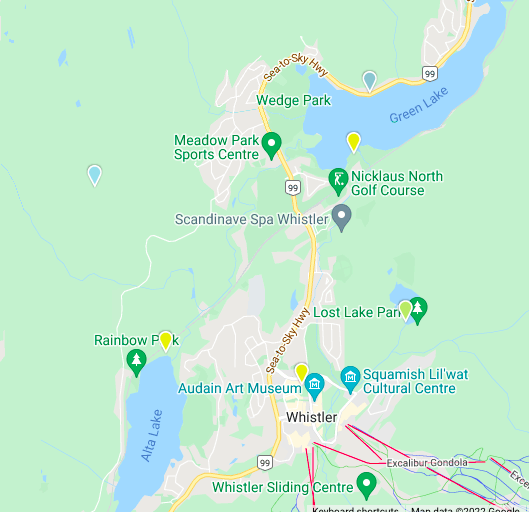 Springtime Birds in Whistler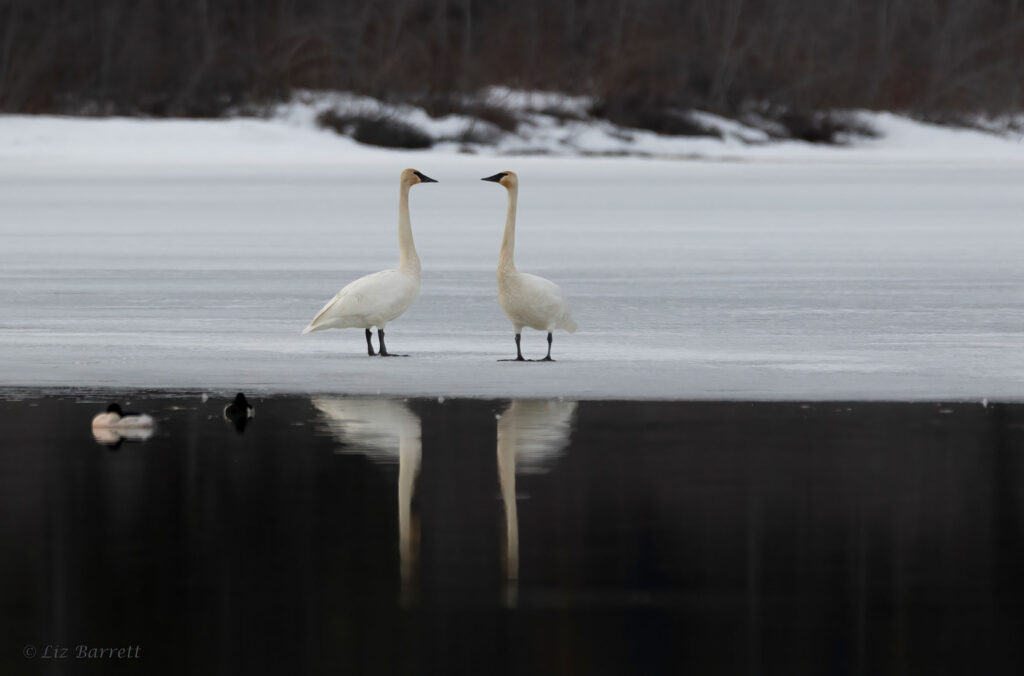 Trumpeter Swan
Trumpeter swans are one of my favourite migrating birds and you can see them in small groups at the very start of the migration season. They are my #1 easiest bird to identify in Whistler for a very simple reason – they're big.
Trumpeter swans have a wingspan of up to two metres and they're North America's heaviest waterfowl. These elegant swimmers are fun to watch on land as they awkwardly waddle about. You can find them on Green Lake, often hanging out in the small coves on the eastern (Highway 99) side of the lake, between Rainbow and Emerald. If you're lucky you might see them flying overhead in a V formation, but they can usually be found feeding in areas around the edges of the lake where the ice is first to melt.  
FUN FACT: Much of the world's population of trumpeter swans winter in British Columbia.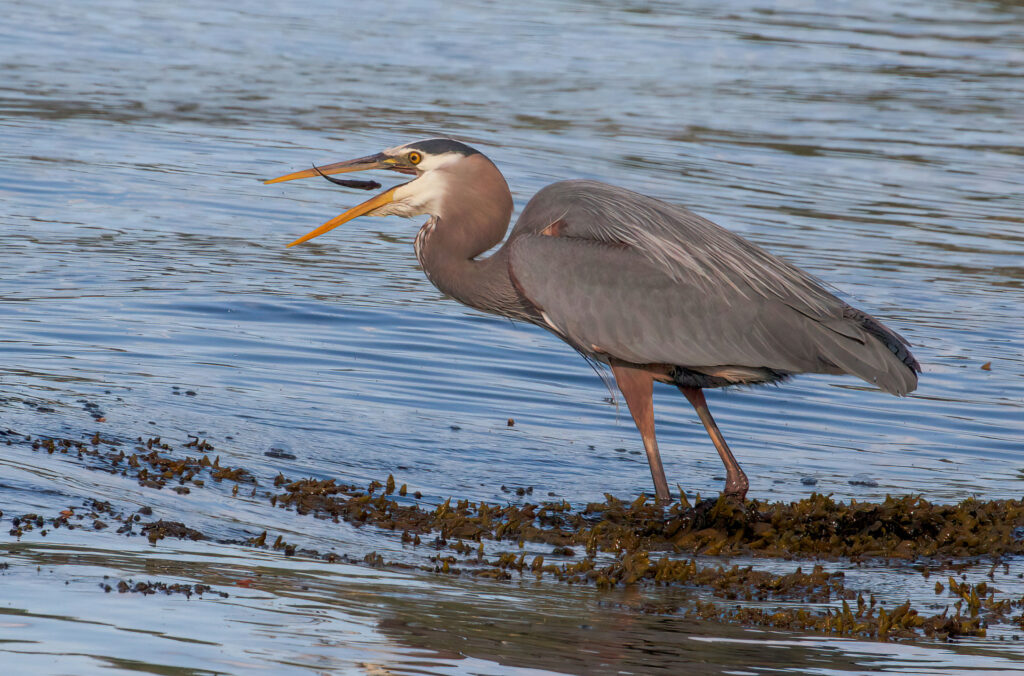 Great Blue Heron
Another birding hotspot is the sandy delta of the River of Golden Dreams, located at the south-eastern end of Green Lake. Birds gather in the sandy shallows to fish and look for food, and are easily viewed from the Valley Trail.
A great blue heron can often be seen fishing in the shallows, using its dagger-like bill to spear fish. Sometimes appearing more grey than blue, the great blue heron is the largest heron in North America, and one of the largest herons in the world – some can be up to 138 centimetres tall! When in flight they curve their neck back into an S shape, just like the flying dinosaurs in Jurassic Park.
FUN FACT: A river delta is a landform created by sediment deposited as the river flow leaves its mouth and enters slower-moving water.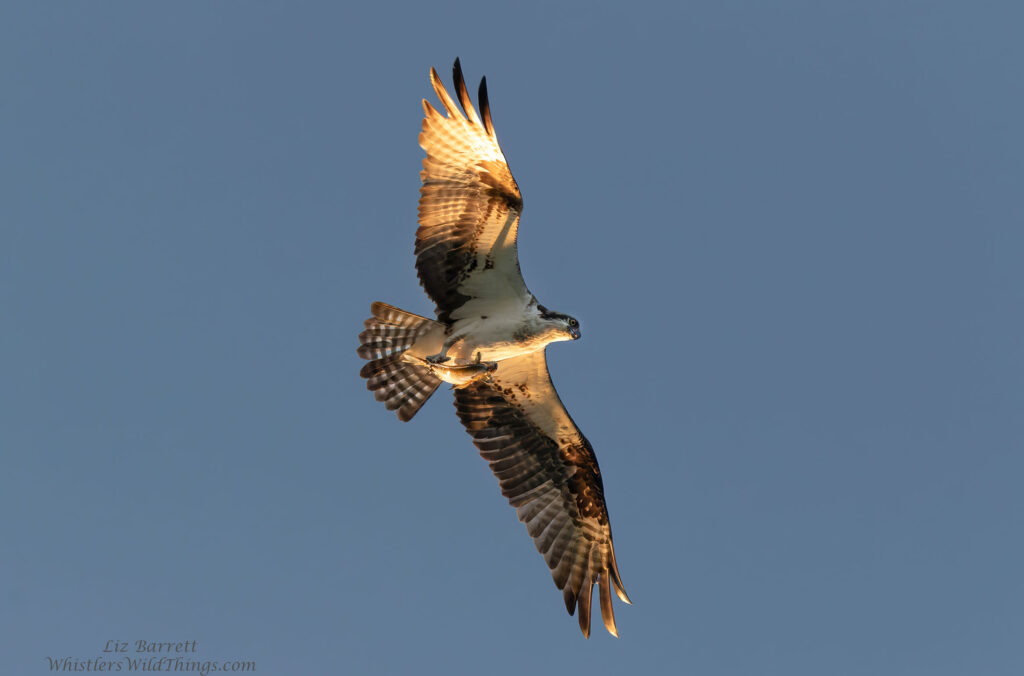 Osprey
About one hundred metres from the River of Golden Dream's river delta, along the Valley Trail towards Meadow Park, there is a sign with information about the osprey nest that sits high in a flattened tree-top nearby. The nest (which due to tree growth, is best viewed about 30 metres back towards the delta) is a permanent structure made of sticks that is added to each year.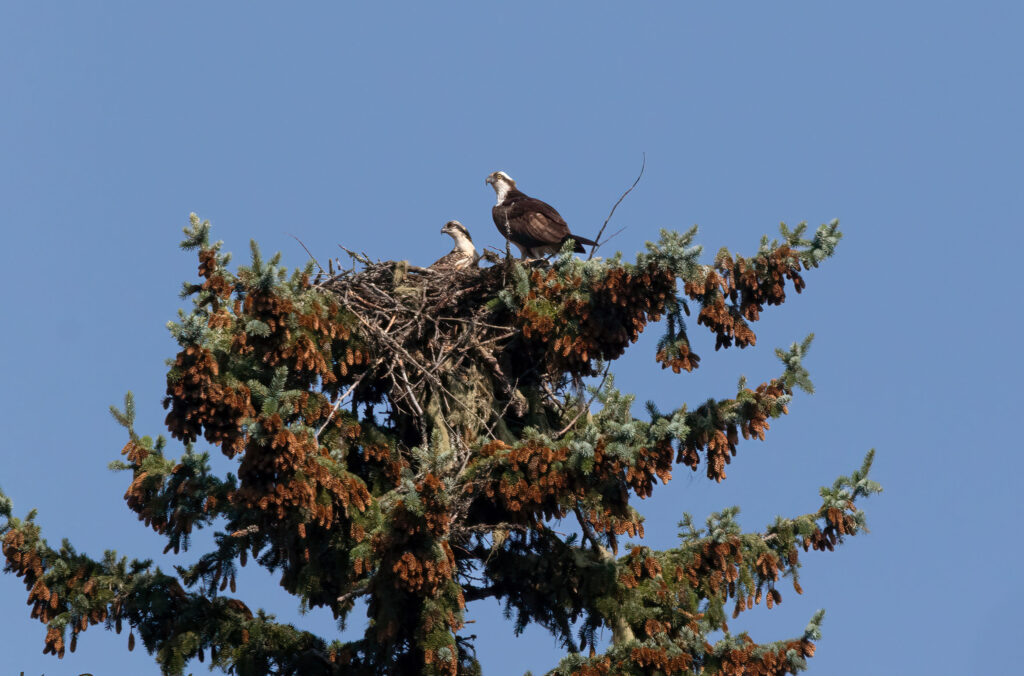 An osprey's parents share the responsibility of feeding and protecting the chicks. When the nest is empty, look for a large bird soaring high above the lake, or perched on a tree-top, scouting for a fish to catch. 
FUN FACT: The osprey is the only bird of prey in North America that feeds almost exclusively on live fish.
American Coot
The section of Valley Trail that connects the river delta to the Nicklaus North Clubhouse includes a long, elevated wooden platform with lookouts over Green Lake where you will find a sign featuring (you guessed it!) the American coot. 
These entertaining visitors can be seen in the springtime, hanging out in groups on protruding logs, or paddling about looking for food. Their lobed toes make them expert swimmers and divers, but they aren't great at taking flight quickly, so will usually stay longer in one area than other birds, making them good subjects for photos.
The American coot is a species of rail, but can often be found mixing with a variety of duck species. Their black heads, red eyes and white beaks make them easy to identify, and the photograph on the sign also helps!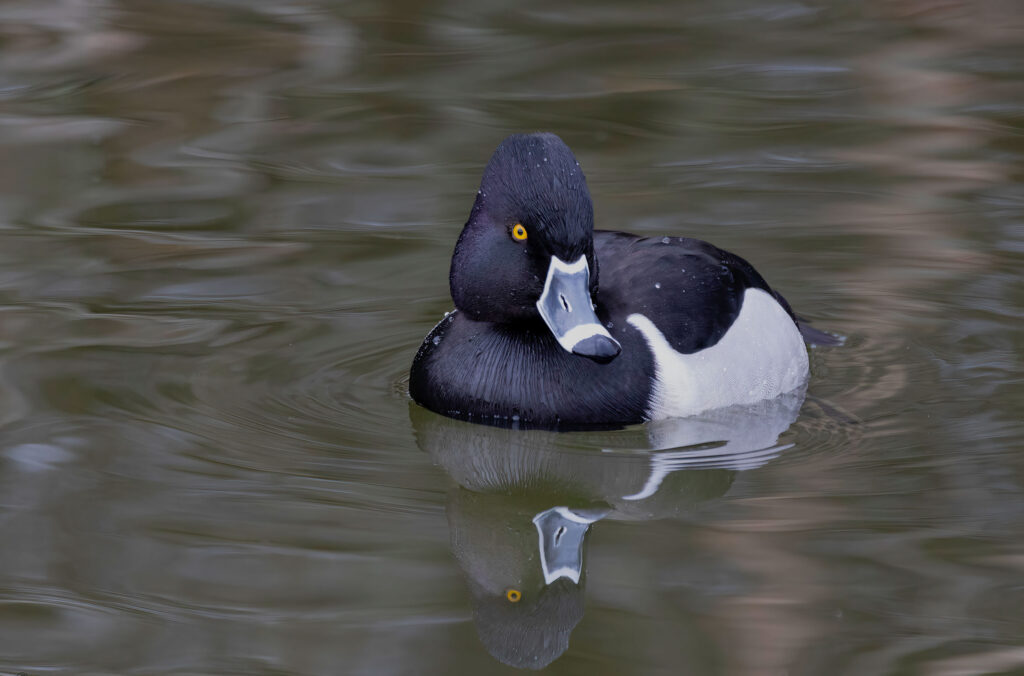 The Ducks
During migration, large flocks of ducks, some containing hundreds of birds, can be seen bobbing on Green Lake. The sheer number of birds is an impressive sight and a good reminder of how many animals depend on Whistler's unique lakes for their survival.
The large flocks are easy to locate, but often contain a mix of species, and identifying them correctly takes practice and a decent set of binoculars. Rather than worry about which duck is which, take time to enjoy the spectacle as a whole and to observe behaviour patterns. You could also pick out some of the more obvious traits, like the iridescent green eye-patch of what I think of as the Bowie ducks, the green-winged teals and American wigeons.
Or the Oreo cookie patterns of the greater and lesser scaup. You may start to notice some common features. For instance, the eyes of the Barrow's goldeneye and the common goldeneye are distinctive but not unique. Hooded mergansers and female greater scaup also sport bright yellow eyes but have other characteristics that when combined with the yellow eyes help to identify them. Other ducks that you may come across include ring-necked ducks, buffleheads, mallards and common mergansers.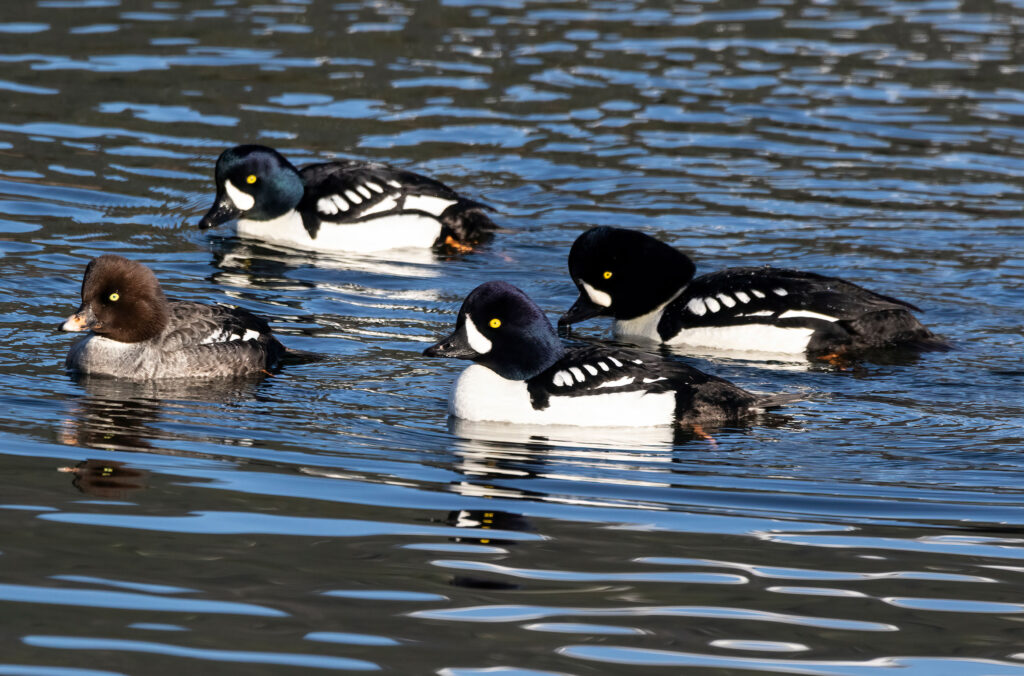 Walk, Bike or Paddle
In the early spring, most of Whistler's trail systems are still emerging from the snow, but the Valley Trail, a 46 kilometre, paved, multi-use trail is usually clear. Binoculars and cameras with zoom lenses are useful, but not required.
As the snow clears, biking is a great way to explore Whistler's lakes. In summer, you can paddle Alta Lake and the River of Golden Dreams, and if you're interested in local birds and wildlife then I'd suggest joining a guided tour (they start in May) to get the most out of the experience.
Bird Resources
There are some great apps available for budding birdwatchers. The Merlin app has a step-by-step identification guide, as well as photos and sound files. If you want to start keeping checklists of the birds you encounter, eBird lets you submit records for yourself that can also be used by scientists.
Bird watchers who help collect data are part of an increasingly popular citizen scientist movement. You might even want to participate in the Global Big Day event that happens in May. 
If you prefer to have a physical checklist, drop by the Whistler Museum and pick up a copy of the Whistler Naturalists Whistler Birds checklist. The Whistler Naturalists also have a free guide to birding in Whistler that you can download directly from their website. 
For a glossy, full-colour guide to bird identification, you can't go wrong with Birds of Western Canada, available from Armchair Books in Whistler Village. 
What to Take On a Spring Birdwatch
For this time of year (April and May), it's best to be prepared for all types of weather and all kinds of trail conditions. If you've packed your sandwiches and are thinking of having a picnic, pop a small towel or blanket in your bag to wipe down any wet surfaces – like a dewy picnic table.
Waterproofs
Good walking shoes
Traction devices for your shoes – like Yaktrax
Hat and gloves
Sunglasses
Sunscreen
Towel / small blanket
Filled water bottle
Snacks / lunch
Camera
Binoculars
This is a simple list for short strolls, but if you're planning on going for a longer or more arduous walk or hike visit AdventureSmart for a list of what to take and how to plan for safe exploration.
Birding is a great way to connect with nature and can provide a gentle reminder to slow down and notice what is happening around us. Be mindful that birds need space to thrive. Remember to stay on marked trails, pack out what you pack in and keep dogs leashed at all times.
Happy birding!