Updated October 2022 with new ice skating rink hours and pricing.
Lost Lake or Tube Park? Whistler Sparkles After Dark
Winter days in Whistler are pretty easy to get right. Wake up early, choose a mountain to upload, ski or snowboard until you're hungry, aprés, hot tub, sleep, repeat. It's a plan that never gets old, especially when there's over six metres of snowfall by the first week of January. With fat flakes a-plenty, and the odd bit of sunshine, snowy days in Whistler are easily filled. But what about the evenings? Even the earliest of early birds doesn't need to go to bed with the winter sun!
Whether you want to work up a sweat, or let someone else do the work, here are some of my favourite nighttime activities, ordered from most energy required to the least (measured in metaphorical beans).
1. Cross-Country Skiing at Lost Lake Park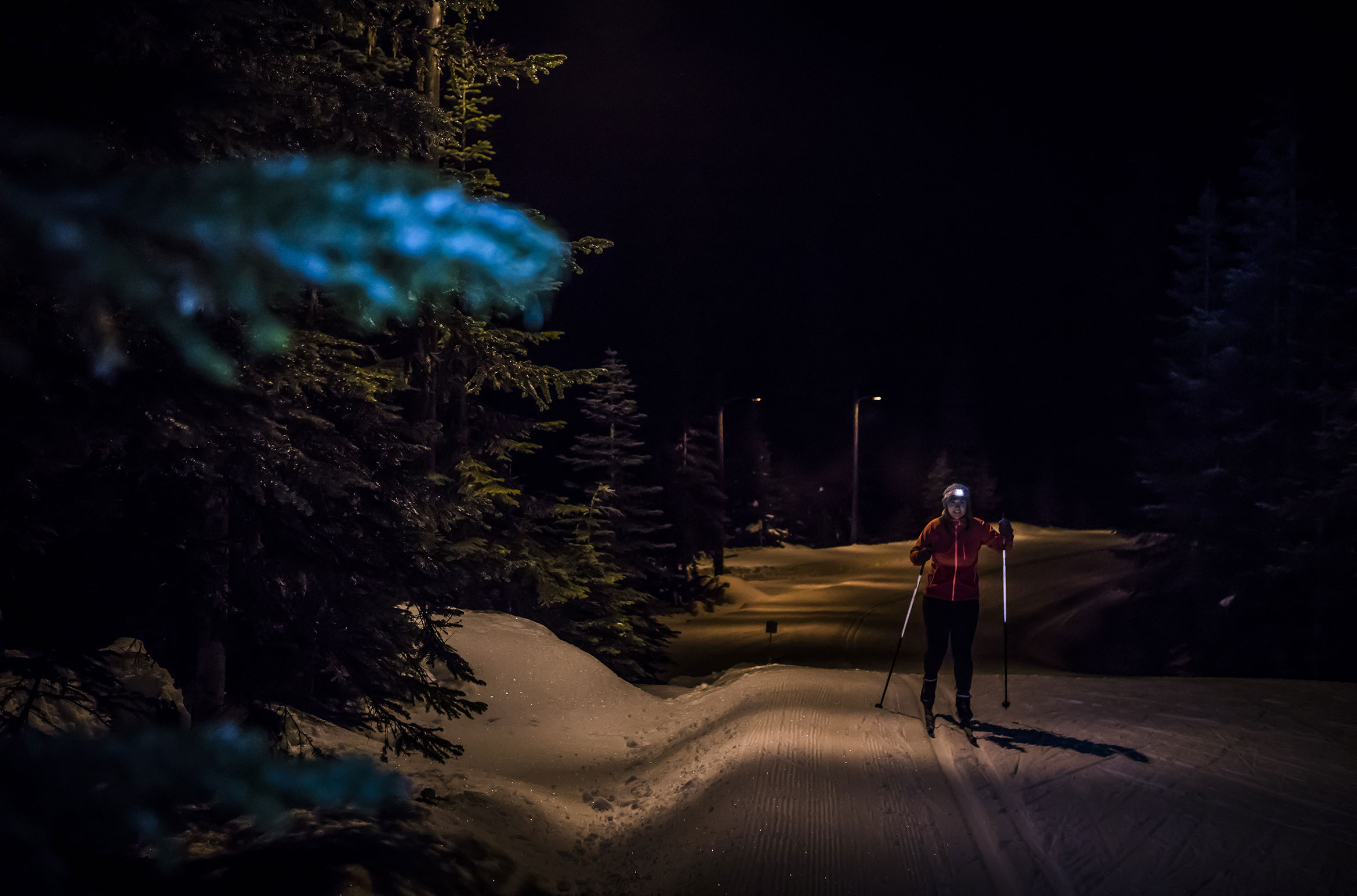 Energy Required – 5/5 beans
If night falls and you find yourself with energy to burn, Lost Lake Park has you covered. Just a short walk from the village, this network of cross-country ski trails is open until 8 PM daily (they have snowshoeing trails too, but they're only open until dusk). Rentals are available on-site, and if you get there early enough you can watch the alpenglow from Lost Lake beach.
Be sure to bring warm layers – full zips are a good option as you will definitely heat up! A head torch is highly recommended; the trails are well signed and colour-coded, but you'll need a personal source of light to see them! Phone torches are okay in a pinch, but remember that phone batteries deplete quickly in cold conditions.
INSIDER TIP: Entry is half price after 3 PM, and reduced by a further 50% on Monday and Thursday nights, making an adult entry ticket only $5.75 on these days!
2. Ice skating – Whistler Olympic Plaza and Meadow Park Sports Centre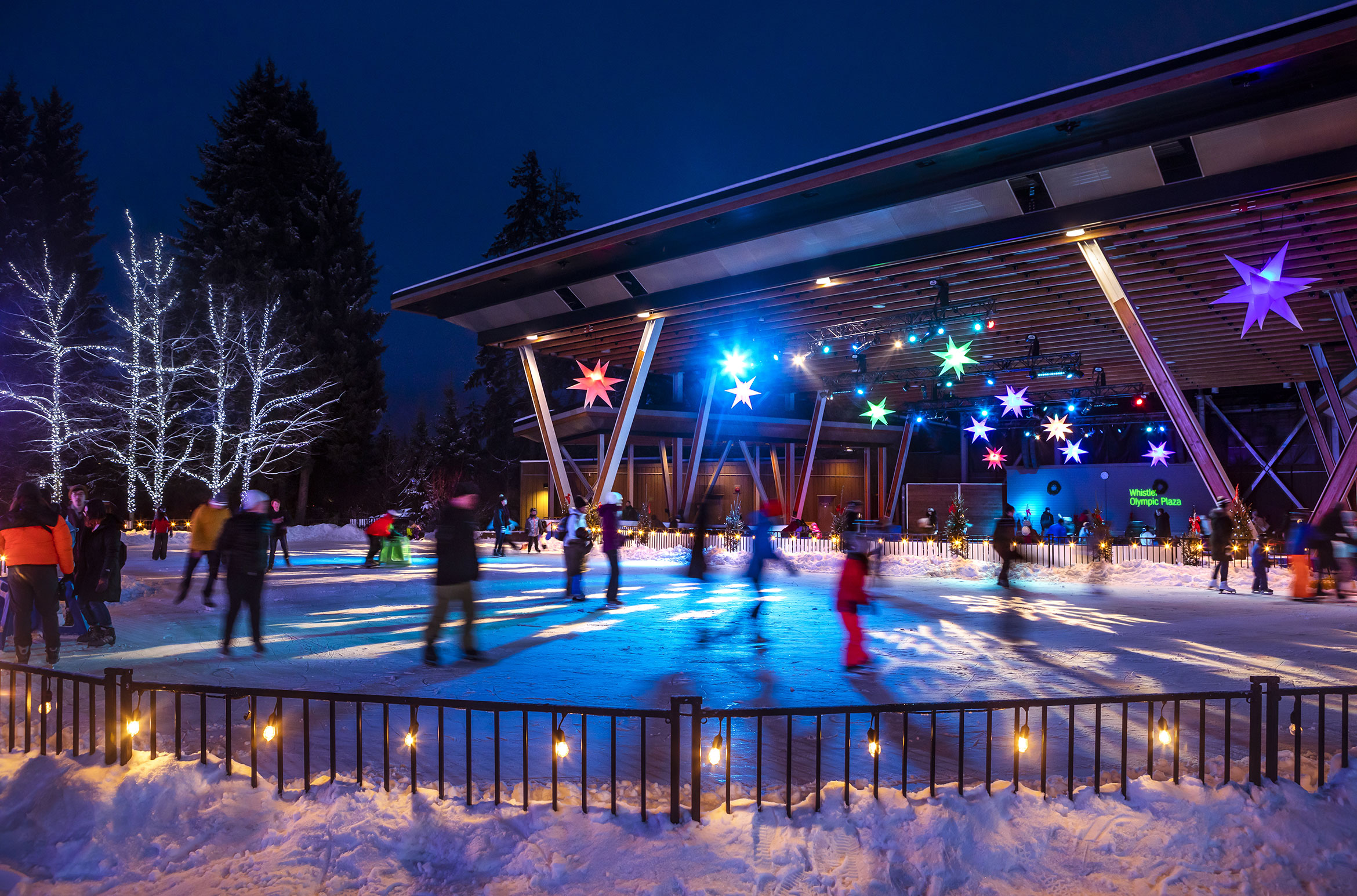 Energy Required – 4/5 beans
Ok, so this might be a controversial activity to put second on my high-energy list, but if you're like me and didn't grow up with ice, or skating, or snow, then ice skating can be a fun, but also a physically and mentally taxing, activity.
Whistler Olympic Plaza
Located in the heart of the village, skating at Olympic Plaza is both beginner-friendly and photogenic. The rink features multi-coloured hanging icicles, is set against a picturesque mountain backdrop and is surrounded by Dr. Seuss-esque LED wrapped trees. Open until 8:30 PM (closed from 5 PM to 6 PM for resurfacing) entry is only $9 per person, which includes admission, skate hire, skating aids and helmets. If you bring your own skates, entry is only $2! The rink is partially undercover and strollers are welcome on the ice.
INSIDER TIP: There is also a free snow zone adjacent to it, where little people can climb up and slide down to their heart's content on their toboggans.
Meadow Park Sports Centre
Located on Highway 99 and easily accessed by public transit, the NHL sized ice rink at Meadow Park Sports Centre is a good option for skaters who need more space. Skate rentals are available and entry is half-price on Tuesday and Thursday nights. A skate sharpening service is also available.
3. Vallea Lumina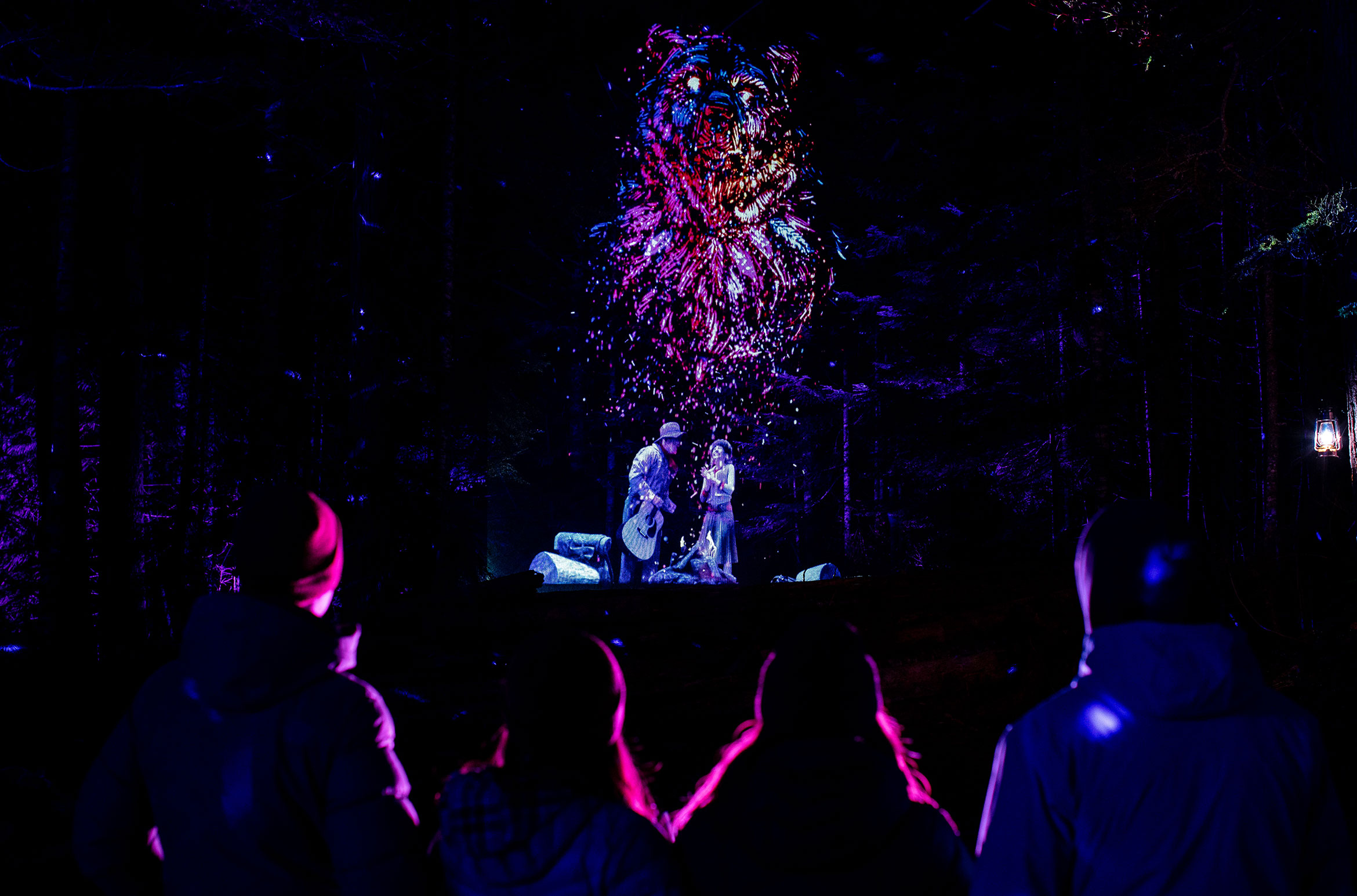 Energy Required – 3/5 beans
More gentle cardio than ice skating, Vallea Lumina is a stunning, multimedia, night walk. Lanterns guide the way along a twisting forest path, and into camp where thousands of coloured lights reflect off every snowy surface.
As you move deeper into the forest, intricate LED displays start to respond to your movement, until it feels as though the forest really is watching you. Most people spend about an hour moving through the trail and costumed employees discreetly follow participants to ensure everybody's safety.
Take a read of Magic in the Mountains: Winter Vallea Lumina for more information on this experience.
4. bubly Tube Park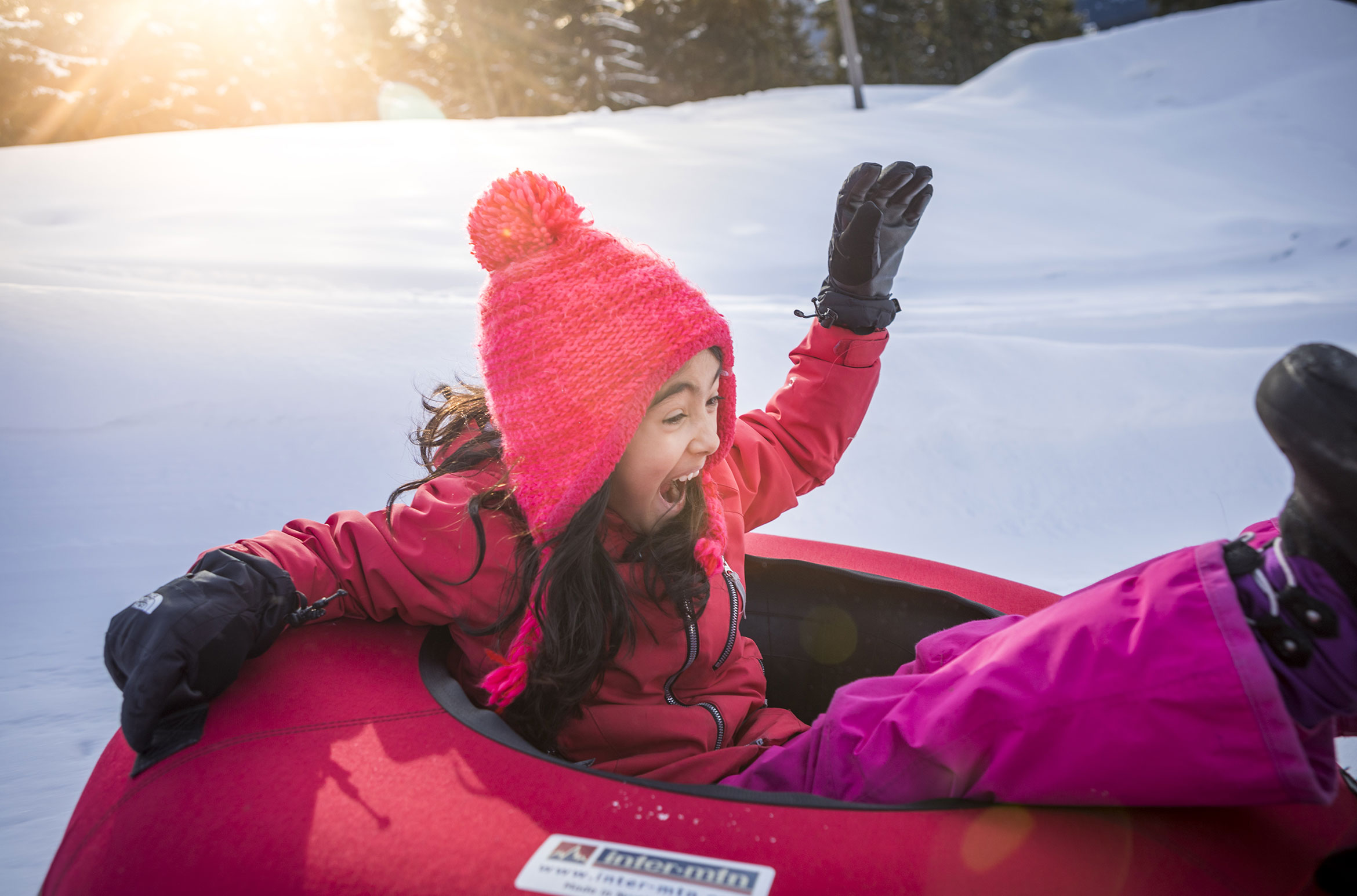 Required Energy – 3/5 beans
I'll be honest, I was initially skeptical about the bubly Tube Park. Located up at Base 2 on Blackcomb Mountain, I'd snowboarded past the popular park many times and always wondered about its appeal. Just how exciting could supervised tobogganing be?
The answer, it turns out, is very.
Flying down the thrill lane, having received a very generous push from the staff at the top, I knew I wasn't going to fly off the course. I knew it, but I couldn't feel it. All I could feel was the wind whipping my face and my knuckles gripped tight on the handles. I was glad when multiple sets of bumpy rubber braking mats finally brought me to a stop, and then, having survived, I couldn't wait to do it again! The magic carpet is a leg saver and a half, and there's also a chill lane for small humans.
To get to the tube park you take the Excalibur Gondola from Skier's Plaza at the base of Whistler Mountain (free for tube park users), and then there's a steep, but short, wooden staircase from the gondola to the welcome area. Shoes with good grip are recommended as you'll be walking on snow, and warm clothes and waterproof pants are a good idea.
I realise now that comparing the bubly Tube Park to tobogganing is like comparing a waterpark to a backyard slip'n'slide. You might want to do this one before dinner!
5. Escape! Whistler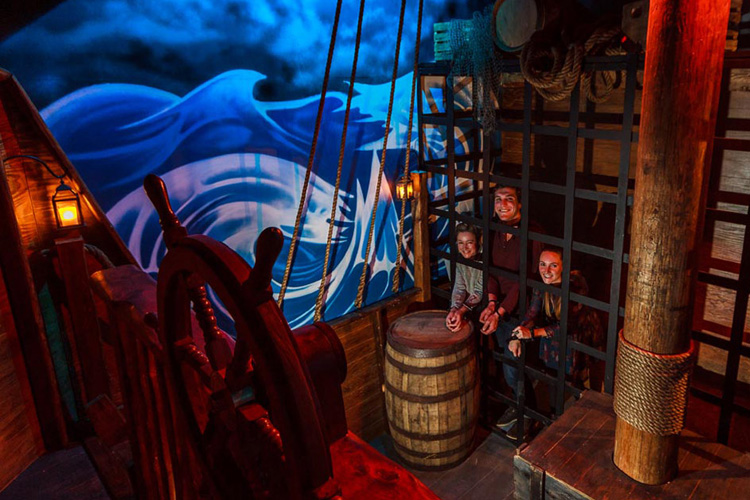 Required Energy – 3/5 beans – inside, but your brain will burn a lot of energy
With six different escape rooms at Escape! Whistler, this is an activity you'll want to do more than once. Open seven days a week until 9:30 PM, each experience is an hour long, with up to 45 minutes trapped in your chosen puzzle room.
I found the beginner level Pirate Ship suitably challenging and enjoyed the temporary transportation to a warmer climate. At one point I managed to escape the ocean, only to flop belly first onto a sandy beach! The rooms are all lovingly designed by the local owners and the Yukon Gold room is wheelchair accessible.
6. Festive Light Walks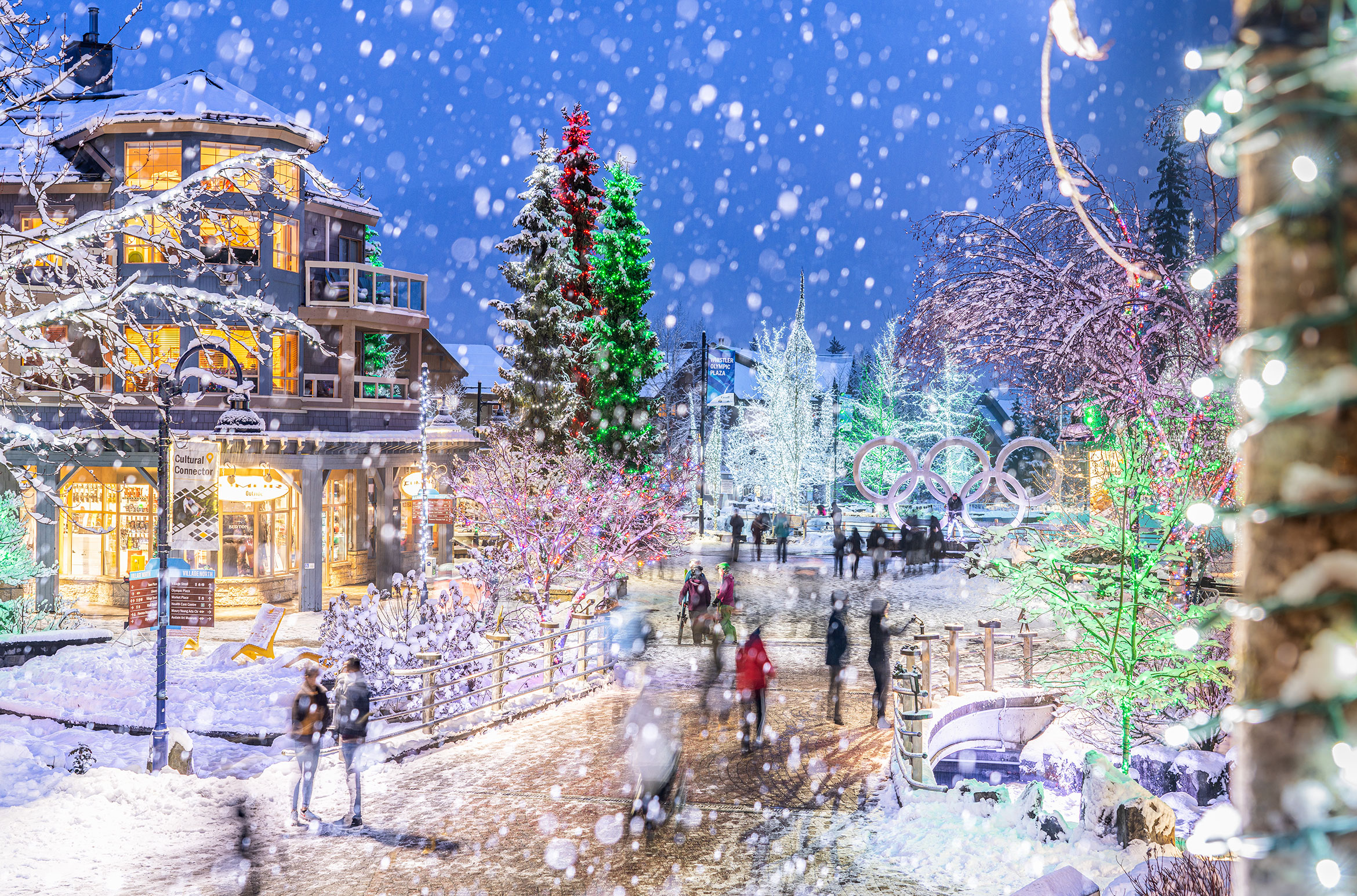 Required Energy – 2/5 beans
Free and open all night, up to 350,000 individual LED bulbs on 6,500 strands of lights span Whistler Village from end-to-end and beyond. A lot of the best light displays are enroute to the activities mentioned in this post, particularly around Olympic Plaza, however the lights of the Fitzsimmons Creek Bridge and Rebagliati Park are worth seeking out. They're part of the 1.2-kilometre Upper Village Festive Lights Tour, which is one of multiple self-guided walking tours available on Tourism Whistler's new, free app – Go Whistler Tours.
The Upper Village Festive Lights Tour starts at Rebagliati Park, between Day Lots 1 and 2, on the Valley Trail towards the Upper Village (Blackcomb Base). You'll know you've arrived when giant, sparkling woodland creatures are towering over you and an illuminated glacial creek gushes below.
Take a look at all of Whistler's Festive Light Tours in Walking in a Winter Wonderland.
7. Audain Art Museum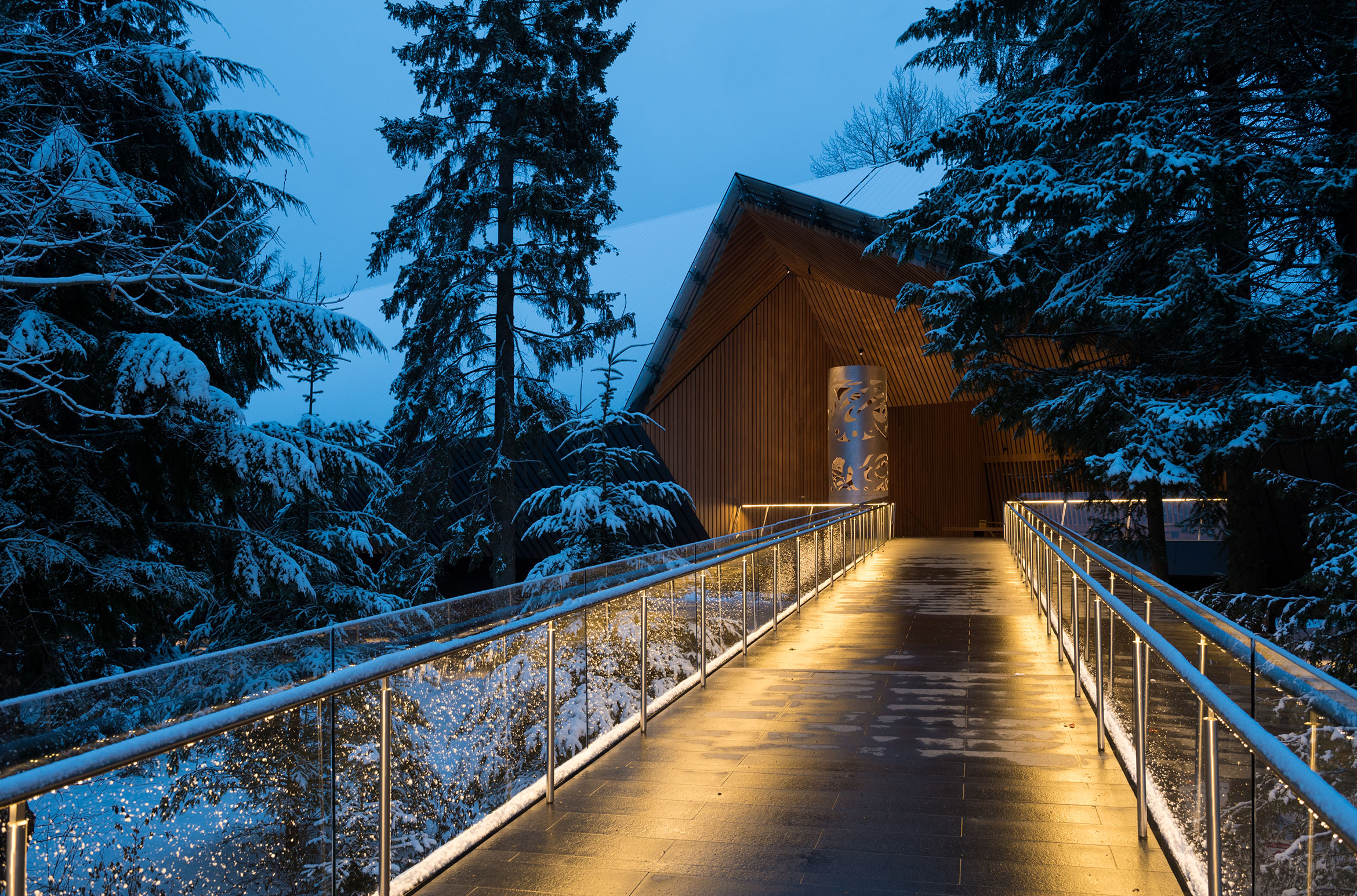 Required Energy – 1/5 beans
A great option for an early, evening activity the Audain Art Museum boasts an impressive permanent collection of British Columbian art, including several commissioned sculptures by contemporary First Nations artists and a large space for their rotating Special Exhibitions.
The art is top-notch, but as a member, it is the building itself that continually draws me in. Hidden in plain sight between the day parking lots, an elevated walkway takes you up and through the forest to an unassuming entrance. Once inside, a long, straight walkway with floor to ceiling glass connects the two gallery spaces, and makes you feel like you're outside, walking through the trees. One day I even watched a black bear graze on the grass below, unaware and undisturbed by my presence.
A word of warning, the gift shop has many lovely, local pieces that you'll want to take home with you. For more on the Audain, take a read of Culture Up: How to Get the Most From a Visit to the Audain.
Whistler is definitely a high energy kind of place, but no matter how many beans you're left with at the end of the day, there's a unique, after-dark experience that's right for you.
Fall in Whistler means more, like great value on accommodation with rooms from $135 CAD per night, plus a free $100 CAD Dining Voucher when you book a stay of 3-plus nights. Book in confidence with Whistler.com for Flexible Cancellation and a Price Match Guarantee. If you're dreaming of a trip to Whistler, enter our Find Your Altitude contest for a chance to win a six-night vacation with flights, accommodation and activities (including a heli trip) all covered.