Whistler, the home of the mountain people. For better or worse, when you're here it can feel like the whole world revolves around skiing and snowboarding. But, what if that's just not your thing? When you start looking you'll find that there is a whole world of fun to be had in Whistler without needing to strap on skis or a snowboard.
As someone who has lived here through multiple injuries and a pregnancy, which felt like it lasted about ten years, I've become a bit of an expert at sourcing non-ski activities. Here are some of my favourites.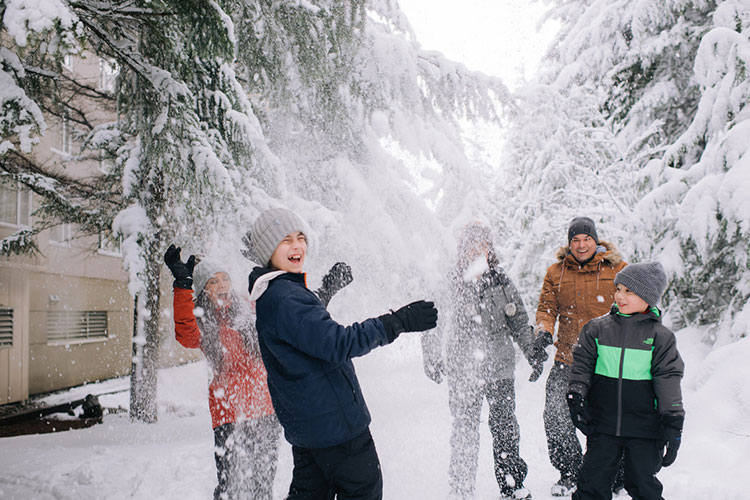 Embrace the Season
You don't need to ski or snowboard to enjoy the bountiful, fluffy goodness that blankets Whistler all winter long. You can make the most of the season with these winter wonderland activities.
bubly Tube Park
If you love tobogganing but hate walking uphill, I have just the activity for you – snow tubing. Through the wonders of modern engineering, the bubly Tube Park has managed to eliminate the worst part of tobogganing (the uphill slog). The magic carpet does the hard work of getting you (and your kids) up to the top, the cushy tubes are easy on the backside and the shaped lanes keep you safely on the track.
It's open weekdays 11 AM – 6 PM, and on weekends and holidays 10 AM – 6 PM. There is free (but not guaranteed) parking next door at Lot 8, but the best way to get there is via a free ride up the Excalibur Gondola to Base II.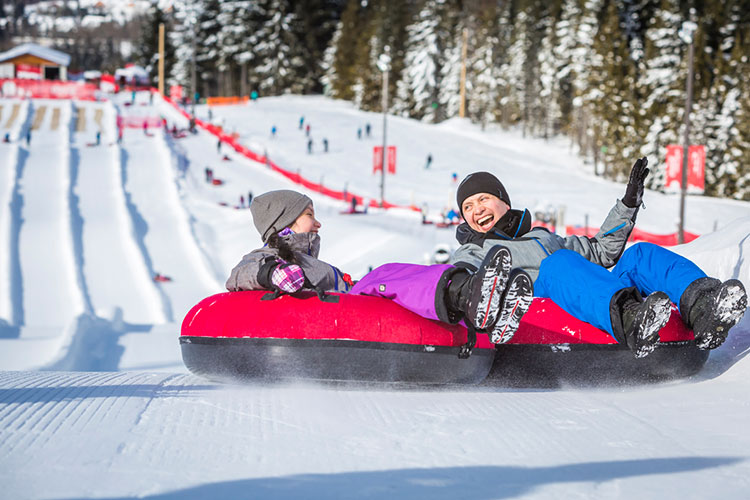 Vallea Lumina
Escape the everyday tedium with a wander through a forest of wonder. Vallea Lumina's storified, multimedia light show transforms the trees around you into an illuminated wonderland.
As this activity happens after dark, you can even plan a visit with your skiing and snowboarding friends once they get off the slopes.
Fellow Whistler Insider, Dee Raffo shares her experience and tips in Magic in the Mountains: Winter Vallea Lumina.
View this post on Instagram
Ride the PEAK 2 PEAK
Riding on gondolas and standing on top of mountains isn't just for skiers and snowboarders. With a sightseeing day pass, you can even soar between them on the world-record breaking PEAK 2 PEAK.
In a normal year, I would also recommend having lunch in one of the mountain top lodges, but this year, with limited space and required reservations, you might want to dine in Whistler Village either before or after your trip.
Winter sightseeing is available from 10 AM onwards. When you're not chasing fresh pow lines you can afford to take things slow. So, take your time, enjoy brunch in the village then venture up to see the sights.
Go Sightseeing in the Whistler Valley
When I have family visiting I suggest a sightseeing tour to get the lay-of-the-land and a wider sense of what makes Whistler the incredible place it is. With Whistler Valley Tours you head out with a local guide and driver for a three-hour sightseeing adventure covering the entire Whistler Valley. You visit Green Lake, Rainbow Park, Creekside, Function Junction's local artisan district and Olympic venues such as the world's fastest bobsled track at The Whistler Sliding Centre.
Another tour that they offer is to Whistler's very own distillery – Montis Distilling. This pre-dinner apres tour takes you to Function Junction where you'll learn Montis Distilling's unique spirit crafting process, enjoy an in-depth tasting of all available products (with the option to pair them with locally curated cheese and charcuterie) and be back in time for your evening dinner reservations. As an added bonus, all guests receive an exclusive food and beverage deal for use at one of Whistler's best cocktail bars, The Raven Room. Read more in, Whistler Distillery Tour & Tasting Experience.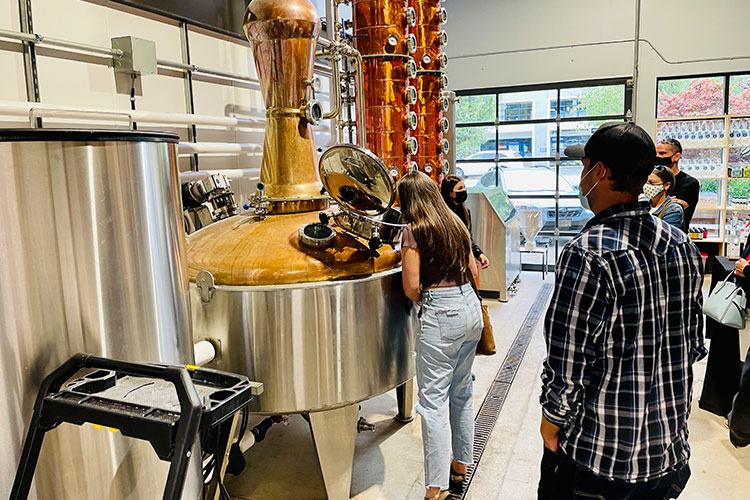 If you feel so inclined, you can up the ante on your sightseeing by taking to the skies. Whistler has a range of helicopter tours from short, scenic flights to ice cave adventures. Read more about those in Rock Flour, Ice Caves and the Meaning of Time.
Snowshoeing
One of the best things about snowshoeing is that you don't have to go far to feel the serenity of the wilderness. You'll very quickly notice the quiet stillness of nature and if you're lucky enough to get out after a fresh snowfall, the loaded trees can look like something straight out of a Dr. Seuss book.
Popular spots to go to include Lost Lake Park, just a short walk from the heart of Whistler Village, and Whistler Olympic Park in the Callaghan Valley. Both have rentals onsite and well-marked trail systems for easy navigation.
While you can go snowshoeing without a guide, armed with some gear and know-how, the best way for first-timers is to go on a tour, which includes rentals and a knowledgeable guide to show you the way. Tour offerings include full and half-day options and new for this year are adventures to the Ancient Cedars and even a Canadian Campfire Cookout.
You can get more intel on the finer points of snowshoeing in the Insider's Guide to Snowshoeing in Whistler.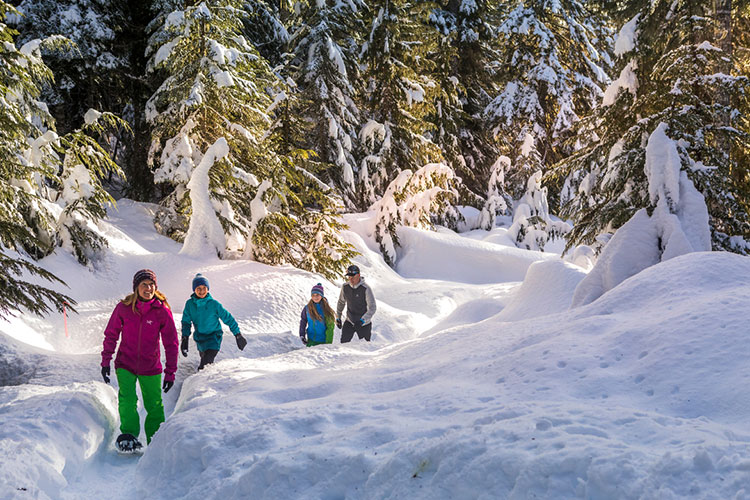 Snowmobiling
I believe the old saying goes "once you braaaap you can't stop". Whether it be from an easy cruising Family Tour, heart-thumping Backcountry Tour, or the oh so satisfying Sproatt Steak Night by Snowmobile, the powerful feeling of freedom you get from riding a snowmobile is addictive.
Booking a tour is a great way to get your fix without going down the rabbit hole of buying a sled yourself. Though, if you get hooked, you can say I didn't warn you.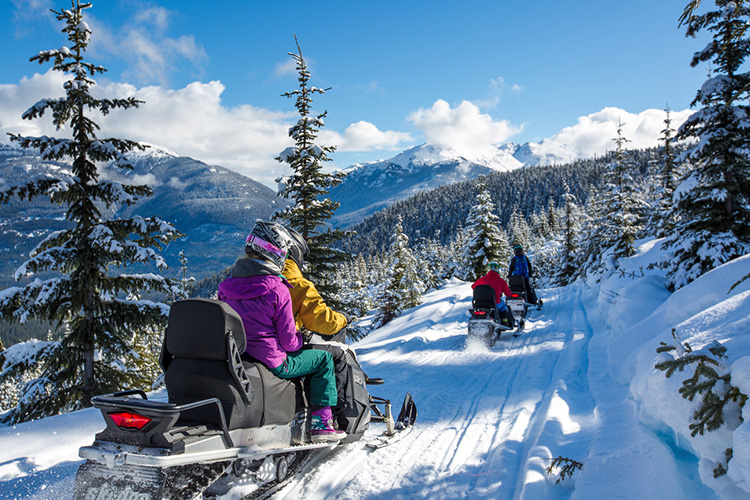 Immerse Yourself in Whistler's Arts and Culture
Art may not be the first thing that comes to your mind when thinking of Whistler, but we are actually home to a thriving arts scene. It's not hard to see why creatives are drawn to Whistler's soaring peaks and lush valleys. From the traditional arts of the indigenous people to contemporary galleries, you can find a bit of everything when exploring the arts in Whistler.
Take a Walk on the Cultural Connector
Download the free, Go Whistler Tours app and take a self-guided walk along the Cultural Connector. It takes you to six of Whistler's key arts and cultural landmarks including; the Squamish Lil'wat Cultural Centre, Whistler Public Library, Audain Art Museum, Maury Young Arts Centre, Lost Lake PassivHaus and the Whistler Museum.
INSIDER TIP:
You can save twenty percent off entry to the Squamish Lil'wat Cultural Centre and the Audain Art Museum with the purchase of a
Cultural Pass
.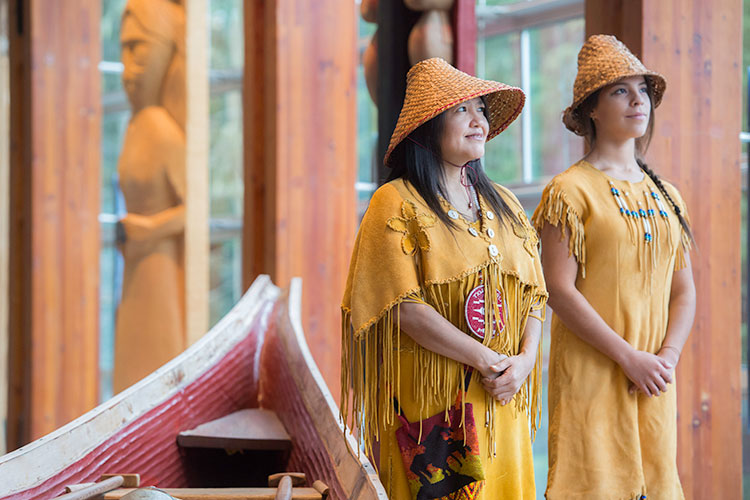 Self Care
Sometimes you need to hit the pause button, slow down and take time to care for yourself. A day at the spa or yoga studio is more than an indulgence, it's therapeutic and a break for both body and mind.
Scandinave Spa
Combining the restorative elements of a spa and the healing power of nature, the Scandinave Spa is a Nordic haven of relaxation. They suggest you do at least three rounds of hydrotherapy when you visit, which consists of heating the body up and then quickly cooling it down. They have a whole range of elements on site for you to explore including hot pools, eucalyptus steam rooms, saunas, solariums, fireside chairs and ice-cold waterfalls.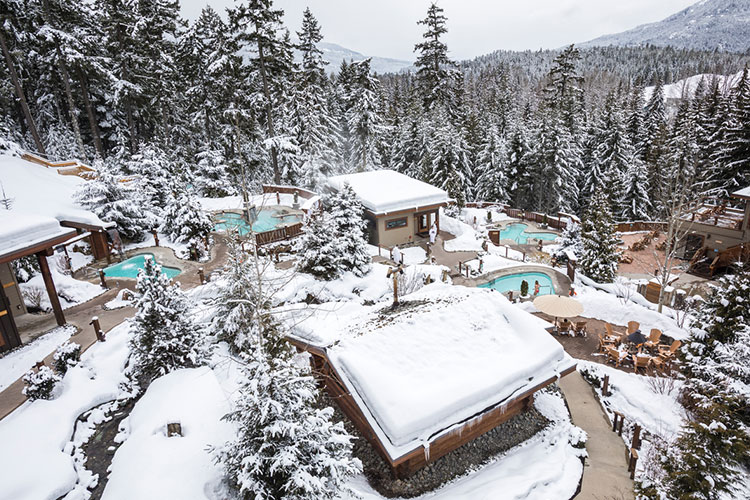 Yoga
Give your body and mind a stretch with a class at one of Whistler's yoga studios. A morning class can be just the way to start your day right before heading out on an adventure. We caught up with local yoga instructor, Emily Kane earlier this season and she took us through some pre-adventure stretches and poses in Pre and Post Mountain Yoga Stretches for Skiers and Snowboarders.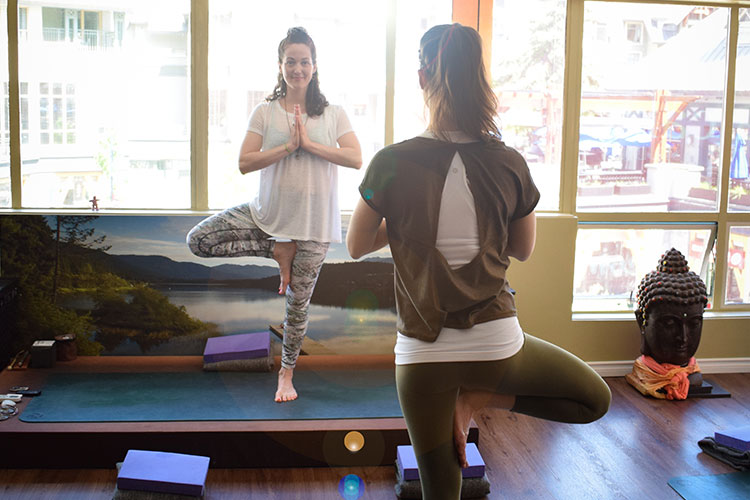 Adrenaline Adventuring
You don't need to hit the slopes to get your heart pumping and adrenaline flowing. These activities may make you briefly question your life choices, but then leave you grinning ear to ear.
Bungee Jumping
If all your friends jumped off a bridge would you do it too? Yeah probably, if you were at Whistler Bungee. Set a dizzying 50-metre (160-feet) over the scenic Cheakamus river, this bungee spot is as beautiful as it is terrifying.
They're open year-round, so if you can't make it this winter there's no excuse to chicken out this summer!
View this post on Instagram
Ziplining
Are you craving the rush of soaring down a mountain? You can capture that feeling without ever having to strap on a board or skis with ziplining. On a tour, you'll glide over old-growth forests, ice-cold streams and be able to look out over the Coast Mountains all around you.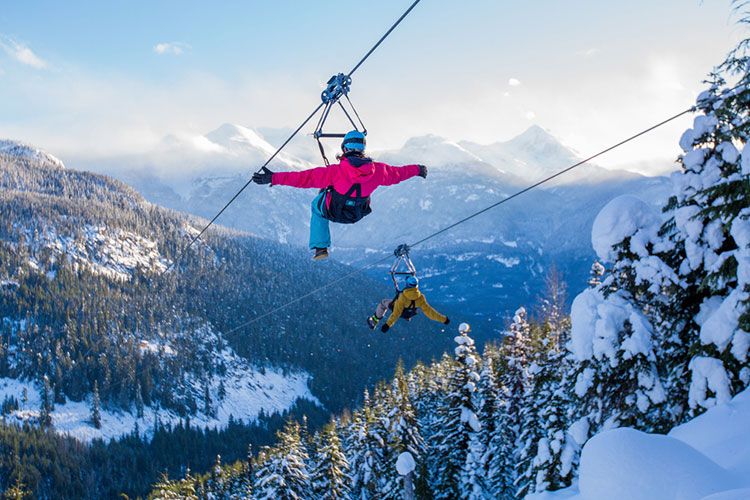 I've only just scratched the surface of what there is to do in Whistler for non-skiers. To learn more and to book, the team at Whistler.com is always there to help.
Book your winter trip now to secure up to 25% off lodging, 65% off lift tickets and 45% off rentals. Come experience Whistler Blackcomb's extensive terrain and adventure at every turn to see why we're known as one of the best resorts on the planet. Secure your winter getaway with Whistler.com for Flexible Cancellation and our Price Match Guarantee. Want to win a winter trip for two to Whistler? Check out our Drop In to Winter contest.