You can have a whole load of fun in Whistler without blowing the budget. Having lived the ski bum dream myself, I'm no stranger to getting creative for maximum fun, with minimum spend. Here are my tips and secrets for taking full advantage of the best deals this town has to offer.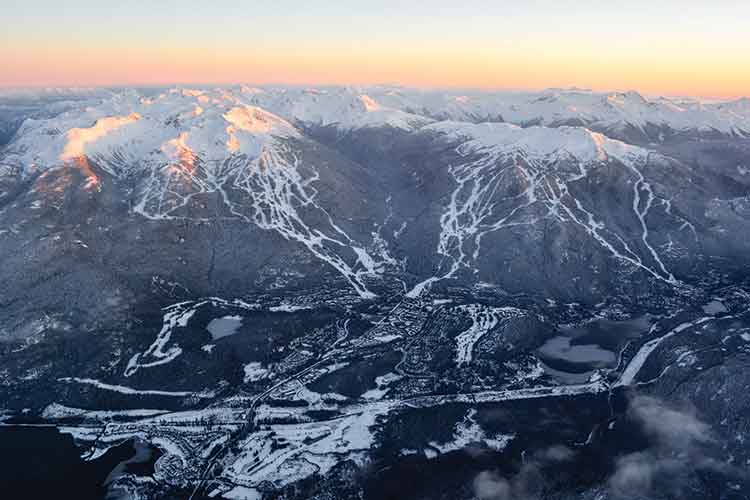 Events
Whistler's events calendar is stocked with endless options, and quite a few of them are free. Here are a few of my favs, mixed in with what's coming up for this season.
Whistler Blackcomb's Fire & Ice Show
Every Sunday night in winter (until March 24), the Fire & Ice Show lights up the sky at Skier's Plaza. The free show features skiers and snowboarders jumping through flaming hoops accompanied by live music, fire spinners and fireworks. The best viewing spot is right in Skier's Plaza, at the base of Whistler Mountain.
If you have a bit of budget to spend, I recommend catching the show from the heated patios of the Longhorn Saloon, or Garibaldi Lift Co. (GLC). Their slopeside tables make it possible to enjoy dinner and drinks during the show, but they fill up quickly, so arrive well in advance to secure prime seating.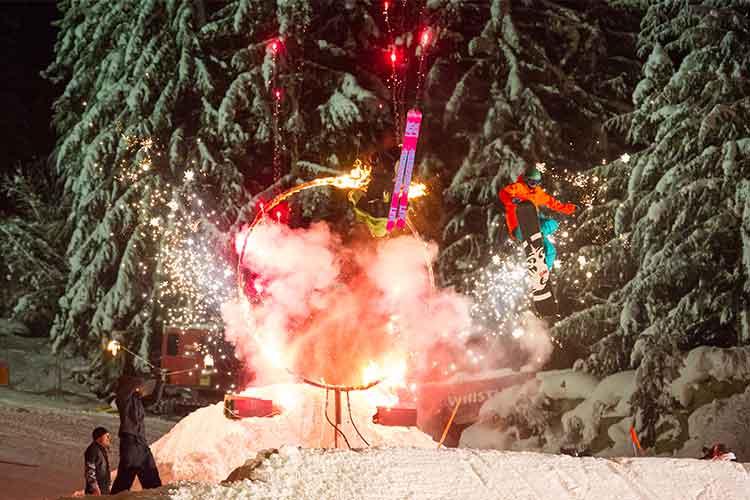 Family Après
In Whistler, our definition of après includes a whole lot more than post-skiing bevvies (although we do have plenty of that). Every Monday and Wednesday from 3 – 6 PM, Whistler Olympic Plaza is transformed into a winter wonderland for Family Après.
The event includes hot drinks, cookie decorating, face painting, entertainment, tobogganing and skating. Access is free for everyone, with a few blue, complimentary sleds dotted about and skate rentals for $6. Note — Family Après wraps up March 27, 2019.
[pi_ifg data_shortcodeid='pi_ifg' data_shortcodeid='pi_ifg' data_shortcodeid='pi_ifg' data_shortcodeid='pi_ifg' data_shortcodeid='pi_ifg' pi_image_ids="12596,16809,16813,16878″ pi_insert_urls="https://www.whistler.com/blog/wp-content/uploads/2018/01/whistler-family-apres-150×150.jpg,https://www.whistler.com/blog/wp-content/uploads/2018/12/Whistler-Family-Apres-150×150.jpg,https://www.whistler.com/blog/wp-content/uploads/2018/12/Kid-having-hot-chocolate-at-family-apres-in-Whistler-150×150.jpg,https://www.whistler.com/blog/wp-content/uploads/2018/12/Family-apres-in-Whistler-150×150.jpg" pi_type="custom" pi_style="tiled_gallery" pi_slideshow_limit="20″ pi_maximun_width="" pi_slideshow_autoplay="" pi_slideshow_auto_height="false" pi_slideshow_single_item="0″ pi_slideshow_items="5″ pi_slideshow_items_desktop="5″ pi_slideshow_items_tablet="2″ pi_slideshow_items_mobile="2″ pi_tiled_gallery_limit="20″ pi_rowheight="100″ pi_maxrowheight="200%" pi_fixedheight="false" pi_lastrow="nojustify" pi_showcaption="true" pi_randomize="false" pi_margin="5″]
World Ski and Snowboard Festival (WSSF)
If you're lucky enough to be here from April 10 – 14, 2019 you'll get to take part in the World Ski & Snowboard Festival, a celebration of snow sports, music, arts and mountain culture. The schedule is jam-packed with events including the Big Air Competition, free music concerts at Skier's Plaza, free art shows, and ticketed film and photography nights in the Whistler Conference Centre.
The ticketed shows sell out quickly, so I recommend getting those early if you want to go — look out for early bird and bundle pricing on multiple tickets.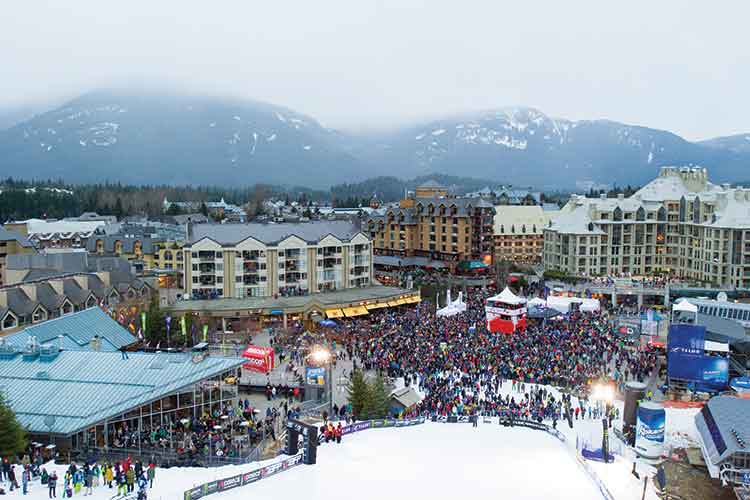 Outdoor Activities
Tube Park
A morning or afternoon at the Whistler Blackcomb Coca-Cola Tube Park is such a blast, starting at $23 for adults and $17.50 for kids. When you're at the park, you're given a tube (it looks like a big doughnut), and you ride up the magic carpet (a conveyor belt on the snow) to the lane gradient of your choice as many times as you can fit in! A bonus to visiting the Tube Park is the free gondola ride from Skier's Plaza to Base II where the Tube Park is located — the ride over the river, ski slopes, and chalets can feel like an activity in itself.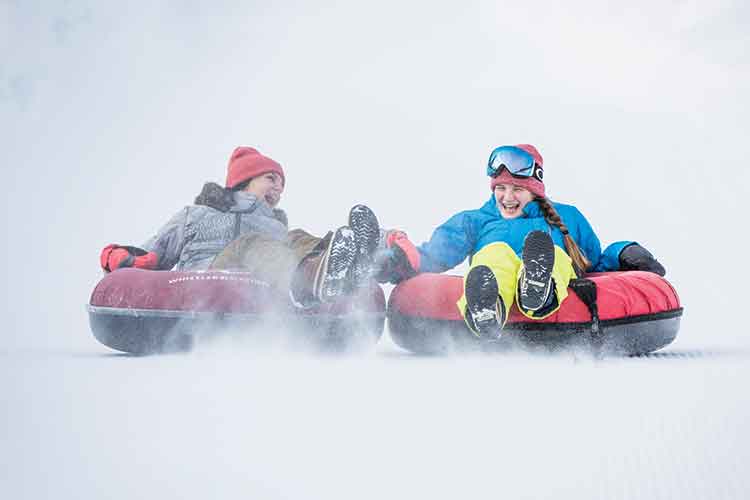 Snowshoeing
Snowshoeing is essentially winter hiking, so with a bit of gear and trail access, you can spend the whole day exploring some incredible terrain. The best places to go are Lost Lake Park ($22 for an all-day adult pass, $44 for a family — if you go after 3 PM it's 50% off) and Whistler Olympic Park ($16.50 for an adult, $8.75 for youth, and kids 6 and under are free). Both have rentals (ranging from $10 — 20) available on site, and their marked trails make navigation easy.
If you have your own gear, or if you're feeling a little more adventurous, the Cheakamus area has some great options. Some of my favourite trails are Whistler Interpretive Forest, Train Wreck, and Crater Rim. They're all fairly easy to navigate, but make sure to have a good map, let people know where you are going, and pack plenty of snacks and water. For more suggestions, take a read of this blog post by fellow contributor Nikkey Dawn: Insider's Guide to Snowshoeing in Whistler.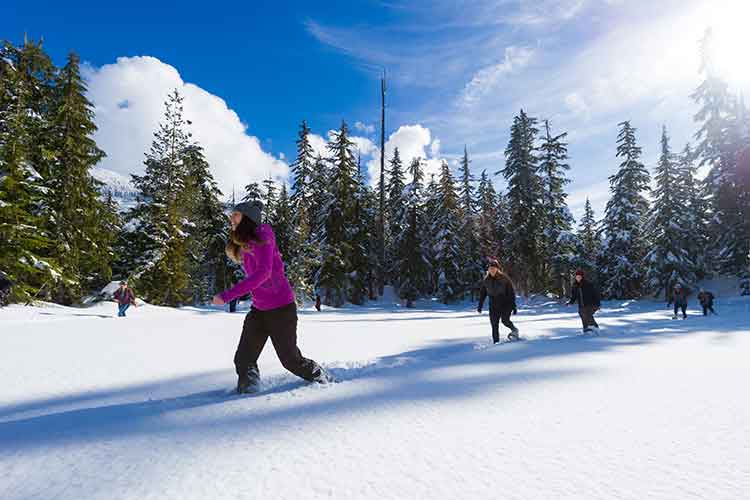 Ski Lessons, Sliding Experiences, and XC Skiing
There are certain times of the year to look out for great deals on learning to ski and snowboard. In December, Whistler Blackcomb has what they call "Never Ever Days" where you can get a full day, level one, Max4, beginner package (including a lift ticket, rentals, and instructor) for just $25. The exact dates fluctuate year over year, but it's typically over one weekend, and historically it's in December. They also have Discover Whistler Days, where you can get 25% off group lessons early in the season (Nov 26 – Dec 14, 2018) and late in the season (Feb 25 – March 10, 2019).
A program that Whistler Sports Legacies runs is their Discover Skeleton and Discover Bobsleigh programs, which encourage Canadian residents aged 14-25 to have a go at sliding sports for $50 — this program has been expanded into March due to its popularity.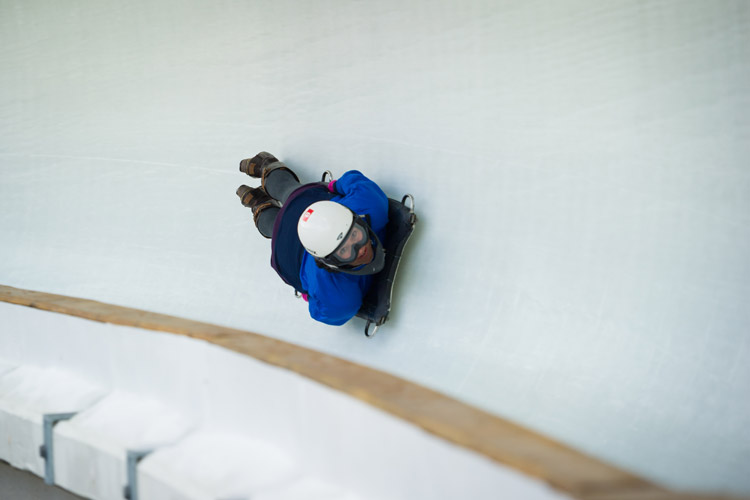 Indoor Activities
Axe Throwing
For a truly Canadian experience, it's well worth the short trip down to Function Junction to try axe throwing at Forged! At first glance, throwing axes can seem like a pretty intimidating sport to try, but their staff are pros at making sure you're having fun while staying safe. You don't need to pack any special gear for this activity other than closed-toed shoes, everything else you need is included in the reasonable $35-per-person price.
While you're down there, make sure to stop in next door for a cold one at Coast Mountain Brewing. They're constantly trying out new flavours, and their staff are an endless source of brew knowledge.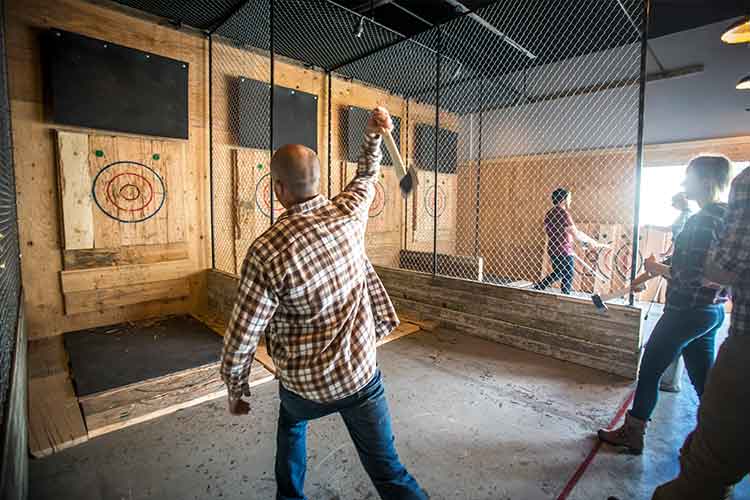 Tuesday Movies
For a good value, Tuesday night activity, I recommend catching a show at Village 8 Cinemas on their discount movie night. They have a good selection of family-friendly flicks and box office favourites to help you kick back, relax and recharge. Discount movie night is pretty well known around town, so expect a bit of a crowd — I recommend arriving early to avoid sitting in the dreaded front row.
Whistler Public Library
Our beautiful library is a hidden gem well known by locals, but often off the radar for visitors. Not only is it a great place to snuggle down with the latest thriller, but it's got a robust events calendar that's great for families, kids, teens, and adults with film screenings, games nights, guest lectures, and craft and story times. Most of these events are free or have a very minimal charge.
Good Value Eats
El Furniture Warehouse
With all food items on the menu only costing $5.95, El Furniture Warehouse is hugely popular for a tasty dinner for less. The portions are big for the price, so I've found ordering two items is usually plenty.
View this post on Instagram
The Old Spaghetti Factory
To feed the whole family on a budget, it's hard to beat the Old Spaghetti Factory. Families have been filling that place for years because every main comes with bread, soup or salad, ice cream, and tea or coffee to finish. Seriously, you may need to loosen your belt a notch or two on your way out.
View this post on Instagram
 La Cantina
Another favourite spot of mine for great food for less is La Cantina. Located in Marketplace Shopping Centre next to IGA, they feature authentic Mexican dishes in generous portions leaving you full and happy. You can enjoy your meal in the restaurant, or outdoors at the adjacent Olympic Plaza.
View this post on Instagram
Learn more about fast and good value options for dining in town – Dine and Dash (Legally) in Whistler: Where to Get Food Fast.
Après
Drinking can be one of the fastest ways to blow your budget in Whistler. If you're anything like me, once that cold frothy drink hits my lips, all thoughts of sticking to a budget go out the window. The best thing you can do is plan your après at a location with great deals. A bit of planning ahead can save you some serious sticker shock at bill time.
It goes without saying, but it's important, so I'll say it anyway. Don't forget to plan a designated driver, choose accommodation that's central and walkable if this is a big focus of your trip, or take a look at our transit system schedule to make sure you've got a plan to get home safe and sound.
Crystal Lounge
Crystal is by far my favourite après location when I'm looking to go easy on my wallet. They always have a wide range of daily specials on beer, wine and cocktails. I highly recommend their beer and burger combo for great value and large portions. This bar is a little bit hard to find, it's at the bottom of the stairs behind Lululemon in the Crystal Lodge and Suites. They host karaoke nights, local bands, and the odd comedian, so there's always something going on!
View this post on Instagram
Earls
For how nice this place looks you would think that having après at Earls would be pricey, but it never ceases to amaze me how great their specials are. Their deals on drinks and bites vary by the day of the week, but I can tell you that the Wing Wednesday deal has become a local favourite. For even more savings, they have happy hour from 3 – 5 PM and 10 PM until close.
Spring rates start at $139, and with March being a historically snowy month it's not only great time of year to ski, but also to relax on a sunny patio.
If you're a BC or Washington resident, it's worth signing up for Whistler Rewards (it's free) as you get deals, perks, and special savings that can't be found elsewhere.
Whistler.com vacation experts can help you navigate all there is to do in Whistler so let them help you plan your trip to the mountains. See you soon!