I'm no cicerone (beer expert), but I do enjoy a cold one at the end of the day. I typically like things simple — an easy-drinking lager or session ale accompanied by some good company will do nicely. However, more recently, I decided to get out of my beer-tasting comfort zone and joined the new Whistler Craft Crawl crew for a tour dedicated to the hoppy stuff.
The Whistler Craft Beer Challenge
Starting at 1 PM, the tour takes you to four different locations, highlighting at least one, local craft brewery at each place, meaning you sample around 16 – 20 beers in total (in five ounce servings). It showcases the nuances between the brews by comparing lagers, stouts, ambers, IPAs and pale ales, all served in four, five-ounce glasses, collectively called a "flight". In essence, you get to drink a bunch of beers, with a knowledgeable guide there to satisfy the beer nerds, the mildly curious, and the simply thirsty.
BC has an amazing number of craft breweries, enough that we even have a dedicated BC Ale Trail website, full of possible beer-filled routes you can explore. Two local breweries are right here in Whistler — Whistler Brewing Co. and Coast Mountain Brewing. Although trips to the actual breweries are not included on this tour, both certainly feature on the flight menu.
The Crew
It was a quiet group that started the day, however when the first flight of beers arrived, the conversation started flowing. We found commonalities through the beers we liked and the ones we didn't. The afternoon was filled with laughs, the sharing of stories, comparing our experiences in Whistler, and learning more about our fellow travellers.
Our group consisted of a pair of cousins from Seattle and their wives, and a crew from Australia including a daughter, her father and her husband celebrating his birthday. As a solo woman, this was a great activity to go on — there was a perfect balance of socialising, discovering new beers and bars, and learning. This is all part of the concept of Whistler Craft Crawl, which is as much about the socialising, as it is the beer tasting.
Our guide, Brittney, was born and raised in Squamish and was incredibly knowledgeable about the breweries and the beers they produce. As the tour went on she would interject with little nuggets of information here and there, answering questions and snapping a few photos so we'd have some memories from the day to look back on. It was go time!
Note for beer nerds: There is a special hoppiness to all of the beers that are brewed in this region, because of the ingredients and preferences that exist in the Pacific Northwest. A tour like this is a great way to try the many different flavours this creates and see what all of the fuss is about!
Stop #1: The Cinnamon Bear Bar & Grille
The flight in the Cinnamon Bear, located inside the Hilton Whistler Resort & Spa, was arranged from a golden yellow lager to a very dark winter ale, all from Vancouver Island Brewery.
Some of my beer-tasting buddies diligently followed our guide's recommendation, starting at the lightest coloured beer and almost finishing the small glass before moving on to the next one. I tried a different technique, taking a small sip from each of the four glasses arranged in front of me, and then drinking the full glass of the one I liked the least, so that I could end this flight by drinking the one I liked the most.
Brittney's beer nerd tip: Like wine, beer is typically tasted from lightest to darkest, or from the least hop-filled to the hoppiest IPA on the board. As you sip the beer, breathe out through your nose and you'll pick up on the flavours described to you by your guide.  
Stop #2: Black's Pub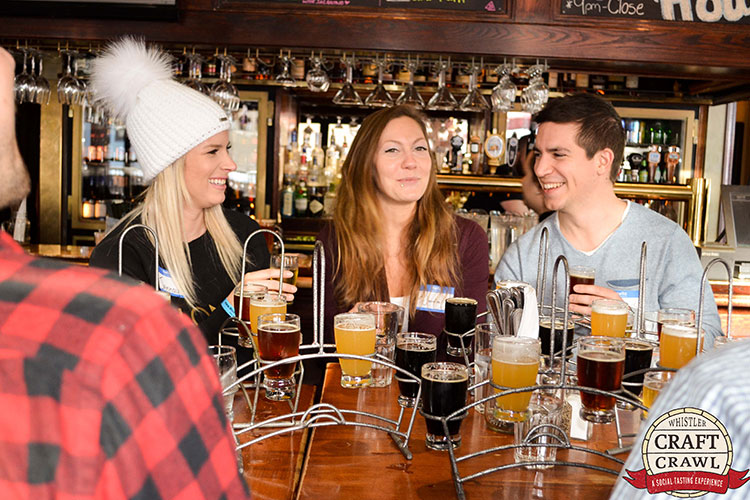 On the heated patio of Black's Pub, right at the base of Whistler Mountain, we enjoyed the fresh air and great views of skiers winding their way down the slopes. The flights consisted of a selection from Whistler Brewing Co. and Granville Island Brewing, once again arranged from light to dark on gorgeous, metal stands.
Brittney's beer nerd tip: Whistler Brewing was the first brewery in Whistler, opening in 1989. With so much history and years under their belt they have nailed their flagship beers. Through the winter months we sample their Chestnut Ale, a classic "by the fire" kind of beer, with subtle notes of vanilla and bold chestnut flavours. In the summer, it's their Grapefruit Ale, with its juicy grapefruit finish and all the punch and fizz of an ale — the perfect refresher for a sunny day.
Stop #3: Brickworks Public House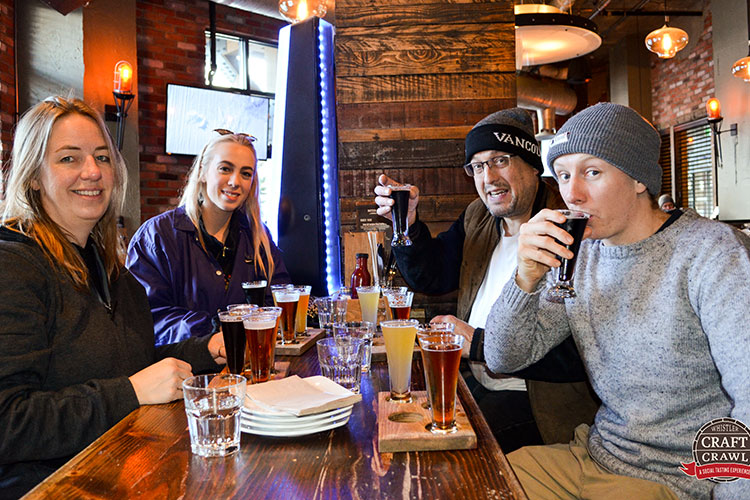 Along with the beer flight, we nibbled on delicious, warm, polenta bites served with a smoked tomato ragout. In addition to some fun Fuggles & Warlock beers, we also tried a cider. We were getting the hang of this drinking thing, and a couple of the guys on the tour ordered pints of one of the beers from the flight because they liked it so much.
Brittney's beer nerd tip: There are so many craft breweries in BC, it can be hard to keep up with the rotating taps. We're big fans of Bridge Brewing from North Vancouver's Deep Cove area, who usually have their Bourbon Blood Orange Wheat Ale on tap. This is a beautiful, juicy beer that's crisp and refreshing. Fuggles and Warlock from Richmond BC, are a creative and fun brewery who like to throw a curve ball or two flavour-wise. Their Espresso Stout is smooth, with hints of chocolate and a whole lot of espresso — the perfect dessert beer.
Stop #4: Hunter Gather
Our final stop was at Hunter Gather, which was such a lovely place to end the tour, as it feels like a West Coast brewery with it's industrial look and lots of beers on tap. They served us abundant plates of smashed potatoes, which definitely hit the spot! We enjoyed some Whistler-based, Coast Mountain Brewing beers and reflected on a day well spent.
Brittney's beer nerd tip: Coast Mountain Brewing is the newest brewery in Whistler (2015) and has fast become a local favourite. Ask for Coast Mountains Surveyor IPA — it's rich with hops, but not over the top. If you want to try a full flight of their beer without going to the tasting room in Function Junction, check out Hunter Gather, where their knowledgeable staff can walk you through a full menu of Coast Mountain delights. 
Whistler Craft Beer Challenge Complete
We discovered locally-owned bars, off-the-beaten-path locations, some of the best people-watching patios, and of course — a host of new beers. This three-hour experience helped us all uncover a side of Whistler we didn't know and dive deeper into the diverse craft beer market of BC.
If you fancy some flights of your own get in touch with the Whistler.com team who can help you get set up with accommodation and a Whistler Craft Crawl tour. If you're from BC or Washington, be sure to sign up for their Whistler Rewards program (it's free), which gets you access to exclusive deals and discounts.
Want to know where else you can get a flight of something tasty? Take a look at Flights of Fancy: A Whistler Taste Test. 
Know your limit, stay within it – hoppy drinking!