Updated January 2022.
Whistler might have made its name as a ski resort, but it's far more than that. It has a ton to offer families — with kids of all ages — on and off the famous ski runs. Here's a sample of activities divided by approximate age group that you can do off the slopes.
Babies, Tots and Preschoolers: 0 – 5 Years
Your Chariot Awaits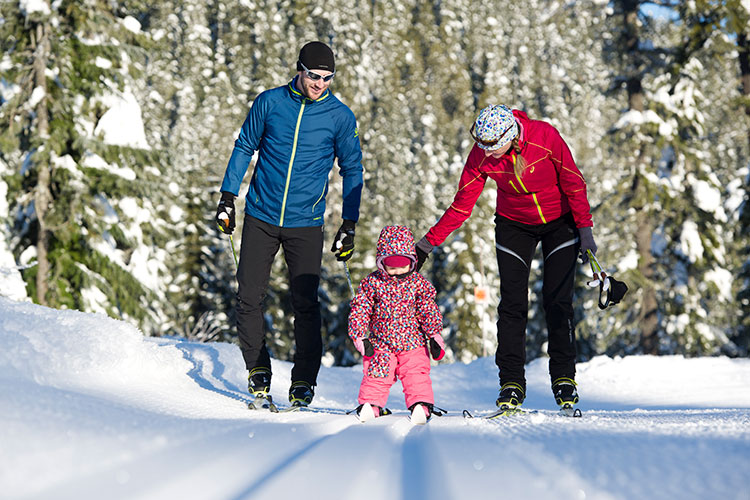 Wrap little tots up warm and take them Nordic skiing. You can rent a chariot for one or two children over 12 months old at Whistler Olympic Park, Callaghan Country or Lost Lake Park, and pull it behind you while you do classic or skate skiing. Preschoolers can do a little skiing themselves, then relax in the cozy chariot. Whistler Olympic Park also has a toboggan hill (currently not available due to COVID), and the food in their Day Lodge is tasty and affordable. Take a read of Fam Jam at Whistler Olympic Park: XC Skiing with Small Kids.
Go for a Ride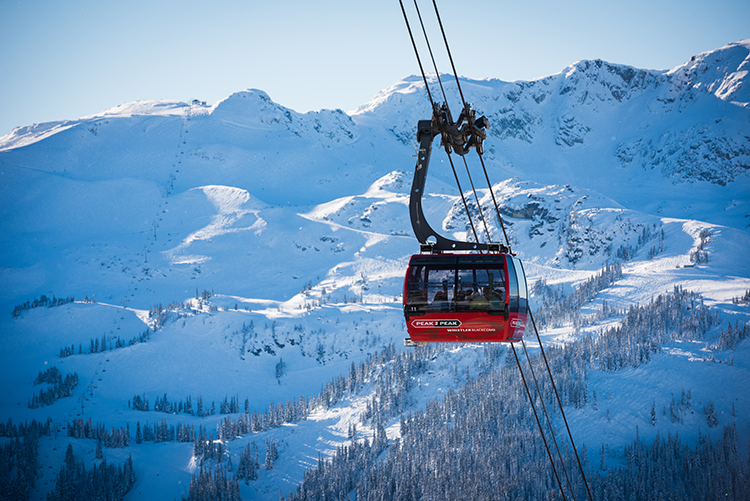 Take in the views on Whistler Blackcomb's gondolas. The Blackcomb Gondola allows you to travel up from the Upper Village to the Rendezvous Lodge (for a bite to eat you'll need a day-of reservation), take the record-breaking PEAK 2 PEAK Gondola over to the Roundhouse Lodge on Whistler Mountain (another chance to eat), then download on the Whistler Village Gondola. Choose a clear day and soak in the incredible views. Scroll down to the On-Mountain Dining information in the Know Before You Go: Skiing and Snowboarding at Whistler Blackcomb post before you head up on your adventure as some things have changed due to COVID.
Insider Tip: Once up the mountains there will be some very short walks on snow, so wear winter clothing and bring young children in a carrier if they can't walk by themselves. You can fit a stroller in the gondola, however, be aware that you'll have to push it over a bit of snow so unless it's got big wheels, a carrier might be the best option.

Whistler Sightseeing Tour
A Whistler Sightseeing Tour is a great way to see a lot without burning out the little ones. You'll be transported to Whistler's must-visit sights by a local and knowledgeable guide in a comfortable shuttle. There are some short walks at attractions but the paths are suitable for the whole family. As a bonus, the picturesque sights make a great backdrop to family photos!
Grade Schoolers and Tweens: 5 – 12 Years
Outdoor Adventure
Now, where do I start? If you're looking to burn off steam in the great Canadian outdoors, try a family snowmobile tour where kids aged five and above can go tandem with a paying adult. Some tours offer the opportunity to try a "mini-z" where the kids can have a go at riding their very own machine, while others include a ride to an igloo on Blackcomb Mountain!
Snowshoeing is another option to get the kids exploring, and Blackcomb Snowmobile's new tour features a trip to their Teepee for hot chocolate. Note that walking in snowshoes can be a bit daunting for the little ones so it's definitely for the adventurous. If you have a younger child that you can carry in a backpack that's an option too, but consider that walking through snow is definitely tougher than on solid ground.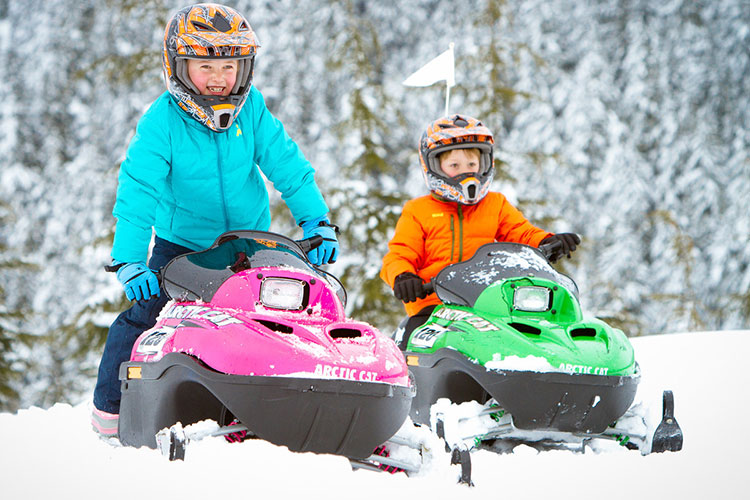 The Tube Park is another great idea, where kids big and small can try sliding downhill on a tube (like a donut ring). There's a conveyor lift, so there's no climbing uphill. It's open every day and you get there by taking a quick ride on the Excalibur Gondola from the base of Whistler Mountain (free to ride to the Tube Park). Children must be at least three (min height is 36 inches / 91 centimetres) and anyone under 12 must be accompanied by an adult. There are designated kiddie lanes for the little ones, washrooms, a snack hut, and fire pit all up there so you can hang out for as long as they want to slide.
Feel like flying through the air at high speed on a zipline? Superfly offers tours for ages seven plus (minimum weight is 60 pounds / 27 kilograms); and Ziptrek Ecotours offers twilight tours where kids ages six and up can tandem if needed (minimum weight is 65 pounds / 29 kilograms).
Fun in the Village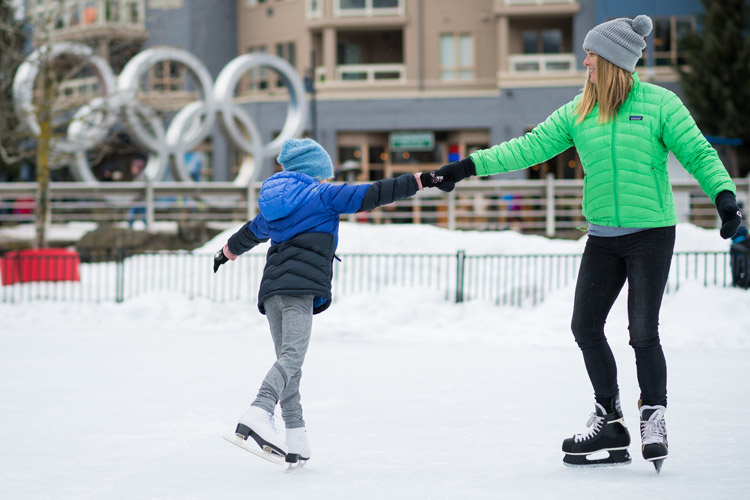 Keeping the activity options within Whistler Village, you can go outdoor skating at Whistler Olympic Plaza, and while you're checking out the shops, make it more interesting for the little ones with a Whistler Village Scavenger Hunt – you can download the map, or grab one at the Visitor Centre.
Indoor activities for this age-range include indoor rock climbing at The Core, which offers guided climbing sessions for kids aged four and up.
Soak in the Action
There's so much action, that sometimes it's nice to throw in a few activities that allow the kids (and you) to simply sit back and take in the sights. For thrills, you can head up to the Whistler Sliding Centre and watch the athletes train on bobsleigh, luge, and skeleton – take a look at their "This Week on Track" schedule to see what's happening. And, could always spend a cozy, lazy evening at Village 8 Cinemas watching a kid-friendly movie.
Get Cultural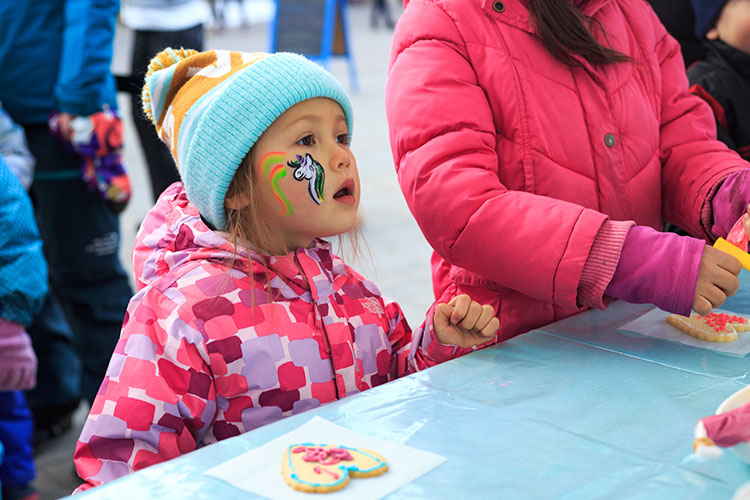 Feel like staying warm? A visit to the Squamish Lil'wat Cultural Centre includes a drumming performance, a short video, and a tour with a Cultural Ambassador. The Thunderbird Cafe is a hit with the kids too!
The Audain Art Museum is free for kids (18 and under) and is a fantastic place to connect with BC art. Ever carved stone? Fathom Stone offers soapstone carving classes for ages eight plus, where they can make bears, whales, or Inukshuk figures to take home.
It's also worth taking a look at the Arts Whistler events page for programming as they often have kid-based art afternoons where kids can get their craft on.
Evening Magic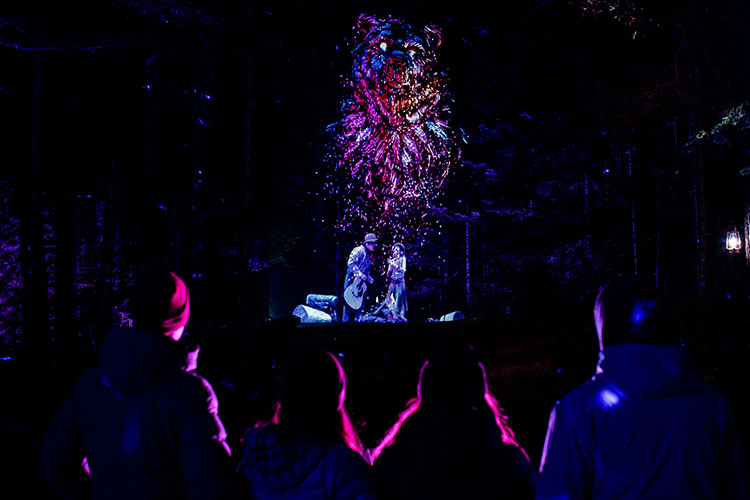 This early-evening idea is for anyone who likes a touch of magic in their lives, but I've placed it here because the start times are at 5 PM so it's a valid option for younger family members. Set in the forest, this is a multimedia walk in the woods where images are projected onto the trees. Our editor, Dee Raffo, took her three-year-old and everyone got wrapped up in the story of two hikers on the trail for stardust: Magic in the Mountains: Winter Vallea Lumina
Teens: 13 – 18 Years
Upping the Ante
In terms of outdoor adventures, the options are pretty incredible – with ziplining over the valley, snowshoeing in the wilderness, and bungee jumping over a glacier-fed river, just to mention a few. Ever tried target practice? Combine cross-country skiing with shooting when you try the biathlon experience out at Whistler Olympic Park in the Callaghan Valley. There are also options for lessons if this is something that piques your teen's interest.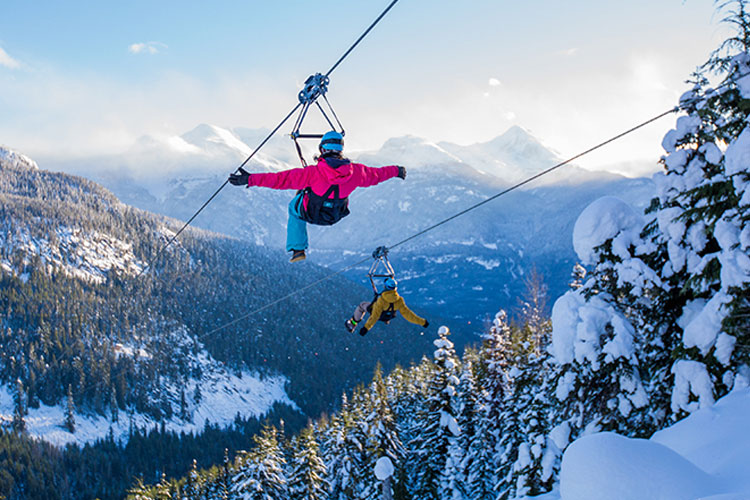 For indoor activities, The Core has climbing classes for ages 14 plus. Whistler Racquet Club has indoor tennis, and there's squash at Meadow Park Sports Centre (reserve your court at 604-935-PLAY(7529). For an activity with a Canadian spin take a look at Forged Axe Throwing. As the name suggests, it involves wielding a few sharp things so it's definitely an adult-supervised option for kids ages 10 plus. It's located in Function Junction so you will need to drive, catch the bus, or grab a taxi. FYI – there's the Coast Mountain Brewery right next door for an after-game beer for you, and soda for the kids!
Did you know there's a pirate ship at the base of Whistler Mountain? Well, there is. It's one of Escape! Whistler's puzzle rooms where you have to solve clues to get out in time. Your family will have to work as a team to beat the clock – good luck!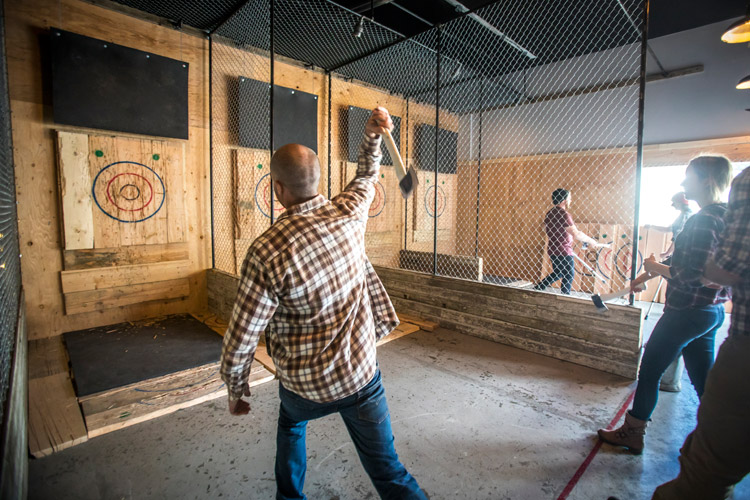 P.S. One more idea for any age with a sweet tooth! Head out on a treat hop sampling goodies from Purebread, The Great Glass Elevator, Cows and Rocky Mountain Chocolate.
Dressing Kids for Winter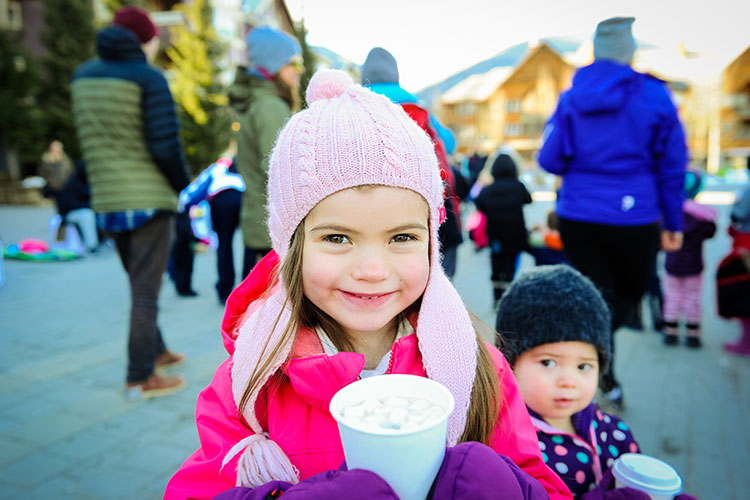 New to Canadian winters? As a UK transplant, I was nervous about how to dress my young son for the cold. For infants, keep things simple with warm under-layers and then a snowsuit that folds over their hands and feet, topped with a hat that covers their ears. For toddlers and older children, a snowsuit or winter jacket and pants with sturdy winter boots, snow gloves, neck gaiter and a hat will keep them warm when playing in the snow. Consider packing a few spares of the essentials, bring blankets, and have mittens on a string! Whistler does have a baby-gear rental service and clothing rental service if luggage space is a bit tight!
Whew! That's quite the list, and it's hard to cover everything there is to do for families in Whistler but this should give you some ideas. For more activity suggestions, family fun over the festive season, and general info on visiting Whistler give the Whistler.com team a shout.
Book your winter holiday with Whistler.com Whistler.com today to secure the best rates for the winter 2022/23 season (save up to 45% on lodging and 61% on lift tickets). It's easy to book your vacation when you have the freedom of our Flexible Cancellation options backed by our Book With Confidence program.