Twas the weeks before Christmas and oh what a blast, Whistler Village is lit – it's winter at last. In Whistler, we're lucky, it's not only Old Saint Nick who gives us gifts but Ullr (make that Skaði) too. With the snow falling and our fairy lights twinkling, it's time to get your tinsel on for Whistler's festive events.
INSIDER TIP:
If you're in Whistler over the festive period you're going to need to book your dinners, especially Christmas dinner. Take a read of our
Insider's Guide to Christmas Dinner
in Whistler for tips and ideas.
Entertaining the Kids
This Whistler festive event is loved by parents from far and wide as we all know that happy kids mean happy parents. From December 23 to January 6, you can take them to the Wintersphere at the Whistler Conference Centre for some free, family fun. There are bouncy castles, table games, mini putt, crafts and their signature holiday maze.
If you need snacks (or a coffee) they have you covered at the Holiday Cafe in the lobby area. Wintersphere is open from 10 AM to 6 PM with extended hours on New Year's Eve, 10 AM to 8 PM – note that Wintersphere is closed on December 25.
If you want to stay outdoors, head to Whistler Olympic Plaza. The Snow Zone offers free tobogganing and skating (skates available to rent).
INSIDER TIP: If the kids are climbing the walls for something active while you go out for dinner this festive season, then let them do exactly that at The Core. Sign your 7- to 14-year-old up for a night of indoor climbing and pizza party fun from 6 to 9 PM, while you enjoy a slap-up meal with your other half.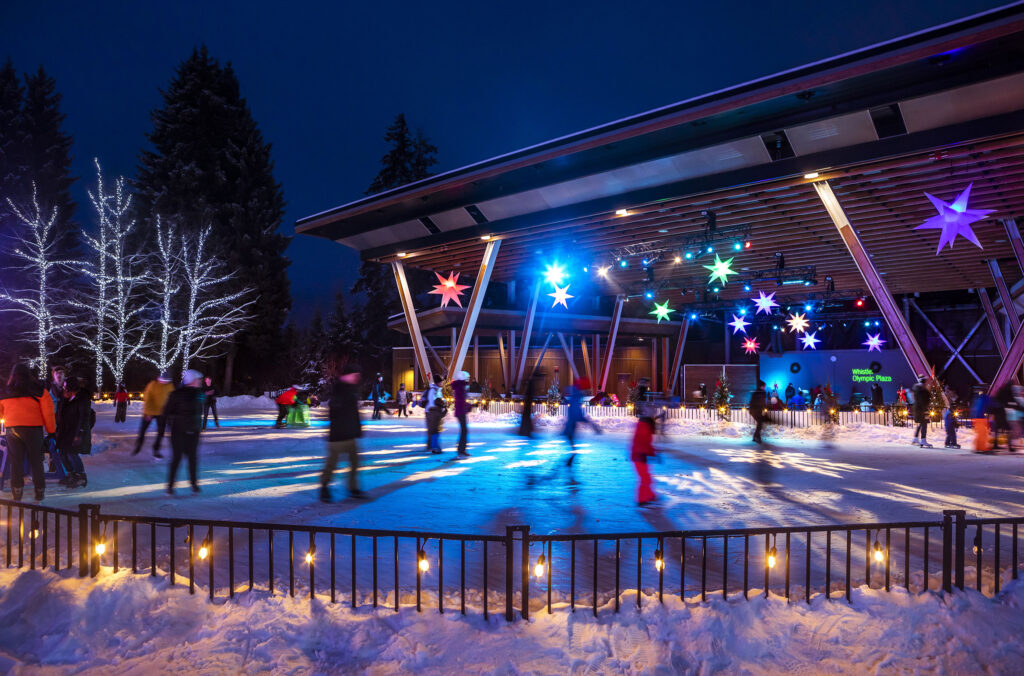 Take in the Lights
In addition to Whistler's Twinkle Town light display, which you can explore using the free, Go Whistler Tours app, visitors can get their tree fix at the Four Seasons' magical Tree Lighting Ceremony and Fairmont Chateau Whistler's Trees of Hope artist exhibit.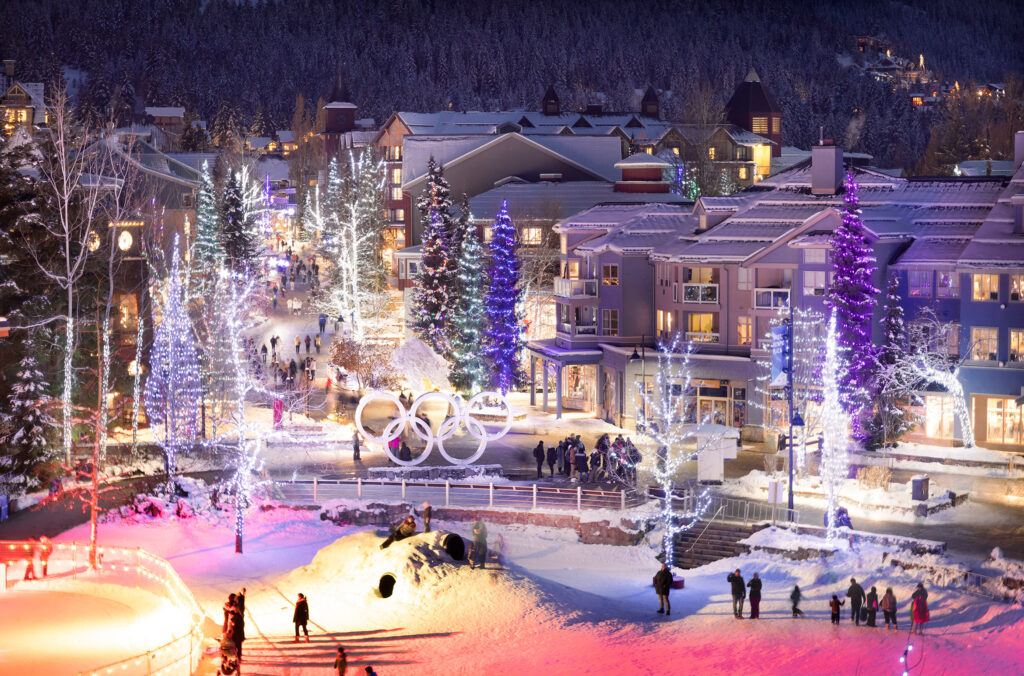 Where to Find Santa at Whistler's Festive Events
Even though Santa does have a busy schedule, he manages to find time for a few stops at his favourite ski resort for some festive events. You can also catch him, and his buddies, hitting the slopes on Friday, December 15 for Dress Like Santa Day.
The first 100 Mr. and Ms. Claus who show up at the Garibaldi Lift Company (GLC) at the base of Whistler Mountain in full Santa-inspired attire at 8 AM will receive a complimentary lift ticket in exchange for their festive cheer. Get your cameras ready as the participating Clauses look amazing when they head down to the bottom of the Emerald Express for a group photo.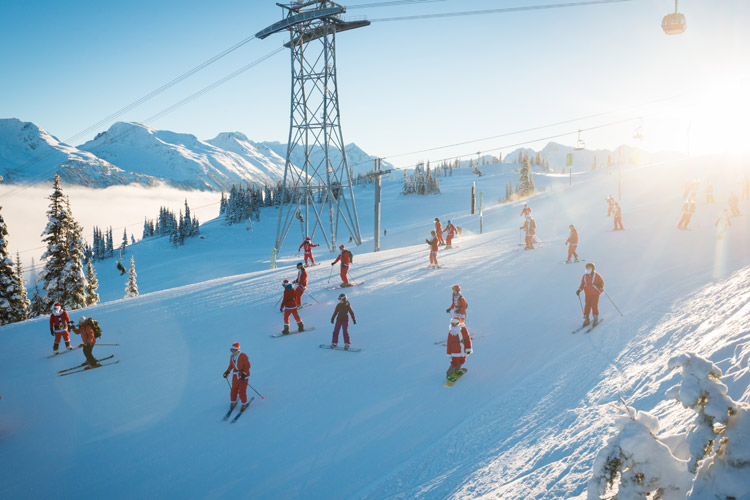 Father Christmas will be in Creekside on Sunday, December 3 at the Creekside Village Christmas Market, which is open from 11 AM to 4 PM. Local vendors are offering unique, handcrafted gifts and delicious seasonal treats, plus there will also be a mini Santa's Village for that sprinkle of magic, festive fun.
Join Santa from December 22 to December 24 for a magical portrait session at Blackcomb Springs Suites. Santa's posing for your family Christmas shots (pets welcome) on Friday, from 4 PM to 6:30 PM, Saturday from 4:30 PM to 6:30 PM and Sunday from 4:30 PM to 5:30 PM. No reservations are necessary and as for pricing, two digital images are $45 or get three for $55.  
Jolly St. Nick will also be at Wintersphere at the Whistler Conference Centre, which is open from December 23 to January 6. He'll be seated in the lobby area, times are still TBD but will be posted on the Wintersphere page when we have them.
Whistler Festive Events & Performances
Throughout December, you'll find roving carolers (The Whistler Singers) bringing cheer to Whistler Village on Friday, December 1, 8 & 15 from 6 to 8 PM, and Saturday, December 2, 9 & 16 from 3 to 6 PM.
Adopt a few family members this festive a The Point's Orphan's Winter Feast, happening Saturday, December 9. The evening includes a traditional Christmas dinner with all the trimming and two musical acts.
A full-length classical ballet in the mountains? Sea to Sky dancers and professional ballet dancers from Vancouver's Coastal City Ballet will be enchanting crowds on December 9 and 10 with Christmas classic, The Story of the Nutcracker. With showtimes including matinees, this event at the Maury Young Arts Centre is great for young lovers of dance as well as life-long fans.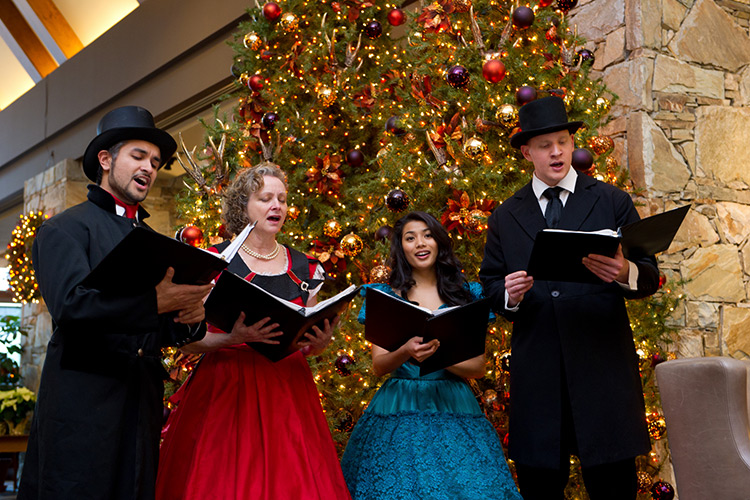 On Thursday, December 14 Arts Whistler Live! presents two award-winning powerhouses at their O Come All Ye Soulful event. Vocalist, Dawn Pemberton and bassist/bandleader, Jodi Proznick and an all-star band as they bring a joyful and soulful bounce to your favourite holiday classics. The music includes holiday classics made famous by Ray Charles, Stevie Wonder, Ella Fitzgerald, John Legend, Donny Hathaway, Otis Redding, Darlene Love, and more.
Whistler has a choir and they rock, fitting, as they're a rock choir. Join them at the Maury Young Arts Centre on December 15 at 7 PM for a Holiday Singapalooza with all the favourites that you can't help but sing along to. Then, on December 17 the Whistler Singers welcome all song-lovers to join them (by donation) at the Whistler Public Library for their annual holiday concert, Winter Lights at 7 PM.
Whistler no longer has a cinema, but Arts Whistler is filling that gap at key times of the year with The People's Film, and, as the name suggests, you have a say in it! For this festive season, they're asking film lovers if they're after something naughty or nice. Check out the film choices and trailers, with voting open from now until December 5 and the winning film being shown on December 20.
A Winter's Song Solstice Concert brings together harpist Alison Hunter, flautist Anne-Elise Keefer and vocalist Jeanette Bruce at the Squamish Lil'wat Cultural Centre on December 21 for an evening of festive music in celebration of the coming holidays.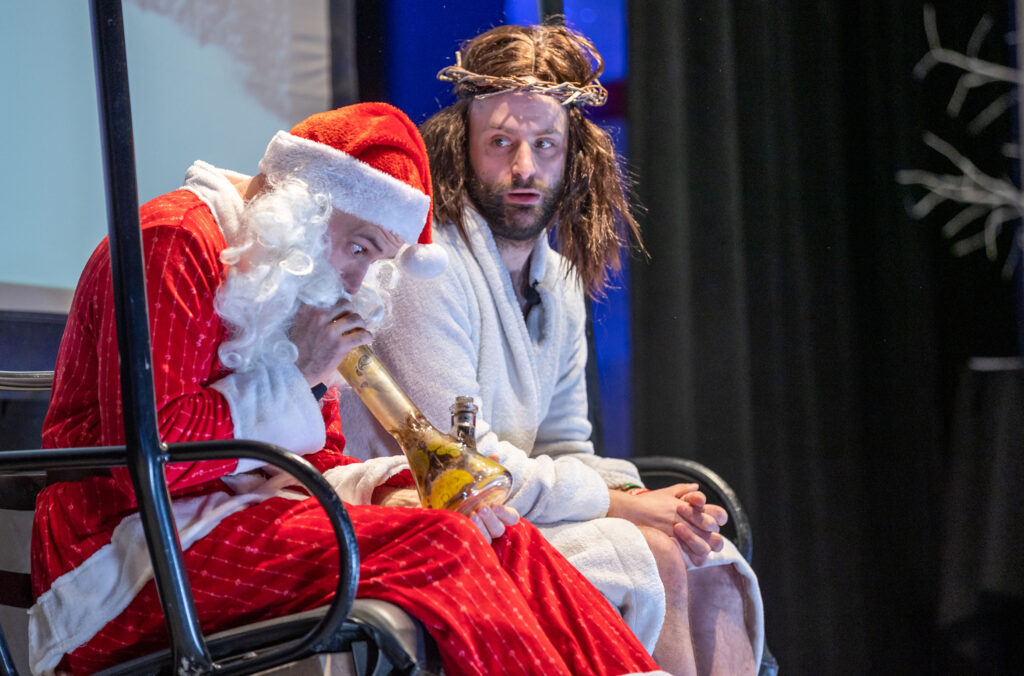 Get some post-Christmas giggles in with two nights of comedy happening December 29 and 30 at the Whistler Conference Centre with the Laugh Out LIVE! crew's Resting Grinch Face 2. It's Saturday Night Live meets Whose Line Is It Anyway? meets The Price is Right meets Whistler! A mix of high-energy improv, side-splitting sketches and uproarious stand-up it will get you ready to face 2024 with a smile on your face.
Last Minute Christmas Gift Ideas in Whistler
Head to the Strange Daze Pop-Up Market at the Align dance studio (downstairs in the Hilton) on Friday, December 8 between noon and 6 PM for vintage clothing, crafts, plants, jewellery, candles, hats, macrame and more! Entry is free and they have a raffle, music pumping and hot chocolates with a kick.
The Whistler Bespoke Market at the Audain Art Museum is on December 9 and 10, and it's all about socially conscious shopping with the market showcasing designers, makers and small shop owners. Pick up some one-of-a-kind jewellery, natural skincare products, artisanal foods and beverages, slow fashion and home goods.
You can get your $10 ticket at the door, or take advantage of early bird rates online (children 12 and under are free). Your ticket also includes access to the Audain Art Museum's galleries, which is a wonderful added bonus.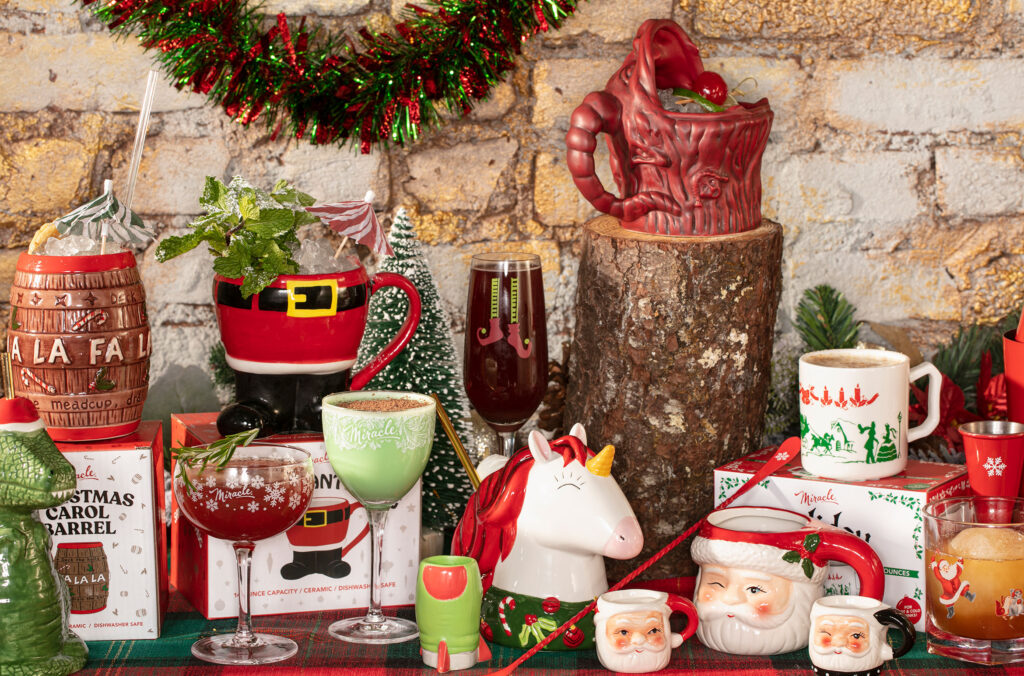 It's a Christmas miracle! The Raven Room is hosting the famed Christmas-themed cocktail bar pop-up, Miracle from November 24 to December 31. Think over-the-top, kitschy, festive décor and a themed cocktail menu with favourites such as the Christmapolitan and Christmas Cricket.
Why is this in the gift section you say? Well, they have some rather fun mug and glassware options to buy and they donate 10% of its signature glassware sales to the Seva Foundation, a global nonprofit eye care organization that works with local communities around the world.
If you're not in Whistler for the market, take a look at some of our gift guides; The Best Places to Shop for Whistler Gifts, Whistler Gifts With a Local Flora and Fauna Twist, Uniquely Whistler Gifts, Souvenirs and Keepsakes, and Made in Whistler Gifts.
Although, if you're in Whistler, a unique, mountain experience might be the gift that blows them out of the water this festive season. You could go for a once-in-a-lifetime experience like heli-skiing or dog sledding, take the family on an adventure in the forest at Vallea Lumina, zipping and snowmobiling, or help them get a leg-up on the skiing and riding with a lesson or camp. If you're not sure what to pick, try a Whistler.com gift certificate and a local travel consultant will help them pick and book whatever they want.
Looking for Hope and Faith Services?
December 10: Community Hanukkah Celebration, 2;30 – 4 PM – Whistler Public Library
December 24: Our Lady of the Mountains, Catholic Church – 9 AM / 9 PM / 11 PM
December 25: Our Lady of the Mountains, Catholic Church – 9 AM / 5 PM
December 30: Our Lady of the Mountains, Catholic Church – 5 PM
December 31: Our Lady of the Mountains, Catholic Church – 9 AM
January 1: Our Lady of the Mountains, Catholic Church – 9 AM
Check on our Christmas events page for more.
New Year of Cheer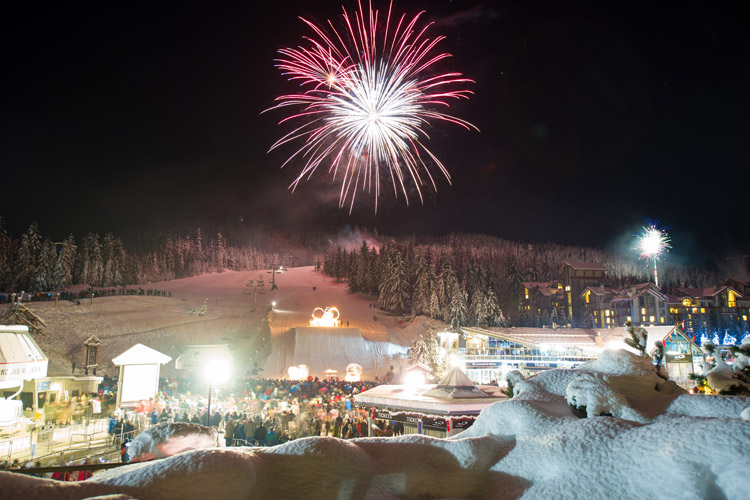 Whistler's New Year's Eve Celebrations offer a diverse range of fun activities, from relaxing yoga to high-energy dance classes, outdoor activities like disco skating, and the grand finale of the Luminosity Parade, Fire & Ice Show and fireworks. More details are coming out on December 8, so check out our New Year's Eve page for those details.
Not to be missed is the first Whistler Blackcomb Fire & Ice Show of the season, happening on New Year's Eve. The show is from 8:30 to 9 PM at the base of Whistler Mountain with athletes taking to the skies, jumping through firey hoops and dazzling the crowds with their twists and turns. The show is then followed by a fireworks display to celebrate the New Year!
Whistler's exceptional culinary scene has pulled out all the (wine) stops, but you'll need to get your reservations in early because Whistler is buzzing at New Year's. Here are just a few of your options:
Four Seasons Whistler has a New Year's Eve Gala, which includes an elegant buffet, live music and a glass of sparkling wine. Fairmont Chateau Whistler has three options, a four-course dinner at The Wild Flower or The Grill Room, or a New Year's Eve Gala Dinner & Dance, which features an indulgent buffet and the promise of note-perfect cover songs from today and yesteryear.
Hy's Steakhouse has two seating times with a table d'hote menu featuring decadent choices for everyone. The award-winning Wild Blue has two seating times, early seating is from 5 to 6:30 PM (2-hour dining window) with a three-course set menu with lots of options per course, and the late seating is from 8:30 to 9:45 PM and is a four-course dinner that includes a glass of bubbly to bringing in the new year. Quattro (fine dining Italian) also has two seating times and a sumptuous set menu, with early seating at 5 PM and late at 8 PM.
For more options take a look at our Dining Guide.
Whether you're destined to dance the night away or intend to mark this special occasion with a feast fit for Good King Wenceslas himself, Whistler's eclectic nightlife has you covered.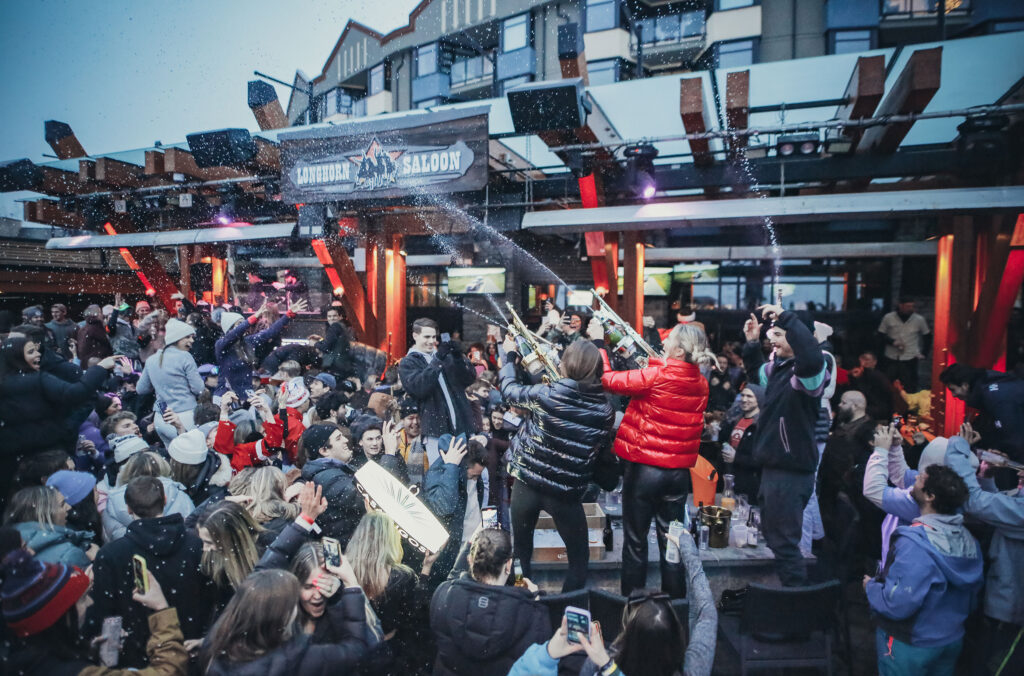 There's a Disco Inferno happening at Firerock Lounge, Bubbles & Bling at Garfinkle's, a Red Carpet Event at Buffalo Bills, Now That's What I Call Music at Longhorn, Mask a Rave at Moe Joe's and a Party Through the Decades at Après Après. Check out the New Year's Eve event calendar to plan your celebration, but if anything requires a reservation or ticket make sure you book early to avoid disappointment.
Whistler public transit is free on New Year's Eve; make sure you know how you're getting safely home at the end of the night so you can start the year right.   
Wishing a Merry Christmas to All and to All a Good Night!!
Need help planning your winter wonderland vacation? Let Santa's little helpers at Elf Headquarters (Whistler.com) pitch in and gift-wrap a festive travel itinerary you will remember for years to come. If you have questions, connect with the Ask Whistler team via text, WhatsApp and Facebook Messenger.