Updated March 2023.
After what seemed like a lifetime of short days with the sun setting unfairly early, spring is finally here and with it comes lengthier days. As our daylight hours stretch longer and longer that means more time for activities.
While everybody talks about how great winter and summer are, I don't think spring in Whistler gets enough credit for being a great activity season. Like a seasonal mullet, our mountains are all winter up top and summer in the valley.
So, pack up your car with your skis, bikes, canoe, yoga mat, running shoes, golf clubs, life jacket (and on and on), you're going to need them because Whistler in spring is the ultimate dual sports town.
Here are a few ideas to get you started.
One Mountain, Two Seasons
They say you always want what you can't have. In the late days of summer, I often catch myself craving some fresh turns and snow-covered trees, and in deep winter, warm hero dirt trails call my name. For just a few magical weeks each year, we don't need to choose between loving winter and summer activities because we can experience both on the same day.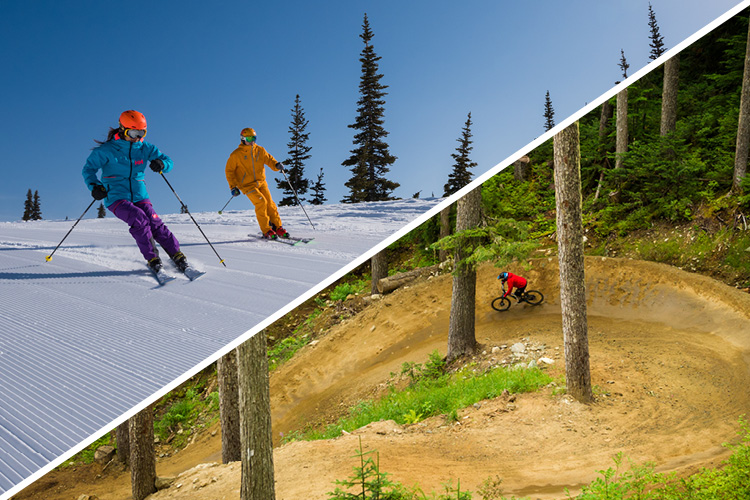 The snow-covered peaks and runs of Blackcomb Mountain will be open for skiing and snowboarding until May 22, 2023. A morning of skiing smooth, spring corduroy always goes down easy and is best enjoyed with good friends and family.
When the sun softens the snow to a thick spring slush, it's time to descend to the valley for two-wheeled adventuring. The 2023 opening date of the Whistler Mountain Bike Park is set for May 19, so I highly recommend picking up a pass and getting in some lift-accessed laps.
For those itching for berms and rocks before then, our world-renowned cross-country (XC) biking trail network has a little something for everyone, from very beginners to core riders.
Unsure of where to go? Don't worry, Hailey Elise and Ollie Jones share the intel you need to get started in Insider's Guide: Cross-country Biking in Whistler.
INSIDER TIP:
Early spring in Whistler does mean that some of our parks and trails are still sporting some snow, so be sure to do a bit of research before you head out. A good way of checking the XC bike trails is to visit
Trailforks
.
Rest & Reconnect
Spring is the ultimate season of renewal. As nature prepares for a season of growth, you should take note and do the same.
A yoga class at Yogacara calms the mind and stretches out sore muscles after a long winter. They offer classes in their studio in the heart of Whistler Village. See instructor and studio founder, Emily Kane in action in our post, Pre and Post Mountain Yoga Stretches for Skiers and Snowboarders.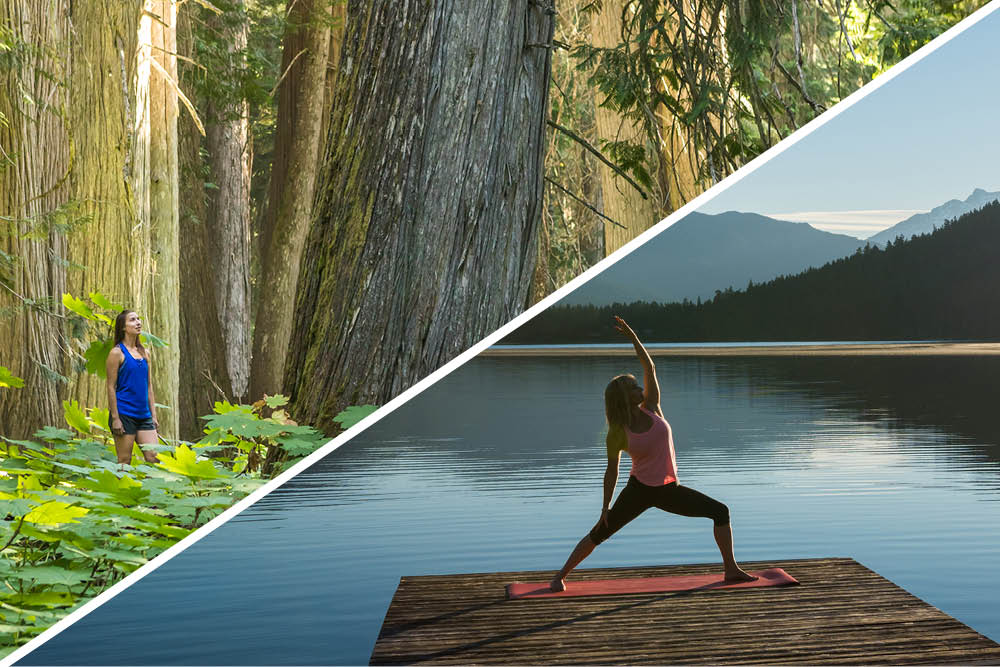 Time in nature can also be very restorative. It's no secret that a walk in the woods can do wonders for your mood, brain and energy, but many people don't know that there is an official term for this – forest bathing. To enjoy the full benefits of forest bathing there are a number of things you can do to enhance the experience. You can read more about it in Insider's Guide: Forest Bathing in Whistler.
Paddle & Pedal
As our lakes and trails melt out in the spring, they bring a world of family-friendly activities. First up you could spend a morning paddling the tranquil waters of Alta Lake. To explore farther, venture down the winding turns of the River of Golden Dreams.
While you can rent a boat and do this on your own, I highly recommend booking a tour (they typically start in May). Their knowledgeable guides will not only show you the way but also share fascinating info about Whistler and its ecology along the way.
INSIDER TIP:
Abby Cooper's post,
On the Water in Whistler
, is a great resource for all the water-based adventures you can have in Whistler.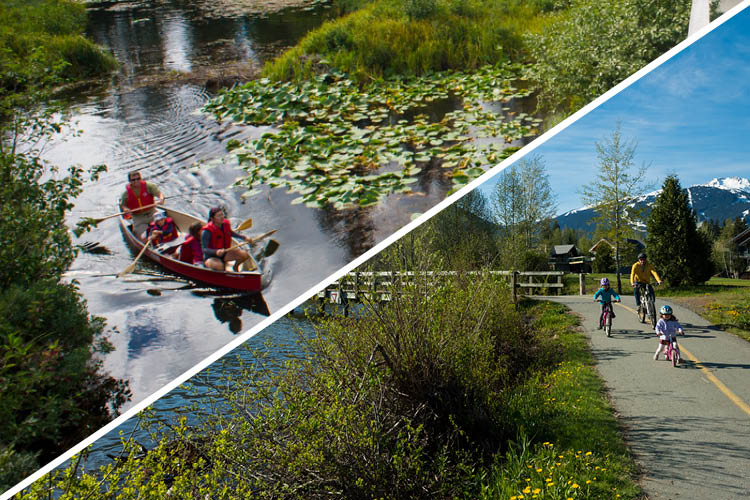 Once you've discovered some of our waterways it's time to venture out on our tracks and trails via bike. Your most leisurely option is to rent bikes and explore the Valley Trail. It's a paved, double-wide trail that connects Whistler from end to end and all the sights in between.
While it's smooth easy riding, it can also be a long way. You can explore further by renting an electric bike. Fellow insider, Dee Raffo, has put together some routes to get you started in Whistler Via E-Bike: 3 Routes To Explore. You can also download the free Go Whistler Tours app, which offers a series of self-guided tours within Whistler Valley.
Surf & Turf
I'm not a morning person, but the pictures I've seen of the misty morning links in Whistler could be just the motivation I need to set an early alarm. Starting your day with 18 holes at one of our four pristine golf courses means that you can have more fun before 10 AM than some people have all day.
The opening dates vary by course and are weather dependent, but typically open at the beginning of May; you can see the most up-to-date information on Whistler.com's golfing page.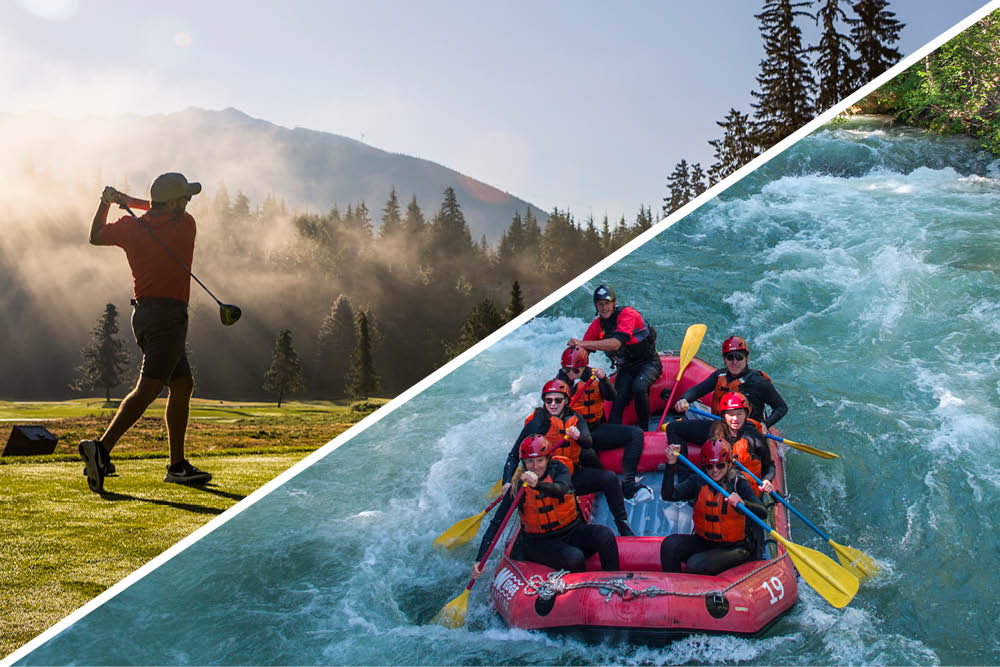 Getting up early also frees up the rest of your day to say yes to crazy ideas. So when your friends suggest a heart-thumping rafting tour down a whitewater river you can reply with a HECK YES and suit up for the ride.
Our days are only getting longer which means more time to fill with adventure. So why don't you try one of these ideas, or throw some ideas into a hat and pull them out for a surprise itinerary?
Book your winter trip now to secure up to 25% off lodging, 65% off lift tickets and 45% off rentals. Come experience Whistler Blackcomb's extensive terrain and adventure at every turn to see why we're known as one of the best resorts on the planet. Secure your winter getaway with Whistler.com for Flexible Cancellation and our Price Match Guarantee. Want to win a winter trip for two to Whistler? Check out our Drop In to Winter contest.