I've lived in Whistler for over fifteen years, but the last five have been some of the most adventurous as that's when our family grew to include Ella (age five), and Skye and Faye (twins, age three). We might have had to adjust our definition of adventure a touch, but summer is my favourite season with the little ones.
Here are a few of our Whistler-based, family adventures that we wanted to share with other parents and guardians of young kiddos who want to revel in the mountains with their little folk this summer.
1. Gondola Rides on Whistler Blackcomb
We love to take the kids on a three-gondola adventure on Whistler Blackcomb (children six and under are free), with a gelato stop-off in between! On all three we look out for Whistler wildlife, and although marmots and deer are a great spot, it's the black bears that the kiddos love to see the most!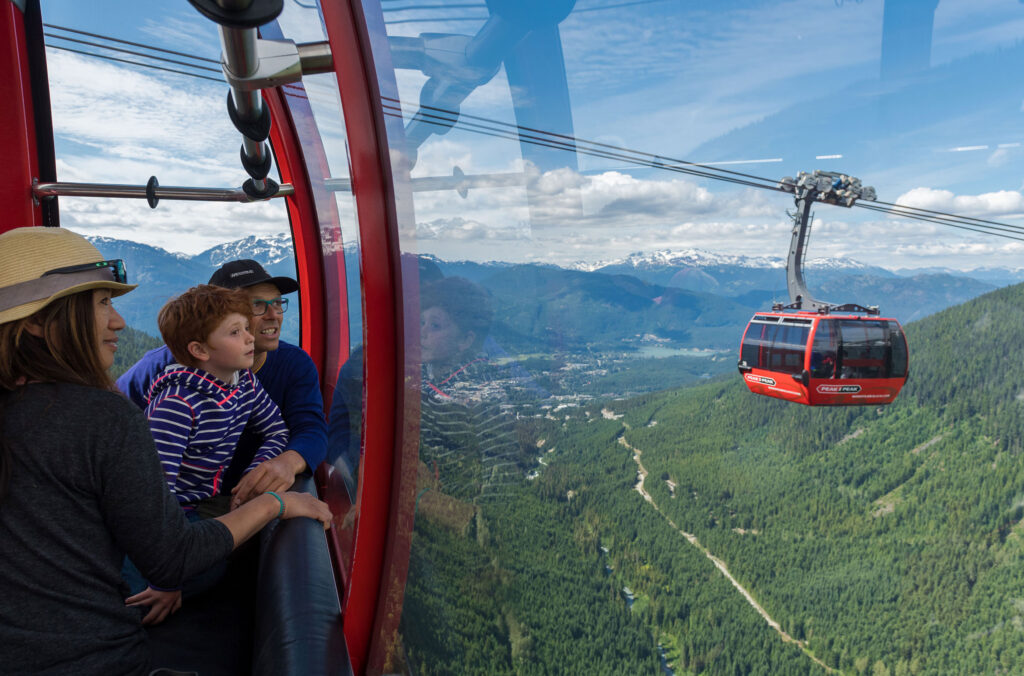 With a Whistler PEAK 2 PEAK 360 Experience ticket, you have access to the entire gondola system. We like to head up on the Whistler Village Gondola, visit the Lucia Gelato stand outside the Roundhouse Lodge and sit on the sunny patio overlooking the Coast Mountains. We then take the PEAK 2 PEAK across the valley to Blackcomb Mountain; the kid's noses are usually pressed to the glass the entire time (it takes about 11 minutes to cross).
Depending on the mood we might attempt a short stroll, but we tend to stay close to the gondola bases at the top of the mountains because little legs get tired fast (and so does Mom's back). We then descend using the Blackcomb Gondola where there's the option of grabbing a drink or food in the Upper Village before wandering home. Take a read of our Insider's Guide to Alpine Hiking and Adventuring with Kids in Tow for the alpine hikes our Insider parents would suggest.
INSIDER TIP: If you have purchased, or put a deposit down for a winter season's pass for 2022 / 23 then summer sightseeing on Whistler Blackcomb is included. If you plan on visiting Whistler Blackcomb more than once this summer season, consider purchasing a Summer 360 Experience Pass through Whistler Blackcomb (early booking rates until June 12, 2022).
2. Splash Time at Whistler's Lakes
We have spent many a summer's day at one of Whistler's lakes armed with our buckets, spades and a picnic lunch. They can be busy in the summer, so we like to go mid-week and either early in the day or slightly later and opt for an alfresco dinner. The easiest way to get to the lakes is via bike (rentals available) along the Whistler Valley Trail, a car-free, paved network that weaves its way through neighbourhoods and parks, covering over 45 kilometres. The journey there is then an adventure in itself and you can feel good about opting for a people-powered mode of transport.
If your little ones aren't quite ready to pedal on their own my suggestion is to rent a chariot attachment for your bike or e-bike rental. Not only are they good for towing small people, but they're also a great place to put the picnic! If you're booking through Whistler.com it's best to call and add the chariot to your bike rental as you can't book them online (limited supply).
I like to get a workout in when I ride, so I typically pull the chariot using my normal bike, whereas my husband will opt for the e-bike and be the one who coaches Ella who pedals for as long as she can before hopping on with him (her bike gets put on the handles of the chariot).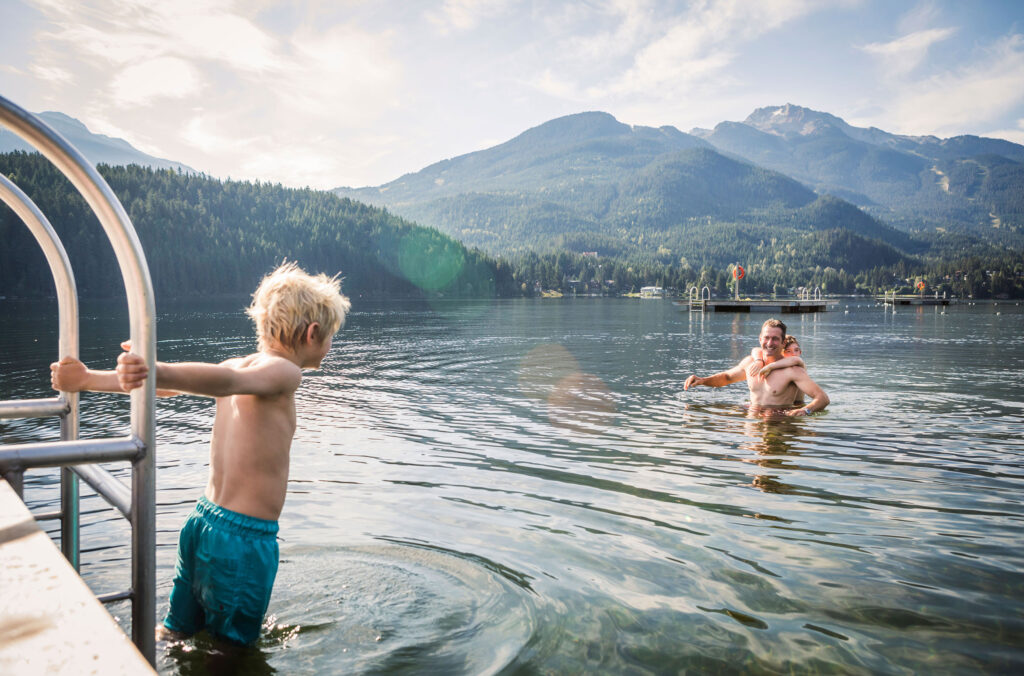 As every parent knows, snack prep is an important part of the plan when dealing with young kids. My suggestion is to stock up on picnic essentials at one of Whistler's grocery stores and then splurge on some decadent, pastry treats at places like purebread (by Olympic Plaza), BReD (Creekside) and Portobello (Upper Village). However, leave a little belly space for the food trucks that come to the parks during the summer months, you can see the schedule on the Park Eats! page of the RMOW website.
If you and your kiddos want to get out on the water then Wayside and Lakeside Parks on Alta Lake are ideal as you can get rental water toys (kayaks, canoes, pedal boats and stand up paddle boards),  right at the beach area. Life jackets are a must for all and come with rentals. Lakeside also has a small playground, which adds another element of fun to the lake experience.
Another lakeside park with a playground is Alpha Lake Park in Creekside, close to Nita Lake Lodge, which has a lovely cafe called Fix Cafe, which does delicious ice cream sandwiches in the summer months. If you brought the furry member of the family there's an off-leash dog park with a nice dock here too.
Lost Lake Park is another good option for families as it's not far from Whistler Village and there are nature trails you can explore around the lake for those curious, little minds. The Whistler Museum also has a pop-up program, which runs in the summer (Mondays through Fridays in July and August, 11 AM to 5 PM), so the kids can learn about the local flora and fauna, and the natural history of Whistler.
INSIDER TIP:
If you do decide to go to one of Whistler's lakes, consider purchasing any water toys at a local store and if you can't fit them in the suitcase for your return journey the
Whistler Re-Use-It Centre
might take them! Remember to pack out what you pack in, and if the bins are full at any of the parks take garbage with you and dispose of it back at your accommodation.
3. Pump Tracks for Little Rippers
If you have a budding biker then you can head to the pump track area, which can be found along the Valley Trail close to the Day Lot parking. There are picnic tables situated in both areas and over the summer weekends, you'll sometimes find local artists and musicians there too. For us, it's hands-on with the three-year-olds, but Ella is now pedalling so once she's done a couple of laps to get her biking legs going she is good to go!
INSIDER TIP:
For a biking break, you're not far from Rebagliati Park (next to the covered bridge), which is a secluded, grassy park with lots of nice shade from the surrounding trees. If a treat is needed, we like the donuts at
Portobello
, at the Fairmont Chateau Whistler in the Upper Village.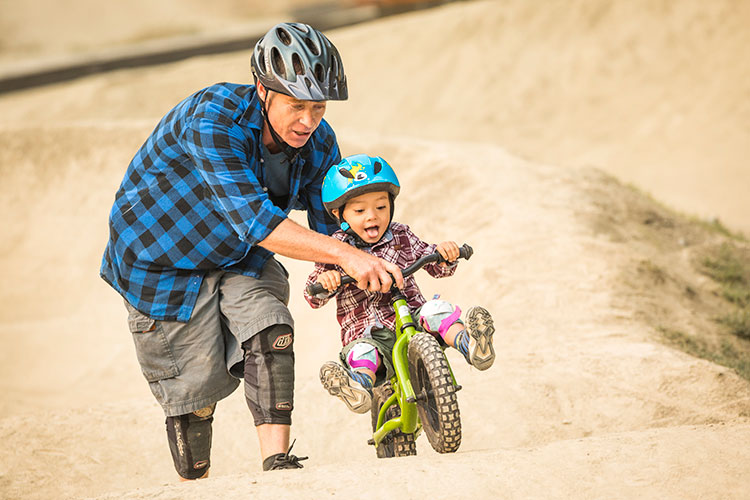 If you feel your little one might need some coaching in the two-wheel department then take a look at the DFX Daily Lessons available in the Whistler Bike Park, which start at age five (note that beginner riders need to be comfortable riding a two-wheel bike without training wheels and confidently be able to use hand brakes).
4. Easy Trails for Mini Hikers
If you have a mini hiker on your hands take a look at the free, Go Whistler Tours app for some ideas of where to go. The Fitzsimmons Trail is a short there and back trail (just under two kilometres total) with some great information boards about bears. We task the kiddos with looking out for bear scratch marks on the trees!
You could also head south of Whistler Village to the Train Wreck (a two-kilometre hiking round-trip). This trail is popular and can get busy, so we typically try to do it mid-week and first thing in the morning.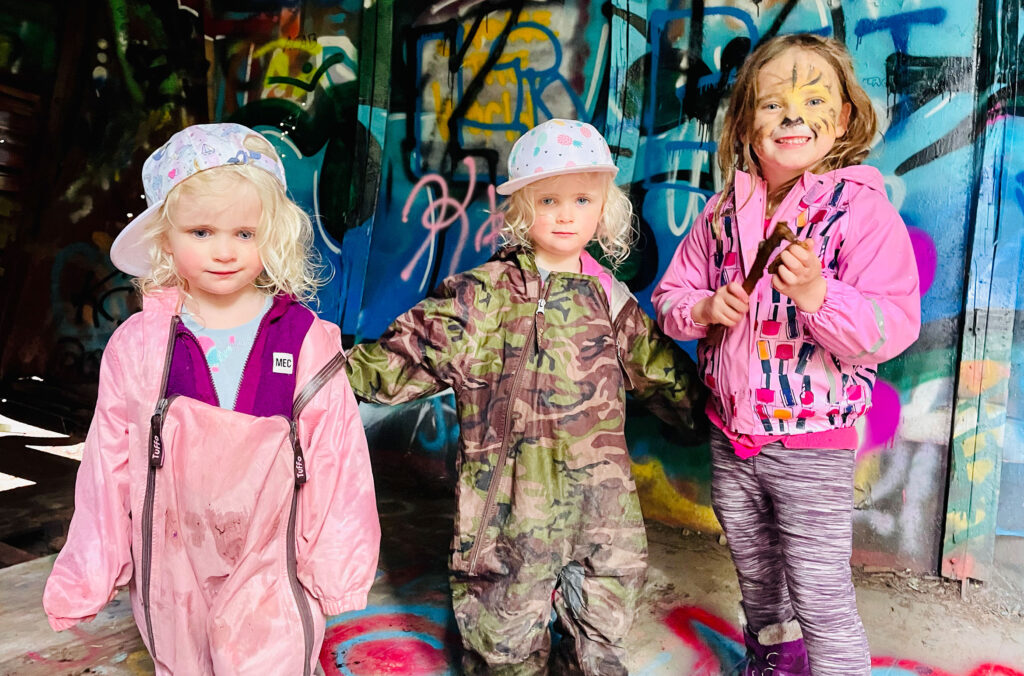 Closer to Whistler Village there's the Lost Lake Nature Trail. The Lost Lake Nature Trail is 500 metres one way and takes you off the main loop into the forest (not good for strollers). The accompanying audio tour has some great facts and stories about the natural history along this route, which includes some ginormous, ancient cedar trees and a lovely child-friendly story about how the Douglas fir trees saved some mice from a fire. When you end the tour you can either head back toward the park entrance or continue right towards the lake.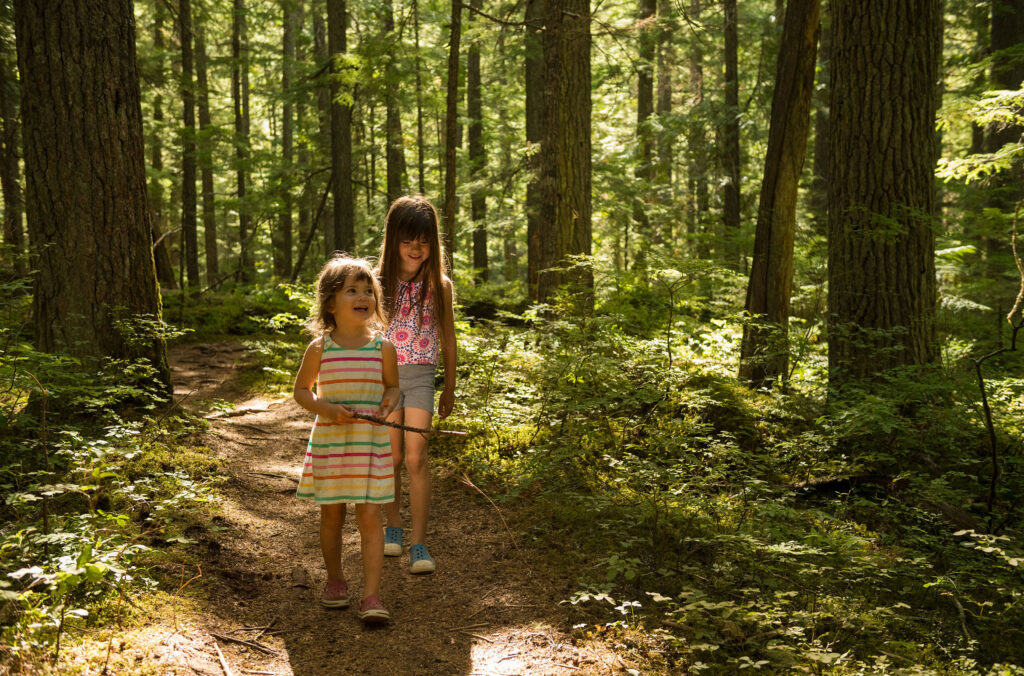 5. Expanding Their Minds
We have taken our fam jam to the Squamish Lil'wat Cultural Centre (SLCC) many times and each time we go we learn something new. They love the drumming, the short video and Ella loves to ask the cultural ambassadors questions about the things she sees in the galleries. If they get a bit restless we whisk them off to the on-site Thunderbird Cafe for bannock bread or we go outside to look at the Istken and explore the Salish Forest path, which is located just behind the main museum building.
The Audain Art Museum is free for kids under 18. There are obviously no running and no touching rules to be adhered to, but we've managed to enjoy the art with the kids and set them up with a pad and pencil to do their interpretation of what they see around them. It might be worth trading off with your partner if you want to explore the Audain in more depth. We've done it where one of us goes early, sans kids, the other one joins with the kids, and then the other stays to take in the art without the pressure of reining in the kiddos.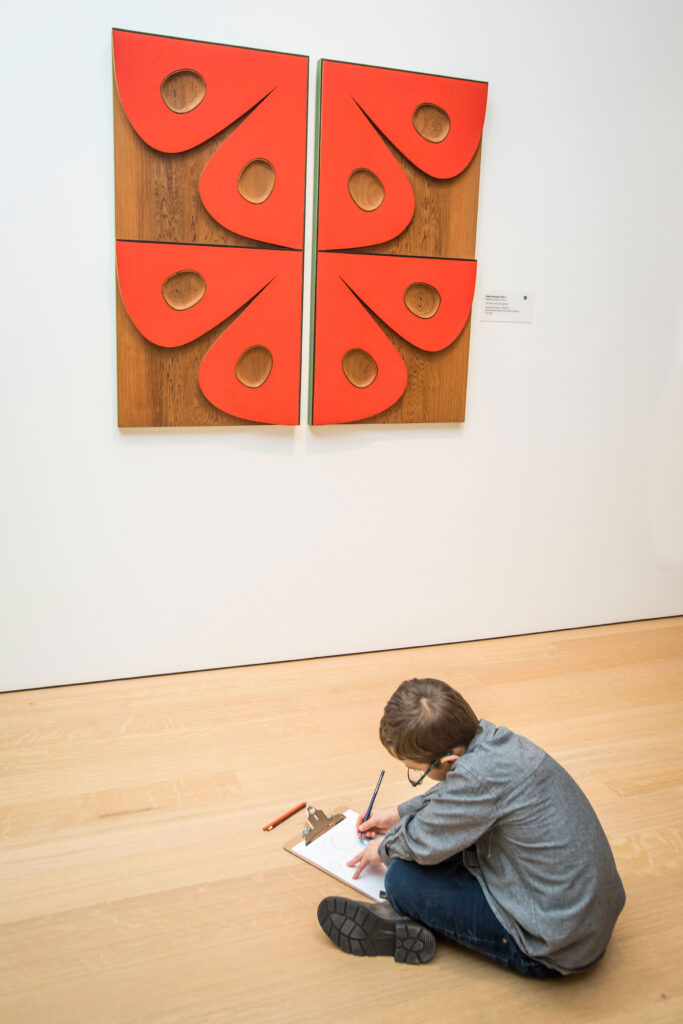 INSIDER TIP: If you're thinking of buying a memento for the kids that's connected to their time in Whistler, the gift shops at both the SLCC and Audain are a great place to look.
Bonus Idea
Whistler Olympic Plaza has a beautiful, lush lawn with incredible views out over the mountains. You can bring a ball and play with your kiddos on the grass, let them loose on the nearby, accessible playground and grab coffees and snacks from the surrounding shops.
We like to come here in the mornings, but you could also do a lunch or dinner picnic as Main Street is really close by and has a wide variety of take-away food options. You should also check the events calendar as over the summer music concerts are hosted here and the kiddos are free to bop about as the sun sets behind the stage.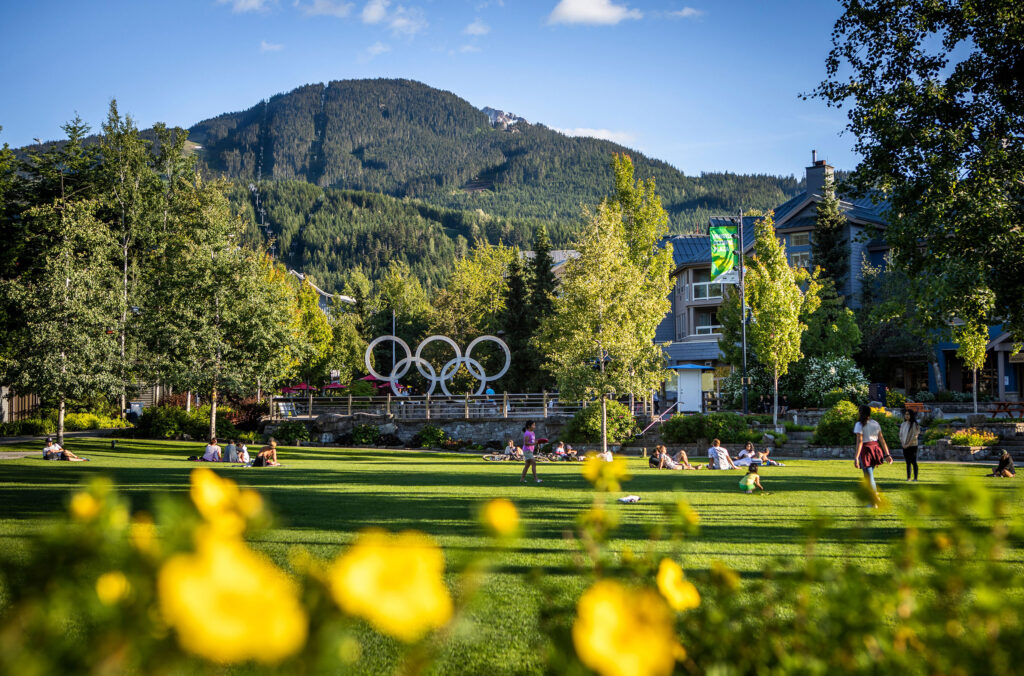 Top Tips: Whistler With the Kids
The weather in the mountains can change quickly, so I always carry extra layers for the kiddos as well as sunglasses and sunscreen.
It's quieter at the lakes and on the trails midweek, which gives the kiddos a bit more space to roam when you're out and about.
I always find kids can walk or pedal just that touch further if there's the promise of a sweet treat at the end of it, so take a look at some of the options on the Sweet Treats self-guided tour, which is available on the free Go Whistler Tours app.
Try not to pack too much into the day. Kids are great at seeing beauty in the little things, so take a leaf out of their book, slow the pace and savour the moment.
Consider making dinner reservations. Whistler's dining scene can get busy in the summer months so consider eating just that touch earlier, have a picnic in the park and book a few things in so no one is hangry by the time they're seated.
I hope this has given you a few ideas for your family vacation in Whistler. For more advice, you can speak with one of our Whistler.com travel consultants or you can use our Ask Whistler service if you want to text or WhatsApp; the people answering live right in Whistler, so you're speaking with people who know this resort inside and out!