Editors Note: This post was originally written in 2010, over a decade ago! We've updated it with more current information on where to get your scoops, but like the subject of this post, the rest is sweet!
Ice cream is powerful stuff. It brings people together, it cools overheated bodies and anyone with a cranky three-year-old can attest to the powerful mood-altering effects of even a single scoop. Basically, ice cream is one of the best parts of summer and Whistler has no shortage of the cold stuff to satisfy almost any craving.
Traditional ice cream is made with cream while gelato is made with milk, which makes it a bit healthier I guess, but worrying about calories in an ice cream shop is kind of missing the point. Sorbet is dairy-free, generally made with sweetened water or puréed fruit, and frozen yogurt is just that, frozen yogurt. With so many options available there's only one thing to do this summer – try 'em all.
Whistler's Best Ice Cream Joints
Whistler Village South:
Rocky Mountain Chocolate Factory
Whistler's oldest ice cream spot is also the closest one to the bike park. The Rocky Mountain Chocolate Factory offers more than 30 flavours of ice cream, sorbet and frozen yogurt (27 displayed at a time). It's all made just down the road in Vancouver and the waffle cones are dipped in chocolate and / or candy sprinkles on-site.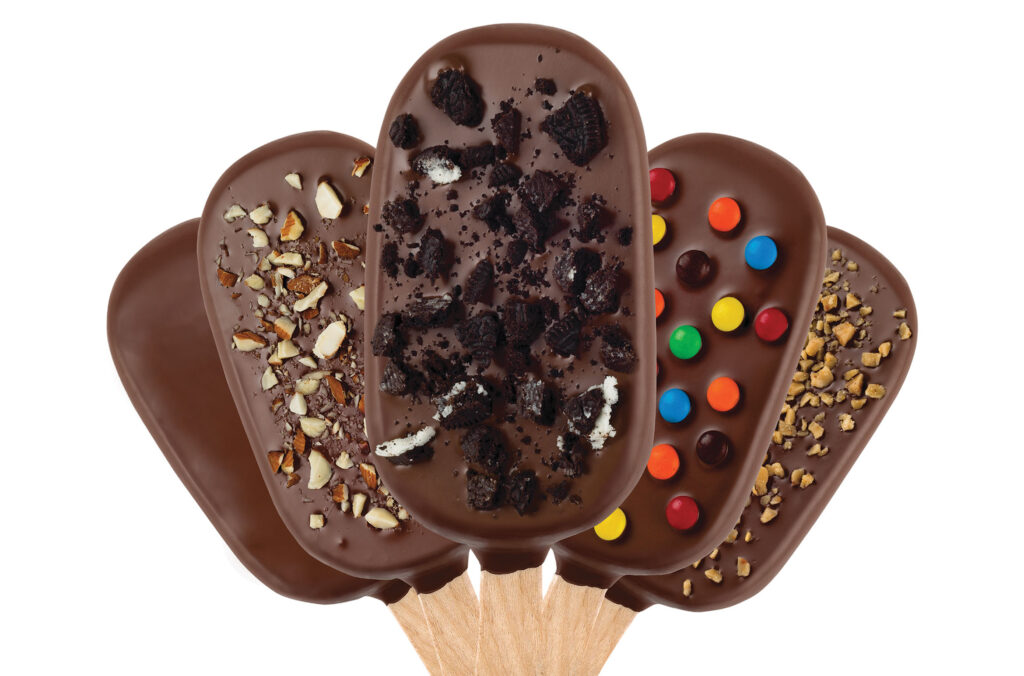 Staff Favourite — Scott, the owner of the Whistler store, is excited to announce the release of their new ice cream bars, which are sure to be a summer hit. The bars are made of premium, quality ice cream in five different flavours, dipped in gourmet chocolate and then sprinkled with various toppings like crumbled cookie dough, mini M&M's and Skor toffee bits.

Cows
Much more than just an ice cream shop Cows originated on the other side of the country on Prince Edward Island. Using an old family recipe and a penchant for puns, Cows has now successfully branched out across the country. They have 39 varieties out at all times and this really is the place to try new things like Birthday Cake flavour or Moo-Henry.
View this post on Instagram
Cows use a premium butterfat cream for their ice cream and mix it slowly, making for richer, thicker, more flavourful scoops. Waffle cones are made in-house and chocolate-dipped if you like it that way. On hot summer days, Cows will serve up over 2000 scoops of cool creamy goodness.
Staff Favourite – Emma recommends the Wowie Cowie, a toffee / chocolate chip / vanilla mixture reminiscent of a Skor candy bar.
Hundo-P – The Smoothie Bar
For real-fruit, vegan ice cream head to Hundo-P The Smoothie Bar right in the heart of the action in Whistler Village Square (next to the Whistler Grocery Store). Their ice cream is a refreshing raspberry and blueberry mix using coconut and cashew milk, so it's entirely plant-based. They serve it in a waffle cone coloured black with activated charcoal. Some say this is good for your digestive system and if it means we get an ice cream then we agree.
Upper Village / Whistler Mountain / Parks & Lakes:
Lucia Gelato
Made right here in Whistler according to old-world techniques learned in Bologna, Italy, Lucia Gelato features smart flavours like White Chocolate Lavender, Double Chocolate Mint and Salted Caramel.
"I try to make everything from something that is real," says Kathryn, founder of Lucia Gelato. "For the espresso flavour I am at home brewing espresso from locally roasted beans. For peanut butter gelato we roast peanuts and make our own peanut butter to put in there. I don't use syrups or extracts."
And you can taste the difference. While it's available in many of Whistler's restaurants and all the grocery stores the best place to try Lucia from the source. Their stands can be found at several of Whistler's beaches, lakes and parks during the summer as part of the Park Eats program, and also at the Roundhouse at the top of Whistler Mountain and at the base of Blackcomb Mountain, next to Merlin's. They're also at the Whistler Farmers' Market, which happens on Sunday afternoons throughout the summer at the base of Blackcomb.
Creekside:
Fix Cafe at Nita Lake Lodge
Fix Cafe has a great sunny patio on which you can enjoy a house-made ice cream sandwich and vegan ice cream bars. Or, you could opt to eat these as you stroll along the Valley Trail to Nita Lake behind the hotel or Alpha Lake, just a touch further up the trail.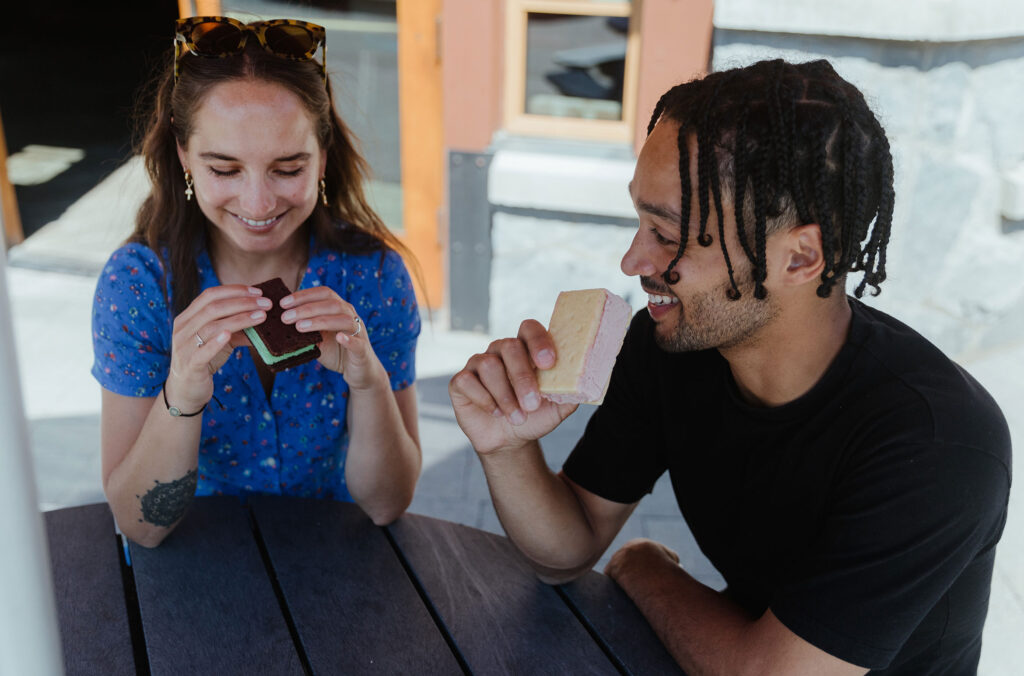 Whistler Restaurants
Connoisseurs of frozen delights can find some really high-end treats in some of Whistler's fine-dining establishments. Araxi house churns its ice cream and sorbets with seasonal fruits, while the crew at The Bearfoot Bistro will whip up fresh ice cream right at your table (using liquid nitrogen!!) and on the Braidwood Tavern Patio at the Four Seasons, you choose between their flavours of the day for your real-fruit ice cream served in a waffle cone, with vegan and sorbet options available.
INSIDER TIP: If you're not an ice cream fan, but you're looking for something else to take the edge off a sugar craving take a look at the Sweet Treats tour on the free Go Whister Tour app.
For all the varieties of ice cream available, Whistler (thankfully) offers even more ways to burn off all those creamy, sweet calories. So get outside, have fun in the sun, and treat someone you love to a scoop or two.