Is there anything better than a getaway with your significant other? No emails to answer, no pack lunches to make or deadlines to worry about. Just undistracted time together and a whole lot of adventure to be had.
Relationship experts say travel brings couples back to the exciting stage of getting to know one another, as trying new things brings out different sides of people. Plus, it helps you appreciate what you already know and love about each other – like your partner's uncanny ability to find the best restaurant.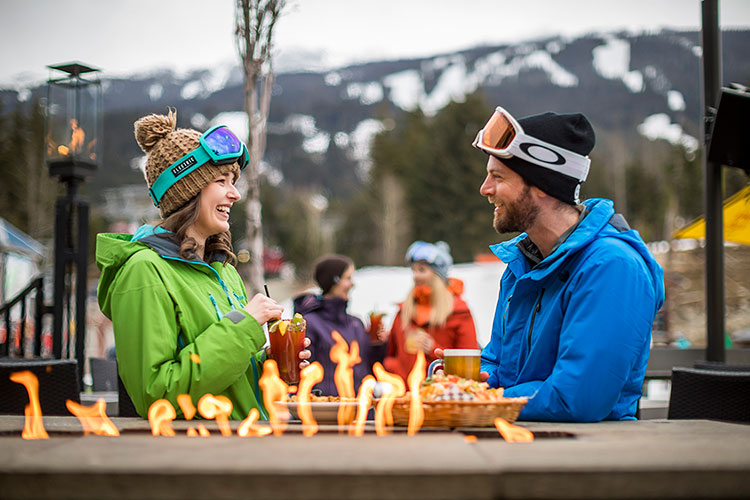 Whistler has a lot to offer couples, whether you're travelling as a duo or looking to sneak away from the family or group for a date night. An early sunset in the winter doesn't limit your options either, it only ups the romance.
Go on an After Dark Adventure
Trying new things is not only a great way to make memories, but it also releases dopamine. Research shows this hormone / neurotransmitter is part of what builds and strengthens social bonds. Science aside, walking out of your comfort zones hand-in-hand is bound to bring you closer together.
Ziptrek Winter Après Tour
Twinkling lights strung across treetop bridges, a blanket of stars and dusky mountain views await you on this four-zipline tour. You'll be given a headlamp and then guided through the old-growth forest, ziplining back and forth between Whistler and Blackcomb Mountains. A great way to get in some thrills before dinner!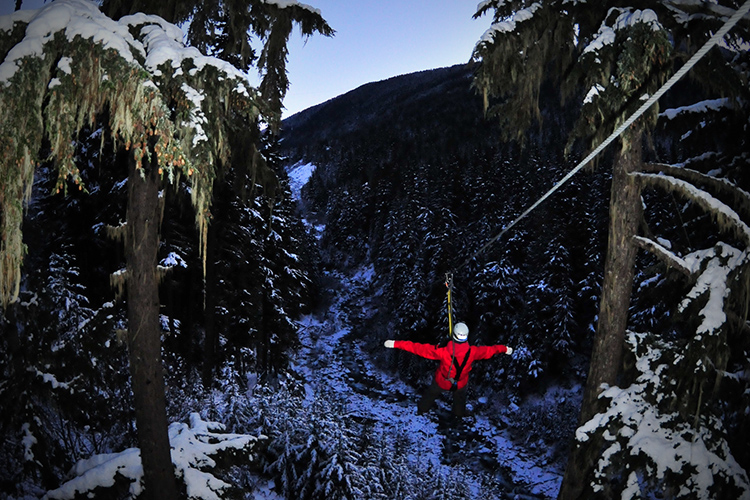 Blackcomb Snowmobile's Backcountry Fondue Tour
You and your partner will journey to a backcountry cabin by snowmobile (with the option to ride together) or snowcat. Once there, you'll enjoy a candlelit dining experience you'll talk about for years to come. This tour is an ideal pairing for foodies and adventure seekers.
Sleigh Rides on the Mountain
Giant Percheron horses draw sleighs gently up Blackcomb Mountain in the evenings between 5 – 8 PM. The lights of Whistler Village sparkle below and there's a stop-off at their cabin for a warming, hot chocolate. You can go with a group or opt for a private sleigh if you want to treat the family or your special someone.
Steak Night by Snowmobile
Canadian Wilderness Adventures will take you and your date on a twilight snowmobile tour (option to ride together) up Sproatt Mountain. The destination? A rustic cabin with a perfectly prepared, three-course steak dinner by the Bearfoot Bistro as a reward.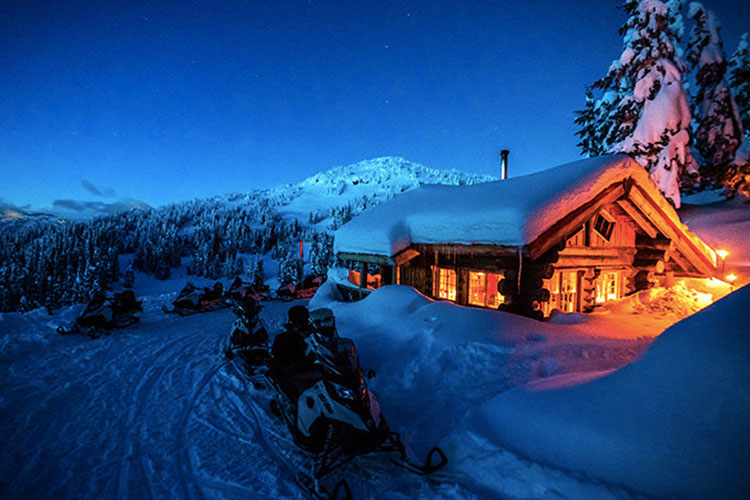 INSIDER TIP:
These adventures can make for a very memorable
proposal
! Most tours can be made private and the team at
Whistler.com
can help you arrange it.
Wine and Dine
If you're the couple who can't wait to try the newest restaurant or gets excited over local ingredients, you're going to love Whistler's dining scene.
Romantic Restaurants
Bearfoot Bistro is the spot for oysters, vodka ice room tastings and champagne sabring – a true dining experience. Araxi is the place to celebrate those big moments in life, especially when you order the two-tier seafood tower (you can add a lobster-filled third tier if you're going all out). Rimrock Cafe (in Creekside) is a locals' favourite and known for its upscale, but more relaxed atmosphere with great service and a focus on seafood and game. These restaurants are popular so make a reservation ahead of time.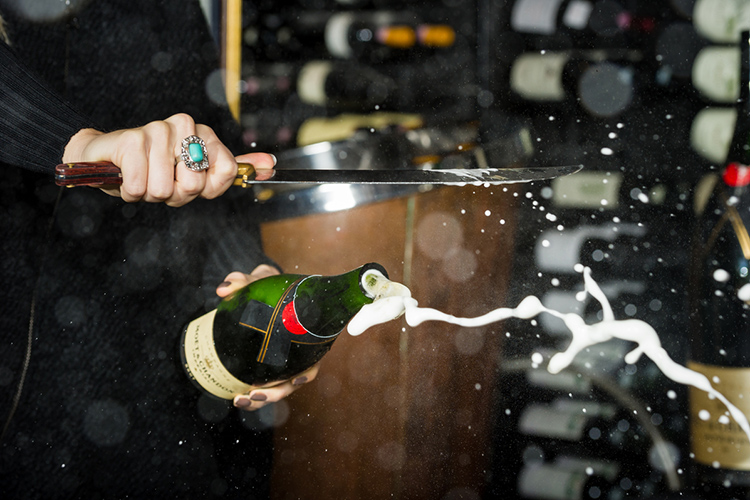 Cool Cocktail Bars
With its graphic tiles and wood and marble elements, Bar Oso offers an elevated atmosphere with drinks to match. Spirit aficionados will delight in the large selection of BC gins and couples who like to share will love the tapas-style menu. The Raven Room is Whistler's newest cocktail bar and has been a hit with locals and visitors alike; The Bird's Eye cocktail (tequila, Cointreau, basil, red Thai chilies and lime juice, with a Cajun-spice rim) is a must-try. The walls of The Living Room at Pangea are adorned with art by celebrated Canadian mural artist, Ola Volo, board games are scattered about, and the pop of the peppercorn syrup in The Dalmatian cocktail feels just right for taking in the funky decor.
Intimate Lounges
Basalt is a wine bar, salumeria and charcuterie with a stylish patio on the Whistler Village Stroll, complete with a cozy fire pit. The Mallard Lounge in the Fairmont Chateau Whistler offers laid-back refinement and is a great place to catch live music. The Firerock Lounge at The Westin gives you the choice of curling up fireside indoors or outdoors with your date and favourite wine. Cure Lounge at Nita Lake Lodge in Creekside is where to go for a cocktail, lively atmosphere and lakeside views.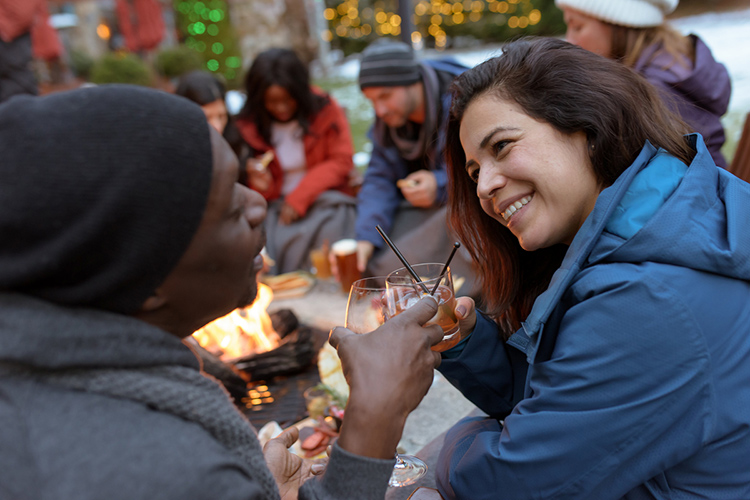 Beloved Beer
Who says beer can't be romantic? After all, it is chemistry. Whistler is home to three craft breweries; Whistler Brewing Co., Coast Mountain Brewing and High Mountain Brewing Co. (at the Brewhouse). You can also catch local beers on tap at Hunter Gather, Brickworks, HandleBar and more. Another way to explore Whistler's beer scene is to head out on a guided tour.
Appreciate the Arts
Taking in a show or performance is made all the better by having your partner there to discuss it with afterwards. It can also bring out a sense of play, making for a fun night out together.
Audain Art Museum
On Friday nights, the Audain Art Museum is open until 9 PM so you can peruse the exhibitions before or after dinner. If you're a creative couple, check out their Art After Dark series for a more hands-on experience.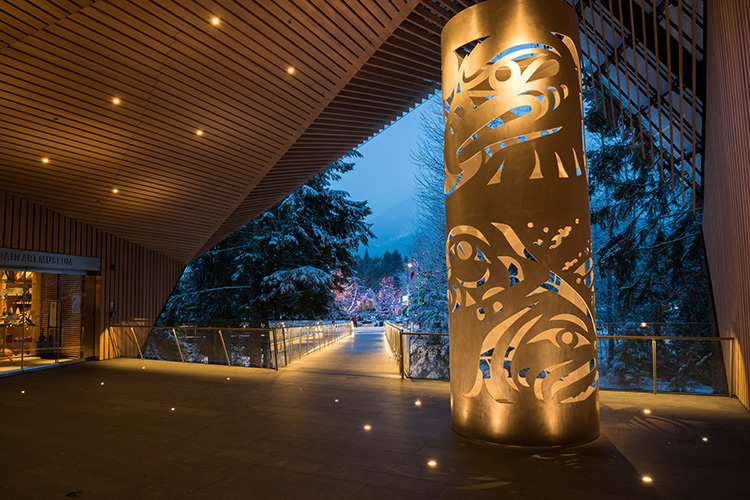 Live Performances
Experts say couples who laugh together stay together, so why not check out a comedy show? An Evening with Comedian Tim Nutt is coming up on February 20 at the Maury Young Arts Centre. The centre also hosts musical acts, plays, premieres and more. Check out the events calendar to see what's on.
Vallea Lumina
Looking for a magical evening? Vallea Lumina will deliver. This multi-media night walk in the woods is visual storytelling gone wild. On the one-kilometre trail, you'll follow two hikers on a search for stardust, discovering otherworldly sights around every corner.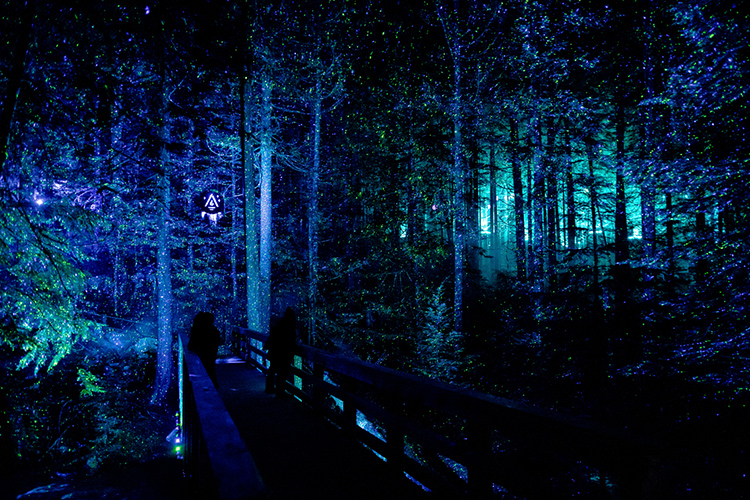 Relax and Stay-In
After a big day on the mountain, maybe all you want to do on your date is relax. The Scandinave Spa has you covered with their baths open until 9 PM nightly. Hot and cold plunges are bound to make you work up an appetite, so when you get back to your accommodation take advantage of room service or Whistler Cooks' new Fridge Full offerings. They can stock you up with pre-made meals and appetizers, making your Netflix and charcuterie dreams come true.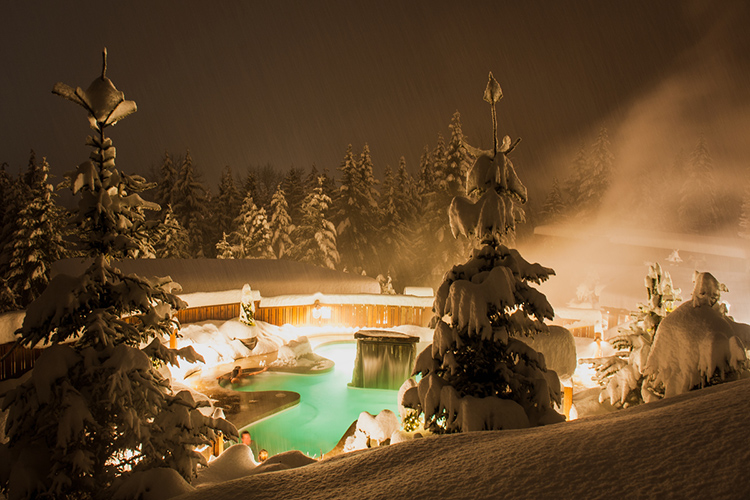 Date night in Whistler is a choose-your-own-adventure. Mix and match these ideas or keep it simple with a snowy stroll through the Village. After all, it's the time spent together that matters. Enjoy!
You don't have to wait for sundown to go on a date! Browse through daytime itineraries, winter activities, dining options and more on Whistler.com.