In case you haven't noticed – yeah right! – winter is back in full effect in Whistler. The early season has graced us with more snow than most of us know what to do with – again, yeah right! – and the hills are alive with the hoots and hollers of pow-slashing locals and visitors alike. While most of our free days will no doubt be spent up on the mountain, there's also a ton of fun stuff to do around the village.
Not the least of which is to visit one of the many outdoor fireplaces and fire pits that the pubs and restaurants around town have on their patios. There's something special about huddling around a fire that fires up an extra neuron or ten in our brains – maybe it's a primal urge left over from our days as cave dwellers – but whatever it is, there's nothing better than cozying up with someone next to the flickering flames of an outdoor fire … and if you happen to have an exotic cocktail or decadent whipped-cream topped hot chocolate in your hands all the better!
Tour de Firepit
Starting at the base of the mountains, first up is The Dubh Linn Gate Irish Pub. A local's favourite, The Dubh Linn Gate is known for their extensive beer selection and some of the rowdiest live music around town. There's not a lot of things that scream "Whistler" more than dancing to an Irish band in your ski boots at 9 PM. Their covered patio is a hot spot in town, with views of both Whislter and Blackcomb gondolas and the perfect spot for people watching. The firepit, smack-dab in the middle of the patio is the perfect spot to enjoy that pint of Guinness or craft beer you've been wanting to try.
Suggested Drink: A pint of Guinness of course!
Across Skier's Plaza, next up is The Longhorn Saloon & Grill. While The Longhorn is well known as a perfect après spot, with their renovations last year came the addition of five really cool fireplace/bartop combo tables on the patio. Each one seats about eight people so they're the perfect spot for your shred crew to pull up to and recount all the days' glory – or lack thereof! And again, since they're located right at the bottom of the two gondolas, they're the perfect spot for people watching.
Suggested Drink: This specially crafted, original après beer
Making your way further into the village, you'll soon come across Black's Pub. Black's has a great patio space upstairs but the ground-level patio has several sweet fireplaces that will keep you toasty warm while you work your way through a few beverages and some food. The staff at Black's are super friendly and will be happy to suggest a drink or maybe some food to keep you warm as you watch the snow fall gently on the Village Stroll.
Suggested Drink:A decadent hot chocolate topped with whipped cream
Looking for something a little more upscale while still keeping that chilled-out Whistler vibe going? Look no further than Basalt Wine + Salumeria, located halfway between Skier's Plaza and Village Square. The bartenders at Basalt are truly masters of their craft and will be more than happy to whip you up some amazing creation that is sure to satisfy both your tastebuds and your, ummm, is "alcohol-tooth" a thing? Their fire pit is covered to keep the snow out of your drinks and the pillows and blankets they provide top off the experience. Plus, you can order charcuterie for après snacks.
Suggested Drink:Lemon-lime Martini
A Whistler local's favourite, Tapley's Neighbourhood Pub is best known as a laid-back spot to grab a pint, shoot some darts and watch the game. But if things get a little too loud inside, just head to the patio area to chill by the fire. The best part? The sound from the sports games is piped outside so you won't have to constantly be worrying who's winning the game.
Suggested Drink:When in Rome…. A pint of Kokanee
A newer addition to the Village scene, Stonesedge is not to be missed. Their cute little fireplace, surrounded by some really awesome over-sized wood chairs and couches, is the perfect place to enjoy a Caesar and a snack. They also have a rotating list of really awesome craft brews on tap and a great selection of moderately priced appies and mains. And here's a local's tip: due to the location and orientation of the patio, it's the last spot in the village that the sun leaves!
Suggested Drink:A Caesar topped with bacon straw, meat stick, celery and a bunch more awesome stuff. Basically a meal in a glass.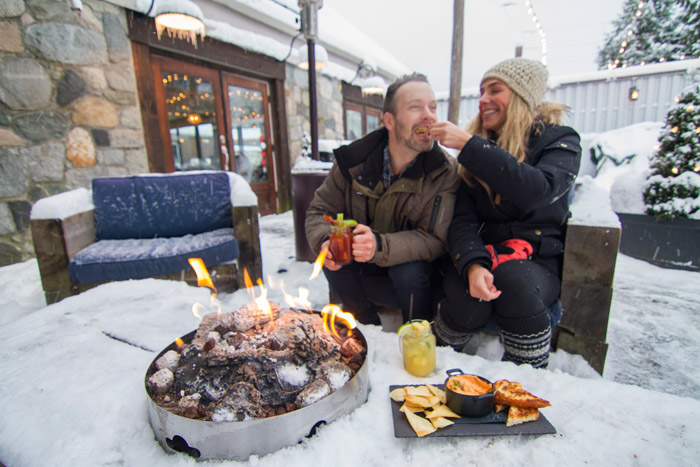 After all that we needed to take a little stroll through the village to walk off those calories and to take in the amazing holiday lighting that the muni has put together this year. Finding ourselves at the opposite end of the village at Whistler Olympic Plaza, we were pleasantly surprised to find one last fire pit to warm up our hands as the sun set on another great day. If the fire isn't, well, firing, don't despair for there is a user-controlled dial on the side that lets you turn it on yourself. Cool!
The perfect end to the day for locals, visitors and families alike!
Keep on Burnin' – More Firepits in Whistler
There's quite a few more firepits in town – forgive us for not snapping them all but to be fair we couldn't ask our models to keep imbibing ALL day (that's what turns a village stroll into a village struggle).
Here's a couple more venues that keep it lit and toasty, shout out in the comments below if we've missed out on your favourite and we'll add it quick smart. Don't forget that many places have patio heaters and indoor fires too, so you'll still be toasty warm if you miss a spot at the pit.
For more information on where to wine, dine and après in Whistler – visit Whistler.com.