When everything looks good on the menu, cocktail list, and specials chalkboard – how do you make a decision? Well, you don't necessarily have to. Battle indecisive FOMO tendencies by opting for a "flight" – a smaller sample of a few items that might have caught your eye.
What's great about this taste-testing way to eat and drink is that the experts have typically weighed in to curate the selection, so it's an opportunity to try their recommendations, be challenged and learn something new. It's also a fun conversation starter as you screw your nose up at some, and fall in love with others. Adventures at après? We're in.
Check out some of Whistler's Flights of Fancy below, sampled over several days this fine spring.
Getting an Ed-Gin-Cation
Gin Flights at Bar Oso Whistler
The sun is shining as my friend and I people-watch while we sup on a selection of British Columbia-distilled gins at the open window of one of Whistler's swankiest joints. Bar Oso is known for its Spanish-influenced small plates, charcuterie boards, and beautifully crafted cocktails. It's small and intimate, with funky black and white tiles and a long marble bar bringing a touch of Mediterranean sophistication to the mountains. I'm a big fan of a crisp, refreshing gin and tonic but I know there's a whole juniper-infused world out there that I know nothing about.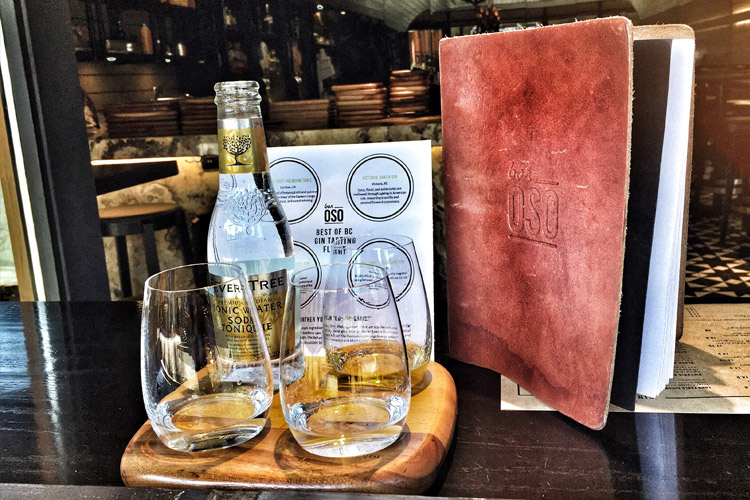 We opt for the "Best of British Columbia" flight, and three one-ounce pours are delivered on a wooden square with a bottle of Fever-Tree Tonic. The first on the list is the Long Table Cucumber Gin from Vancouver. Made from cucumbers grown on the Sunshine Coast this award-winning gin is fresh, and with the addition of bell peppers there's an interesting hint of spice. The second is the Sheringham Seaside Gin distilled on Vancouver Island, and as my friend and I read the description we aren't entirely enamored, "…slightly saline, with hand harvested winged kelp…". However, we were pleasantly surprised with this clean, salty, and delicately floral gin taking its place as my favourite – a perfect example of how tasting flights can push your boundaries.
The Victoria Oaken Gin was quite different, with its vanilla and caramel notes it was a lot creamier and we both commented this would make the perfect after-dinner gin. We were on a roll and decided to add one more BC gin into the tasting mix. The Black Moon Gin from Naramata in the Okanagan certainly brings with it notes of the rosemary and wild sage that grow out there, and my friend really enjoyed this aromatic and intense sample. After a quick Google I picked up a bottle of the Sheringham Seaside Gin on the way home from Nester's Liquor Store, who stock some of the smaller-batch, local picks if you're looking for a bottle of your own.
Triangles, Squares & Hexagons Never Tasted So Good
Beer Flight at Coast Mountain Brewing
Coast Mountain Brewing is a labour of love, and it shows. It's a family-run business, and the owner's two children have had a direct influence on the beer flight in front of me. As I match up the colourful symbols with the ones on the chalkboard I can't help but feel like I've seen the shapes before in the hands of my own 18-month-old as she's trying to cram them into the wrong shaped holes. I make no such mistakes with my beer matching—I've honed these skills for over 30 years.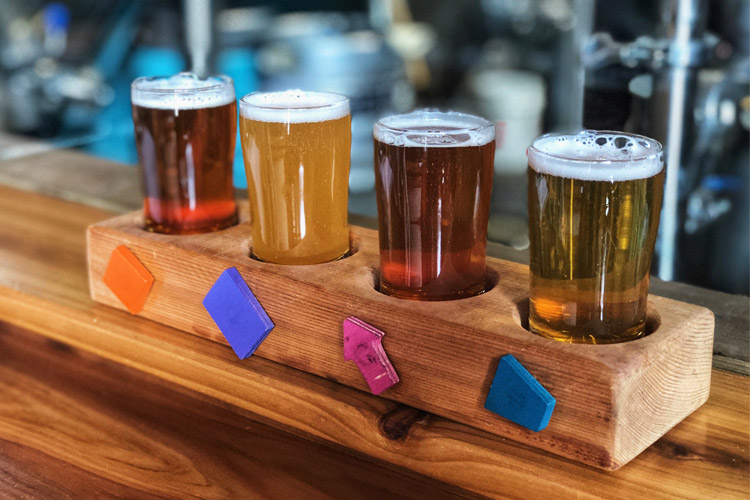 Their tasting room is in Function Junction, an unsung area of Whistler and the local's best-kept secret. It's close to the bike and hiking paths around Cheakamus, the popular Train Wreck trail, and houses coffee shops, bakeries, galleries, and even a place where you can throw axes—you are in Canada after all. As I sit in the tasting room I watch as they clear out the mash tun and the smell of sweet malt fills the air.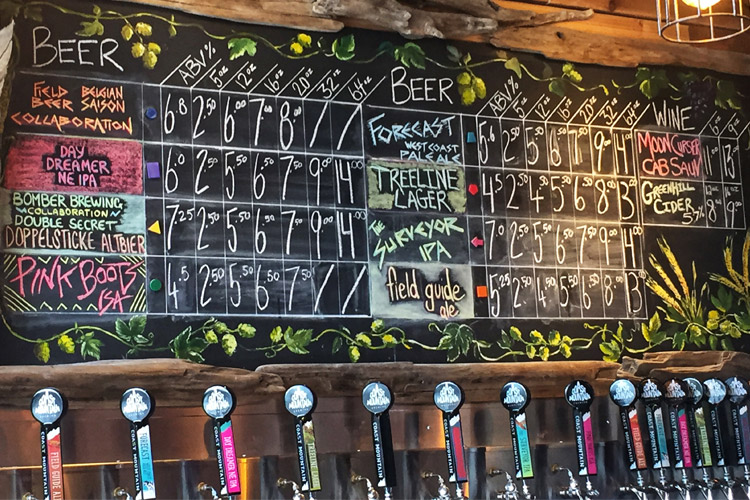 Owner Kevin Winter takes a seat as he talks me through the four beers in my flight. He loves to challenge people who claim they don't like beer and explains that even though it's made with four key ingredients; water, grain, yeast, and hops, the variations in those are limitless—why be scared of flavour? One of his favourite beers in the lineup is the Surveyor IPA, which is a well-balanced beer packed with lots of hops that make it super tasty, but not overly bitter. My personal favourite is the Day Dreamer N.E. IPA, what he calls their "super juice", because of its tropical, creamy, big-mouth feel.
They brew in small tanks and don't distribute outside of Whistler so you're getting a taste of something truly unique to its locale. There are eight taps, with four core beers that the brewery is known for and the other four rotating based on the whims of the brewer, trends in the market, or simply a crazy idea like adding blood oranges into the mix. Sporting a brand new patio, this brewery has a lounge-like feel—a place where you can kick off your hiking boots and spend a couple of hours sampling beers in the sunshine.
Mountains Made of Chocolate
Chocolate Tasting at the Fairmont Chateau Whistler's Mallard Lounge
I imagine a Willy Wonka-style place as I'm told how the Executive Pastry Chef of the Fairmont Chateau Whistler spent time in France developing the two signature chocolates that now sit in front of me as part of a six-strong cocoa tasting flight. There's a child at a nearby-table eyeing up the blueberry and white chocolate slivers, but it's his mother I'm more wary of.
My table companion is Lynn Gervais, the Director of Public Relations at the Fairmont, and she explains that this happens a lot—as soon as one chocolate-filled platter comes out the orders quickly flood in. We're sat by the floor-to-ceiling windows of The Mallard Lounge with views out over Blackcomb Mountain, sipping on Egyptian Lemonades muddled with mint and raspberries and it feels simply decadent. You could opt to have one of these flights in place of your typical dessert, choose to have it served with scotch pairings as a birthday treat, or maybe this is the new afternoon-tea? Out with the scones and in with the hazelnut-crusted, caramel-salted, and marbled—it's got my vote.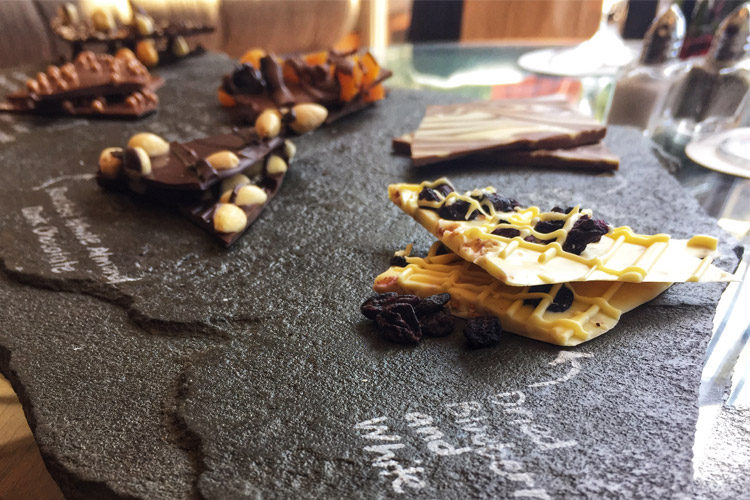 We go from left to right, starting with the two trademarked chocolates, aptly named the Black Bear and Brown Bear. Lynn asks if I can taste the smokiness in the Black Bear Chocolate as Chef Anup Chaubal specifically chose cocoa beans from Papua New Guinea that had been dried by waving banana leaves over nearby open fires. The subtle touch is designed to conjure up the local woods of Whistler, and the BBQs that waft on the breeze in the warmer months. It's this incredible level of detail that makes each bite a journey.
My favourite is the Brown Bear Chocolate with its pop of salted caramel pearls, our server loves the granola crunch of the blueberry and white chocolate, while my husband devours the marbled chocolate when I bring him home an incredibly sweet doggy bag.
The Secret Garden

Wine and Cheese at Hunter Gather
At one end of the bustling foodie hub of Main Street is a patio. Fairy lights hang overhead, mini planter boxes brighten the centre of large wooden tables, and the mellow tunes of an acoustic guitar filter out of the open restaurant doors. It's the perfect haven for an afternoon tipple that could well turn into an all-evening affair with this laid-back vibe.
Hunter Gather popped onto the Whistler food scene in June 2017, and quickly became known for its generously meaty sandwiches, veggies bowls, and range of BC beers and wine. A busy open concept kitchen, counter-service, and shared long tables are paired with funky wall murals, metal stools, and industrial lighting, which give this place a friendly and hip atmosphere. They're connected with Coast Mountain Brewing so you'll definitely find those on tap, but they certainly share the love and you'll find brews from the Sea to Sky Corridor and Sunshine Coast – Pemberton Brewing, Backcountry Brewing, and Persephone Brewing Company – all worth a try.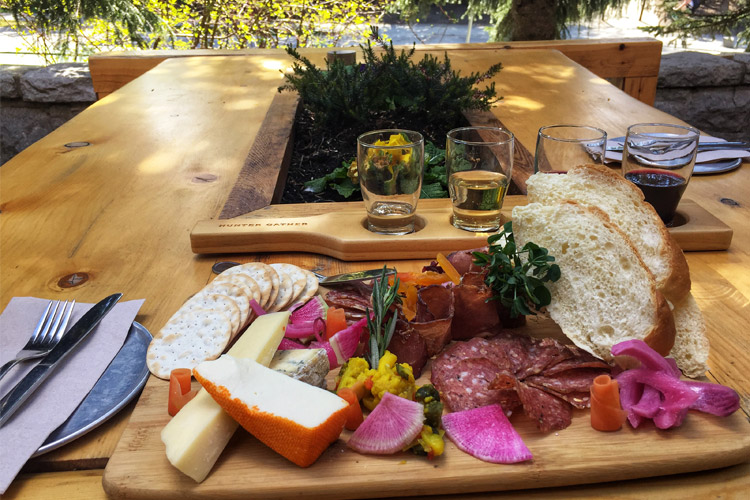 Although the beer taps are strong, their wine list is too, and, you guessed it, they offer a flight. The team hunts for BC wines from small wineries that are distinctive and hard to find elsewhere. My husband and I get stuck into the four-strong taster paddle, which starts with the crisp and fruity Lake Breeze Pinot Blanc. The Meyer Chardonnay is next, and it's this family-run winery's signature varietal, a fruit-forward palate pleaser with distinct hints of apple and peach. Both are easy summer sippers, perfect for pairing with the Smoked Gouda and Port Salut, which are part of the "Chef's Daily Cheese and Meat Board".
Then we moved onto the reds with the Monster Merlot. The name pokes fun at the legend of Lake Okanagan, which tells of a Loch-Ness-like monster lurking in its depths. This wine also goes deep, with lots of berry and tasty cocoa notes, which went beautifully with the Bauernschinken (farmer's ham), which has a prosciutto-like texture, although thicker and hardwood-smoked. The flight is rounded out by the Noble Ridge Meritage which is more full-bodied with a touch of spice that goes really well with the curried house chutney and watermelon radishes which give the board a colourful pop. We polish off the rest of the meat and cheese as we soak in the last of the sun's rays and lament over having to evict ourselves from such a lovely spot.
Sound Good? Time to Take Flight
The "flights" option gives you the opportunity to try something new, that's maybe a bit out of the ordinary, and perhaps not something you'd risk choosing a whole bottle or packet of from the shop shelf. Not only have I come away with some new favourites, but through the experience I have a greater appreciation for the craftsmanship that's gone into each one—from the item itself to its presentation- as something that's worthy of exploration and conversation.
Just like a flight, Whistler's culinary scene is an eclectic mix catering to all tastes – with some hidden gems that are sure to turn into new favourites. Catch the last week of the spring dining specials and  learn more about dining in Whistler year-round.
As always, consume responsibly and with good conversations.