If you stick around Whistler long enough, you'll hear people say they came for the winter, but stayed for the summer.  Whistler summer feeds the soul and leaves you wanting more. Perhaps it's the sweet revelry of a lake dip or the tranquility of a forest walk. Or, maybe it's the longer daylight hours that bring a sense of endless possibilities. Regardless of the reason, there are plenty of things to do in Whistler for anyone with an adventurous spirit.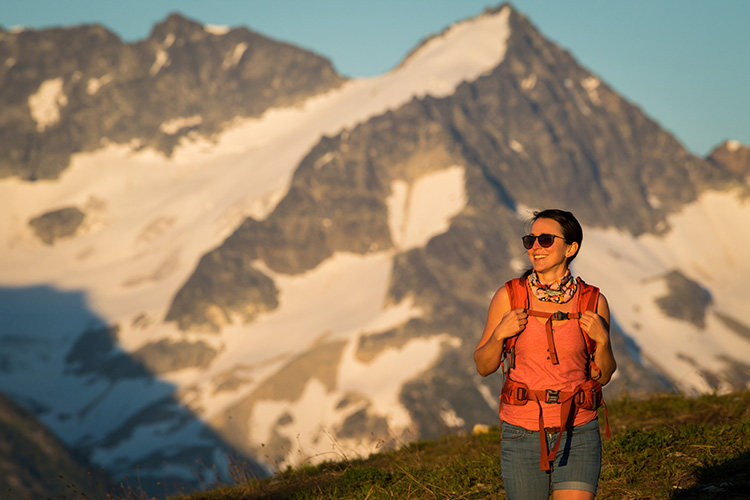 Here are our hand-picked summer activities to put on your itinerary. 
1. See New Sights, Take a Guided Tour
If it's your first time to Whistler, a guided sightseeing tour is a great way to familiarize yourself with the Village and surrounding areas. Hop on a comfortable shuttle bus with Whistler Valley Tours & Charters and hit all of the popular hotspots – and some lesser-known places too. Stops include Alta Lake, the Whistler Sliding Centre, and popular local hangouts in Function Junction. They can also arrange a private charter if you have a larger group. 
2. Ride the Brown Pow
For gravity-powered adventure on two wheels, explore the network of cross-country mountain bike trails that wind their way through the valley like tentacles. There are plenty of options for all ability levels and styles of biking; whether it be fast and flowy, challenging and technical, or mellow.
While you're at it, be sure to check out the famous Whistler Mountain Bike Park. New last year, the Creek Zone expansion into Creekside added an additional five trails to their ever-growing trial system. Book ahead of time and you'll get to be on Top of the World (literally). From top to bottom, Top of the World and the connecting trails deliver almost 1,500 metres (5,000 feet) of heart-pounding vertical. 
If you don't have a bike, there are plenty of bike rental shops in Whistler, including Summit Sport and Fanatyk Co.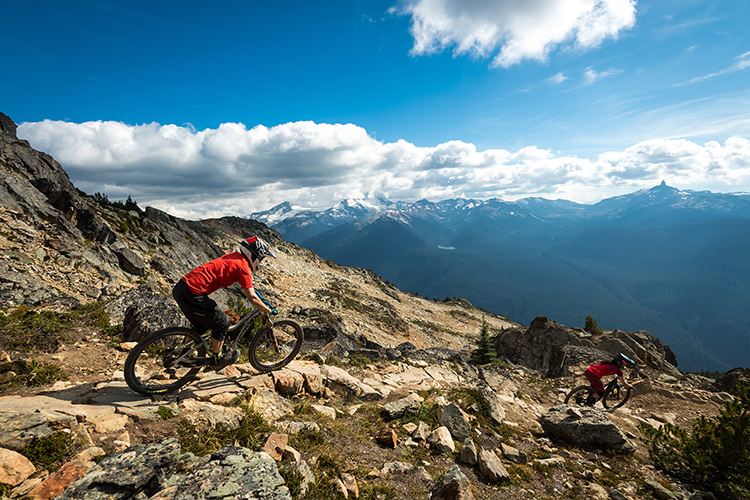 3. Hit the Lake for a Picnic or Paddle
Grab a picnic lunch, then head to a lake to beat the summer heat. Whistler is home to five lakes, which are dotted throughout the valley, and range in temperature and size. Glacier-fed Green Lake is the coldest of the four, but what it lacks in warmth, it makes up for in views. This lake is popular for paddleboarding and canoeing. As the only lake that allows motorized boats, you may also see the occasional wakeboarder (wearing a dry suit of course). 
Alta Lake – the largest of them all –  is peppered with docks and three grassy parks that are ideal for a lazy day of lake lounging. Lost Lake offers up a lively and festive atmosphere; while the quieter Nita and Alpha lakes are tucked away in Creekside. All five lakes can be accessed via the expansive Valley Trail, which is perfect for a stroll or a cruisy bike ride.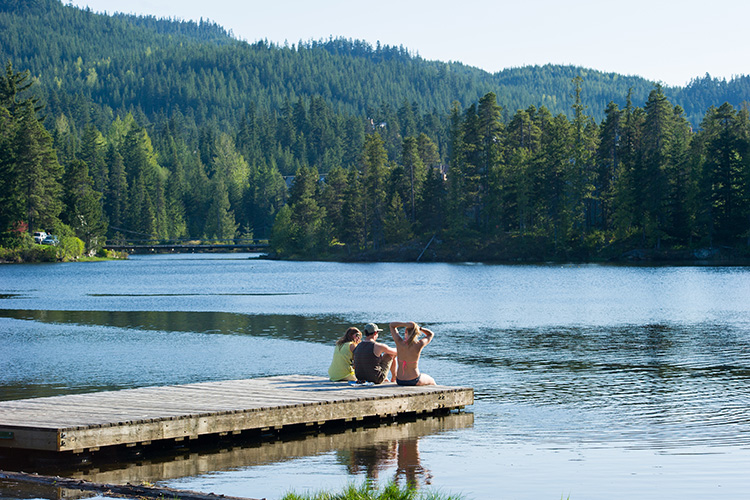 4. Explore An Olympic Venue
Whistler Olympic Park in the Callaghan Valley hosted cross country skiing and ski jumping events back in 2010. Now, visitors can experience this phenomenal location year-round. For an action-packed summer visit, try the E-bike and Biathlon Adventure Tour. Hop on a mountain bike powered by an electric assist to check out iconic Olympic monuments and hone your eye-hand coordination at the biathlon range. 
On your way to or from the park, be sure to stop in at Alexander Falls, a towering 43 metre /141-foot waterfall, located just west of the park.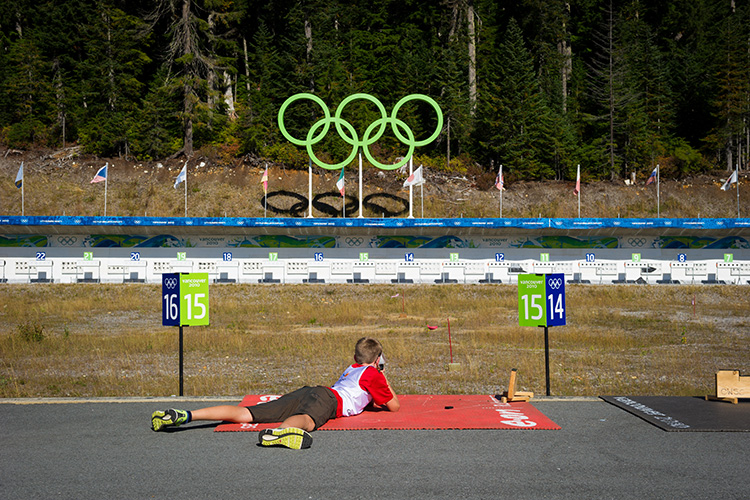 5. Connect with Indigenous Culture
The place we now know as Whistler has been frequented by the Líl̓wat7ul (Lil'wat Nation) and Sk̲wxwú7mesh Úxwumixw (Squamish Nation) since time immemorial. Learn about the intricate relationship between the Nations and the natural environment on the new Guided Forest Walk at the Squamish Lil'Wat Cultural Centre. Guided by a Cultural Ambassador, you'll explore the Salish Stroll trail.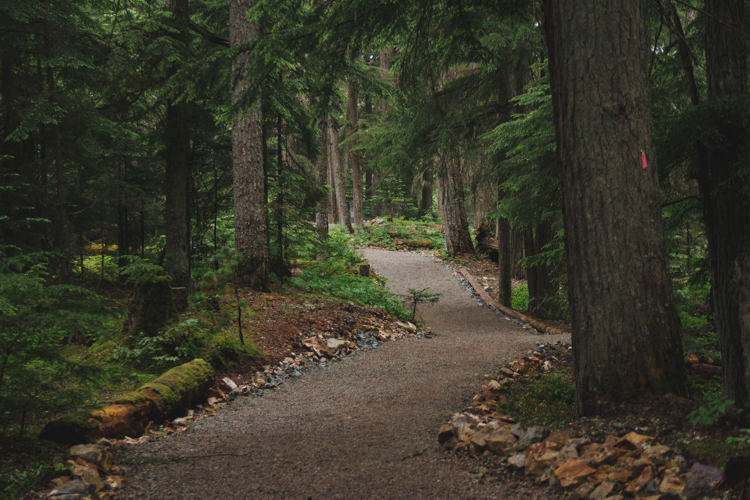 6. Go on an Adventure in the Alpine
Heading up into the alpine during the summer months is a great way to cool down and get a 360-degree view of the Coast Mountains. The aqua-coloured lakes and colourful mountain foliage are a vibrant contrast to the starkness of winter. 
Whistler Blackcomb's new Cloudraker Skybridge, located at the top of Whistler Peak looks out over the Whistler Valley. Take the two-hour guided Whistler Sky Walk Tour with Mountain Skills Academy and clip your harness into a cable so you can walk along the Raven's Eye Cliff Walk. While you're in the alpine, you can also explore more hiking trails and ride the world-record-breaking PEAK 2 PEAK Gondola over to Blackcomb Mountain, where more adventure awaits.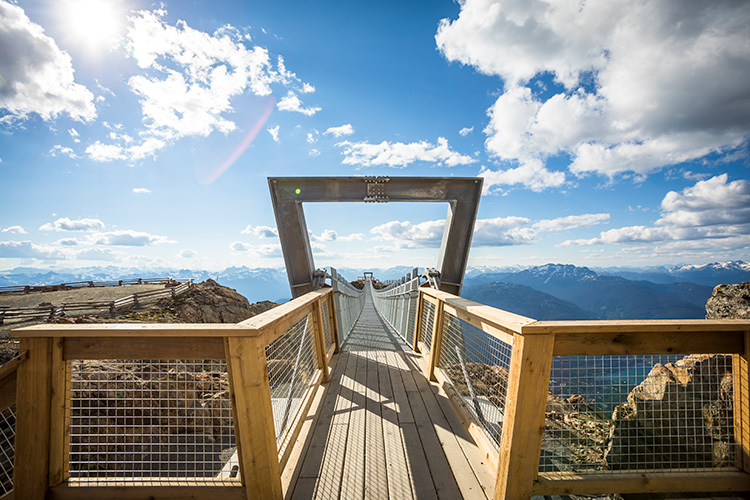 7. Try the Practice of Forest Bathing
The Japanese have a term for spending time in the forest: "shinrin yoku". Loosely translated, it means "forest bathing". Research shows that time in nature reduces stress, improves health and gives us more peace of mind. Try the new three-hour Forest Bathing experience with Canadian Wilderness Adventures and get centered. Tune into the peaceful sounds of nature and feel the earth beneath your feet as you stroll along the Medicine Trail, basking in the stillness of the rainforest.  
8. Soar Above the Tree Tops
Fly through the air with the greatest of ease and feel the wind in your face on a summer ziplining adventure. With 12 different tours to choose from, ziplining in Whistler is a thrilling way to explore the coastal rainforest, while learning about the ecology of the area. 
Ziptrek Ecotours has a variety of lines operating between Whistler and Blackcomb mountains, including their signature Sasquatch® Tour – a monster zipline that spans more than 2 kilometres. Meanwhile, Superfly Ziplines offers a backcountry ziplining experience with four different ziplines on Cougar Mountain, accessible by shuttle bus from Whistler Village.
9. Gain a New Perspective, Go Flightseeing
You've spent time playing in the mountains, but have you been above them? A floatplane sightseeing experience or helicopter excursion gives you a 360-degree aerial view of the dramatic Sea to Sky landscape. From your perch in the plane, you'll have the perfect vantage point to see the colourful mosaic of lush rainforest, undulating valleys, craggy glaciers and azure lakes. But, this isn't just a picture-perfect photo op, it's also a chance to scope out your next line for the winter!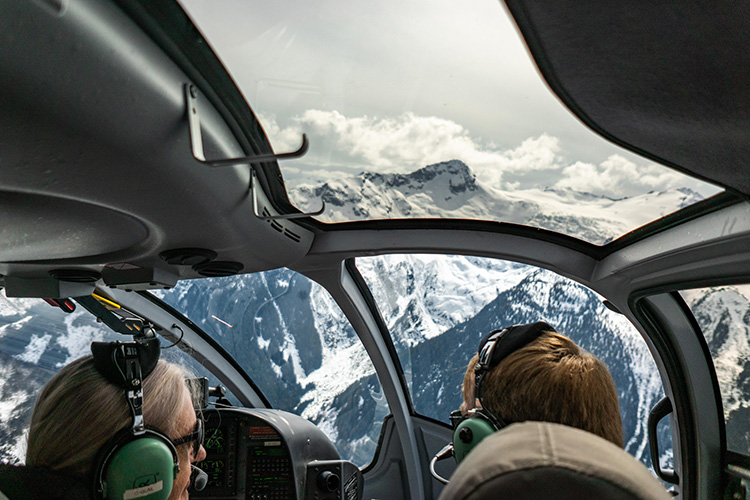 And there you have it. The ultimate list of things to do in Whistler this summer. Visit Whistler.com to book your summer activities.