There's just something both humbling and invigorating about getting a bit of air beneath your toes. And while riding Whistler's Peak Chair can certainly get the blood pumping in the right direction, the real exhilaration of height is best experienced on the side of a cliff face.
For the non-rock climbing crowd (most of us) Whistler still has a couple decent options: the Via Ferrata on Whistler Mountain offers pure vertical excitement in a safe, guided tour but there's a new option for younger adventurers or those who don't want to jump straight into cliff scaling—Whistler Sky Walk, offered by Mountain Skills Academy and Adventures.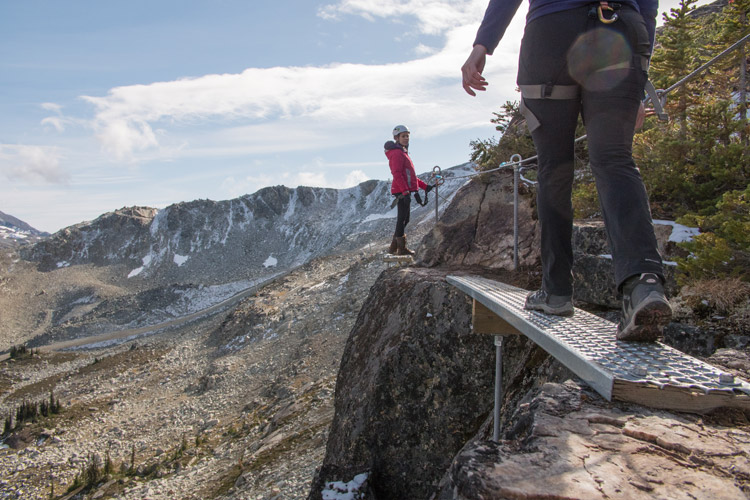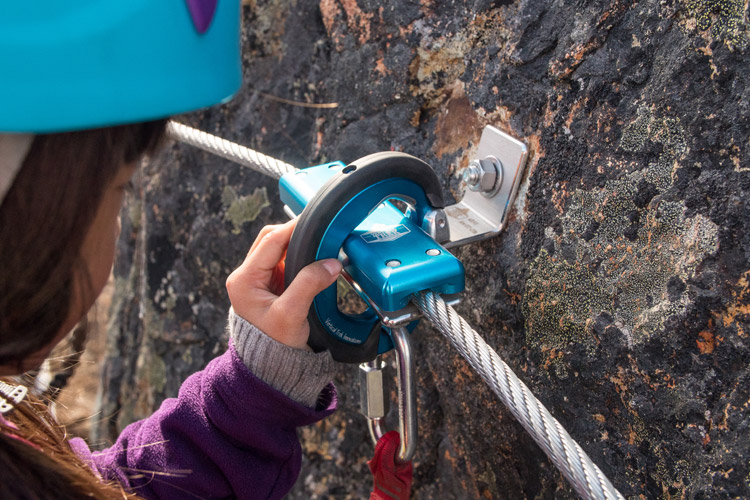 Not to be confused with the full-day Skywalk Hiking trail on the other side of the Whistler Valley or the new suspension Cloudraker Skybridge on Whistler Peak,  the Whistler Sky Walk is a guided hike on Whistler Mountain that brings you up and around a steep ridge and cliff face via a series of bridges, platforms and narrow trails.
Of course, hikers are harnessed up and clipped into a steel cable at all times, but you definitely get some of those stomach flipping moments that come with a few hundred feet of thin air dangling beneath your toes. Along with plenty of awe-inspiring views.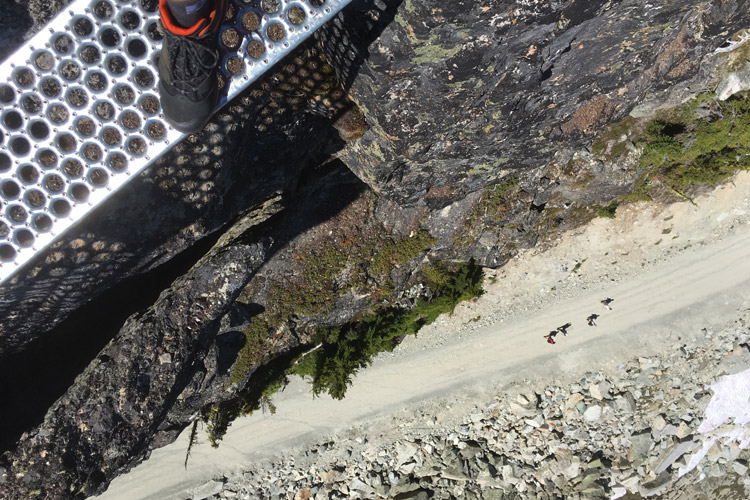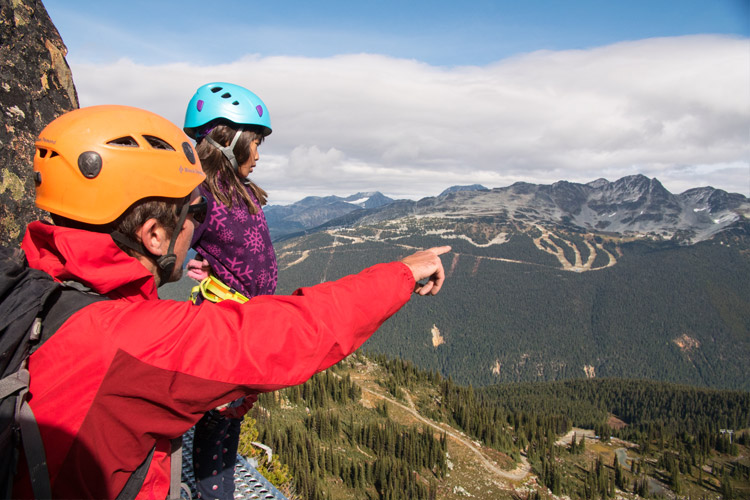 It was sunny and clear the day I took my 8-year-old son up for a jaunt along the Sky Walk, and our guide, Chloé from Mountain Skills Academy and Adventures, put him at ease almost immediately with her knowledge of the local geology and fauna. (The Sky Walk does travel through perfect marmot and pika habitat so keep your eyes peeled.)
A short hike (with a fun snow section) from the Whistler Roundhouse/PEAK 2 PEAK Gondola station and we were clipping into the cable and literally walking on air. My son had no issues with the safety cable apparatus (it's foolproof) and we were both able to enjoy the sights and sensations. Occasionally yelling "Hey You…Look Up!" at all the "regular hikers" (as he put it) far below on Pika's Traverse.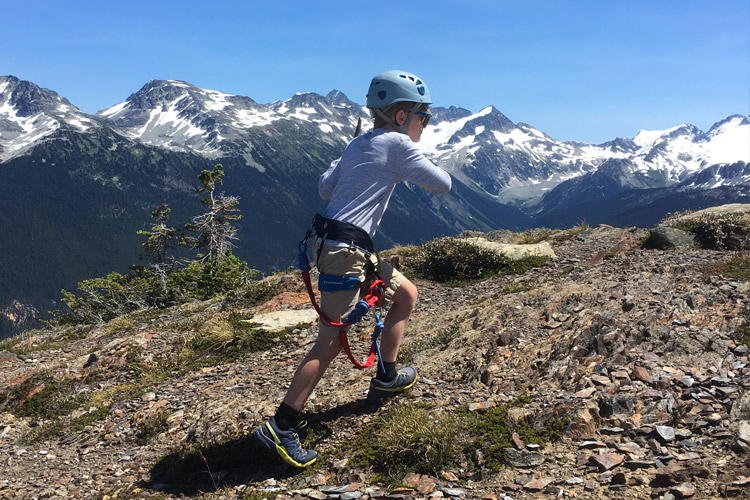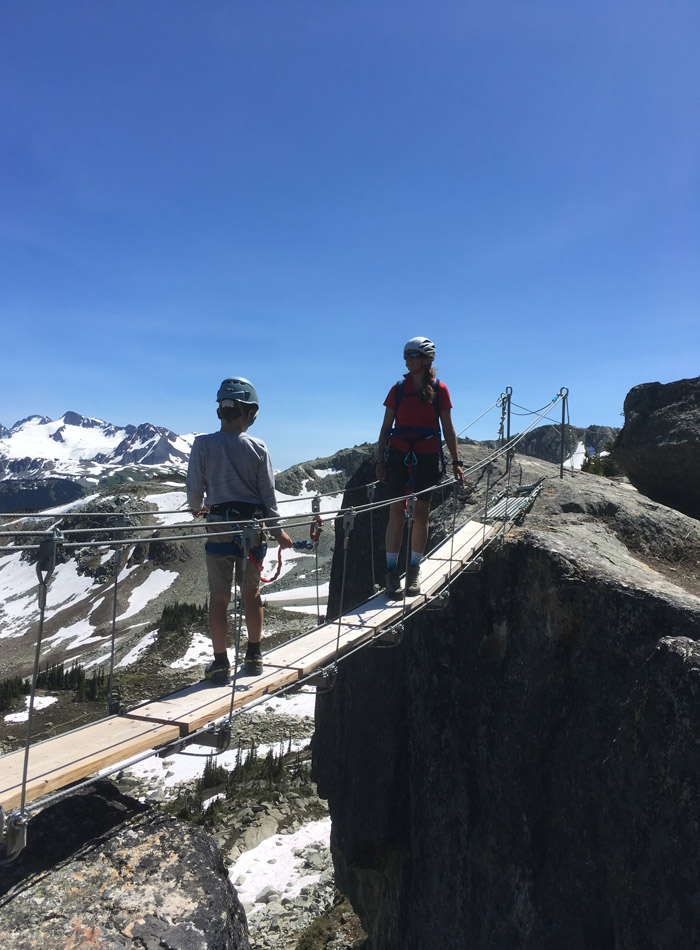 With a 2-hour hike time (plus 25 minutes each way in the Whistler Village Gondola) Whistler Sky Walk is kind of the perfect half day adventure and totally suited to younger or less experienced hikers who want a safe and fun way to channel their inner cliff hanger and get that "kiss the sky/walking on air" feeling.
Learn more about out the Whistler Sky Walk, Via Ferrata, glacier tours and other alpine options at Whistler.com