What Is Biathlon?
Imagine racing around a cross-country ski track at top speed, only to come to a screeching halt at your station your heart racing between 150 and 180 beats per minute. You pull out your rifle, remind yourself to breathe and aim at the targets, which range in circumference from a full roll of toilet paper (if you're standing) to the size of a golf ball (when you're lying on the ground). 
Equal parts endurance, cardiovascular prowess and deep concentration, biathlon is as much about time as it is about accuracy. The sport combines a ski circuit with several rounds of target shooting (half from a standing position and half from a prone position on your belly). 
Norway and Sweden were first to adopt skiing and shooting in the 1800s as part of their military training, which set the foundation for the modern-day sport. Biathlon officially became an Olympic sport in 1960 (at least for men – women were finally allowed in 1990). The sport has a rich history that's rooted in Scandinavia, home of the Norse gods Ullr and Skadi, skiing and hunting legends who we mountain lovers still credit for bringing us a bounty of snow each year. 
Ski Fast, Shoot Straight
Whistler Olympic Park hosted the biathlon events during the 2010 Olympic and Paralympic Winter Games and has played a key role in growing the sport in Canada ever since. Today, you can try your hand at target shooting with a 30-minute Biathlon Experience for two to six people (12-years-old and over) in the same household. Tickets for the Biathlon Experience are thirty dollars and must be paired with a trail ticket for cross-country skiing or snowshoeing.
Since the majority of us first-timers are about as good at cross-country skiing as Bambi is on ice, it's a great idea to include some ski instruction alongside the rifle shooting. You can do a two-hour Private Biathlon Lesson (which includes skiing instruction and shooting), or book the Biathlon Experience for twenty-five dollars as an add-on to a regular cross-country ski lesson or snowshoe tour. The skills and drills the snow school instructors share will get you off on the right foot (or both if you're lucky).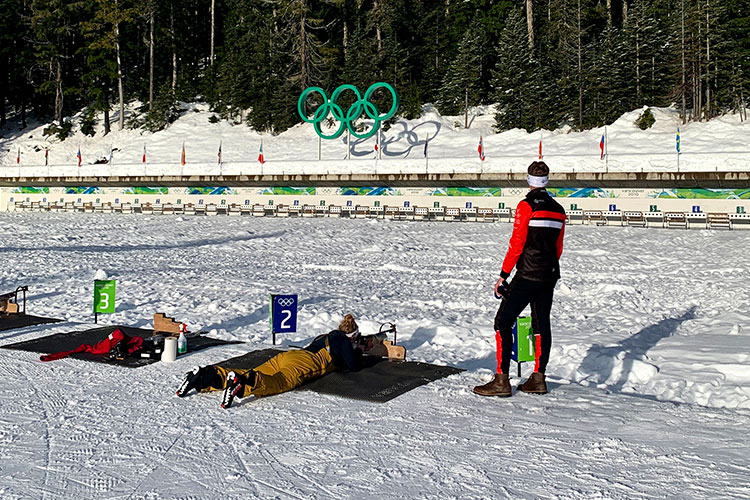 Picture this: You lay in a prone position, your legs stretched out behind you, one eye squinting, head cocked sideways, and finger hovering over the trigger. With the targets at the Olympic range of 50 metres, the task seems Herculean at first. But, it's go time and there's no time like the present. 
"Pop, pop, pop, pop, pop!" Shots ring out. And, the little targets (set to full toilet paper roll width for us mere mortals) change colour from black to white — the colour of a successful strike. It's not as hard as it looked and it's really, really fun! 
One of the great things about biathlon is you get to meet the competitive athletes who've carved a path to the world stage — perhaps even a future Olympic champion or two. 
 "Shooting is what kept me on skis," says Angus Tweedie, a biathlon coach and competitive athlete who originally hails from Smithers, BC.
Tweedie, who calls Whistler home now, trains with the Whistler Nordic Development Centre, which grooms high-performance athletes to compete at the international level. Proceeds from the park's public activities benefit athletes like Tweedie, who train at the venue. Funds help maintain the venue for sport use, which supports the next generation of Canadian biathletes, cross-country skiers and ski jumpers who train there.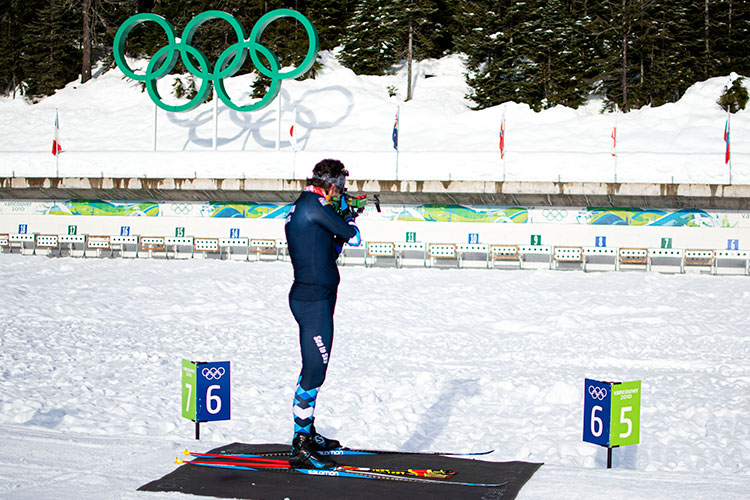 Fresh Air and Freedom
Research has proven that play and recreation can have a positive impact on our stress and anxiety. Given the challenging times we're living in today, it's even more important to get outside and surround ourselves with nature. Fresh mountain air, spectacular scenery, and the wide-open spaces of Whistler Olympic Park are sure to help you regain your sense of calm and peace amidst a chaotic world.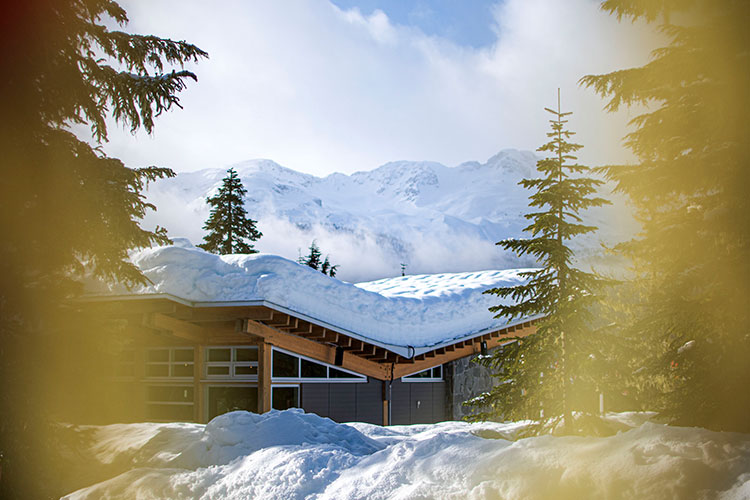 Aside from the thrilling biathlon experience, the park is a great place to explore by ski or snowshoe. There are plenty of family friendly trails (with chariot ski attachments available for rent). Puppers are also welcome to frolic with their owners in the Sea to Sky Corridor's largest designated off-leash dog area. There are 30 kilometres of dog-friendly cross-country ski trails and 20 kilometres of on- and off-leash snowshoe trails. Once you're all done, you can warm up with a hot chocolate in the Day Lodge restaurant, which is open to the public with limited capacity (due to COVID-19).  
Know Before You Go:
Tickets:

You can pre-buy cross-country and snowshoeing

tickets online

or the day of at the park gate. Day admission for adults is $28.50 (cross-country skiing) and $16.50 (for snowshoeing). 

Rentals: If you don't have the equipment, don't fret. Cross-country ski gear (including chariot ski attachments) and snowshoes are available in the park's rental shop. Rentals can be reserved online (reservations mandatory for Wednesday Nights).
Visit Off-Peak:

With the increased popularity of Whistler Olympic Park this season, weekends and Wednesday evening discount nights have been bustling. Consider planning your visit at off-peak times, like on a weekday.

Weather: Check current conditions and forecast at the park before your outing so you can dress appropriately.