There are some impressive mountain innovations in the world, whisking skiers and snowboarders up mountainsides so they can power down them, and giving sightseers breathtaking experiences that often involve 360-degree views and sometimes hair-raising journeys. From the Aiguille du Midi cable car in Chamonix, France, which soars from a nose-bleed inducing 1,035 metres (3,396 feet) to 3,778 metres (12,395 feet), to Switzerland's 107-metre Peak Walk at the Glacier 3000 resort, there are a lot of "bucket list" experiences to be had.
However, what makes Whistler Blackcomb stand out is that it combines many of these "got to do it" innovations into one ski or sightseeing pass. Let's take a look at what puts Whistler Blackcomb at the top of that bucket list for any skier, boarder, hiker, and mountain-lover out there.
13.5-Kilometre Continuous Lift System
On December 14, 2018 a new 10-person gondola is launching that goes from the base of Blackcomb Mountain in the Upper Village to the Rendezvous Lodge, 3.85 kilometres (12,631 feet) up the mountain. It can move a staggering 4,000 people per hour. The gondola drops you at the door of the PEAK 2 PEAK Gondola, which spans the valley between Blackcomb and Whistler mountains, taking 28 people, 11 minutes to cross 4.5 kilometres (14,816 feet). Once you're over on Whistler Mountain you can then get on a 10-person gondola that takes you back down to the valley to the base of Whistler Mountain, travelling 4.99 kilometres (16,371 feet). This completes a continuous lift system for a total ride of 13.5 kilometres (44,291 feet) up one mountain and down the other.
We're not saying that you'll necessarily want to ride the lift system in this way, it just means that there are more options to access the incredible terrain on two mountains and have a nice coffee and a chat along the way in a cozy gondola. It's part of a 66-million-dollar investment by Vail Resorts Inc., which includes other lift enhancements on Blackcomb Mountain and changes to the popular Emerald Chair over on Whistler Mountain. Take a look at this video for a snapshot of where the new gondola and chairlifts are on the mountain.
PEAK 2 PEAK – Guinness World Record Breaker
The PEAK 2 PEAK Gondola opened in 2008 as a Guinness World Record Breaker – it was the world's longest unsupported span at 3.024 kilometres (1.88 miles). In 2017, it lost out by 189 metres (620 feet) to the Eisbee Cable Cart in Zugspitze, Germany. Still, to put this in perspective the total distance is more than travelling three times the length of the Golden Gate Bridge in San Francisco. The PEAK 2 PEAK is still the world's highest lift of its kind at 436 metres (1,427 feet) above the valley floor – you could fit the Eiffel Tower underneath it, but the French might not like that.
Now, the PEAK 2 PEAK is the middle element of Whistler Blackcomb's new linking gondola system. It travels at 7.5-metres per second and can transport 2,050 people per hour each way. For skiers this means you get access to two mountains, doubling the terrain you can cover in a day, and at Whistler Blackcomb, that's 3,307 hectares (8,171 acres) and more than 200 trails.
Cloudraker Skybridge
In the summer of 2018, Whistler Blackcomb unveiled the new Cloudraker Skybridge. It sounds like something out of a Star Wars movie and to be fair, it does have the views to potentially feature in one. It stretches 130 metres (427 feet) from the top of Whistler Peak to the West Ridge, crossing over Whistler Bowl at 2,182 metres (7,160 feet) above sea level. At the far end is the Raven's Eye Cliff Walk, a 360-degree platform where you can enjoy an uninterrupted view of the surrounding mountains. It's similar to Switzerland's Peak Walk located at the Glacier 3000 resort, however the Skybridge trumps the Peak Walk by 23 metres. The Skybridge closes over the winter months, although word on the slopes is that engineers are working on how to make it a year-round attraction. Find out more about this incredible experience on our dedicated Skybridge blog.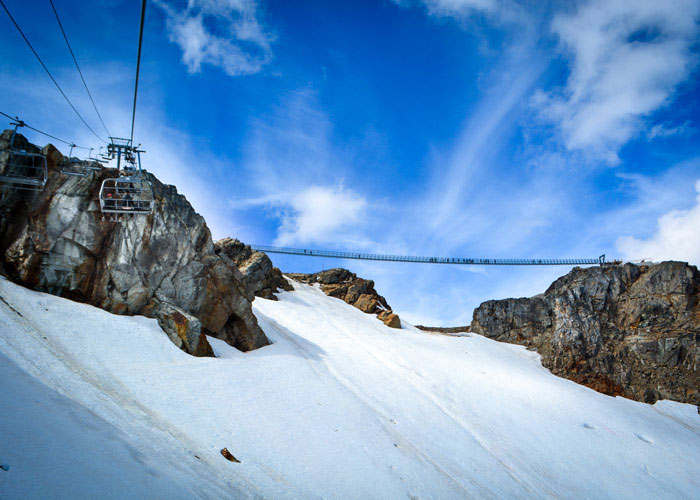 Terrain
A lot of European resorts connect together giving them some impressive terrain figures, for example, Les 3 Vallees (which has just been added to the Epic Pass) in France combines Courchevel, Meribel, and Val Thorens giving them the world's biggest ski area with 600 kilometres of runs. They have 328 runs, but if you consider that Whistler Blackcomb has over 200 you can see why they'd also be included in this CNN list of biggest ski resorts in the world. They have the biggest ski area in North America, at 8,171 acres, with Park City and Powder Mountain in Utah being the only ones close to this amount of terrain.
So, what do you think now? Are these mountain innovations something you'd want to see in real life? No matter what time of year you choose to come, there's always something to explore in Whistler.
If you fancy ticking a few things off that old bucket list then give the team at Whistler.com a shout, they can help put all the pieces together for you, so you don't miss a thing.