Updated July 2022.
Guest Author & Photographer: Mike Markov
There are many ways to experience the backcountry of Whistler during the fall months. While hiking and biking remain as options, The Adventure Group (TAG) provides a truly unique experience for those of us looking for a wild and adrenaline-filled ride just north of Whistler Village. Using capable and burly RZR off-road vehicles, TAG offers a variety of guided tours into Whistler's coastal temperate rainforest. After finding out I'd be going on their flagship 2.5 hours BC Tour with a couple of my friends, I was eager to hit some off-road trails as a first-time RZR driver!
Situated right by Cougar Mountain, TAG's basecamp is a mere 10-minute drive north of the Village which is accessed via a complimentary shuttle.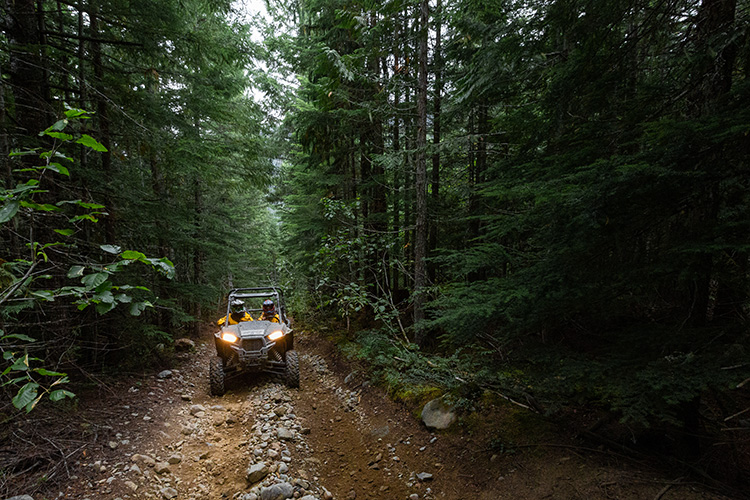 Getting Geared Up
Shortly after arriving at basecamp, we met our tour guide, Blake. He was super friendly from the get-go and ready to get us all geared up for our backcountry adventure. While I was already wearing clothing I did not mind getting dirty, the extra layers provided to us were useful since it was a cool and rainy day.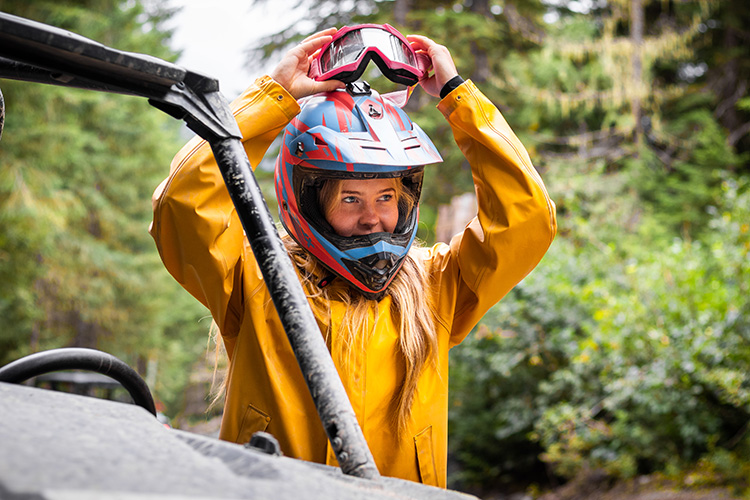 INSIDER TIP: TAG provides all the necessary equipment to keep you protected on the trail. Their D.O.T. certified helmets will keep your brain safe, along with provided goggles.
First things first, we had to get the appropriate mud and rain gear on, since the RZRs would be kicking up plenty of dirt along the way. Blake then took us outside to get familiar with the RZRs themselves.
Despite being a first-timer with an RZR, I was pleasantly surprised to see how easy it was to operate these machines. The controls are very similar to that of an automatic car. Even if you have never touched an off-road vehicle before, you will not be out of your element. Blake was fantastic at giving us an overview of the controls, and a safety talk for the vehicles. After discussing our route, we buckled up and headed off up Cougar Mountain in our RZRs!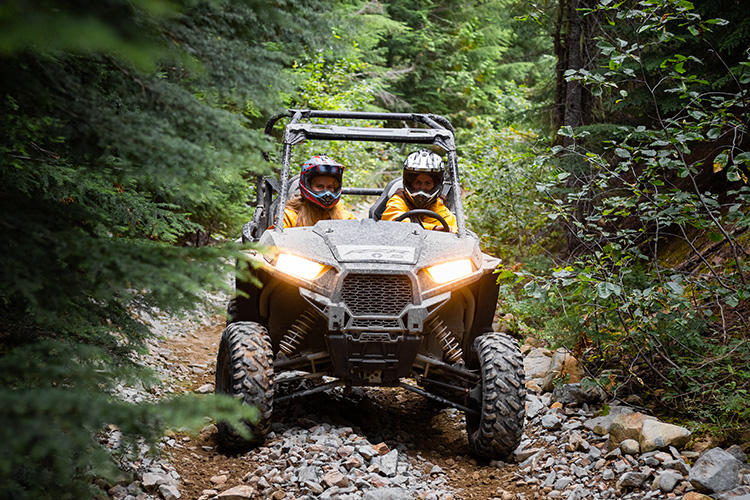 Hitting the Trails
The journey began up a mellow Forest Service Road with gorgeous mountains towering in the distance. This easy road was a great way to get accustomed to the controls of the RZRs before attempting more demanding segments of the trail. As our group approached the first real rough section of trail, I was stunned to see a massive rock garden ahead of us. I really had no idea how these machines would handle, but Blake told us it would not be a problem at all. As our tires approached and hit the rocks, I was very surprised by the RZR's suspension eating up and gliding across the intimidating section of trail with ease. From this point on, I trusted the machine and was excited to see what else it could do.
INSIDER TIP: Make sure to look up! On the BC Tour you will be able to spot glaciers perched on top of towering mountains in the distance. These very same glaciers feed the rivers and streams you encounter along the way.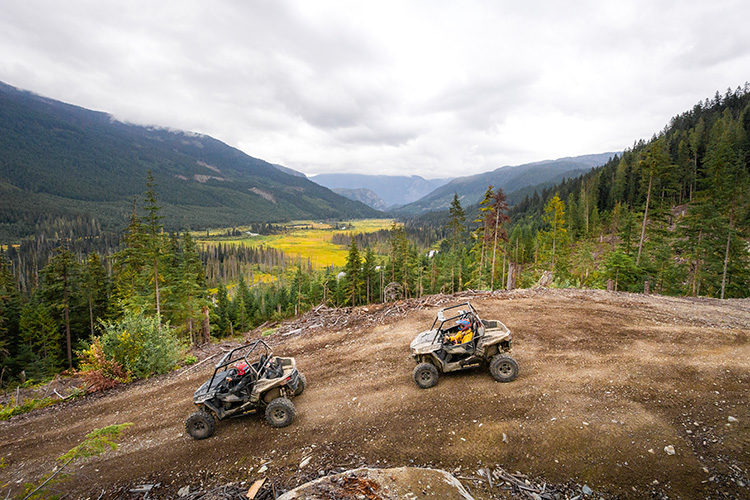 Meandering deeper into the woods of Cougar Mountain proved to be fun, exhilarating and extremely scenic. The Soo Valley, previously looming far in the distance, became closer and closer as our group drove on. In the middle of this spectacular valley lies the Soo River. It is a beautiful glacial-fed waterway lined with bright, vibrant vegetation. Blake told us we'd be seeing these landmarks from the "Bob Ross" viewpoint further ahead on the trail.  Upon arriving at the viewpoint, it was all smiles as our breath was taken away by the expansive nature in front of us.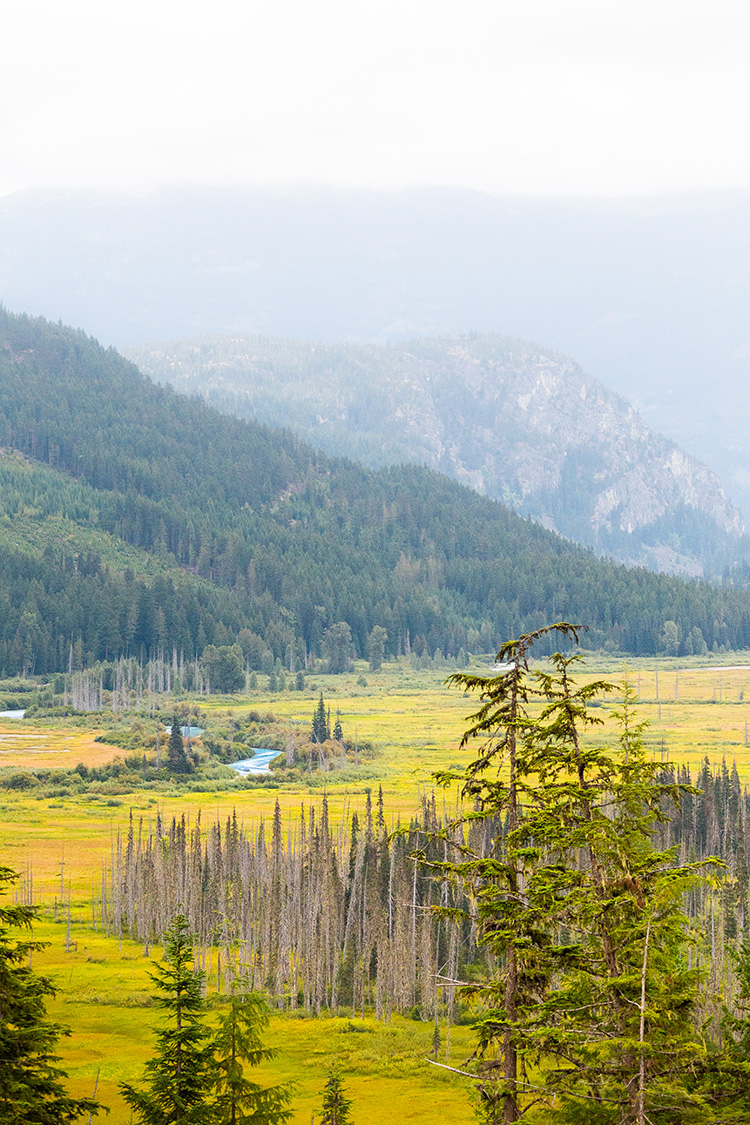 Fun in the Mud
While our entire group had stayed relatively dry and mud-free up until this point, Blake mentioned the last portion of our tour would be packed with many stream and creek crossings. I was excited for this, as being a mountain biker, I know how enjoyable it is to race through muddy terrain.
We retraced our original route back towards basecamp, passing by many patches of purple lupine flowers and bear droppings along the way. After taking a different turn, we started to rapidly climb and descend a new portion of the valley lined with watery potholes, creeks, streams and puddles. It was an absolute blast driving the RZRs over these features and seeing the water disappear under our tires.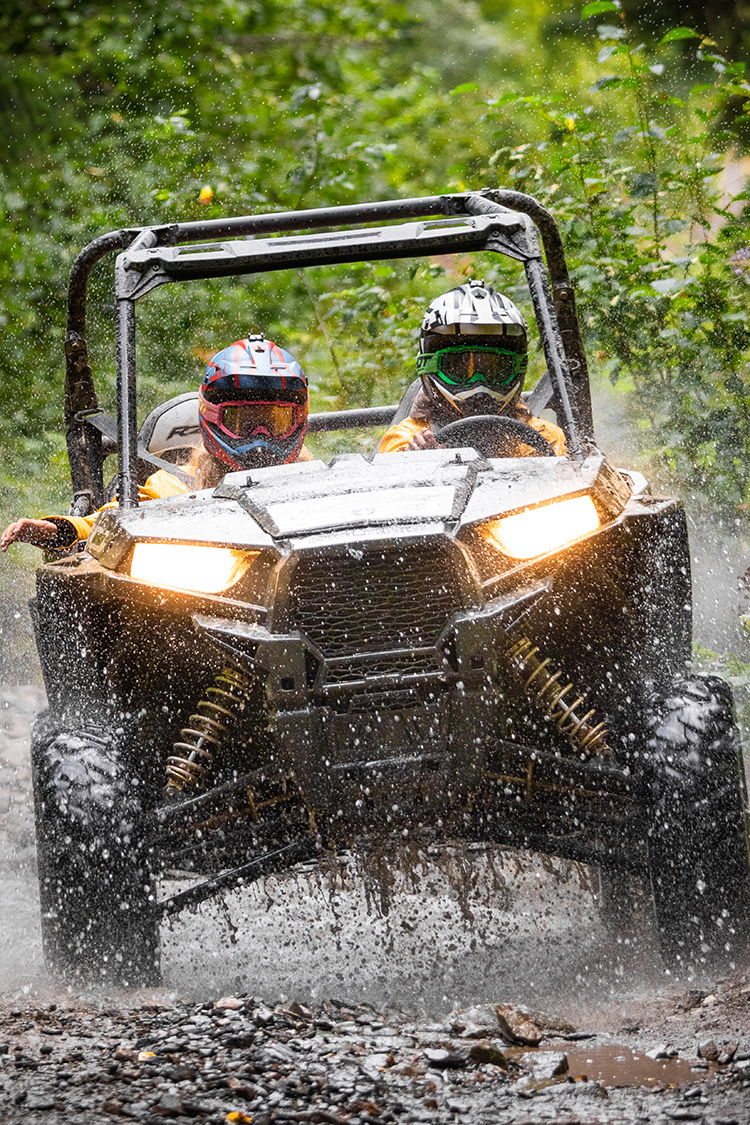 After this section of trail, it was a quick descent back over to basecamp to wrap the day up. Our entire group was stoked on the experience as we got to see some stunning parts of Whistler, all while still having our own little action-packed adventure.
There are so many ways to explore Whistler off-road, from a heart-pumping Wild West ATV Tour in the Callaghan Valley to a family-friendly Backcountry Buggy Tour, you really can't go wrong.
Browse the tour options and start planning your adventure-fuelled fall getaway at Whistler.com.