My name is Alexander, and I'm a local teenager who has spent the last 11 years happily residing in Whistler, BC. When asked for my favourite things to do in Whistler I didn't have to dig too deep.
If you are travelling to Whistler with teenagers, or, like me, you are one, here are the top six things I strongly suggest you consider doing.
1. Join Snow School
Whistler Blackcomb offers ski and snowboard lessons for teenagers aged 13 to 18 years old of all skill levels. This is the place to meet other teens who love to ski and ride. You develop new skills, make new friends and experience both Whistler and Blackcomb Mountains with a knowledgeable coach who knows the slopes and where all the snow stashes are.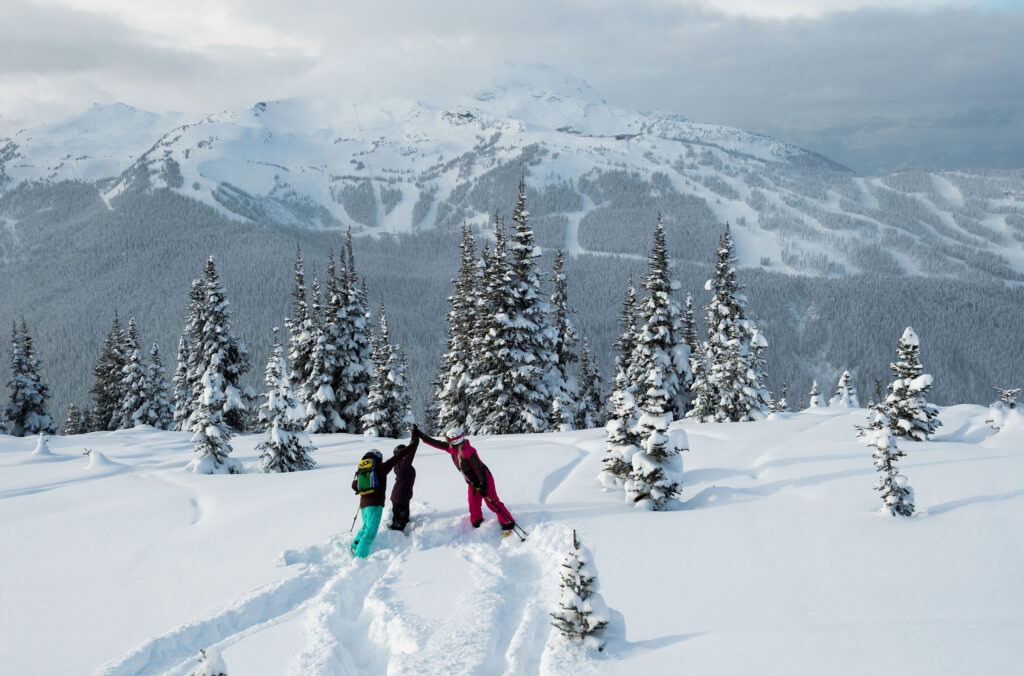 It's also cool that you can skip the lineups when you're with your lesson crew. Depending on your age and ability, you could then hit up the slopes with your new pals outside of lessons too.
2. Tube Down a Mountain
After a day of pushing myself hard on the slopes, I like to feel the wind in my hair as I whip down the icy lanes of the bubly Tube Park. Floodlights reflect off eight icy lanes, the music is pumping and, trust me, you can pick up some serious speed.
Grab your ticket and a donut-shaped sled, and use the magic carpet to take you up to the top. Your adrenaline starts to pump as you get closer to the icy tracks that await you. The first couple are small, made for riders that just want to take it easy. The middle lanes are slightly bigger for people who want more of a challenge, and the last two, which are massive, are made for thrill-seekers.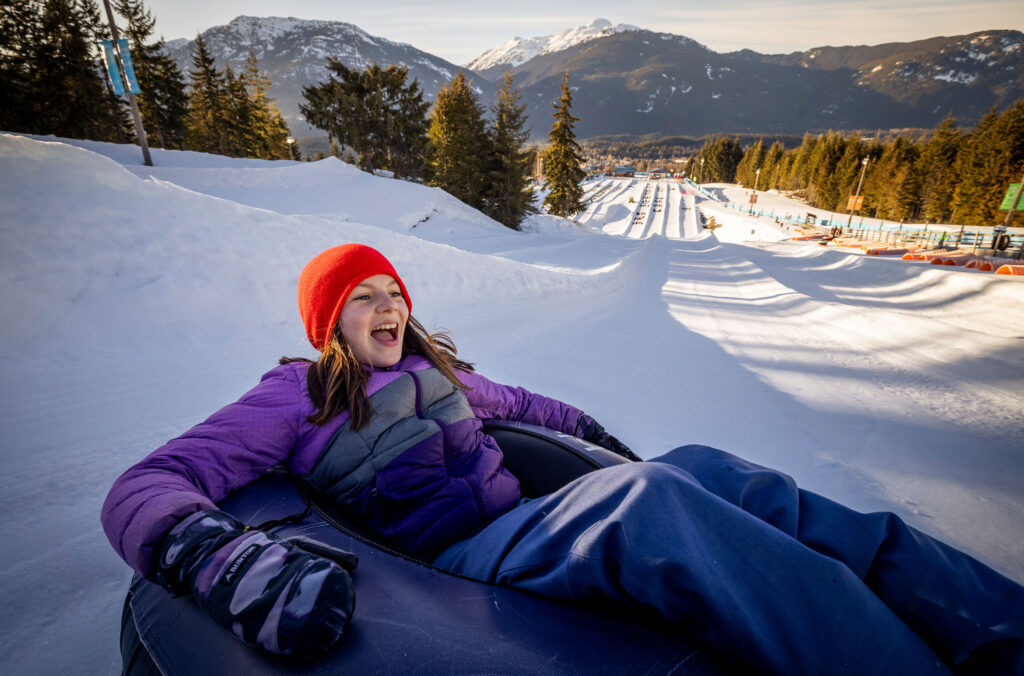 To attend alone, you must be at least 12 years old and 41 inches tall (103 centimetres). Located just a short way up Blackcomb Mountain, you can catch the Excalibur Gondola up to the tube park's entrance, which is close to Lot 7.
3. Zipline Across the Valley
If you're like me and you have a need for speed then ziplining might be your thing. You get to soar from mountain to mountain, across tree-filled valleys and over raging, icy rivers. Whistler has two zipline companies that operate year-round, but I like going in the winter. The crunch of snow under your feet and the starry night sky just make the experience unforgettable.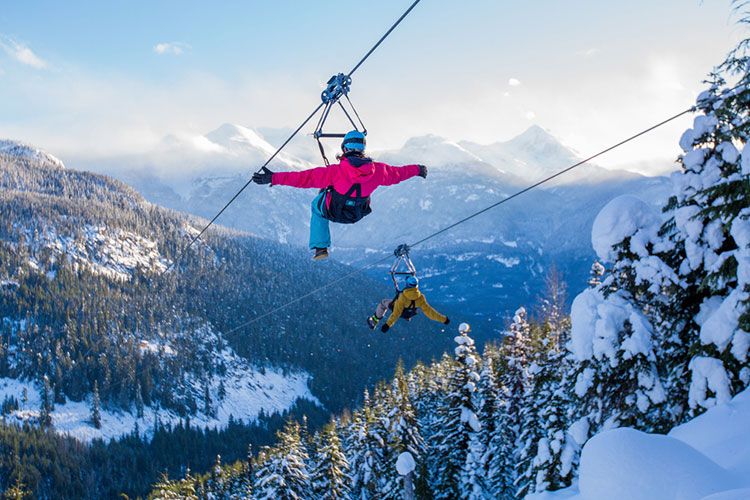 In 2022, I did Ziptrek's Eagle Tour (2.5 hours) with my friends. The tour has five ziplines and one of them has a 30-storey drop. I tried Superfly for the first time this winter and, boy, it definitely lived up to my expectations. After a cool buggy ride adventure to the start pad, the ziplining begins with a 1.3-kilometre (0.8-mile) line at 200 metres in the air! My personal favourite Superfly zipline is one they call Godzilla, which includes a fast, hair-raising drop!
4. Outdoor Ice Skating
Looking for a true Canadian experience? Try ice skating under the stars. Grab your friends and head to Whistler Olympic Plaza. The music is pumping, the disco lights are flashing and if you need a warm-up afterwards, you can go to any of the surrounding coffee shops for a hot chocolate. My personal favourite is Blenz Coffee, which uses real Columbian chocolate.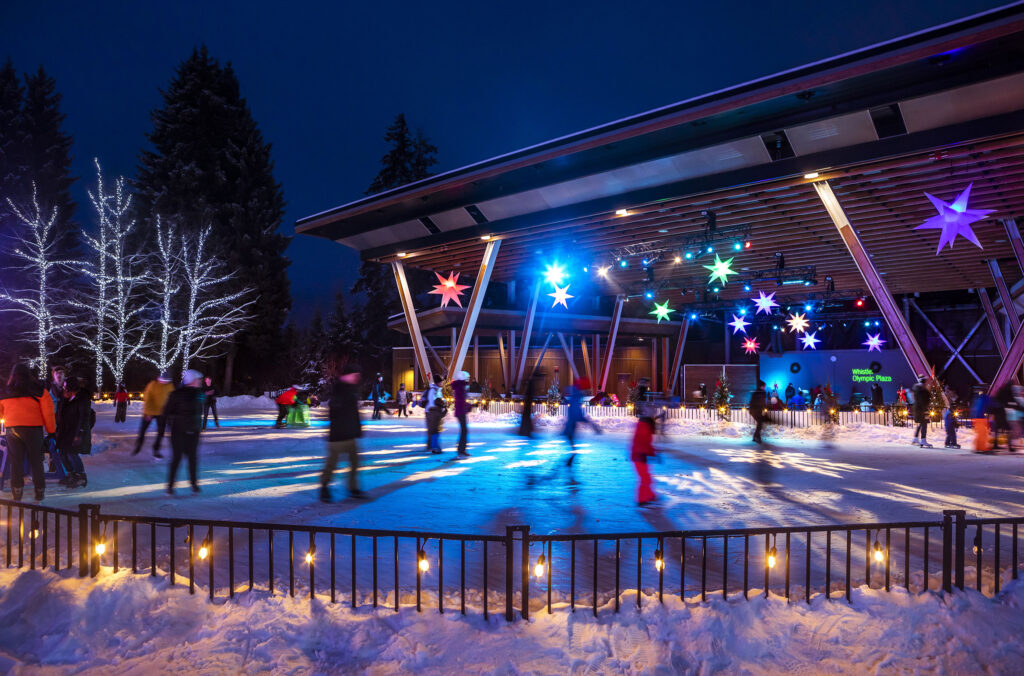 You can bring your own skates or rent them there. All ability levels are welcome and it's only $2 with your own skates or $9 if you need to rent.
5. Whistler Escape! Rooms
Think you could get out of a pirate ship located right in the centre of Whistler Village? You only have 45 minutes to solve riddles, clues and puzzles in order to complete an Escape! Whistler room. There are six escape room experiences to choose from, which range from beginner to expert. All of them guarantee a wild, twisty adventure whether you choose to escape from a buried cabin, an underwater lair or a pinball machine.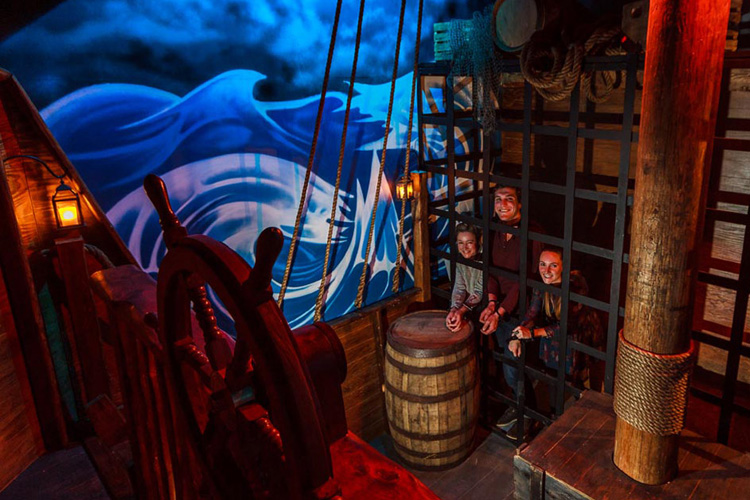 You can go in groups of two to six people, and ages 13 and up can go unsupervised. So, whether you're planning on ditching your parents or utilizing their, um, skills, yeah, their skills, you just need a good attitude and some teamwork to beat the clock.
6. Après Celebrations
Once you've concluded your epic day on the slopes, you're probably starving. In Whistler, we got you. When I get down from a day skiing my favourite place to go is the Garibaldi Lift Co., or GLC as we locals call it.
It does amazing waffle fries, there's usually live music and you can see the slopes, where you might catch some, um, free ski performances. I asked a few of my buddies for their thoughts on where to go if you're hungry.
"Dusty's is great. I love the ribs there." Cole Bonnell, Whistler teenager.

"Brewhouse wings are a MUST on the to do list." Jack Wersend, Whistler teenager.

"For an easy way to go to après, GLC is perfect. Ski right into the main entrance and chomp down on those amazing waffle fries." Mason Foose, Whistler teenager.
Fall in Whistler means more, like great value on accommodation with rooms from $135 CAD per night, plus a free $100 CAD Dining Voucher when you book a stay of 3-plus nights. Book in confidence with Whistler.com for Flexible Cancellation and a Price Match Guarantee. If you're dreaming of a trip to Whistler, enter our Find Your Altitude contest for a chance to win a six-night vacation with flights, accommodation and activities (including a heli trip) all covered.