Guest Author: Jay Grottoli
Whether you're flying in to the Vancouver International Airport from the other side of the globe, or driving up the Sea to Sky Highway from the other side of the border, your well-deserved Whistler golf trip will be an experience you won't soon forget. With four courses and a ton of things to do off the greens we've taken the liberty of creating an itinerary to get you to each course, giving you a  guide for your time and a glimpse of what you can expect here in our energy-filled mountain town.
Day 1 – Sunday
Afternoon Arrival
It's here! It's finally the week you've been waiting for after a long winter that seemed to be never ending. After you've endlessly cleaned your clubs to the point the finish is beginning to wear off the head of your 7-iron, and you've mastered the break of your living room floor from months of putting into a coffee cup, golf season is finally here. A full offseason of YouTube videos and standing in front of the bathroom mirror making sure your swing is on plane and your club face is in the perfect position because this is the year that you're going to eliminate the miss to the right.
Windows down, your favourite playlist loaded and you're ready to hit the road with a few buddies who've been anxiously waiting for golf season to start since the final round of The Masters. After a two hour drive or transfer up Highway 99 from Vancouver, you've arrived. You're in Whistler and it's everything you'd imagined and more. You've checked in to your hotel and grabbed a seat on the Longhorn Saloon patio watching the bikers come flying through the Whistler Bike Park as the sun sets behind the mountains.
This is going to be the best week… EVER.
Day 2 – Monday
Whistler Golf Club – 9:54 AM tee time
Perfect. Just enough time to sleep in a bit after a travel day, and grab some breakfast before putting all those tips you've heard on the Swing Fix over the winter to the test. Ask any of the number of friendly and knowledgeable staff or volunteers either in or around the clubhouse and they'll give you a lift over to "The Range." You'll immediately realize that these greens not only run faster and roll more true than your living room carpet, they're completely flawless and provide a great challenge.
The Whistler Golf Club's driving range also offers 5 target greens, a separate chipping green and practice bunker as well as a full shop where you can pick up anything from a fresh golf shirt to an entirely new set of clubs. Ask the range attendant to call for the shuttle back to the course and to the first tee we're headed. The aforementioned lovely staff will give you a rundown on everything to expect during your round of golf from pace of play, to the name of the beverage cart attendant.
The 6722 yard Arnold Palmer designed Whistler Golf Club offers a layout where each facet of your game will be challenged. Mr. Palmer would typically move the ball from right to left so don't miss right! But it's okay because along with the Golf Channel's Michael Breed you've finally taken the miss right out of your bag! The greens at the Whistler Golf Club are known for their firmness and undulations so purchasing a yardage book on your way out of the Golf Shop isn't a bad idea.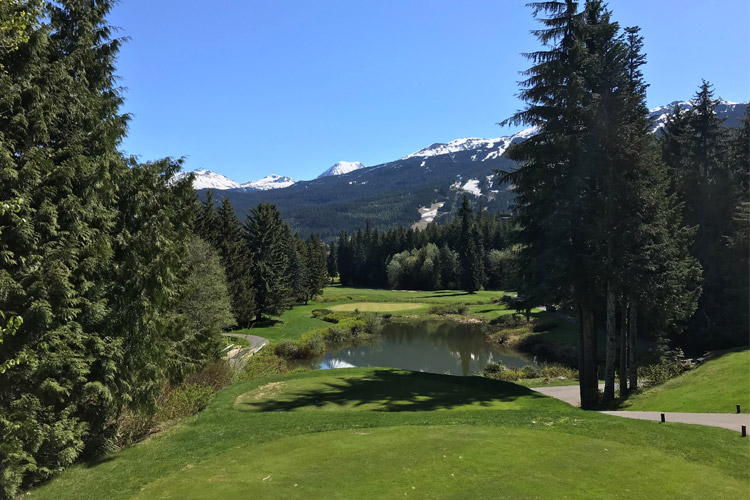 Be sure to grab a refreshment and a local favourite hot dog from Crabapple Corner, the Whistler Golf Club halfway hut located beside the Palmer Tees on number 9. The Whistler Golf Club offers 5 different sets of tees with a number of them being upgraded and expanded to increase the overall experience no matter what your skill level may be. Your round continues and you remind yourself to trust the process, and all those offseason swing changes take time to become comfortable with. You take a deep breath and gaze up into Blackcomb Mountain as you stand on the par 5 16th tee, Whistler Golf Club's Signature hole. Remember, who cares if you swing slightly over the top. You're in the first of a four day golf vacation in Canada's number one golf destination.
You grab a seat on the Palmer's Patio with your favourite beverage and a King Arnie Burger as you watch the groups come down #18, knowing that you get to do it all again tomorrow.
Day 3 – Tuesday
Big Sky Golf Club – 9:00 AM tee time
You get a 7 AM wake-up call because you know this is going to be a day to remember and right when the sun peeks through your hotel window, there's not a chance that your excitement will allow you to sleep in. You're on the road at 7:30 AM, and after a quick 25 minute drive north up Highway 99, you make a right turn onto Airport Road and there you find yourself peeking through the windshield, underneath the roof searching for the summit of the 8,000-ft tall Mt. Currie which is now towering right over top of you. You pull off the street and down the long driveway approaching the clubhouse as you pass the gigantic practice facility which includes a double-ended range, three different practice greens and a 5 hole, par 3 course. The always courteous staff at Big Sky Golf Club will take your clubs just in front of the clubhouse and place them on a cart or a complimentary pull cart depending on your preference.
After simplifying all those swing thoughts you'd gathered from your round yesterday and a full warm-up on the driving range, you and your buddies head to the first tee. You'll immediately notice how well this 7001-yd Robert Cupp designed masterpiece follows the contours of the landscape bringing in all aspects of the natural beauty that the Pemberton Valley has to offer. You'll also notice Mount Currie serving as the perfect backdrop for your opening tee shot. There's something quite majestic about the experience of watching your little white golf ball traveling towards a mountain that's towering over top of you…and landing on the center cut of the fairway, of course.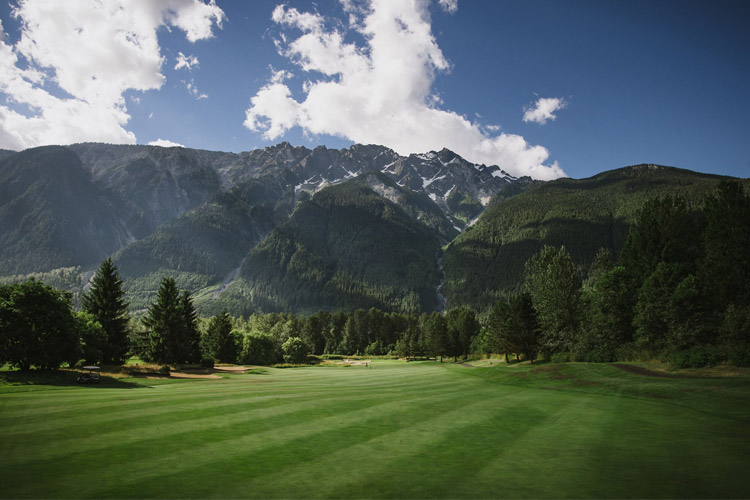 A fantastic feature of the Big Sky Golf Club is the closely mown fall away areas around each green, giving another unique aspect to this genius design which will force you to get creative with your scrambling skills. Always guaranteed a good lye, not always guaranteed that you'd made the right decision. (Insider tip: Don't be afraid to use your putter from around the green!). Slightly softer bent grass greens will allow well-executed shots to be rewarded.
The 18th hole is a par 5 that runs along the left side of the rather large natural pond with the par 5 9th hole running adjacently on the opposite side of the pond which both head towards the clubhouse and Fescue's Restaurant. After your round be sure to grab a seat on the patio and a large order of Big Sky's nachos as well as a pint from the lengthy list of local brews on tap.
Day 4 – Wednesday
Nicklaus North Golf Course – 11:30 AM
After a night of discovering the new home of your favourite steak at Hy's Steakhouse, your new favourite sports bar, Brandy's at the Keg and your new go-to late night snack at Misty Mountain Pizza, you're ready to kick off the second half of your golf vacation.
Like all of the courses in Whistler, you'll first notice the friendly and attentive staff who you'll be greeted by as you approach the bag drop. They'll gladly handle your golf bags from your vehicle to the golf cart so you can save your back strength to carry your partner during your match play today. Nicklaus North Golf Course offers all of the extra amenities that you'd expect from a semi private golf club with its beautiful club house, the fantastic Table Nineteen Lakeside Eatery, their large range located 30 yards from the first tee and a courteous starter who will provide you with all of the information you'll need to get the most out of your round.
 Nicklaus North provides a challenge for every golfer no matter the skill level. The grounds crew set five different tees ranging from 4764 yards to 6961 yards with only one forced carry from the forward tees which adds to the playability of the design. This par 71 layout includes five unique par 3's with the most breathtaking being #17 which runs along the bank of Green Lake to a well-protected green with Wedge Mountain serving as the backdrop.  Although Jack Nicklaus and his design company have put their mark on hundreds of courses, Nicklaus North is one of only five courses worldwide to include the Golden Bear's name in their title. Nicklaus North has played host to the likes of former world number one ranked golfers such as Fred Couples, Ernie Els, Vijay Singh, Greg Norman and Nick Faldo and you know they'd be impressed with that opening tee shot right down the middle.
As your round progresses to the back 9 and you and your teammate hold a commanding lead in the match, take a minute to enjoy the natural beauty of the Whistler valley, especially as you walk up the 11th fairway. This is likely the most open area you'll find all week, which allows you to take in a full 360 degrees of the Coast Mountains and to grasp the size of the landscape that surrounds you. Don't be afraid to remind your playing competitors to take a load off too and have a look around as they figure out how they're going to come back from 5 holes down with 7 to play. One of the coolest features of your experience at Nicklaus North is the stroll from the 15th green to the 16th tee. Whistler Air docks a few of their floatplanes on Green Lake only steps from the cart path and if you're lucky enough, you may have the opportunity to hit your tee shot down the 425 yard par 4 16th hole with one of the planes taking off in your background (photo opportunity!).
After your round, a beverage and a bite at Table Nineteen Lakeside Eatery is a must. The patio looks out towards the Whistler Air docks and into the heart of Cougar Mountain across Green Lake. The Green Power Bowl is a great, meatless option to compliment the sweet, sweet taste of your match victory.
Day 5 – Thursday
Fairmont Chateau Whistler Golf Club – 7:30 AM
For a golfer, not much beats an early tee time, with that crisp mountain air and the smell of freshly mown grass. The greens were just rolled a couple of hours ago and all of the cut lines in the fairway are perfectly defined as the light from the sunrise hits them.
Last but certainly not least, The Fairmont Chateau Whistler Golf Club. In May of 1993, the Robert Trent Jones Jr. designed masterpiece opened as the second golf course in Whistler giving guests a true mountain golf experience. With over 400 feet of elevation change from the clubhouse to the 4th green, the Fairmont Chateau Whistler Golf Club offers a unique golf experience to the recreational golfer as well as an unforgettable challenge to the avid golfer. Nestled perfectly into the side of the Coast Mountain range, "The Fairmont," offers breathtaking views of the valley and of the glaciers that you won't be able to find anywhere else in Whistler.
After pulling into the driveway, a friendly guest service professional will be waiting to assist you with your golf clubs and will offer valet parking which correlates with the legendary customer service that the Fairmont name is known for. Along with the other three courses in Whistler, the Fairmont Chateau Whistler Golf Club is renowned being committed to reducing its operating footprint and is a leader in instilling environmental sustainability in our community. This will become especially evident as you and your group make your way into the early stages of the front nine. The course traverses creeks, ponds and stands of ancient Douglas fir which adds to the overall ambience of this spectacular golf course.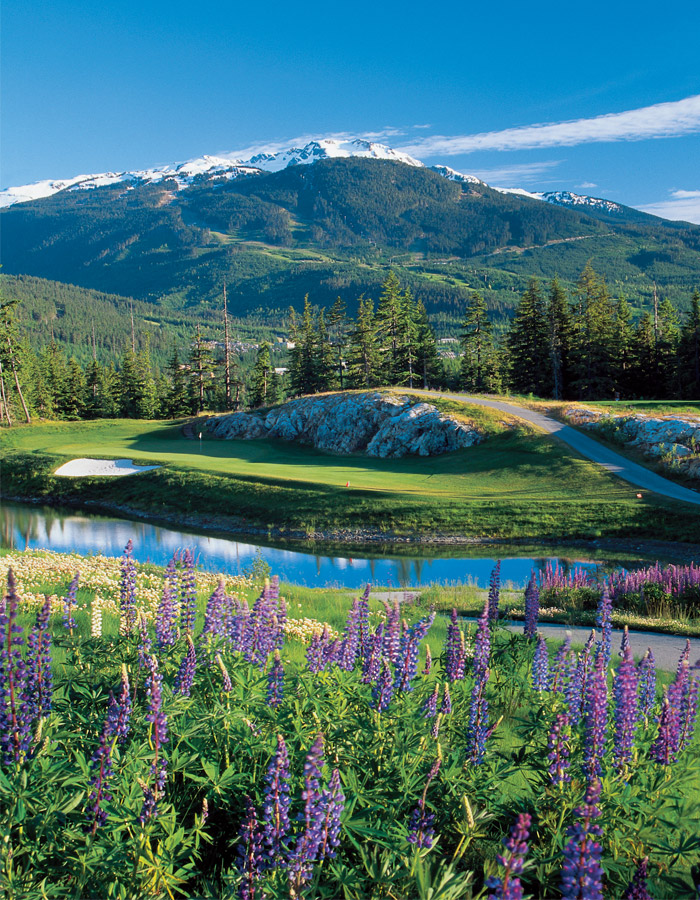 As you make your way through the first half of the front nine, you begin to realize that for only 3 and quarter rounds into your golf season, your swing's feeling surprisingly comfortable and predictable. Only a few lost balls and a shank or two over the past few days, but you'll take it. Those YouTube instructors are geniuses! That right miss has made an unwelcome appearance here and there, but hey – even Tiger misses right from time to time. You've hit a few frozen ropes that have left the other three in your group in awe and their reaction alone makes you feel unbeatable!
You've reached the par 3 8th, the Fairmont Chateau Whistler Golf Club's signature hole. Looking up and slightly to the left you can see directly into the Horstman Glacier, a popular ski spot on Blackcomb Mountain and an aspect you can only find here on this golf course. Water left and a 30 foot rock face to the right of the green demands a straight executed shot to put the cherry on top of this hole.
After your round be sure to grab a seat to watch as golfers make their way into the par 5 18th green, finishing an incredible golf experience as you just did. A cheers to a phenomenal four days of golf is definitely in order.
Day 6 – Friday
Reflections on the Ultimate Whistler Golf Trip
After your days of play, you realize that a Whistler golf trip is simply unbeatable. Four unique courses, fantastic customer service, amazing conditions and impeccable value for money has definitely made this trip one to remember, and it could very well become part of your early season routine.
For more information on golf in Whistler from Stay & Play Packages to booking your tee times online and more on off-course activities, check out Whistler.com.