Editor's Note: These are the 12 days of Christmas, Whistler Style so strap in and get ready for a week and a half of snow, excitement, twinkling lights, good times, great food and fantastic winter enjoyment. No Partridges, no pear trees (although there may be some tree skiing.) Happy Holidays.
With the children out of school many people's holiday experience kicks into high gear this weekend so to help keep the little ones occupied the Whistler Conference Centre is transforming into The Whistler Holiday Experience, a 23,000 square foot extravaganza of games, crafts, and bouncing childish glee – and it's all free.

"Everyone loves a bouncy castle," says Sue Eckersly, who conceived the Holiday Experience with her team at Watermark Communications. "So we have five bouncy castles, that is our main draw and the younger kids go bananas. Then we have air hockey and table hockey and mini put and video games for the older kids, plus we've teamed up with the Whistler Multicultural Network and they are putting on lots of crafts from 2-4 PM Thursday through Sunday. I'm stoked to have a more international feel this year."
Another highlight is the arrival of Santa. Today (Saturday Dec. 22) Santa will roll up to the Whistler Holiday Experience on a fire truck at 1PM and hang out with the kids (and their wish lists) until 5 PM. Santa has also managed to fit a visit in on Sunday too (1-5 PM, Dec. 23).
The Whistler Holiday Experience also features a small café with kid-friendly meals (mac and cheese!) at very kid-friendly prices. With food and warm indoor activities for all, this place can be a true day-saver for exasperated parents who just want a warm, safe place to let their kids run around, have fun, and burn off some of that youthful exuberance.
"We started this 6 years ago," Sue reflects, "Which means there is now a whole generation of Whistler kids who have grown up coming here every winter break. That's pretty cool."
Cool, fun, safe, free. And most importantly, kid-approved.
The Whistler Holiday Experience runs from 10 Am – 6PM December 21 to January 6, 2013. It will be closed on December 25 and 31.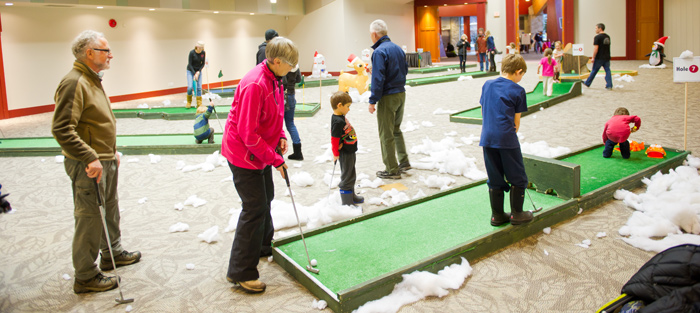 Last-Minute Gift Idea #10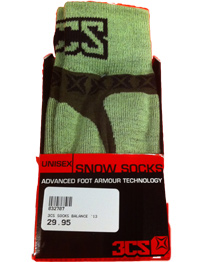 It wouldn't be Christmas if you didn't get new socks. But new ski socks, like the sweet ones from 3CS pictured here, are an integral part of any good day on the mountain. Blisters can ruin even the most epic pow day pretty quick and warm feet are happy feet. Lots of local shops sell socks but you can find these 3CS Snow Socks and many more at Evolution, located right in the Village right across from the Conference Centre and Holiday Experience.