To après or not to après? That's not really the question. What you really want to know is where. In Whistler, après is heavily embedded in our culture and we are blessed with the ability to ski from Whistler Blackcomb right into the heart of the action.
What's better than a celebration of an awesome day of skiing and a chance to share anecdotes, all while refuelling and imbibing with your favourite beverage?
Whether you're lapping Peak Chair on a pow day or skiing pristine groomers in the sunshine; taking full advantage of Whistler's expansive terrain will have you jelly-legged and thirsty by the end of the day.
Here are seven suggestions of the best après spots in Whistler from a local who frequents them all!
1. For Craft Beer Lovers
For both prime people-watching and craft beer selection, head to Beacon Pub & Eatery, located in the beating heart of Whistler Village. This cozy neighbourhood spot is close enough to the lifts to be an easy walk (even in ski boots), but far enough away that you can get a seat. They have an excellent selection of rotating craft beers and an excellent (heated) patio to watch the skiers stroll past. 
It's got a great share plate / appie menu which has some of the favs like tacos and chicken wings, and also some more unusual options like a Mediterranian Mezze and Buffalo Cauliflower Bites. Look out for some of these BC breweries on the rotating taps; Coast Mountain Brewing, Steamworks Brewing, Parkside Brewery, Twin Sails and Backcountry Brewing. They also do an incredible Caesar!
View this post on Instagram
2. For the Dancing Queens
Situated right at the base of Whistler Mountain, you'll likely hear The Longhorn Saloon before you see it. A Whistler institution, ​​drinks at the Longhorn are always flowing and the music is always bumping from both local DJs and big names alike. If you love wild, DJ parties, dancing on tables and firing champagne cannons, there's really no place like Longies.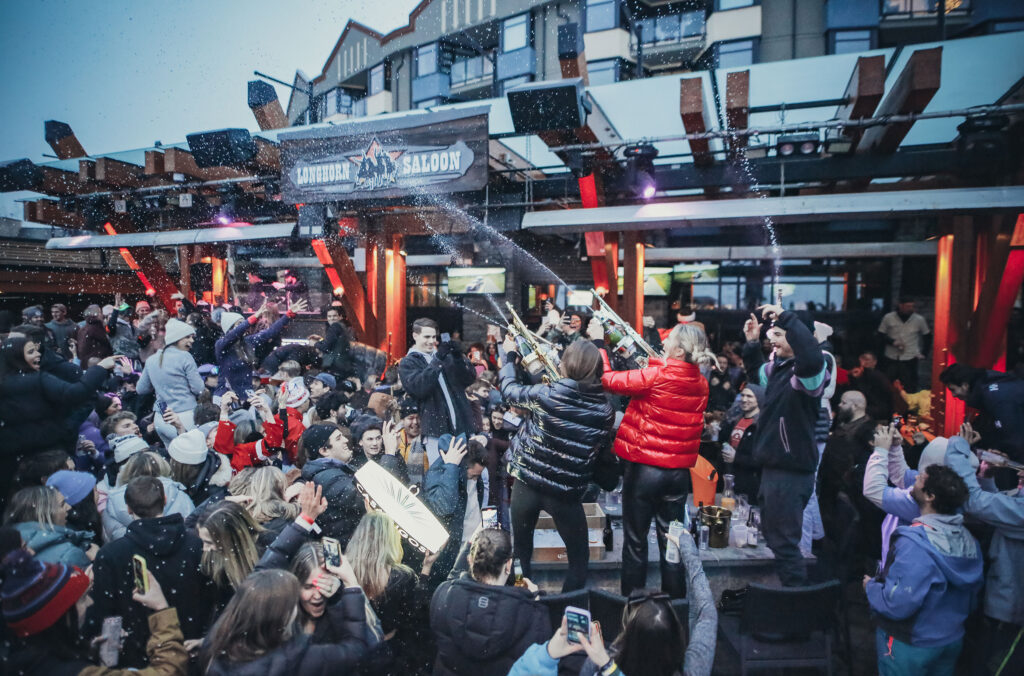 One of their signature cocktails is the Legendary Bulldog, which is an inverted Corona in a jug of lime margarita. Not for the faint of heart, but then again, neither is the music. For après snacks, their mountainous nachos go down well, especially if you pile on the additions!
3. For the Whole Family
If you're looking for somewhere with the kiddos, head to the Braidwood Tavern at The Four Seasons. Gather around their outdoor, vintage camper to warm up after a long day out adventuring and enjoy a hot beverage at the s'mores wagon.
It's perfect for all the family, as Mum and Dad can enjoy a Tipsy Snowman, while the kids sip on belly-warming, hot cocoa. It's the perfect way for the whole family to showcase their whipped cream-laden, upper lips in a winter wonderland.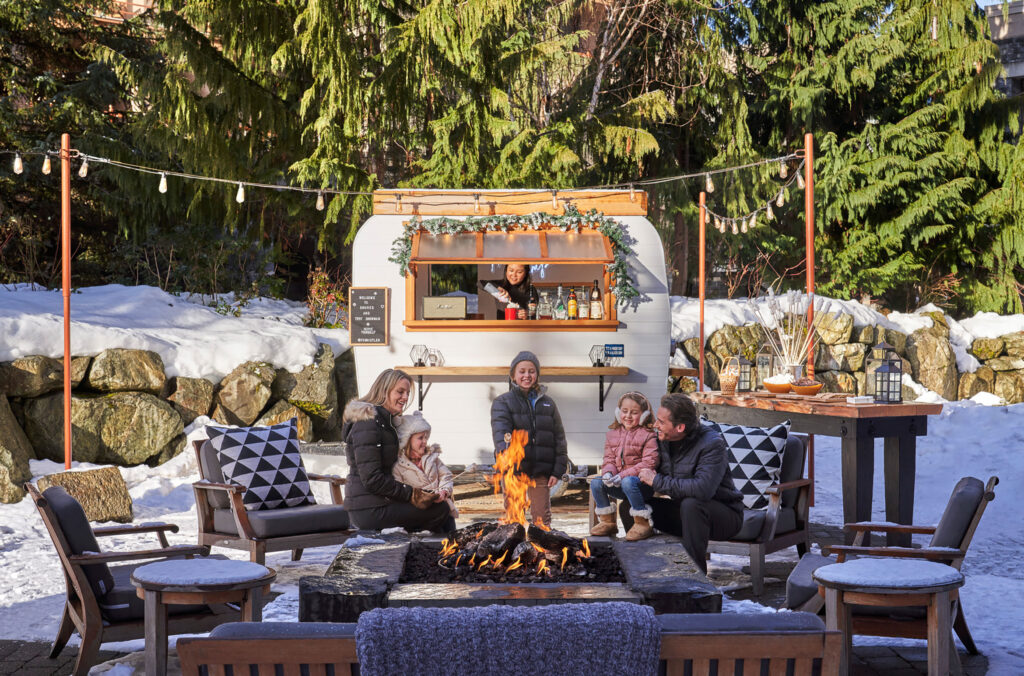 The Braidwood is also known for its lineup of craft beers, and they do have a "One of Everything" option if there are at least three of you as this literally means sampling 14 draught beers. Have you ever tried a Spudnut? These are warm, potato-sugared doughnuts which are served with an Okanagan quince compote, a fun après treat that puts a spin on a classic that will please kids (little and big) alike. It's also good to note they have a robust vegan menu, grab the All Green Flatbread for a healthy share plate.
If you're looking for a family option a little closer to the slopes, try the Garibaldi Lift Co. as well as the Dubh Linn Gate, which has a specific kids' menu.
4. For the Outdoorsy Ones
Want to brush shoulders with pro skiers and grizzled locals alike? Head to RMU Whistler to enjoy their outdoor fire pits and bask in the afternoon sun (or snowfall!). Known for its excellent food and bespoke cocktails, RMU is the perfect spot to enjoy the last hours of the day while staying warm and comfy in its plush, fireside chairs.
Try their shareable Satay Skewers or the Big Kahuna Burger made with locally produced, Two Rivers beef. Their cocktail menu changes seasonally, but we love the combination of coffee, butterscotch, orange and chocolate flavours in their Butterknife cocktail. A perfect pick-me-up!
RMU is just a stone's throw from the base of Blackcomb Mountain and is a Whistler staple for good people, good music and good times.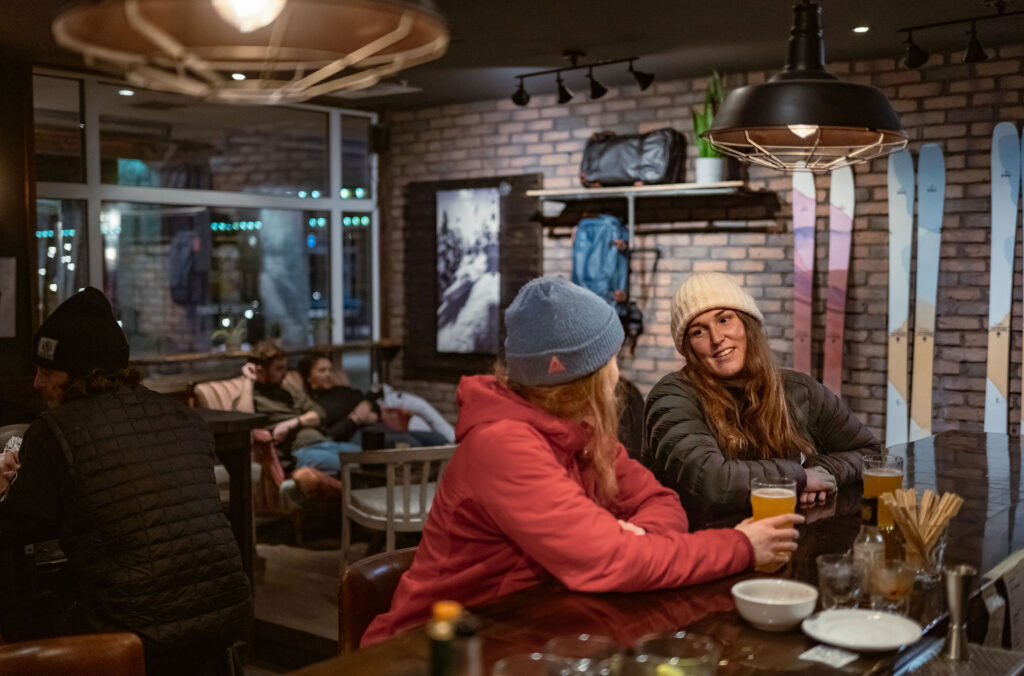 5. For the Soul Singers
The Dubh Linn Gate Irish Pub has live music seven days per week throughout the winter, with two sets per evening at 4 and 9 PM. The Dubh, as it is affectionately known, is well-loved for its high-energy performing local artists, whose sets are filled with much-loved covers and amazing originals alike. Sing until you're hoarse, and then rest and recharge alongside the musicians until round two kicks off. 
They also have a great selection of beers, with some classic, Irish imports including Guinness, Kilkenny and Murphy's. The Guinness has even made its way into their Steak and Guinness Pie, Guinness Burger and they have nitro coffee on tap, which, you've guessed it, is Guinness-like! It's also good to note that their whiskey and scotch game is also on point.
View this post on Instagram
6. For a Different Kind of Après
What better way to unwind after a day of skiing than soothe your aching muscles? The Scandinave Spa is engulfed in a spruce and cedar forest, offering a tranquil escape. You need at least two hours to properly go through the thermal journey they suggest, which takes you through stages of hot, cold and rest.
Disconnect by leaving your phone in the changing rooms and soak in the silence in this indulgence for the senses. You'll leave refreshed and ready for the ski or travel day ahead.
Some other ideas for après activities are snowmobiling or ziplining under the stars, Escape Whistler! and Vallea Lumina. Read more in 7 Things to Do in Whistler in the Evening.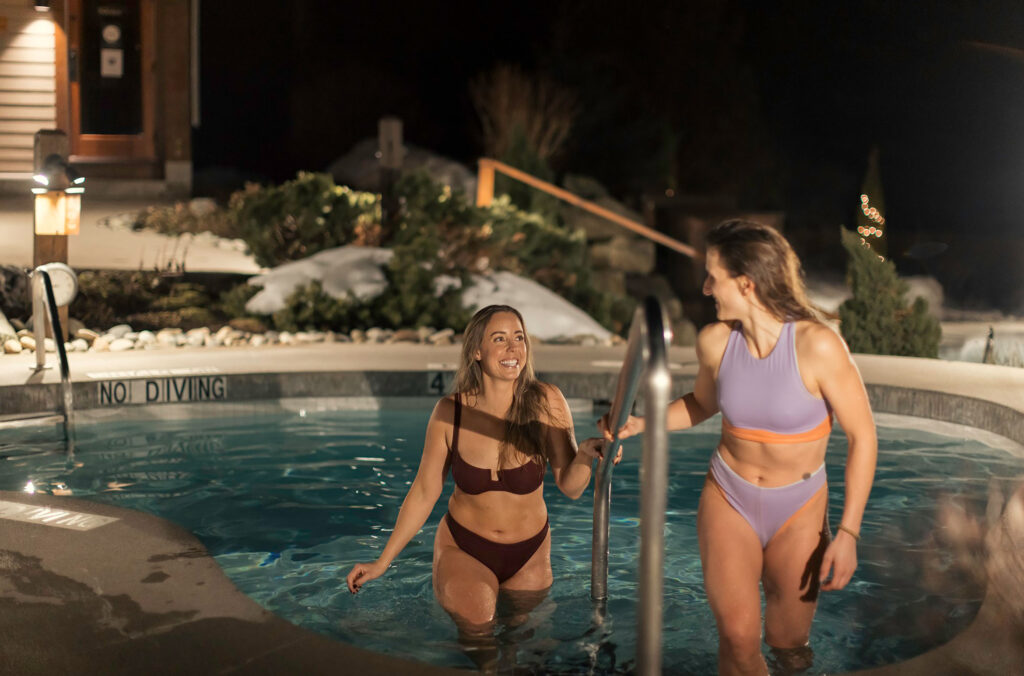 7. For the Mocktail Lovers
We all look forward to that first refreshing sip after a long day enjoying the slopes. But what if you're craving the après experience minus the buzz? Whether you're t-total or just tonight's designated driver, Whistler has some excellent non-alcoholic options for your après.
View this post on Instagram
For delicious cocktails that won't break the bank (or your ability to drive), we love the Spirit-Free menu at Earl's Kitchen + Bar. One of my favourites is the Italian Spritz, made with Italian red bitter soda, passion fruit, orange and fresh lemon. Earl's isn't the only one with a great mocktail menu. La Bocca and The Raven Room are both known for serving up their products in no- or low-ABV versions.

Après in Whistler is a blast and should be included in your day whether you ski or not! Most bars and restaurants offer some kind of ski storage (usually a rack outside) and are accessible right from the bottom of the ski runs. The après scene is varied and ranges from raucous parties to family affairs to upscale elegance.
Whatever your vibe, you can be sure to find something to your taste in Whistler Village. Remember, après-ski is typically from 3 to 5 PM each day, and many venues offer après (or happy hour) specials, so be sure to ask or check online for the best options.
Fall in Whistler means more, like great value on accommodation with rooms from $135 CAD per night, plus a free $100 CAD Dining Voucher when you book a stay of 3-plus nights. Book in confidence with Whistler.com for Flexible Cancellation and a Price Match Guarantee. If you're dreaming of a trip to Whistler, enter our Find Your Altitude contest for a chance to win a six-night vacation with flights, accommodation and activities (including a heli trip) all covered.