Nothing says cozy comfort like a steaming mug of hot chocolate. Whistler's recent cold snap has left me fantasizing about warming up my frosty fingers with a luscious mug of hot cocoa between my palms. I have failed miserably at making my own hot chocolates at home. They often amount to nothing more than a sad, watery, quick fix alongside a burnt tongue (I am not a patient person).
View this post on Instagram
So, I set out to find a rich and creamy hot chocolate of impossible decadence in Whistler. This resort town has no shortage of cafes and bakeries serving up the hot stuff, but I wanted to round up the best of the best.
What you'll find in this article are establishments that take their hot chocolate seriously, featuring some well-established favourites as well as some lesser-known stops, all of which came recommended to me by fellow chocoholics.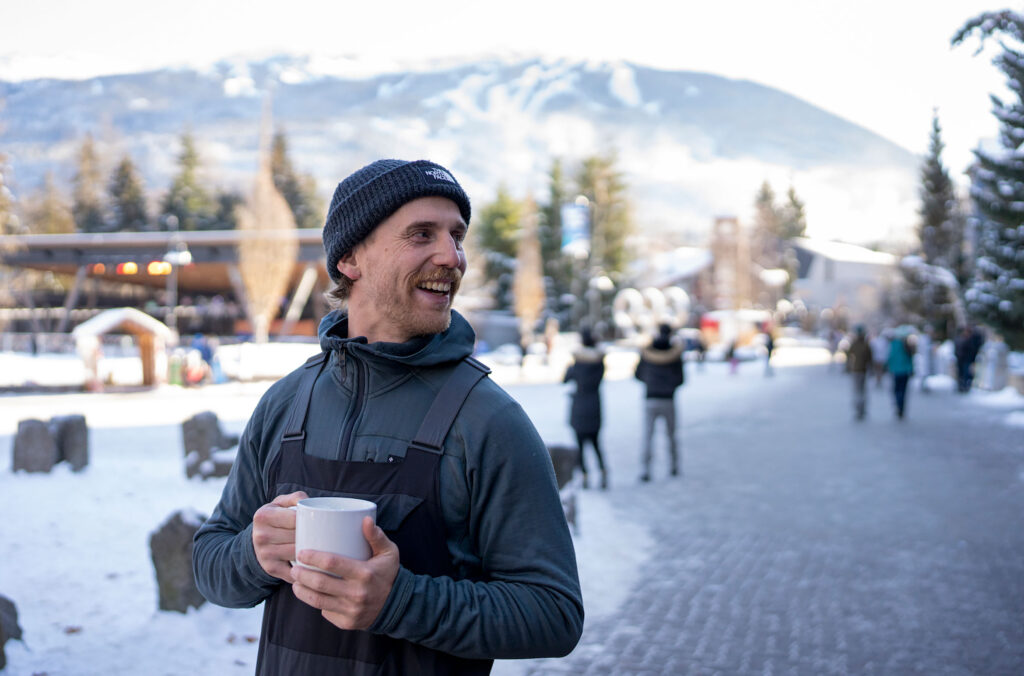 Blenz
Mug Type: Reminiscent of your home mug collection
Froth: Froth-tastic
Best For: White chocolate lovers who mean business
Of all the hot chocolates I tried, Blenz was the only one that gave me chocolate options: white, milk, or dark. And, they're all made with single-origin, Columbian chocolate. I had immediate decision paralysis, how does one choose?
View this post on Instagram
Eventually, I went for white chocolate and experienced zero regrets. If you're a white chocolate lover, this is a must-try. Blenz's hot chocolate gives the impression they've melted down an entire easter egg and simply added a dash of cream to slightly decrease viscosity. Incredible. You probably won't have an appetite afterward, especially if you get the 20-ounce pint of it (yeah, I did that).
ecologyst Cafe
Mug Type: Hand-made ceramic
Froth: Silky smooth
Best For: When you need a cozy sweater along with your cozy drink
The ecologyst Cafe is tucked inside the ecologyst store, which has a beautiful array of ethically designed clothes made in Victoria, BC. If you're a fan of a Terry's Chocolate Orange, this is the one for you. ecologyst Cafe made the list with their perfectly spiced, orange and cardamom hot chocolate. It's a local favorite with its subtle, earthy flavors and silky smooth froth.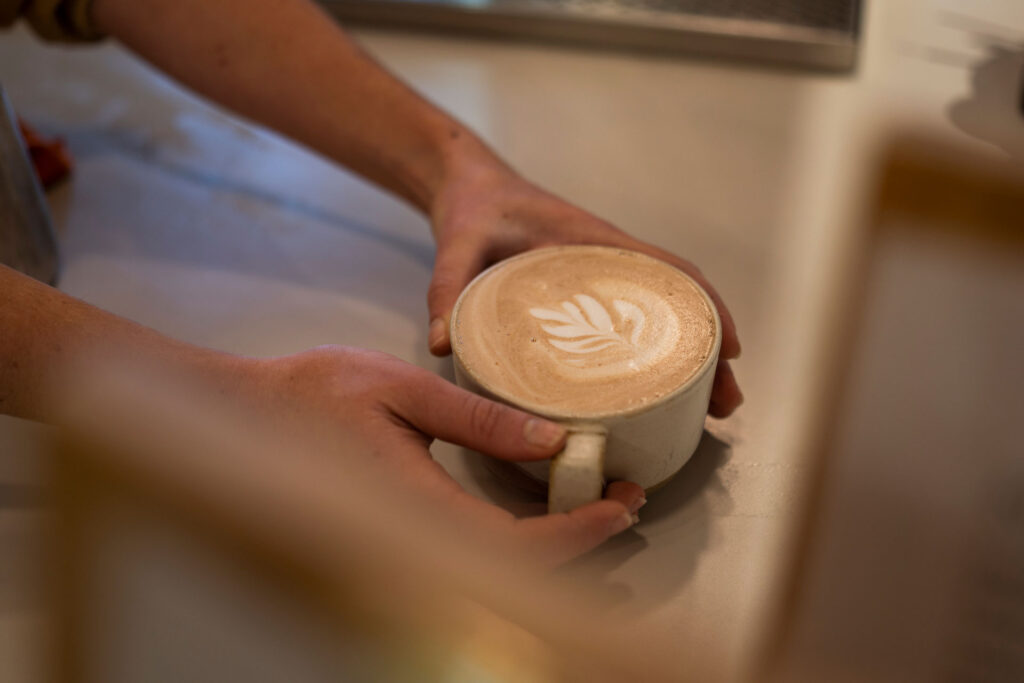 Their arsenal of hand-made ceramics will have you wanting to replace your entire mug collection and the friendly baristas will likely invoke wardrobe envy. Extra points for location and aesthetic, this is the perfect spot to watch the world go by or pick out a new outfit.
Portobello at the Fairmont Chateau Whistler
Mug Type: Perfect for cradling in your cold hands
Froth: Creamy and rich
Best For: When you actually want to drink an entire chocolate bar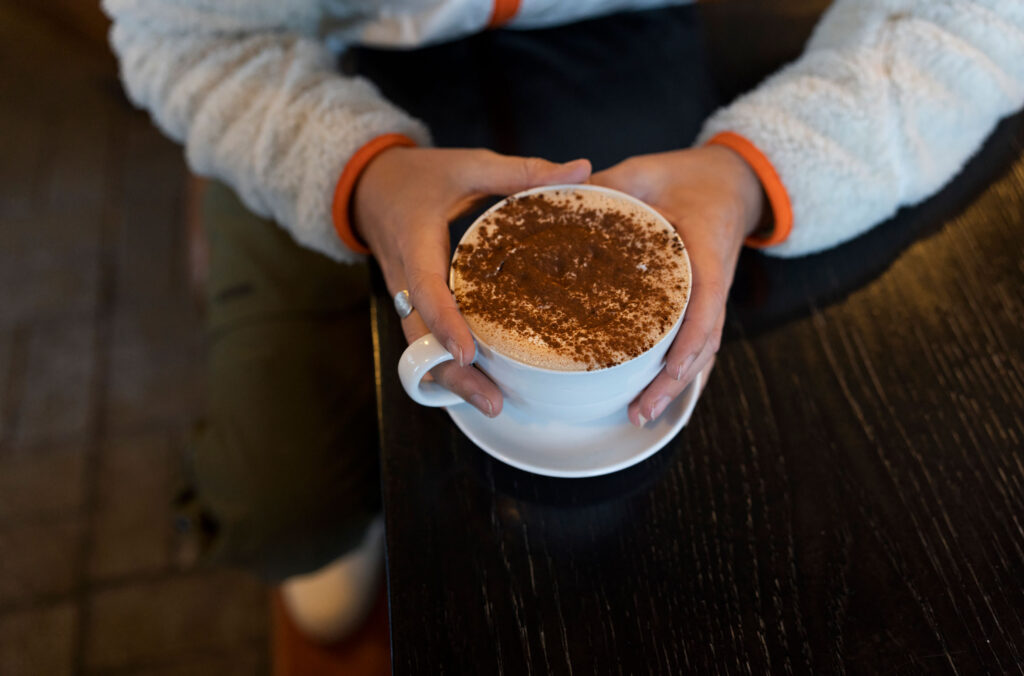 One word: indulgence. This one takes the prize for the most decadent: truly a rich, fudgy, syrupy delight. Each sip seems to leave a layer of silky caramel on your tongue, and the outrageously chocolatey flavour will knock your dodgy Christmas socks off.
I'm not saying that you HAVE to order a donut on the side, but you probably, definitely should. Porto's is perfect for a quick stop before or after skiing Blackcomb Mountain but get there early as all the locals know about this one (trust me, it's worth the wait in line!).
Fix Café
Mug Type: Speckled ceramic
Froth: Subtle
Best For: Lovers of adorable latte art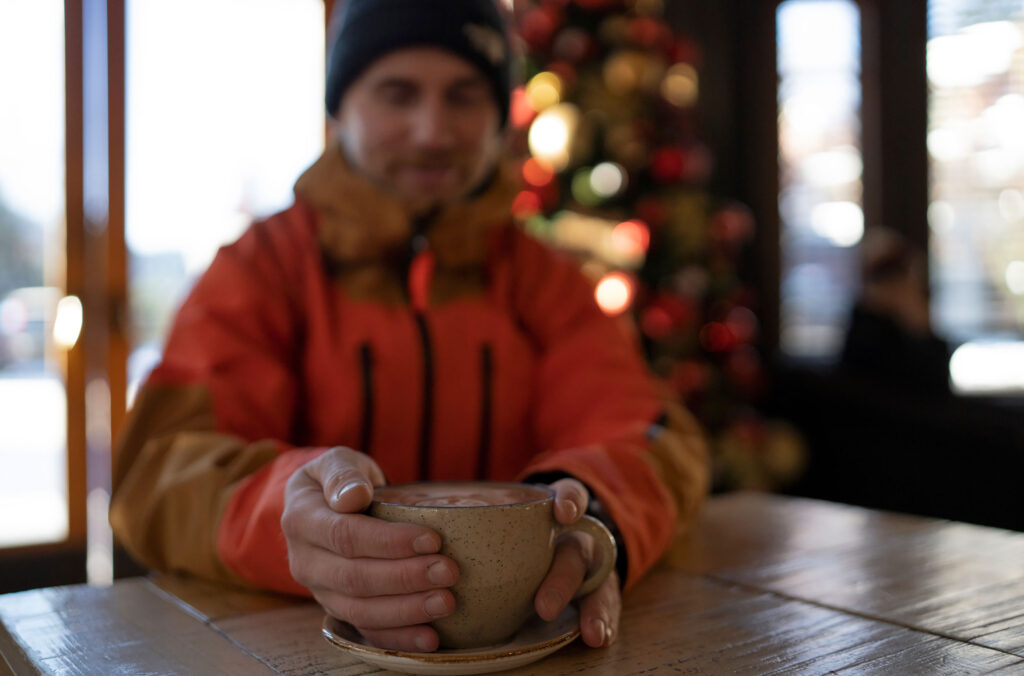 Fancy a delicious hot chocolate without the sugar high? Head to Fix Cafe in Creekside for a deliciously wholesome five-mushroom, hot chocolate. No, you don't get mushroom high, but you do get to enjoy the health benefits of five organic, functional mushrooms: reishi, chaga, cordyceps, lion's mane and turkey tail.
View this post on Instagram
With a full-flavored chocolatey taste, this one has subtle mushroomy notes flirting with a little bitterness and no added sweetness. A hot chocolate so flavourful and healthy(ish?) you could probably drink it daily.
Braidwood Tavern at Four Seasons Resort Whistler
Mug Type: A glass in the shape of an upside-down polar bear!!!
Froth: ENDLESS
Best For: When you've got an après away from the kids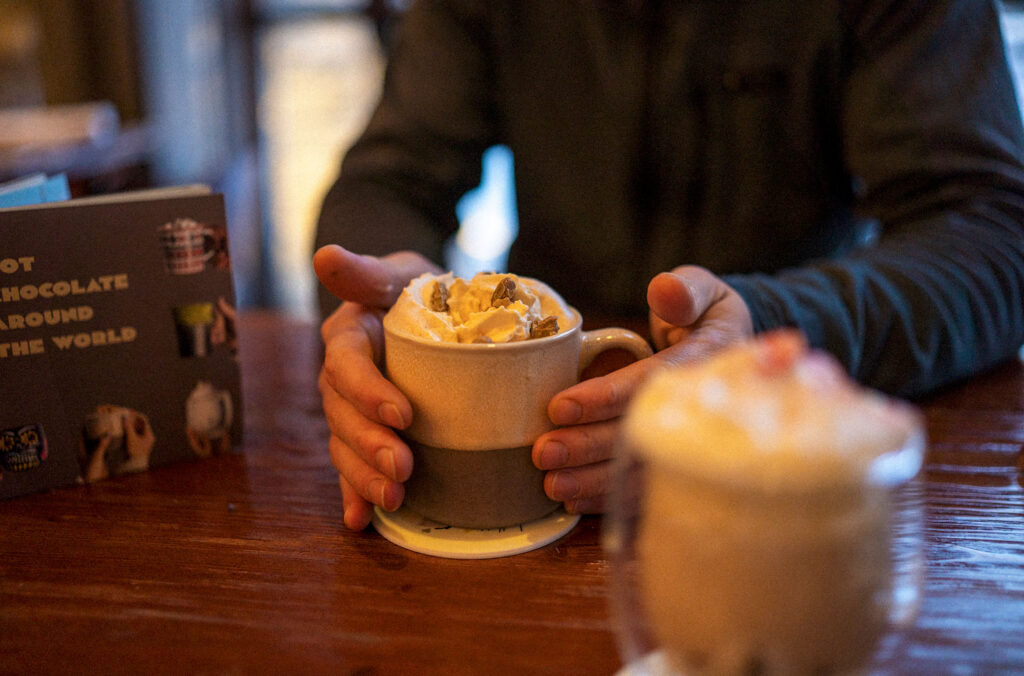 For serious hot choccy connoisseurs, we've saved the best until last – but you'd better leave the kids at home. The Braidwood Tavern has a dedicated Hot Chocolates Around the World menu, stacked with Instagram-ready, spiked hot chocolates. Inspired by world-class destinations such as Paris, Tokyo and Oaxaca, you can travel the globe from the comfort of this cozy, Whistler tavern.
View this post on Instagram
I love the Polar Express, which channels some North Pole vibes. A dangerously creamy, Chambord and coconut concoction, it's perfectly balanced with just a subtle hint of raspberry. A perfect apres-ski, winter warmer with a bit of a kick!
For those creatures of habit, I should probably mention that Whistler is home to three Tim Hortons locations, two in Whistler Village and one in Creekside. You can of course get an on-mountain hot chocolate at Rendezvous Lodge, Roundhouse Lodge, Crystal Hut, Glacier Creek Lodge, as well as Horstman Hut and Raven's Nest later in the season.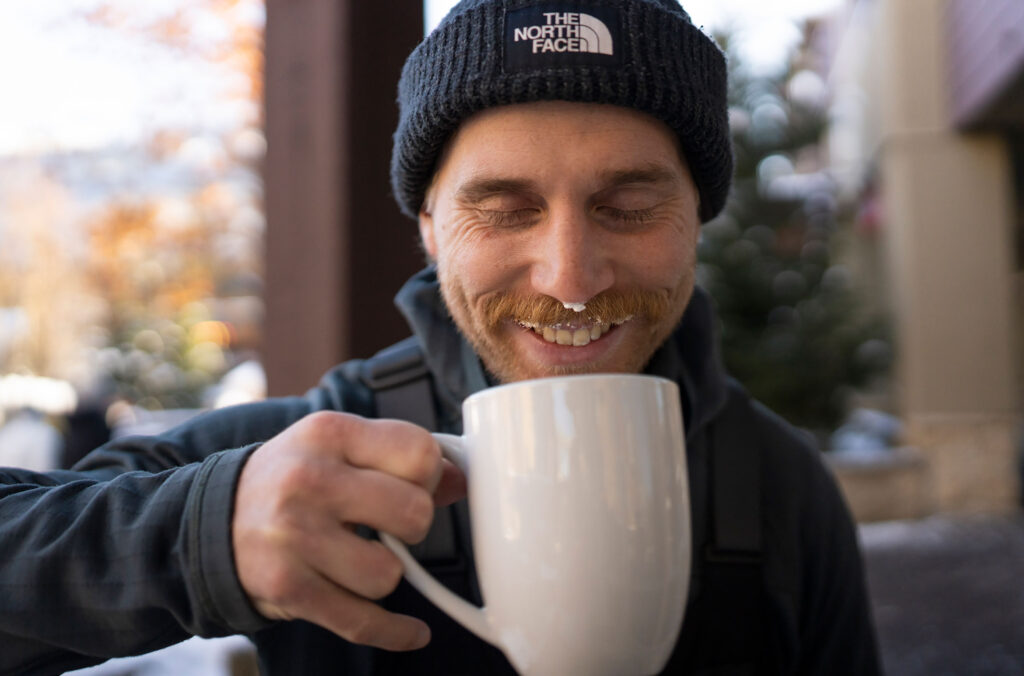 I've not come across too many problems that hot chocolate can't fix. And whether you charged down the slopes today or face-planted your way down, know there's always a cup of something warm and comforting waiting for you in Whistler.
Fall in Whistler means more, like great value on accommodation with rooms from $135 CAD per night, plus a free $100 CAD Dining Voucher when you book a stay of 3-plus nights. Book in confidence with Whistler.com for Flexible Cancellation and a Price Match Guarantee. If you're dreaming of a trip to Whistler, enter our Find Your Altitude contest for a chance to win a six-night vacation with flights, accommodation and activities (including a heli trip) all covered.